The Most Scenic Way to Explore Switzerland
A grand tour de force—by train.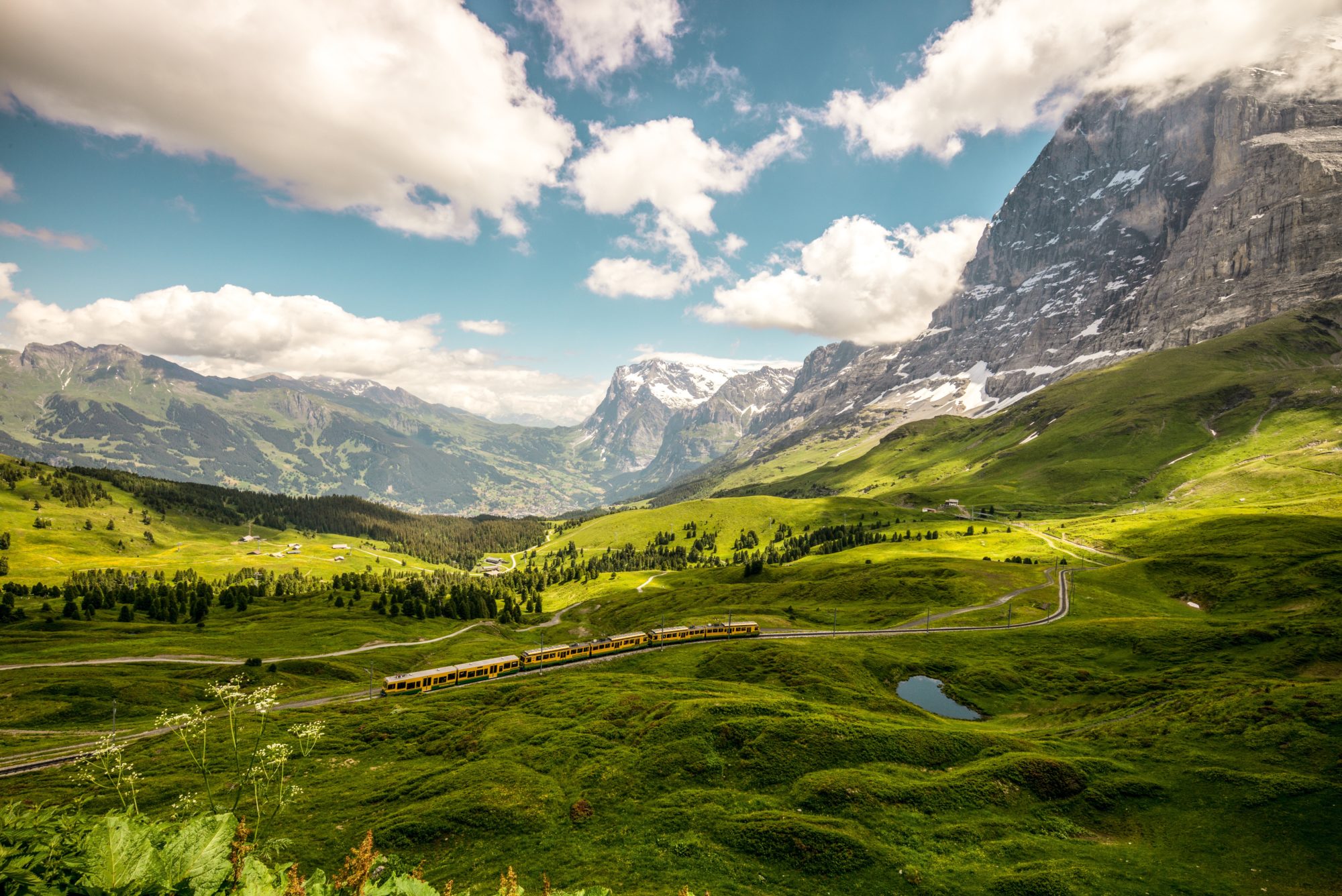 We all know the famous Swiss cultural touchstones—exquisite chocolates, alpine ski chalets, and cows with neck bells—but it's time to add another to the list. The Grand Train Tour of Switzerland, a comprehensive 1,280-kilometre route, was created to highlight the country's best sights in a single, self-guided tour, from the palm tree–lined boulevards of the south to the snow-capped mountains in the west.
You'll start in Zurich, settling into the comfort of a first-class seat, holding your Swiss Travel Pass, which gets you unlimited travel on any train, bus, or boat in the country. With it, you can climb the Alps, stop in at eight UNESCO World Heritage Sites, and discover the four distinct Swiss cultural regions, where citizens speak French, German, Italian, or Romansh (an ancient Romance language). "You can embark and disembark as much as you want; you don't need to go through the entire route," says Gisele Sarbach, project manager of market services at Switzerland Tourism, who suggests switching things up. "You don't want to stay only in the cities. You also want to get to see what Switzerland is really about, which is nature."
While there are many directions to travel along the Grand Train Tour of Switzerland, this detailed route will make sure you don't miss out on any of those uniquely Swiss sites, tastes, or experiences.
Locarno
Locarno is less than three hours south of Zurich, but just under two hours north of Milan (by car), giving it a vibe that's decidedly italiano. The town circles around a piazza grande filled with palazzos and open-air cafés serving cappuccino, gelato, and pasta; well-dressed, Italian-speaking Swiss women walk their tiny dogs along the boulevard hugging Lake Maggiore.
At Termali Salini & Spa Locarno, spend a morning at this brilliantly designed spa featuring a stack of cascading salt baths, a subterranean sauna gallery, and an outdoor infinity pool overlooking the lake. Fully refreshed, you can ride the 113-year-old Funicolare Locarno to the Sacred Mount Madonna del Sasso, enjoying the lush hillside gardens of camellia, bougainvillea, and grapevines along the way. Continue up on the Cardada cable car to an elevation of 1,340 metres to simultaneously check out Switzerland's lowest point, the Maggia river delta, and its highest, a huge ice-covered massif in the Alps called Dufourspitze.
Lucerne
On the trip to Lucerne, you'll get your first real taste of the comforts of train travel with the Gotthard Panorama Express, which zooms along a line that opened in 1734. This modern "panoramic" train is equipped with large curved windows to maximize viewing enjoyment as it winds its way into the Alps towards the Swiss-German region. A multilingual onboard guide is even on hand to alert guests when a 900-year-old stone church is about to appear.
Once the route terminates at Flüelen, you'd be well advised to hop aboard a steamboat on Lake Lucerne and relax into one of the reclining deck chairs. You'll gently float past tiny lakeside towns clinging to the shoreline, as well as Rütli, the meadow where Switzerland was founded in 1291. The boat docks in downtown Lucerne, a beautiful medieval city with a colourful 14th-century covered bridge connecting its two commercial districts over the river Reuss.
Grindelwald
To reach Grindelwald, located at the foot of the iconic Eiger North Face, the train travels at a steep incline, cutting through the wildflower-filled valleys and forested slopes of the Jungfrau region. This Alpine village has been a ski destination since at least the 1880s, and it hasn't lost any of its original charm. The steep streets are lined with traditional ornamented wood houses and hotels, and stores are filled with a mix of outdoor gear and products such as "alpine cheese", which locals say tastes different depending on which side of the mountain the cows grazed on.
The star of the show is First, the cable-car-accessible mountain that's packed with year-round outdoor adventure opportunities, such as the thrilling First Cliff Walk, a suspended bridge and boardwalk (designed by Swiss watch experts Tissot) that join two cliff faces on the summit. Back in town, ask for a mountain-view room at the newly renovated Hotel Belvedere, a hotel and fine-dining room that's been family owned for over 110 years, and wake up to views that are straight out of a promotional video—complete with snowy peaks, hillside chalets, and swaths of blooming flowers.
Montreux
To get from the mountains of the German-speaking region to the low lakes in the French one, board the GoldenPass Panoramic train and follow the curves of the Lütschine river down to Lake Geneva. Once in the belle époque streets of Montreux, switch from using danke to using merci and check in at the elegant Grand Hôtel Suisse Majestic, a historic landmark that sits directly opposite the train station. Pop down to the bustling Le Rouvenaz for a delicious pizza with in-season toppings and a glass of white Chasselas from nearby Lavaux, where the terraced vineyards are a UNESCO World Heritage Site—monks began cultivating vines there in the 11th century.
A quick bus ride away is Chillon Castle, a beautifully preserved millennia-old fortress on an island in Lake Geneva that's the most visited historical landmark in Switzerland. Don't miss the dungeon, where you'll spy the name Byron carved into a pillar by Lord Byron during an 1810 visit that inspired the poem The Prisoner of Chillon. Another not-to-be-missed stop near Montreux is Chaplin's World, an interactive museum chronicling Charlie Chaplin's life and career, housed in the château in Vevey where he lived with his family for 25 years after being denied re-entry to the U.S. in the 1950s.
Chur
Once you've boarded the world's slowest express train the Glacier Express—which takes 6.5 hours from Zermatt to Chur—just sit back and enjoy the panoramic views. For those so inclined, there is an option to book a premium experience, which comes with a five-course meal paired with local wines, a bathroom kitted out with luxury hand creams and refreshing face spritzes, and a private bar with serving staff. Arrive in Chur well fed and pampered, ready to explore the streets of Switzerland's oldest town, settled over 5,000 years ago.
Two minutes from the train station is the Old Town, a beautifully preserved walled medieval centre punctuated by dozens of tiny squares and fountains. As the largest town in the country's Romansh-speaking area, Chur has long been a cultural hub. Take a stroll through the Museum of Fine Arts Chur​​ for a peek into the lives and work of Switzerland's top artists. You may want to reflect on your journey while strolling the streets of the town, because from Chur it's just a 75-minute train ride back to Zurich—where it all began.
_________
Never miss a story. Sign up for NUVO's weekly newsletter, here.