The Candela C-8 Is Top Class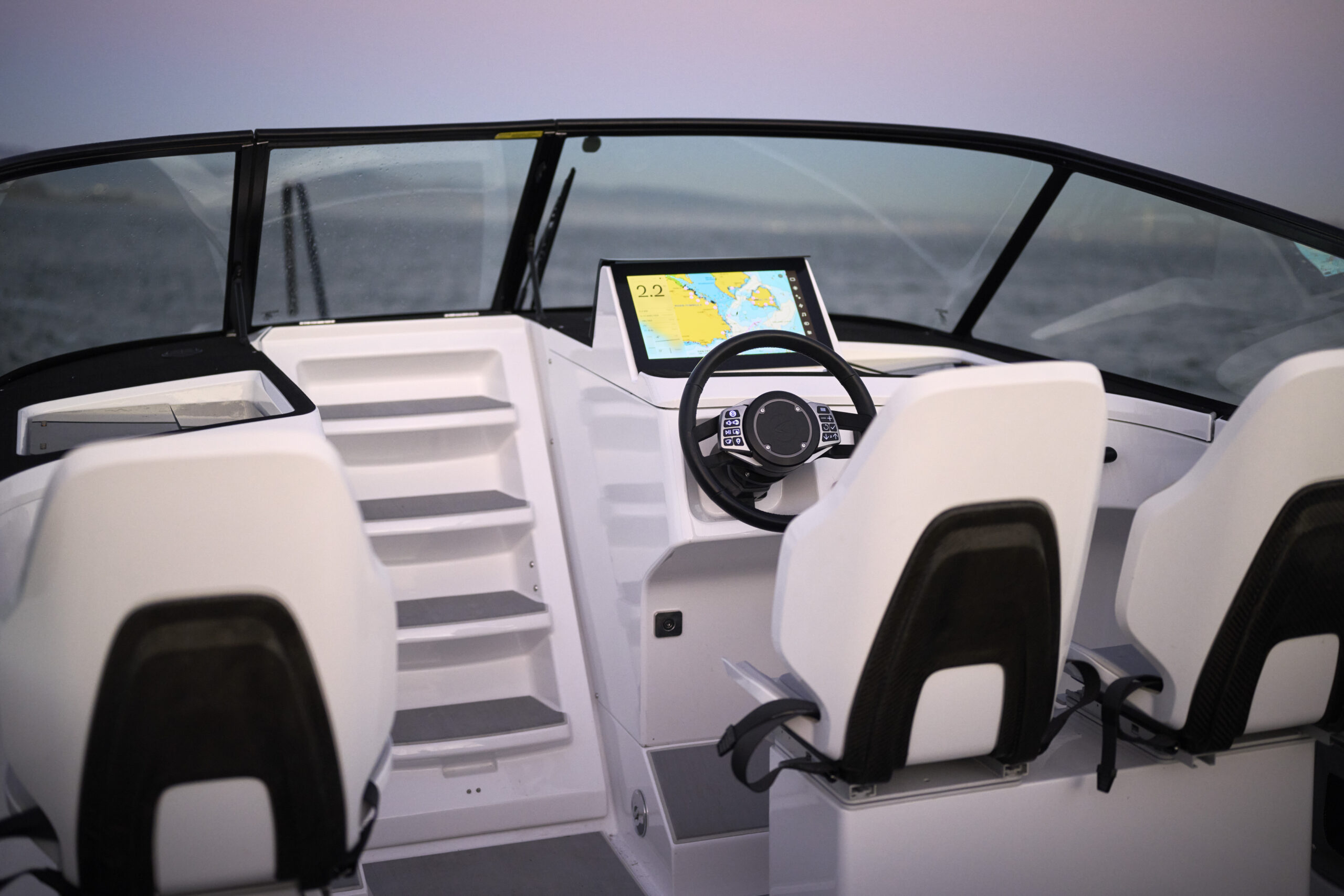 Similar to how EVs are disrupting the automotive world, Swedish manufacturer Candela is seeking to do the same in the recreational marine industry with the release of the zero-emissions C-8—helped by fellow Scandinavian company Polestar.
"This is the first electric hydrofoil boat. And that means it flies above the water [using submerged wings]. Because the challenge with making an electric boat that's on par with a combustion engine one is you use so much energy plowing through the water, right? So if you want long range, you need to reduce the friction," says Mikael Mahlberg, Candela's head of PR and communications, on a test drive in the Burrard Inlet as part of the inaugural Vancouver Fully Charged Live show in early September.
The wings, propped up by a series of struts, force the hull out of the water as the boat moves forward, using approximately 80 per cent less energy, according to Mahlberg. An onboard computer constantly adjusts the position of the foils, reacting to current conditions, which keeps the boat level and steady at all times. And because the vessel sits high up, waves as tall as 1.1 metres pass right underneath, virtually eliminating the pitching and slamming often associated with traditional boating.
What's also interesting is that rather than undertaking costly battery development, the same 69-kilowatt-hour battery pack found in the standard-range Polestar 2 EV provides power to the in-house 75-kilowatt (100-horsepower) C-Pod electric motor.
Leveraging the auto brand's technology allows the Candela C-8 to travel a maximum 57 nautical miles (105 kilometres) at a cruising speed of 22 knots (40 km/h) on a single charge. Top speed is rated at 30 knots (56 km/h). And like the car, DC fast charging is supported, capable of fully topping up the 28-foot craft in about one hour. The small helm resembles an automobile steering wheel, and all settings are controlled via a 15.4-inch self-updating navigational touchscreen.
Due to a C-Pod propeller issue sustained in transport, we weren't able to fully stretch the vessel's legs during our outing. However, even at lower speeds, it so smooth and quiet that I hadn't noticed we were pulling away from the wharf while I was talking to another guest.
The near-silent operation isn't the only luxurious feature. There's ample seating for eight, a large sunbed, and a front cabin with beds to accommodate two adults and two children, and a marine toilet. The boat is made entirely from carbon fibre and may be configured with a hard top, T-top, or open cockpit.
In addition, a premium Polestar edition includes exclusive solid-grey exterior paint; a matching light-grey interior; special textile fabric upholstery on all seating areas, cushions, walls, and roof; and signature Swedish gold-coloured hydrofoils. Deliveries are expected to begin in June 2024.