Sunseeker's brilliant 100 Yacht scores top marks with an innovative design and eye-popping amenities.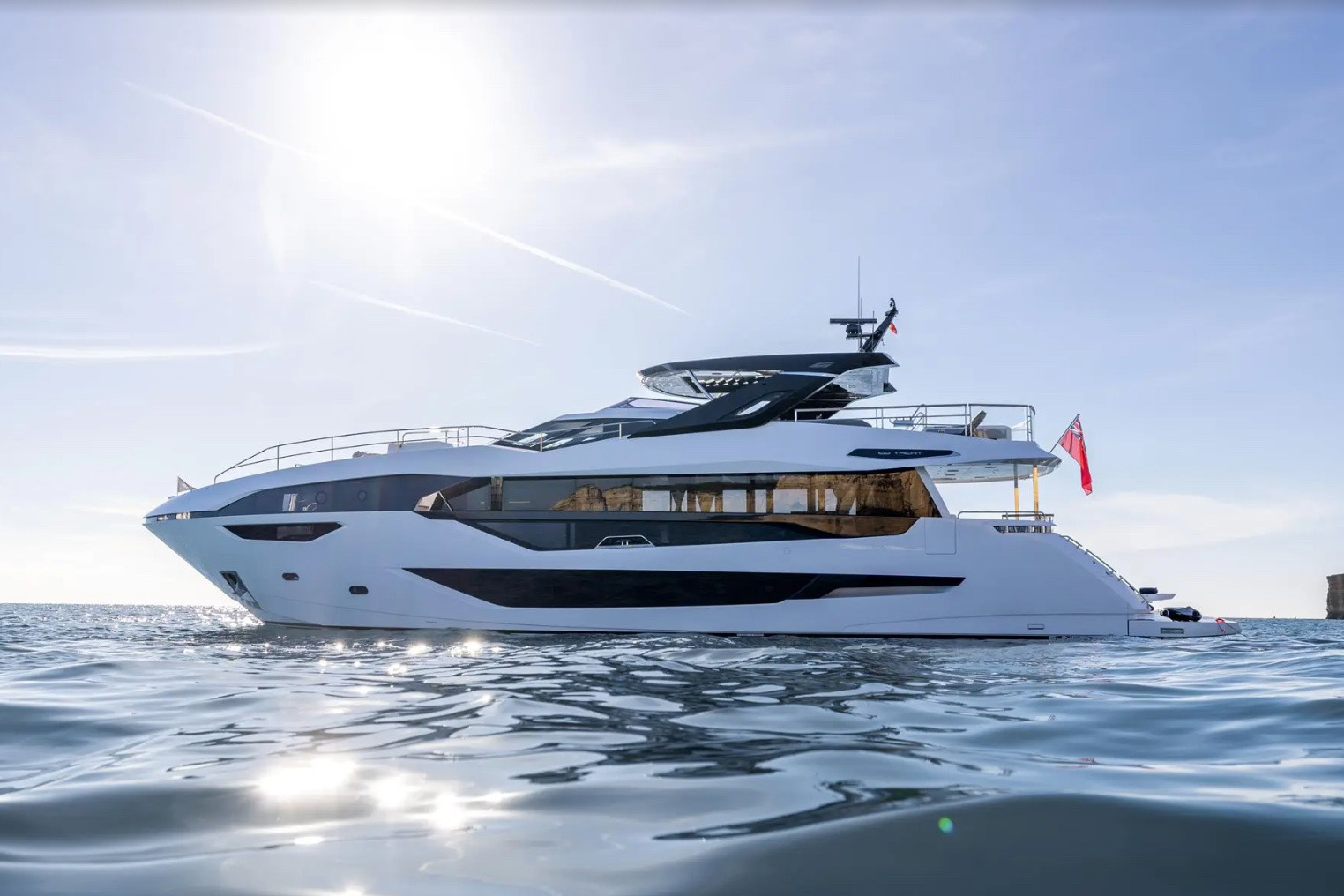 British yacht builder Sunseeker International raised a lot of eyebrows at the 2022 Cannes Yachting Festival when it unveiled its all-new 100 Yacht. Lauded as a truly forward-looking design, the 100 Yacht went on to win a Best Exterior Design award at the 2022 World Yachts Trophies and was nominated in three categories for the prestigious 2023 Boat International Design and Innovation Awards. Perhaps it's time we took a closer look at this brilliantly designed and executed entry.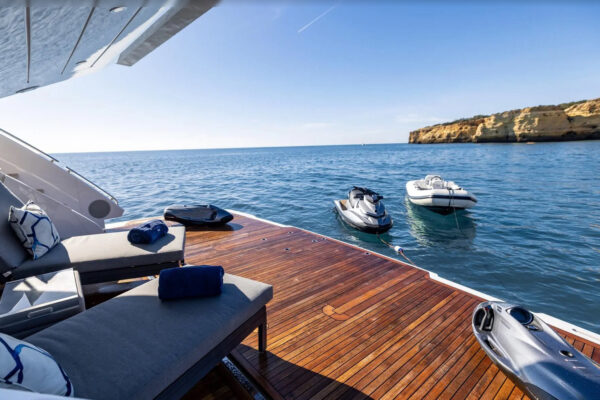 Stretching a full 29.85 metres in overall length and riding on a generous 6.9-metre beam, the Sunseeker 100 is a big oceangoing luxury yacht by any measure. Pushed along by a pair of Rolls Royce MTU diesels, it will cruise at a speed of up to 28 knots when it needs to get somewhere in a hurry or stretch its 12,800-litre fuel capacity into an operating range of up to 1,300 nautical miles at a more leisurely clip. That's enough to travel from B.C. to California without having to stop for gas, or an easy ride from Nova Scotia to South Carolina before filling up. Moreover, you'll make the trip in extravagant luxury.
The 100 Yacht is striking from the dock, even for a Sunseeker. There's more glass than in other yachts of this size range, and the overall shape of the yacht looks fresh and invigorating. As the first Sunseeker yacht to feature a top deck that's continuously linked from bow to stern as one expensive living space, the 100 almost demands you step aboard and look around.
Boarding at the expansive, hydraulically actuated swim platform, there are hints of what at anchor becomes an inviting beach club, and a neatly concealed garage with room for a Williams 460 Sportjet and GTX255 jet ski in addition to SeaBobs, diving equipment, and paddleboards.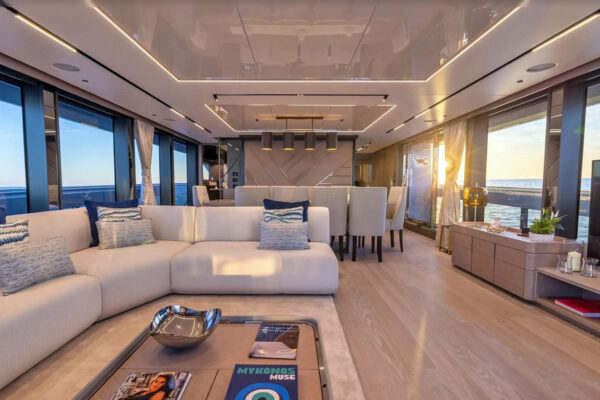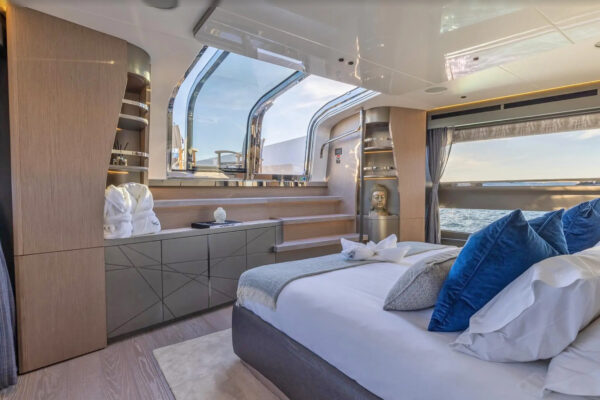 Up on the main deck, an inviting cockpit seating area provides another glimpse of the tremendous innovation in the 100 Yacht in the form of Sunseeker's brilliant X-Tend seating system, which offers a variety of arrangements, facing aft in its lowered position or forward at cockpit level at the flick of a switch.
From the cockpit, up a short flight of stairs, the flybridge deck offers sunning opportunities and a lovely al fresco dining space. An adjacent starboard-side bar area provides further options for enjoying the views, while sidewalks both port and starboard lead farther forward to an exquisite bow lounge area. There, a pedestal-mount table serves facing settees, and multiple full-length lounges offer commanding views ahead while soaking up the sun. A short flight of steps to the port side leads farther forward still to a private bow terrace for occupants of the yacht's master suite.
Back in the cockpit, the alternative to heading up to the flybridge level is to step inside into the salon. This is where all that extra glasswork on the 100 Yacht really comes into focus, creating a bright, appealing interior space flooded with natural light. The large floor-to-ceiling windows offer magnificent panoramic views while keeping out evening chill or dockside noise while in port. A U-shaped settee surrounds a freestanding coffee table to create an intimate space for private conversation or enjoying the large starboard-side HDTV in the evenings.
Forward of the lounge is the 100 Yacht's principal indoor dining space, with the master suite farther ahead, separated by a stunning feature wall showcasing exposed and seemingly floating stair treads leading to the wheelhouse above on the port side and to the lower deck accommodations to starboard.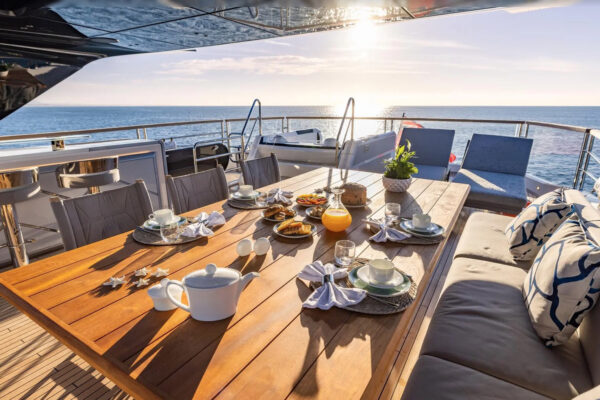 The owner's master suite is breathtaking. The full-beam private apartment offers a large lobby entrance, a walk-in wardrobe with feature shelving, an office, and a generous ensuite, all serving a forward-facing island bed that's essentially surrounded by panoramic glazing, including a cleverly sculptured sliding glass door forward that leads to the aforementioned private outdoor terrace. It's a magnificent—there's no other word for it—space and another reason this yacht continues to make judges' jaws drop in yacht design award programs all around the world.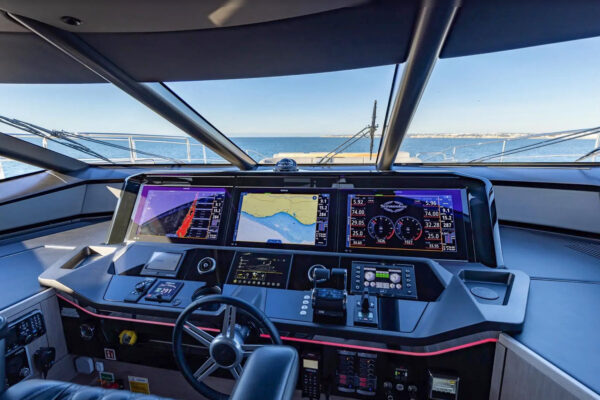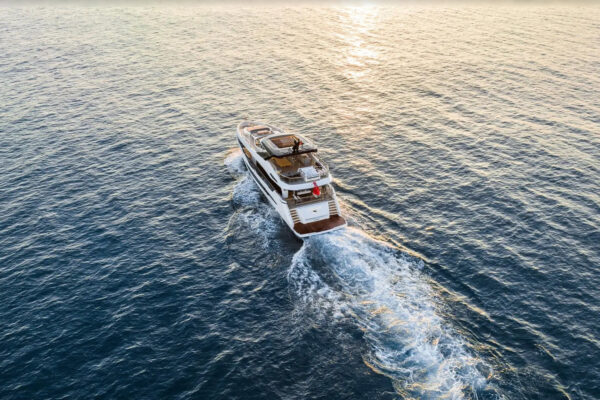 Sunseeker's 100 Yacht typically builds with four guest suites in the lower deck, consisting of two double VIP suites and two twin cabin staterooms. It is possible to order the yacht with a fifth stateroom as well, which could be an appealing option for owners who intend to charter the vessel when not using it themselves. In either case, the twin amidship cabins can be fitted with Pullman berths for added flexibility.
Sunseeker raised a lot of eyebrows when it first announced the 100 Yacht, and it continues to do so as its masterpiece racks up design awards all over the globe. It only takes a short time aboard to understand why this vessel stands out in a highly competitive segment and appreciate the enduring appeal of the legendary British marque.