Q&A: Indigenous Activist Sarain Fox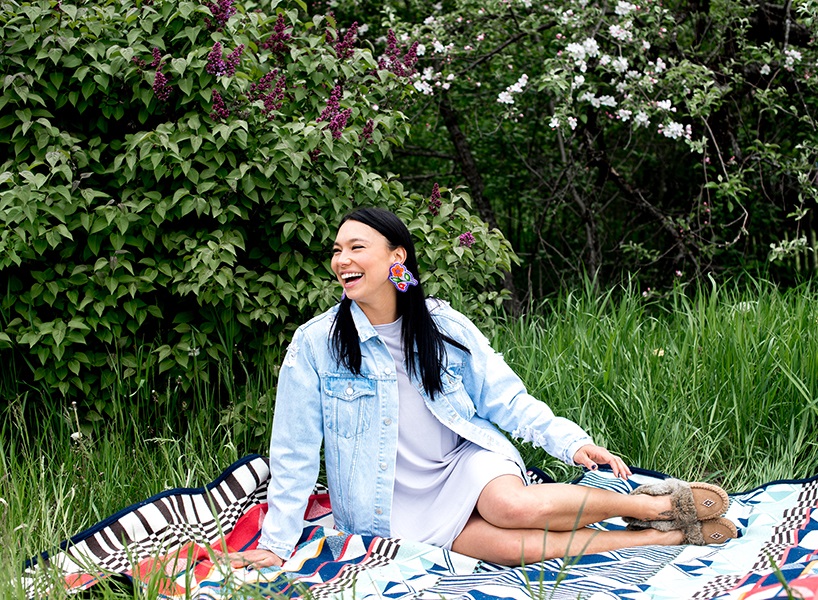 Sarain Fox has one voice, but when she speaks, it reverberates with the voices of hundreds more. Such is the role of an activist: having a responsibility to speak for those who cannot. Fox's activism takes many forms: the Toronto-based Anishinaabekwe artist is a writer, dancer, public speaker, and one of two hosts of Future History, a documentary series about the future of Indigenous knowledge that aired on APTN, as well as the host of Viceland's RISE, a 2017 Indigenous documentary series. Fox's fight for Indigenous voices to be heard is centred on the concept of truth, a difficult one for many Canadians to reconcile with. Fox is an advocate of reconciliACTION, a bridging of "reconciliation" and "action", which connotes a dynamic relationship between Canadians and Indigenous communities centred on an active search for truth, as opposed to having a passive goal of reconciliation.
As a partner of the TreadRight Foundation, a non-profit focused on sustainable travel and cultural preservation, Fox promotes projects such as the Manitobah Mukluks Storyboot School, a mukluk and moccasin artisanal school that opened at Toronto's Bata Shoe Museum in 2016. TreadRight's most recent initiative brought Fox to Australia early in 2019 in support of the foundation's grant for Aboriginal artisans.
How did you venture into the activist domain? You are also an artist. Can you describe your mediums and how you merge art and activism?
Indigenous people don't have much of a choice. Our very existence is political. I was born into an incredibly aware and politically active family. My mother worked in the front lines of social work and addiction counselling. We were brought up to be critical of colonial propaganda. From that perspective, my voice and natural expression leans pretty radical to that of most people. Radicals are natural artists. We use whatever tools we can to shift perspectives and reveal truth. I use dance, writing, film, fashion, and public speaking to tell stories. My vision is to raise the voices of Indigenous peoples and to make people aware of our truths.
You're the host of the documentary series Future History, which "shifts the colonial narrative". Can you explain what this means and how the series accomplishes this? How is Future History different from RISE, the Viceland documentary series you also hosted?
Without realizing it, most Canadians uphold the colonial narrative. My show Future History seeks to raise up the voices of Indigenous people. It documents how communities are reclaiming and rematriating the beautiful knowledge and customs of the people. It celebrates our various cultures and perspectives. It took me somewhere where my previous show, RISE, sort of left off. RISE, on Viceland, was a series that documented Indigenous resistance and resilience around the world. We went to the front lines of Indigenous action and highlighted the many fights currently ongoing against corporate imposition on Indigenous lands.
Can you speak about your work with the not-for-profit TreadRight Foundation in Australia?
One of my biggest passions is cultural revitalization. I love supporting artists and keeping Indigenous arts alive. I act as an ambassador for the Manitobah Mukluks Storyboot School at the Bata Shoe Museum in Toronto, which is the TreadRight Foundation's first-ever project in North America. There, we help rematriate the art of mukluk- and moccasin-making by hiring local Indigenous artists to lead classes for Indigenous youth and visitors. In Australia, they recently partnered with the KARI Foundation—one of Australia's leading Aboriginal service providers—in Sydney to offer authentic Aboriginal experiences that benefit the community. Starting in 2020, young explorers travelling with Contiki on their Australian adventures will have an opportunity to immerse themselves in an authentic cultural experience taught by Indigenous artists, take part in dot painting boomerang classes, and learn about the symbolism entwined in Aboriginal culture.
What is the concept behind "reconciliACTION" as opposed to reconciliation?
During Canada's 150th anniversary of Confederation, most of my Indigenous friends, many of whom are artists, were being asked to enter non-Indigenous spaces to celebrate Canada and help Canadians feel better about our relationship—to help reconcile and define a way forward. I learned that Canada isn't quite ready for that yet. Reconciliation is a tall order when the systematic issues that plague our communities are still alive and well; our children are still being apprehended at alarming rates, and we have limited access to our culture and languages.
My uncle, Senator Murray Sinclair, is also a member of my lodge [a spiritual society]—the Midewiwin lodge—which only survived this long because our ancestors managed to keep it alive totally underground. Murray served as a chairman of the Truth and Reconciliation Commission. What he learned during that time is that Canada needs to confront the truth of what it has done to Indigenous people before reconciliation is possible. We're still in the truth phase. In that phase, active truth-seeking and acknowledgement is essential. We need to see some action on dismantling harmful systems based on that truth. We need to see our languages revitalized, our cultures and our children returned to us.
This interview has been edited and condensed.
_________
Never miss a story. Sign up for NUVO's weekly newsletter, here.