Design-Forward Pet Furniture That Purrfectly Blends in With Your Home
How the furry half lives.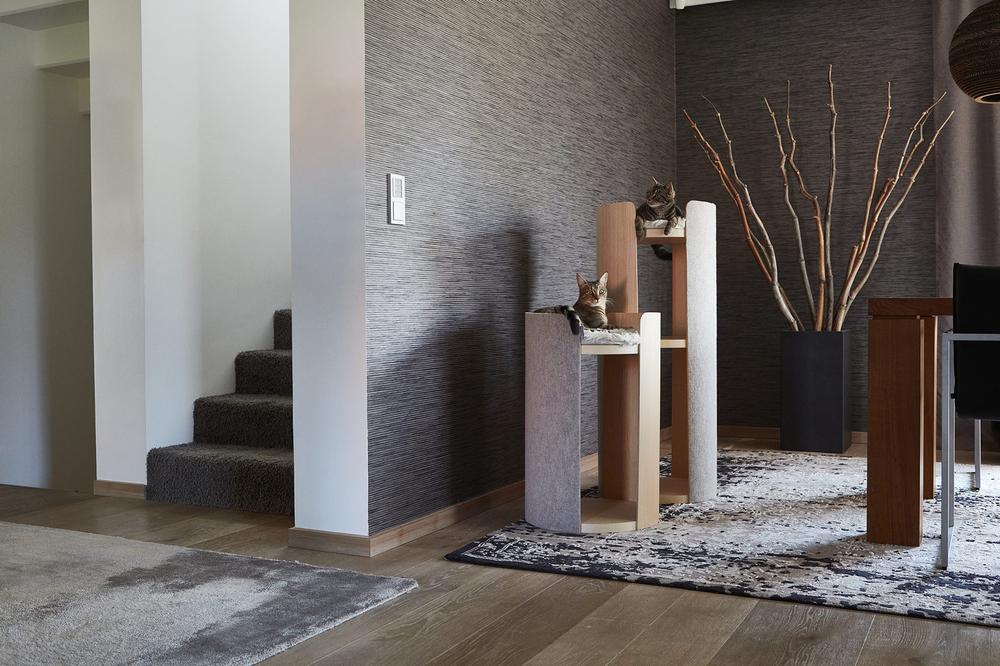 Litter box resentment is no joke. People complaining about problem cats tearing up their furniture or dogs leaving hair everywhere haven't fully grasped the pet mentality. That gorgeous sofa is a socially significant area, and your fuzzy companion just wants to be a part of it. Pet behaviourists have established that it's okay to say no and set boundaries with your animals, but in return you also have to offer a yes. A yes comes in the form of a place they can call their own in the area that they're tearing apart. The furniture that they can own and leave their scent on helps them establish a sense of place in the home and will redirect them from the couch or bed. The problem usually lies, however, in the (let's face it) hideous designs of mass-produced pet furniture. No one wants a shag-carpeted cat tree or lumpy dog bed in the middle of their carefully curated, well-designed living room, and forcing people to adapt their home in ways that don't suit their tastes can breed a bitterness that breaks down the relationship between pet and owner (even the people who love to spoil their pets).
These brands have taken notice and set to work designing pet furniture that is functional, suitable, and most important, beautiful. Pets will feel pampered and spoiled, while owners can let their creativity take over to match their pet's style with their own.
The Minimalist's Cat Tree
A recurring theme throughout this list is that the rest of the world has an understanding of function that is closely related to beauty and design. A concept that North America has only started to adopt in recent years as we wake up to the joys of the slow process is one-of-a-kind objects that are purposeful and practical. Local Vancouver brand Tuft + Paw is one of the first Canadian pet furniture designers that are getting on board with this trend and emphasizing aesthetics as well as pets' needs. The latest release is a simple yet elegant cat tree and scratching post that is delicate on the eye and cats will love. The light or dark wood options will complement any living room colour palette. Pre-orders are now open for November 2020, but if you can't wait that long, we also recommend the hybrid cat bed scratching post tower, Torre.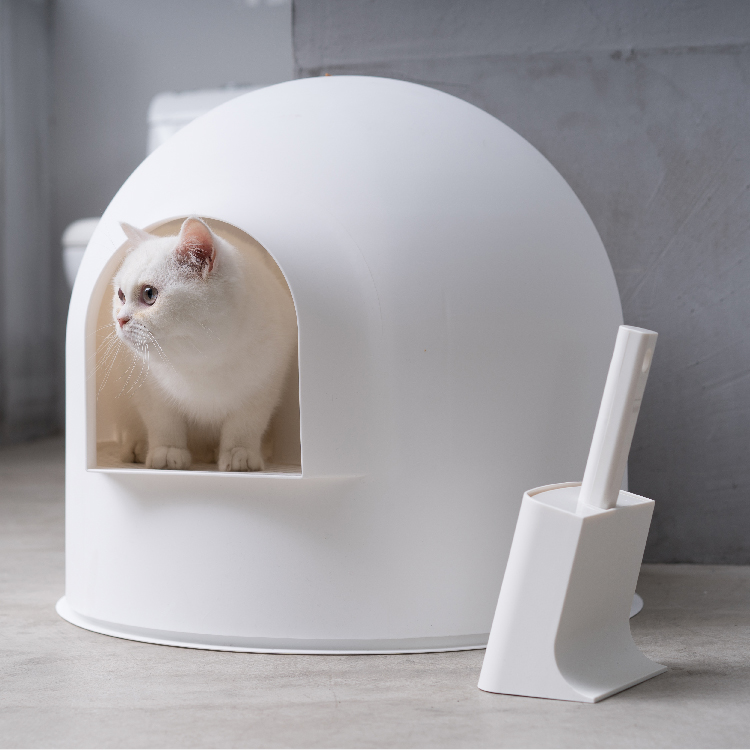 The Modernist's Litter Box
This litter box from French Chinese brand Pidan, founded by Chinese designer Ma Wenfei, is understated and completely unrecognizable as one of the most contentious pieces of cat furniture. It can blend easily into the corner of any room in the house and has special grating in the entryway that stops cats from tracking excess litter through the house. It is stocked in Canada by French Canadian pet company Teddybob, which sources beautiful pet furniture and accessories from around the world and ships Canadawide.
Every Dog Has Its Daybed
Perfect for small to medium-sized dogs, this canine interpretation of a chaise longue by German design label MiaCara is like its own mini couch that matches yours. For people who don't want to share their sofa with the family dog, offering Fido a comfortable spot of his own in the living room that mimics the look and feel of the couch is a great compromise. The frame supports the spine and joints, while the cushion is made with breathable fabric and stuffed with environment-friendly recycling foam that holds its shape—and both are washable.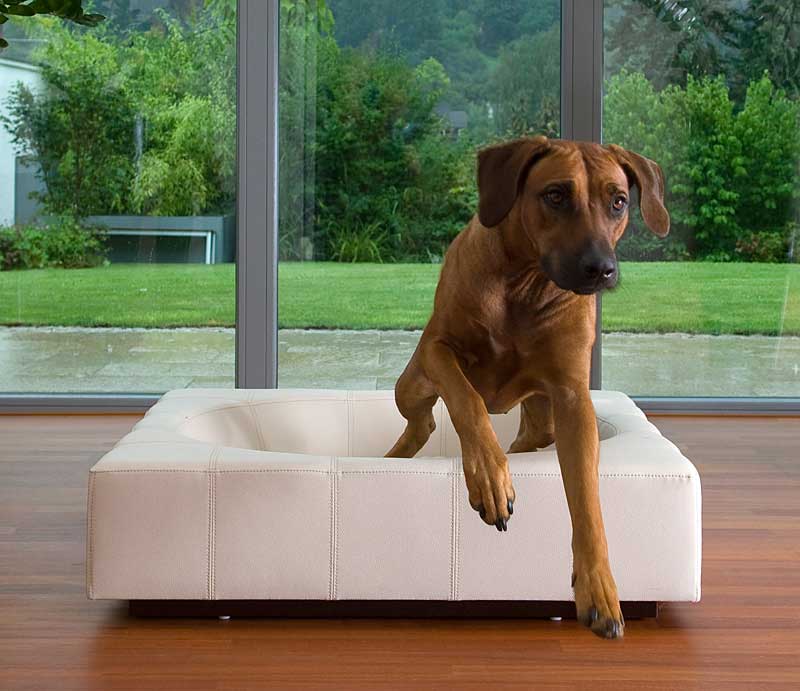 A Dog's World in Leather
For larger dogs, this leather bed certainly makes a statement. The design is a good fit for people with more dark wood and leather-accented homes. The frame is solid wood with a durable imitation leather covering that will hold its shape through years of wear. Stuffed with orthopedic memory foam, the dog bed (if you can call it that) has a sunken spot for a pooch to curl up and feel comfortable and protected. Available in a variety of colours and sizes, it can even come with name embroidering for extra customization.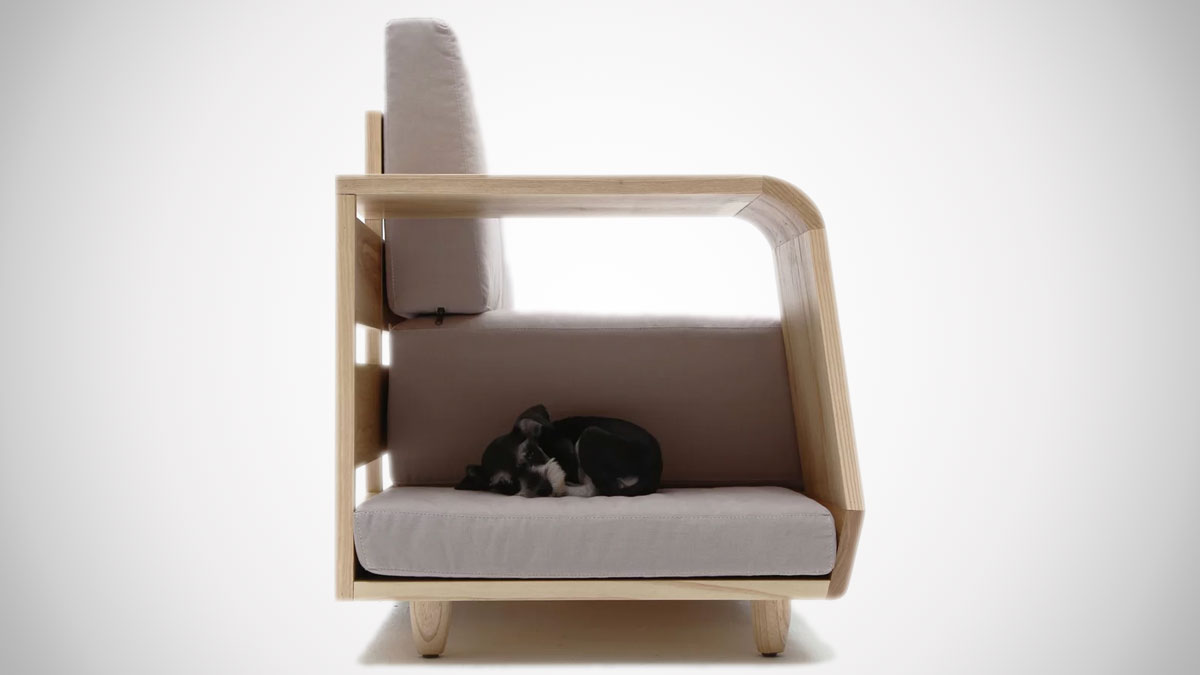 For When You Can't Keep the Animals off the Couch
The phrase "if you can't beat 'em, join 'em," really applies in the case of this couch. The Dog House Sofa designed in collaboration with Korean designer Seungji Mun and pet company MPUP has a wraparound wooden arm rest that creates a perfect perch for your furry buddy. The pet bed is made with the same material as the couch so it's equally comfortable, and there is a peek-a-boo gap between the pet's spot and the human's so it can rest its head lovingly on its owner's lap.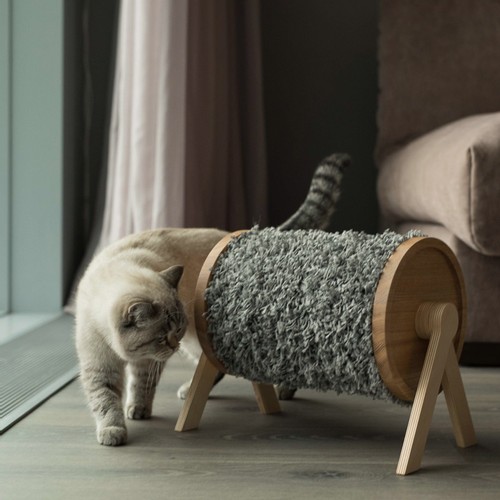 Scratch This, Not That
Moscow-based pet furniture brand Pettel specializes in unique small-scale cat and dog accessories. Its cat scratchers are not instantly recognizable as such: one can be mounted on the wall like a conceptual piece of art, and the other is a multifunctional cat toy. The Sheepy scratcher is ideal for kittens and acts as a distraction from the furniture. Also check out the adorable pet houses here.

The Futurist's Den
This cat bed looks more like a piece of sculpture in the home than an oasis for your feline. A respite from the chaos of the rest of the house helps curb cats' bad behaviour, and the Cube by Parisian design story Meyou can be placed anywhere in the home. For people who like the spherical shape without the frame, this bed concept also comes on natural wood legs.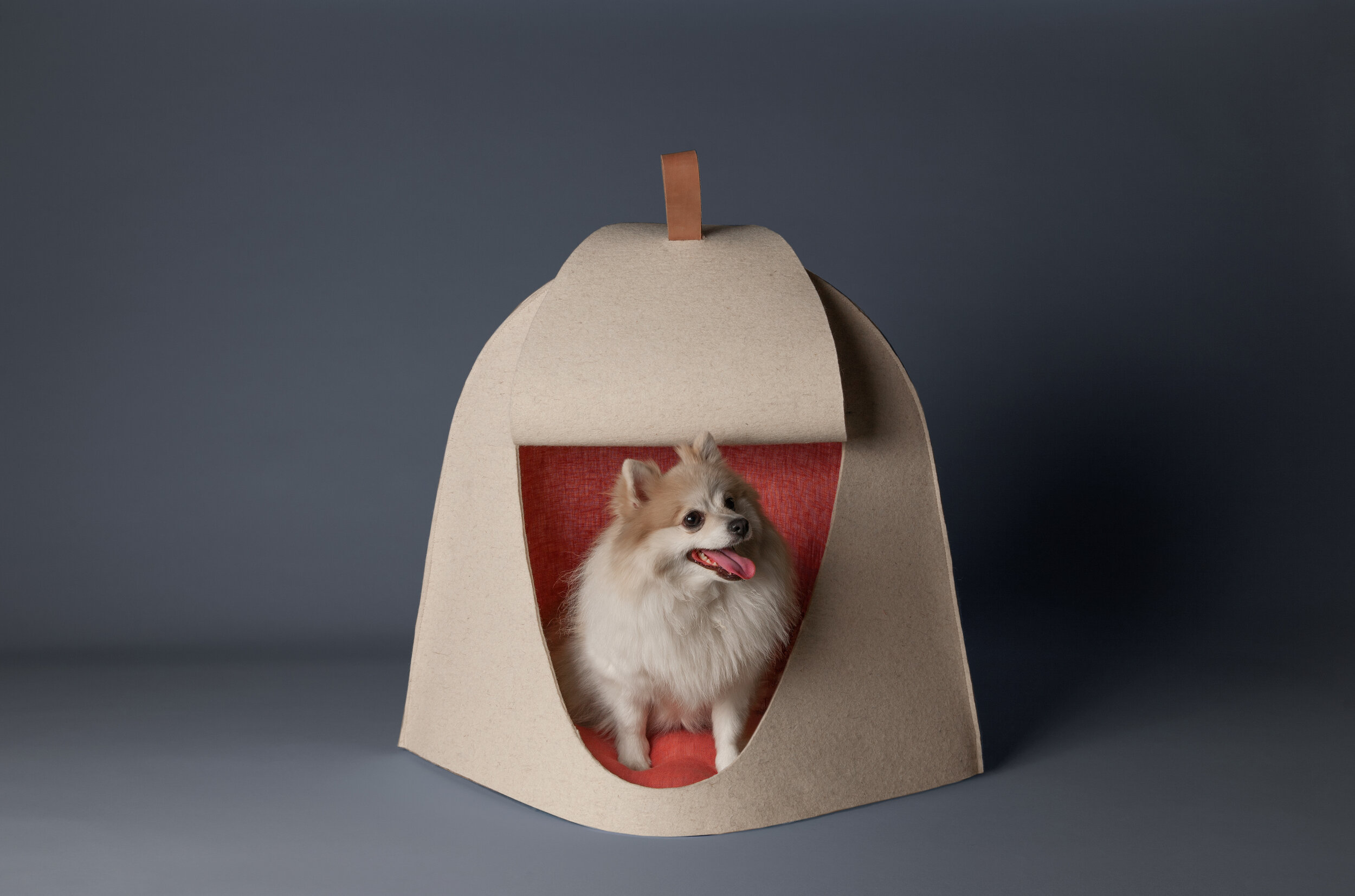 Scandinavian-Inspired Kennels
In the tasteful kennels by Perez Ochando, the calming hue of the structured fabric makes it a wonderful home accessory for both pet and human. The soft and cozy cocoon is inviting for cat and dogs, and the interior matches the new collection of pet food dishes.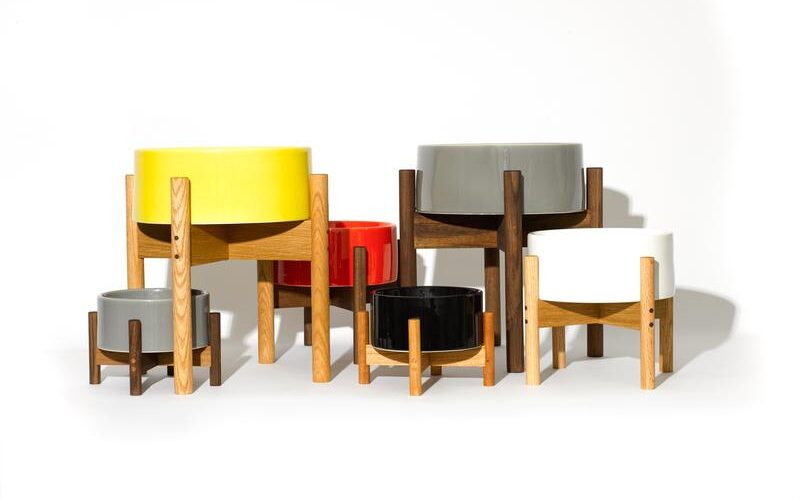 Feeding Station
All pets need food and water bowls (although cats prefer to drink running water), but that doesn't mean people should settle for the run-of-the-mill stainless steel set-up. These elevated ceramic food bowls come in multiple colours on stained wooden stands that look right at home in the kitchen and have the added benefit of being better for your pet's posture and digestion.
_________
Never miss a story. Sign up for NUVO's weekly newsletter, here.