Miss Likklemore's Brings Fine Caribbean Dining to Toronto
With ochre accents, forest green leather, herringbone floors, and art sourced from the Caribbean, were it not for the cold outside, you'd think you had just stepped into the luxe dining room of a Jamaican beachfront property. In reality, this Block Plan Studios-designed space is home to Toronto's recently opened haute Caribbean restaurant, Miss Likklemore's, the brainchild of chef Lonie Murdock and Darren Hinds, who opened this King Street West spot as an ode to her Jamaican roots, his Guyanese background, and Caribbean culture generally.
Their love of the Caribbean and its foodways is apparent in every dish here, just as it was during their humbler beginnings, when Miss Likklemore's started as a pop-up on Queen West in 2018. The result then was Scale Hospitality's Hanif Harji tasting the food and literally putting his money where the talent is.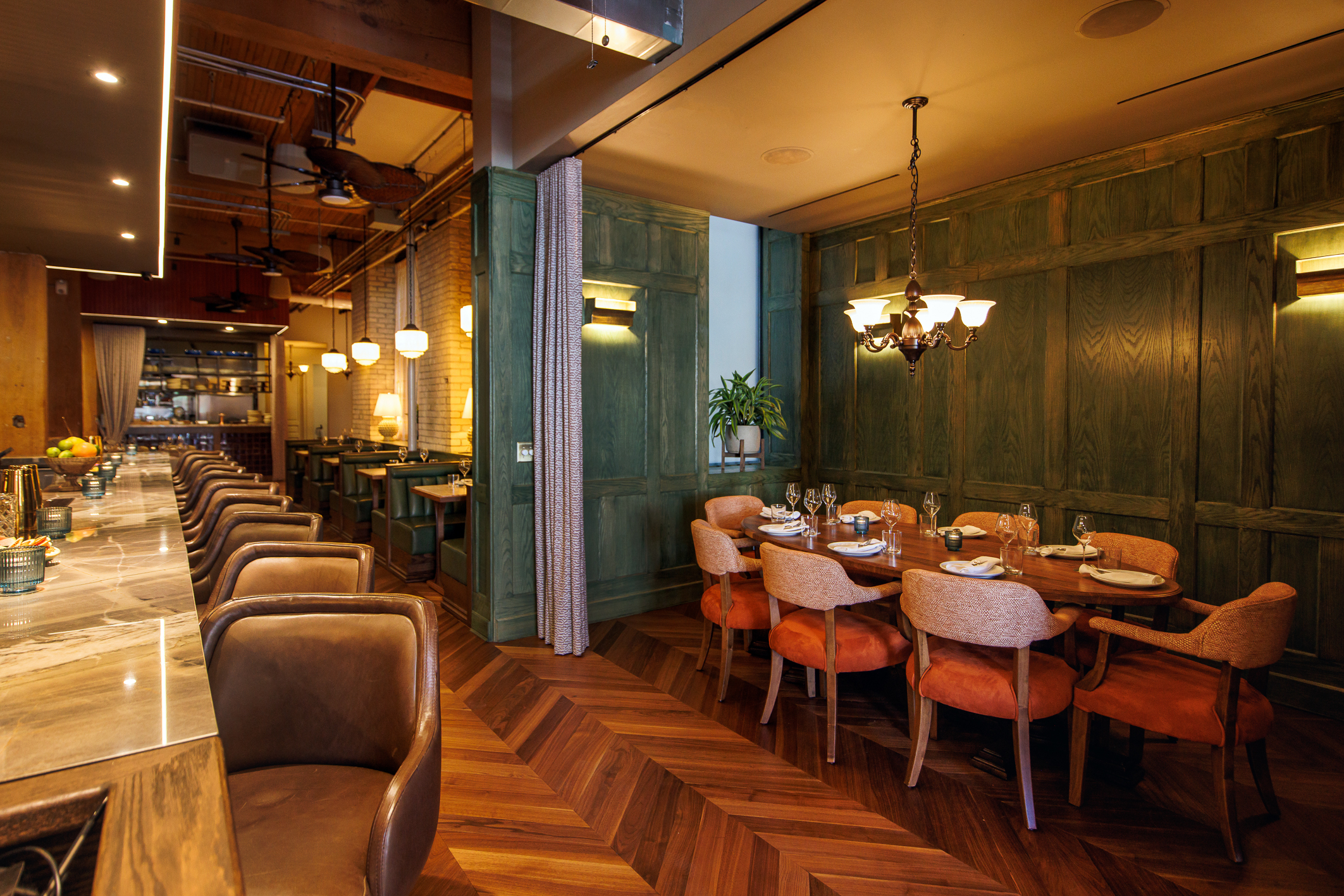 It was the couple's passion, experienced while dining at their pop-up, that tipped the scales for Harji. "I felt that, based on the diversity of cultures in the city, an upscale Caribbean restaurant would fit in very well in the luxury dining segment of Toronto," he says.
For Murdock, a self-taught chef who still owns a meal delivery service, the journey has been eye-opening. "I got to learn from Scale's corporate chefs Ted Corrado and Zach Albertson," she says. "They taught me techniques I didn't know, and I introduced them to Caribbean ingredients and flavours that were new to them." You'll find the founders' family recipes on the menu, including Murdock's Miss Edna's jerk chicken along with Miss Paula's carrot cake from Hinds's mother.
A journey through the Caribbean begins with shareable appetizers like the sea scallop crudo with a coconut lime dressing, spicy chili crunch, toasted peanuts, and mango. Likkle Patties, flaky pastry stuffed with braised oxtail and spicy beef, and served with fermented mango hot sauce are fan favourites, as are the doubles presented as mini tacos. But it's the tempura okra with a sweet-hot glaze and the Nuff Nuff Slaw— featuring jicama, kohlrabi, compressed pear slivers, peanuts, a papaya vinaigrette, and crunchy taro threads—that truly stand out.
What one server calls "the best bite on the menu," the Lamb Platter easily feeds two or more, with tamarind marinated lamb shoulder served alongside mini rotis, chayote slaw, and pickled okra. To wash it all down, opt for the Soursop Sour cocktail, made with gin, soursop, lemon, agave, aquafaba, and hibiscus rosehip bitters. And if you're a rum fan, you're in luck—Miss Likklemore's collection features about 100 bottles from around the globe.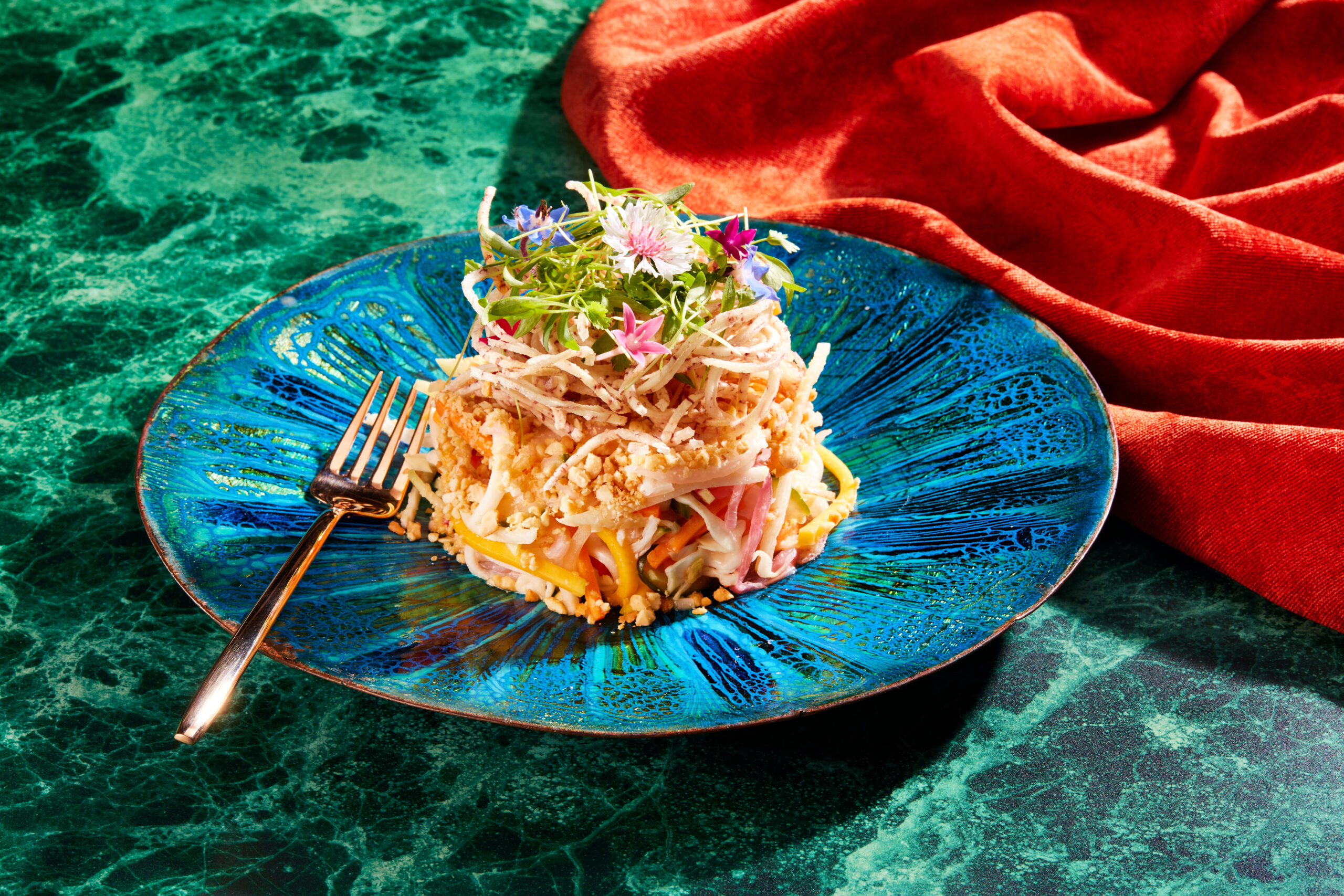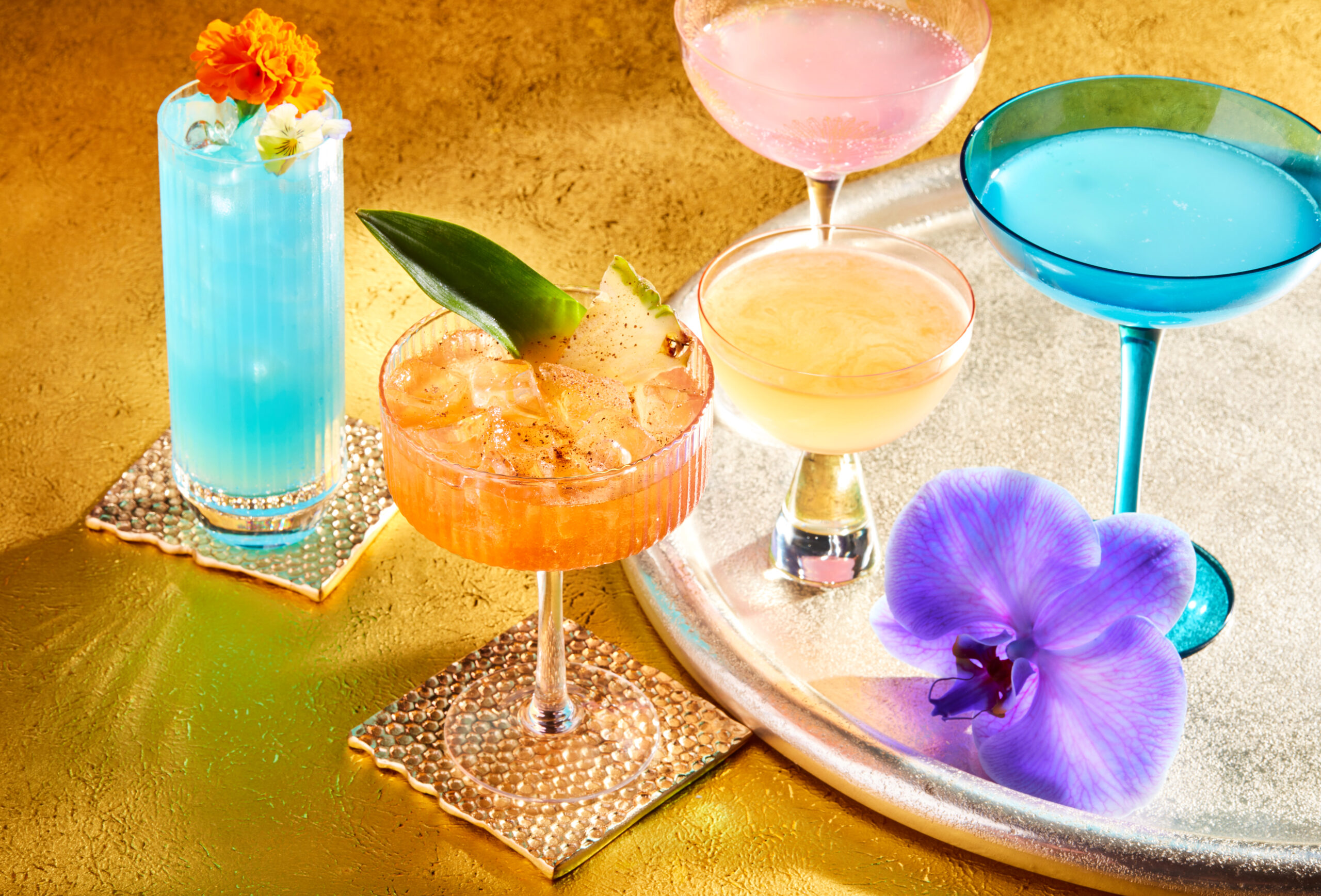 The night I'm there, a big group has gathered in a semi-private space in the back of the restaurant to celebrate the holidays. As they raise a glass of Likklemore's Punch, I'm reminded that while it's winter outside, it's all Caribbean warmth in here.