This Boutique Inn Is Prince Edward County's Latest Modernist Marvel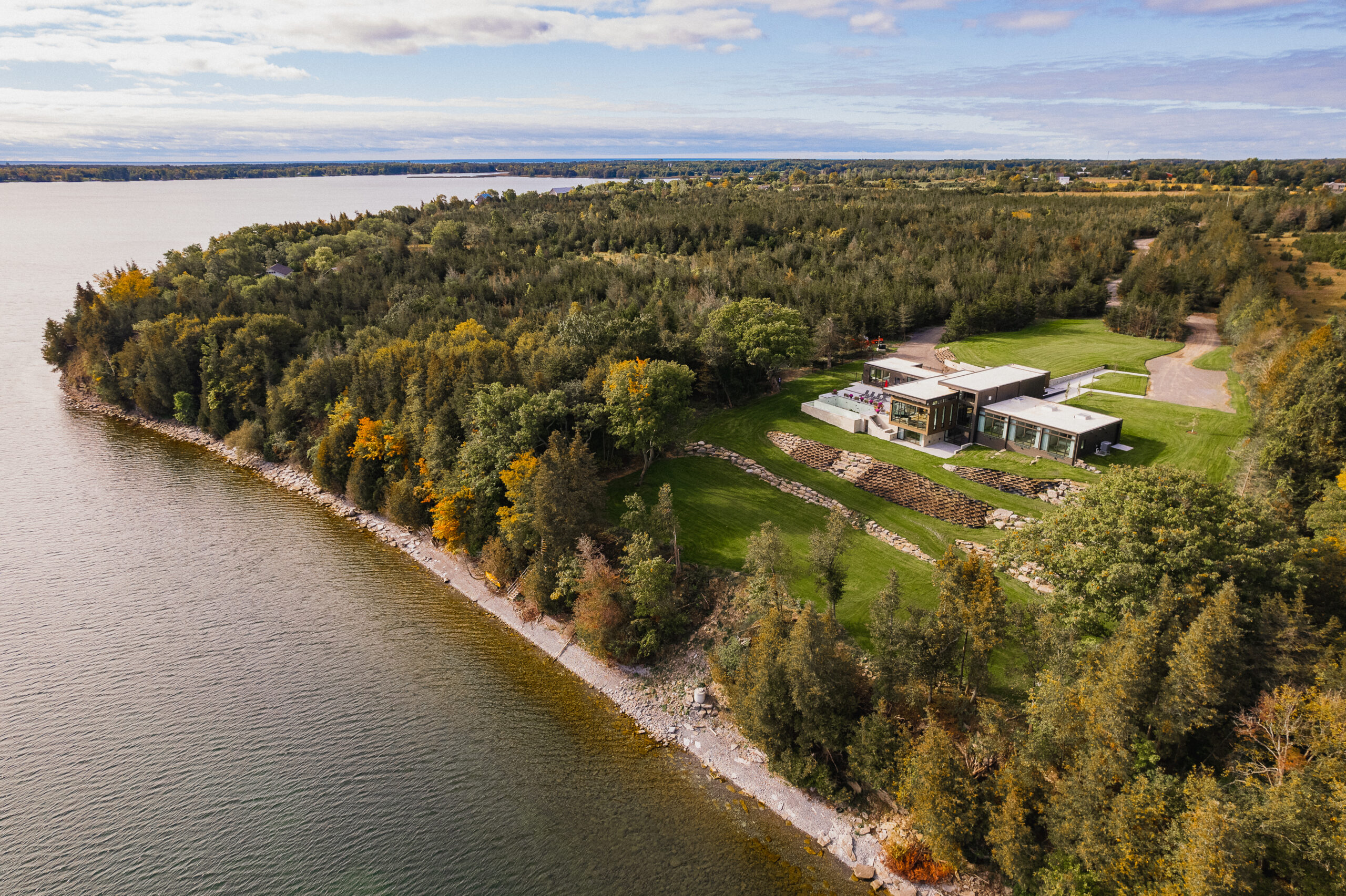 Sometimes, the best-kept secrets are literally off the beaten path. Take for example Prince Edward County's latest architectural gem/boutique inn, Mirazule. Out of sight from the main road, its only marking is a property number as you meander along a winding driveway until a modernist mirage appears as if out of nowhere. And if the low-profile, contemporary building with its two massive wooden entry doors looks impressive, wait until you get inside.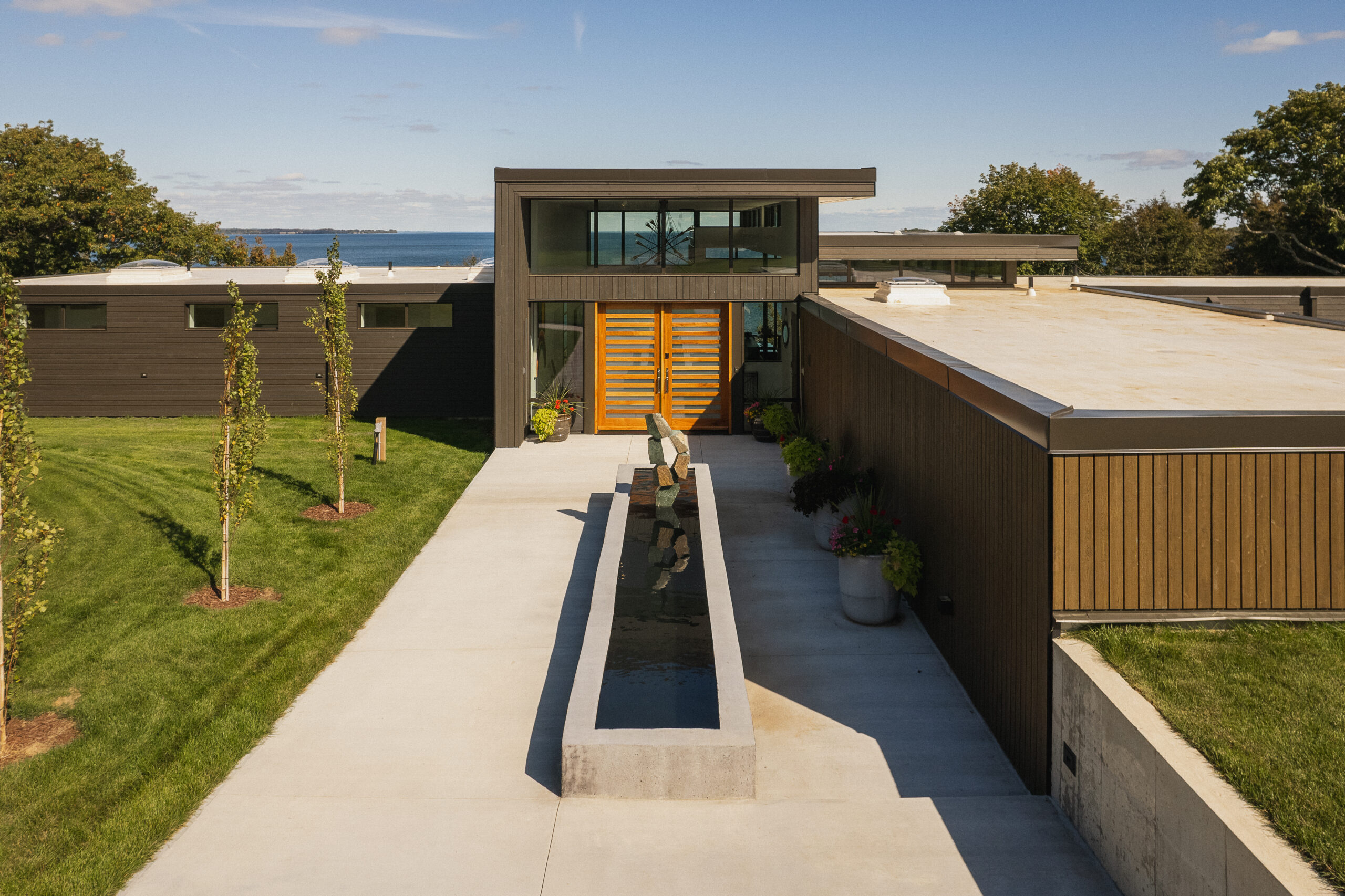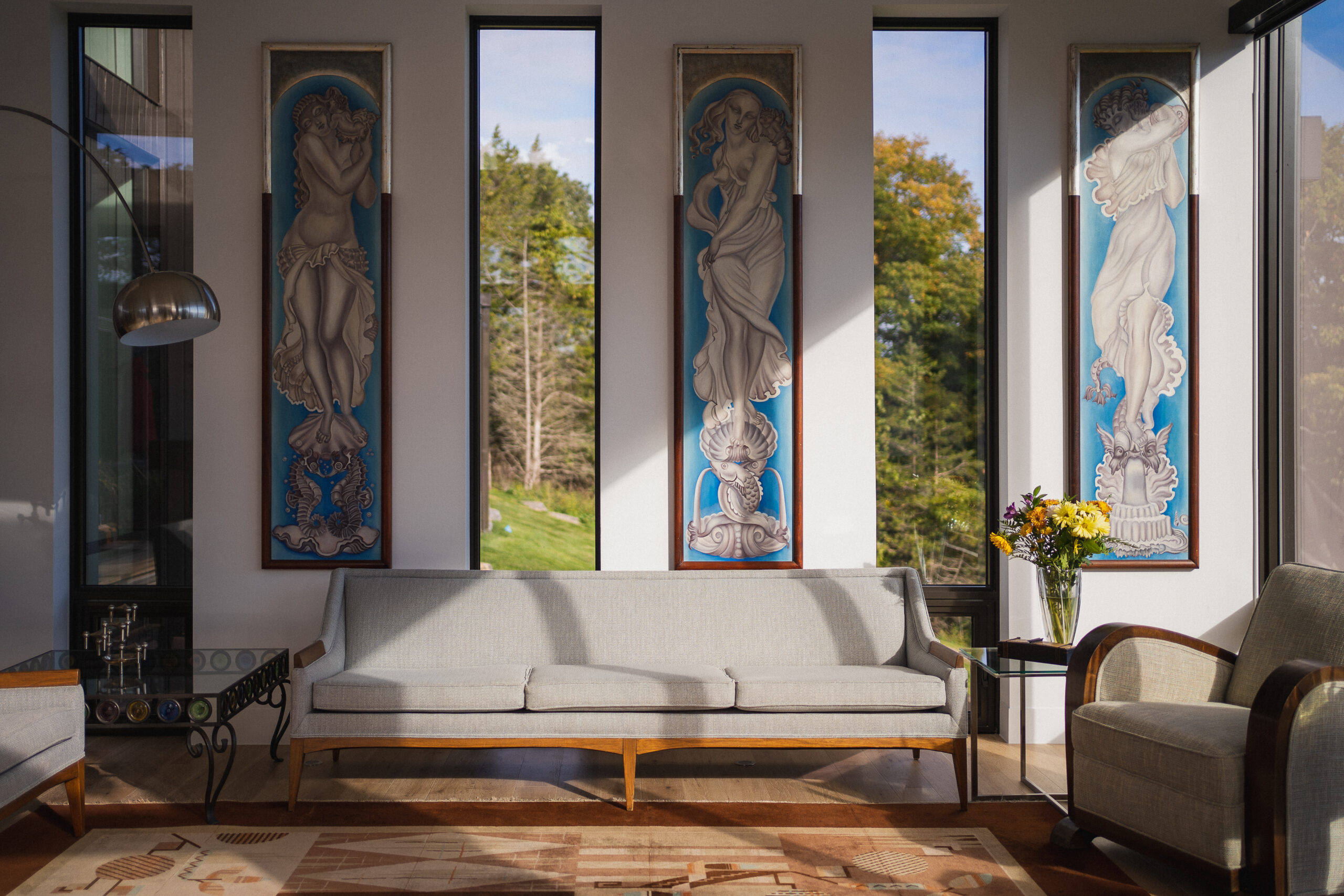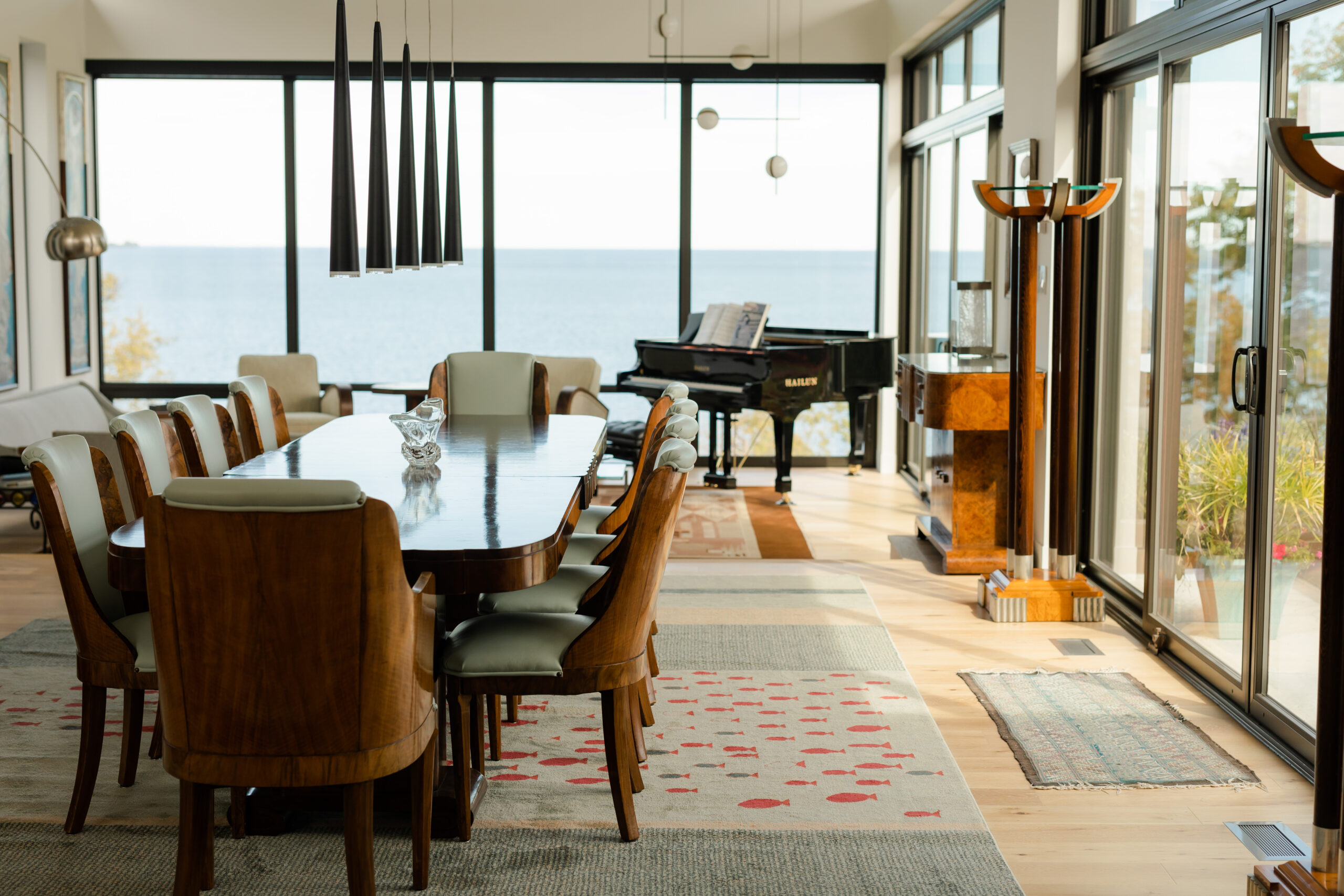 Almost on cue, our arrival coincides with the appearance of co-owner Ian Nelmes, who meets us outside and invites us in. Thirty-foot ceilings and a water-facing glass wall are just two of the sights you'll drink in upon entering.  Depending on the weather, South Bay's waters take on hues ranging from navy blue to the deepest Mediterranean azure—the inn's name, Mirazule, combines the Spanish words for "look" and "blue."
Nelmes' partner, Miguel De Lemos, greets us with a glass of bubbly. Getting to know their guests is the inn-keeping couple's favourite part, along with making them feel at home. That is, if your home happens to be an architectural build with airy bedrooms outfitted with smooth-as-silk Egyptian cotton sheets and ensuites featuring European elegance.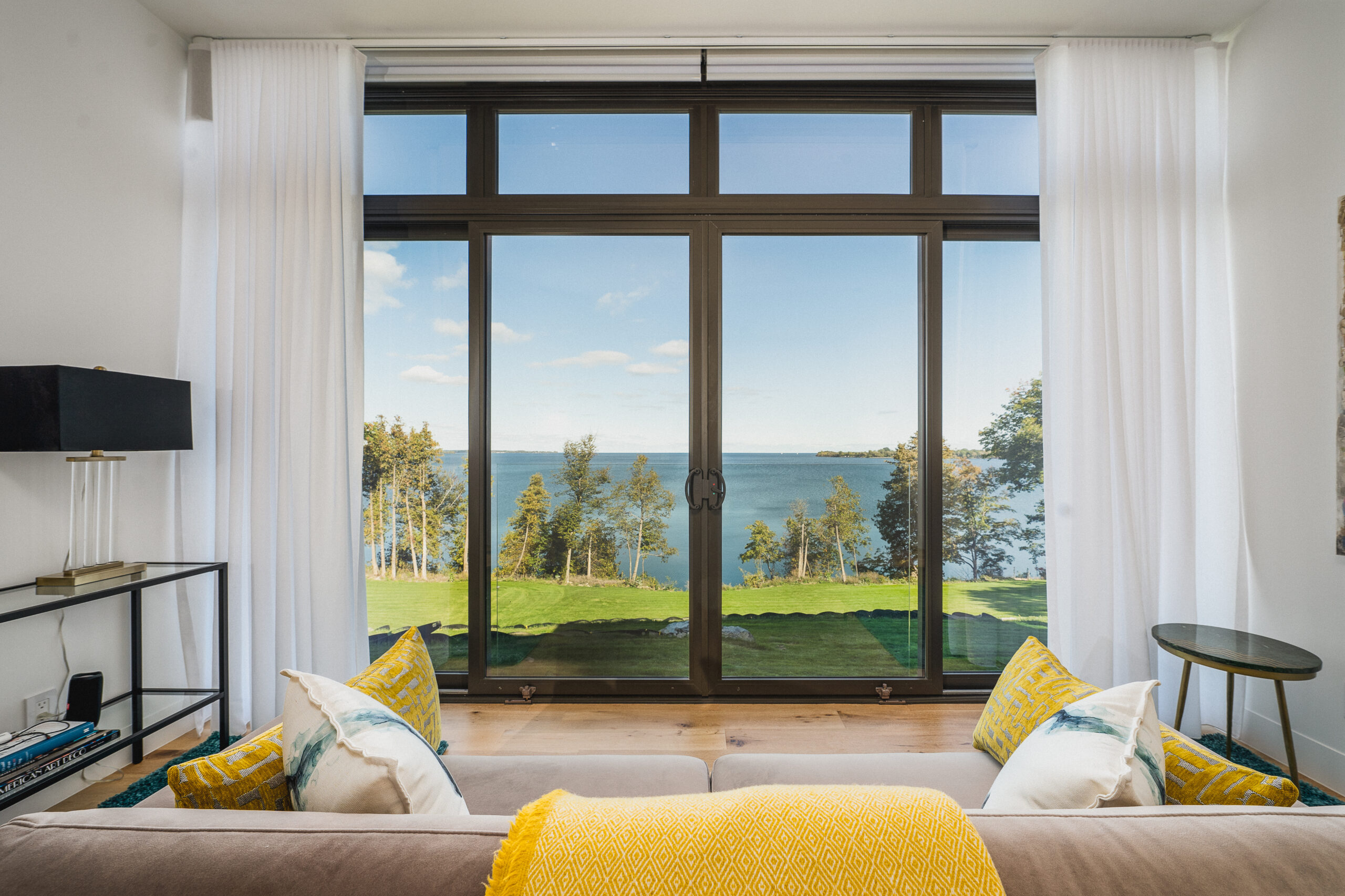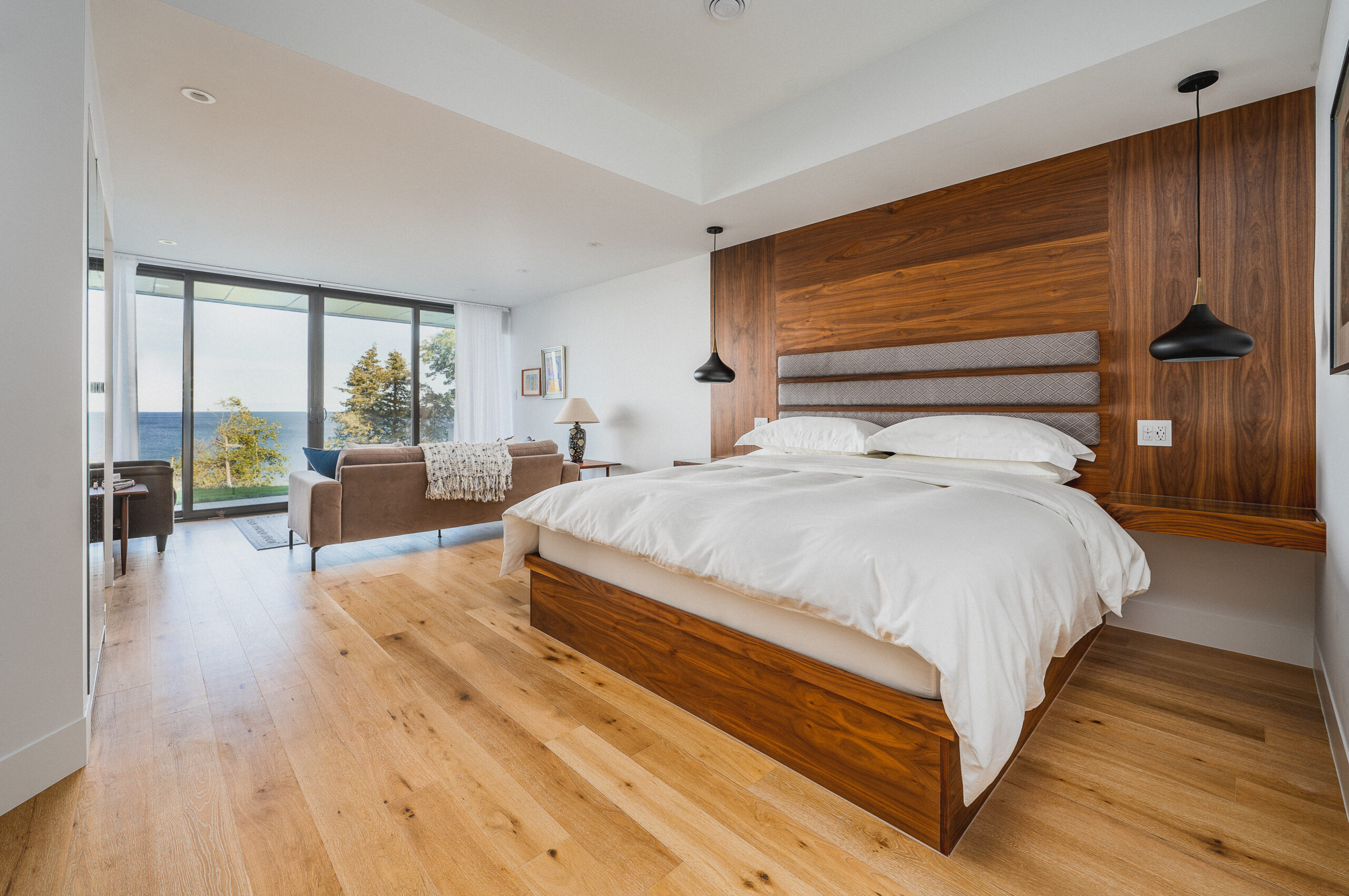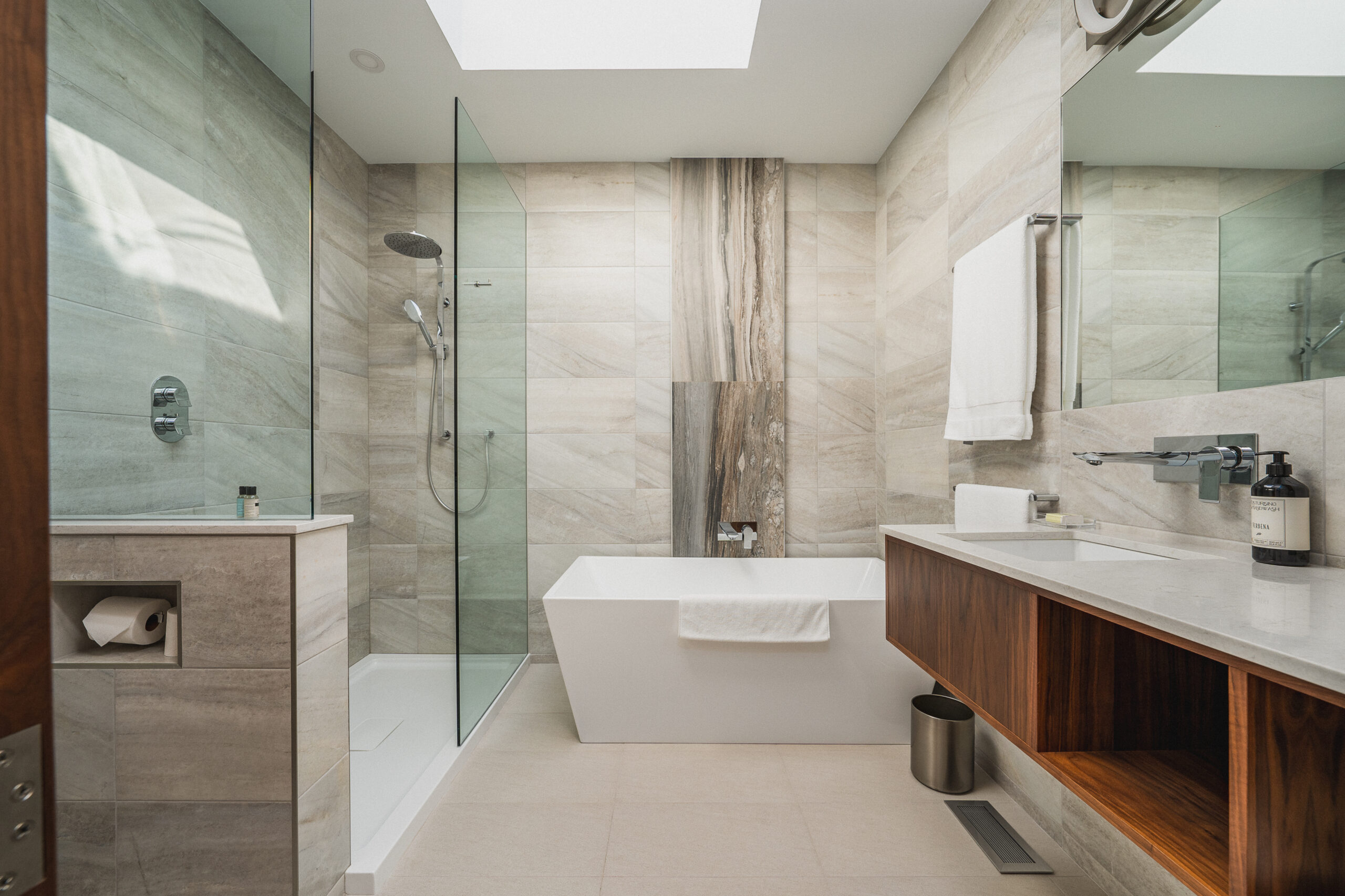 Running an inn isn't new to this entrepreneurial couple. At the turn of the millennium, when so many were considering their life choices, the men left their corporate careers and purchased an art deco–style boutique hotel in Corbie, in the Somme Valley of northern France, called Le Macassar. Fifteen years later, De Lemos' parents died, so he suggested the couple move to Canada to be closer to Nelmes' family.
Nelmes' sister's friends, who had researched the best areas around PEC for their own property buying purposes, suggested South Bay, with its uninterrupted waterfront views and proximity to the towns of Bloomfield, Picton, and Wellington. Nelmes, who had grown up in Kingston, was pleased to see how much the region had evolved, so with family and friends already present, the couple says, "the penny dropped," and they moved back to Nelmes' home province.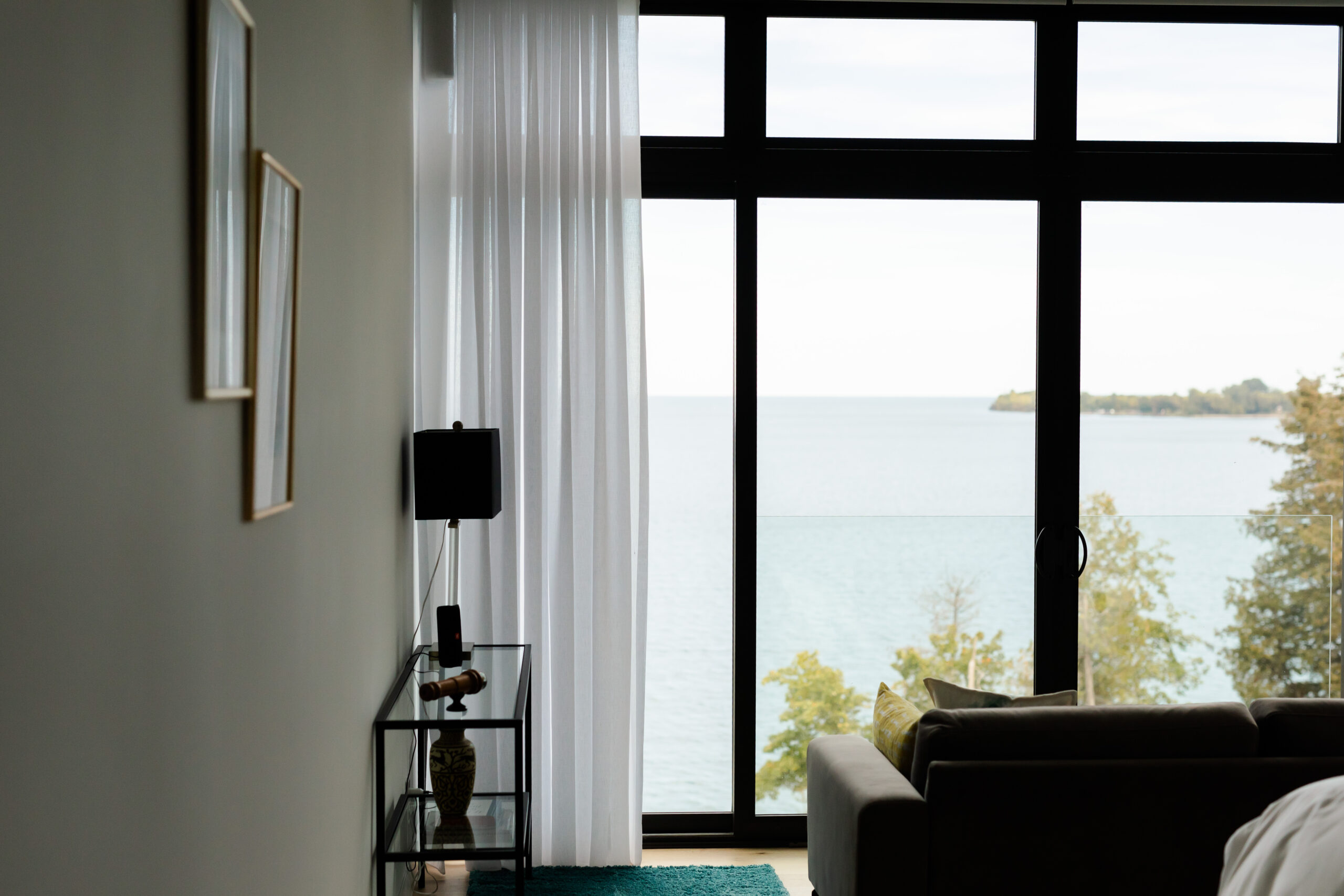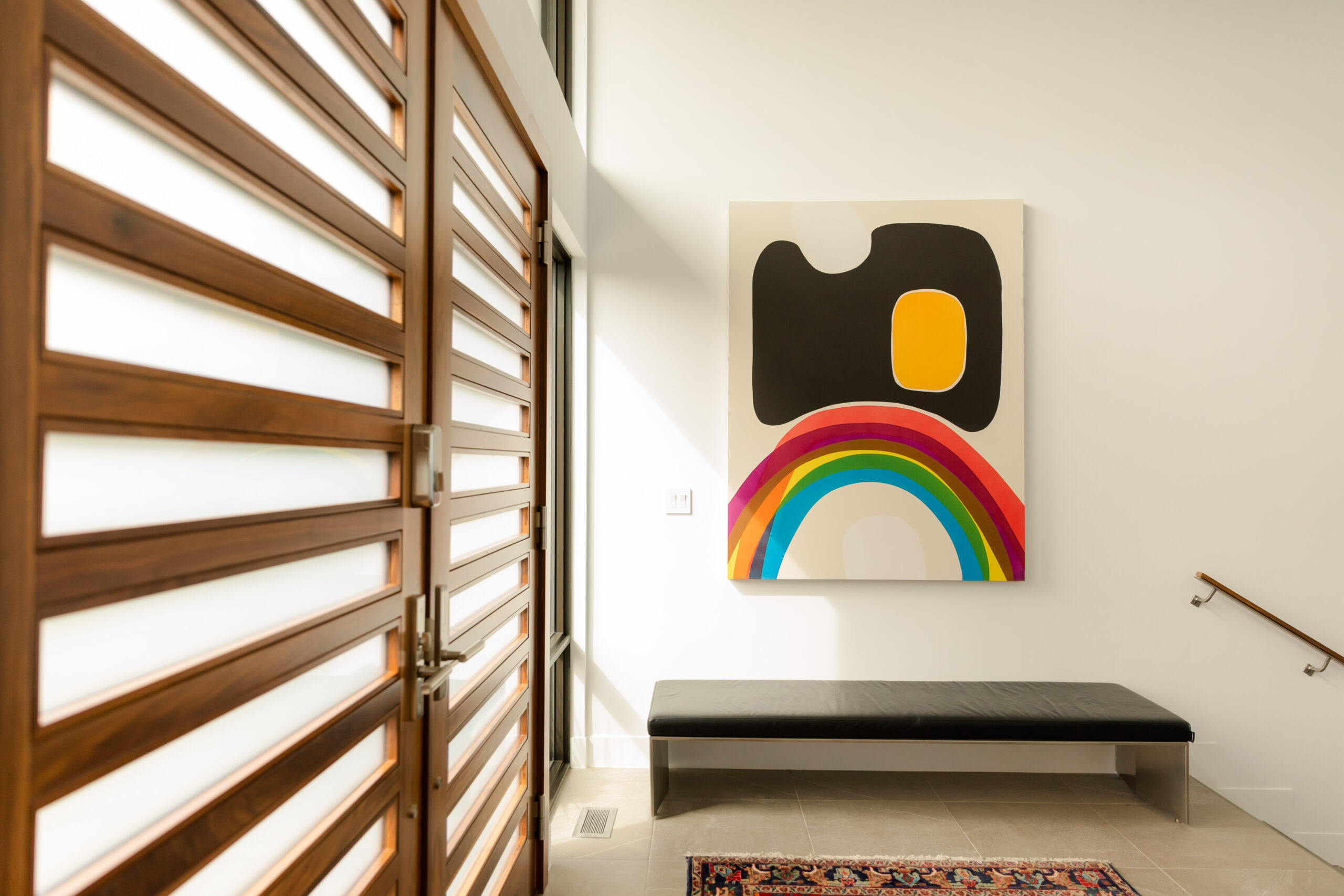 Nelmes first saw the property where Mirazule now sits in March 2016, when he hiked from the country road through trees and bushes to the water's edge. The couple knew their next hotel would emphasize simplicity with clean, modern lines. "We've always been drawn to sleek, angular houses," Nelmes says, adding that since he was 11 years old, he has pored over Architectural Digest magazines bought with his own money, to his mother's chagrin.
The men agree that a "warm modern" home was their goal—that is, an aesthetic with warm, tactile elements that feel welcoming, not "chilly." "We're not minimalists," De Lemos says, explaining that they wanted a grand, aspirational space because "would you want to book into an inn that your home is nicer than?"
BlackLAB Architects in Toronto worked with the couple to create Mirazule. Off the left side of the front entrance, artwork from local and European artists adorns the walls of a tranquil hallway the couple calls "the gallery." Three spacious rooms occupy that wing, each with a stunning, unobstructed view of the water from a comfortable king-sized bed. Every room offers a deep soaker tub, glass-enclosed rain shower, and high-end finishes that echo the hues outside the double sliding doors. Another guest room on the ground level, with its own walk-out patio, brings the room total to four.
Straight through the front doors, a spacious dining room features a spectacular walnut art deco dining room suite from the U.K.'s famed Ray Hille. The couple knew they wanted a long room to house the table with its three additional extension leaves, three sideboards, and chairs in the space. Next to the wall-lined windows is a lounge with an impressive black piano in one corner, while four turquoise mermaid panels that Syrie Maugham (Somerset Maugham's designer wife) commissioned in the 1920s as a panelled room divider hang on the opposite wall.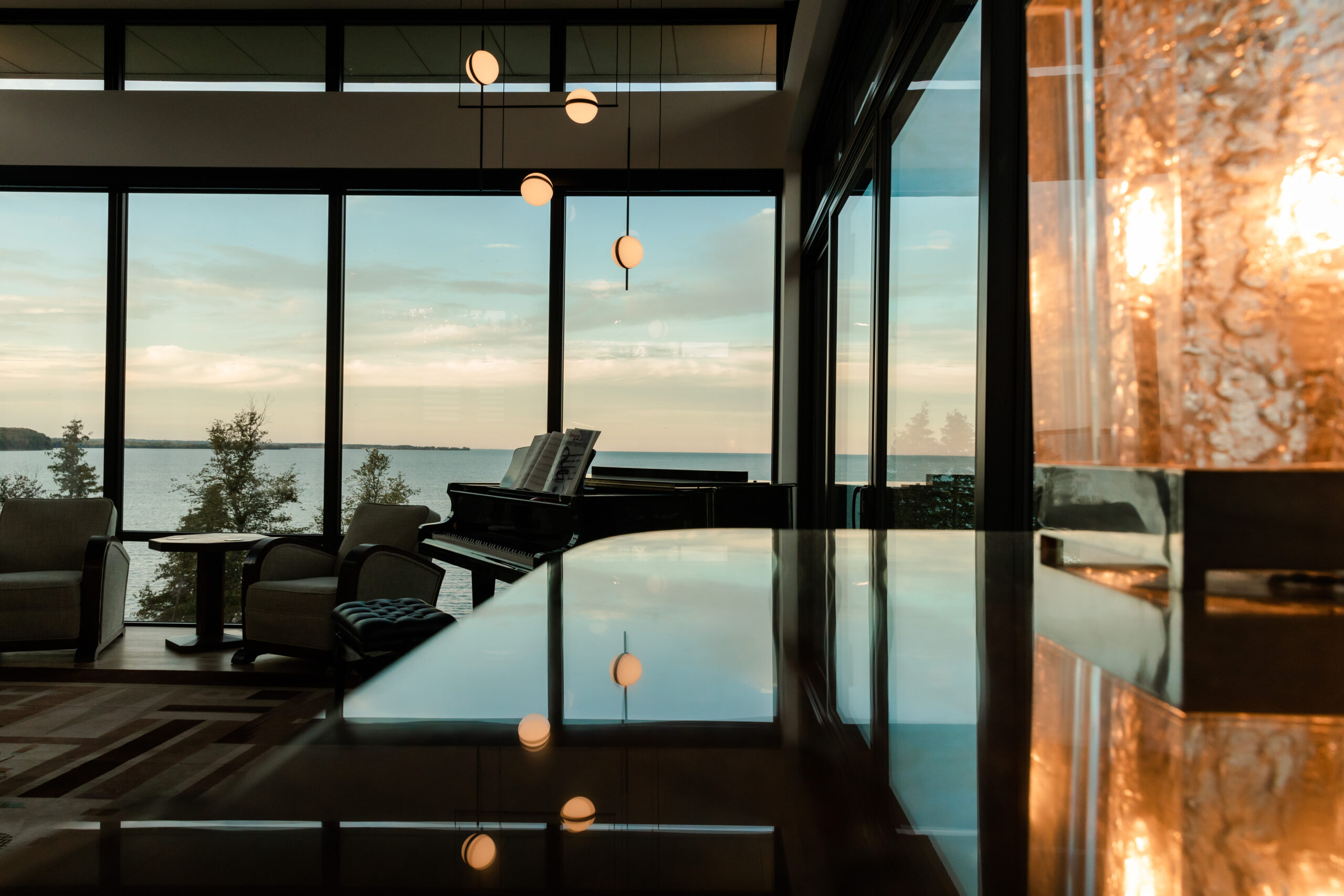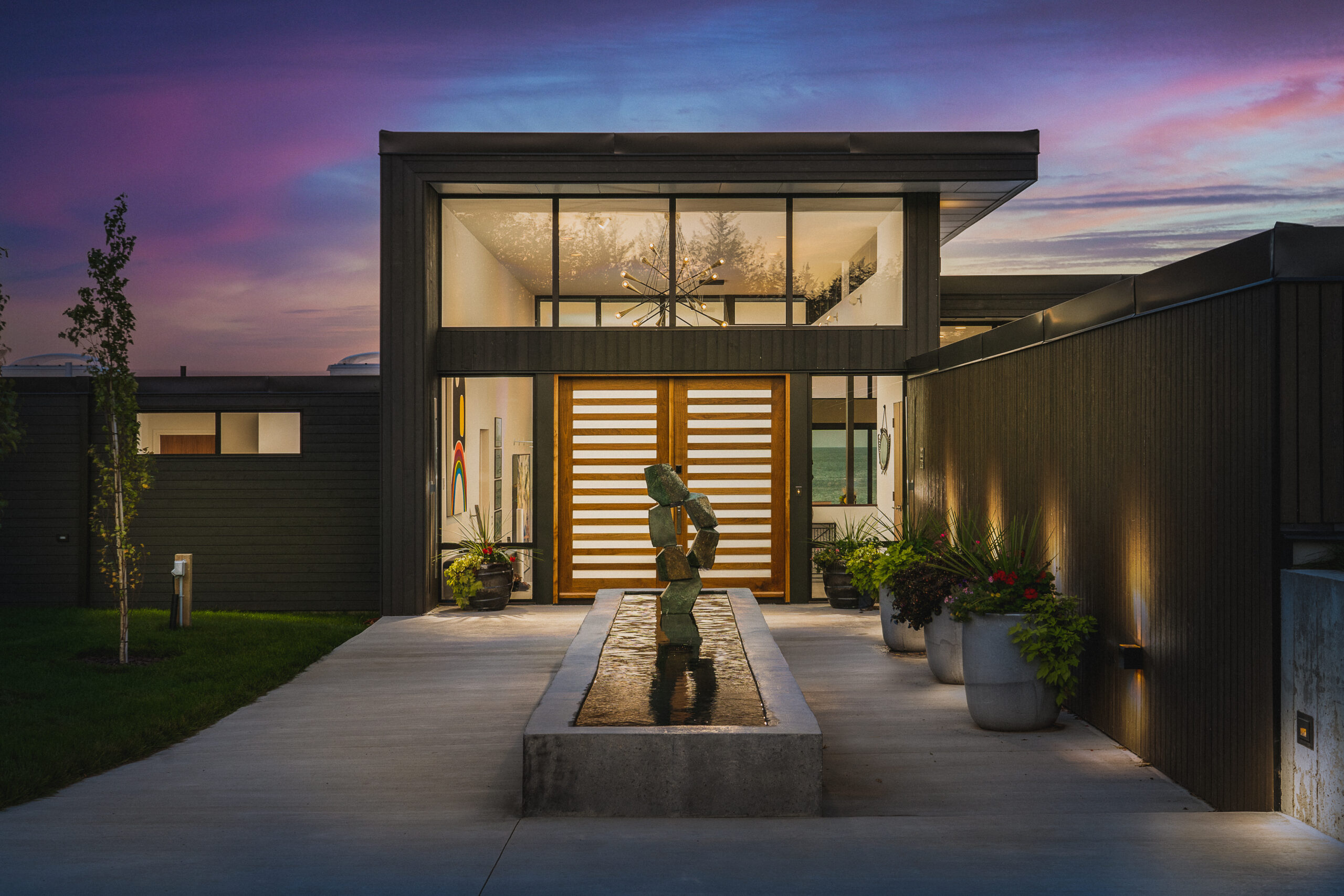 Just about anywhere you look in Mirazule, Nelmes and De Lemos have carefully curated spaces and nooks with items from original Roman glass vases and sculptures to fine decorative objets d'art. They designed the space themselves because they knew exactly what they wanted and, as Nelmes jokingly says, "I don't think any interior designer would have put up with us or our vision." Part of that vision includes preparing a wine-paired dinner party that De Lemos makes using local ingredients. These are booked by request and require a two-night minimum stay. The hosts are keen conversationalists and happy to share a few drinks as they get to know their guests. They are also already deeply embedded in the community and offer a wealth of inside information, ranging from places to dine and breweries to visit to walking trails and prime vistas.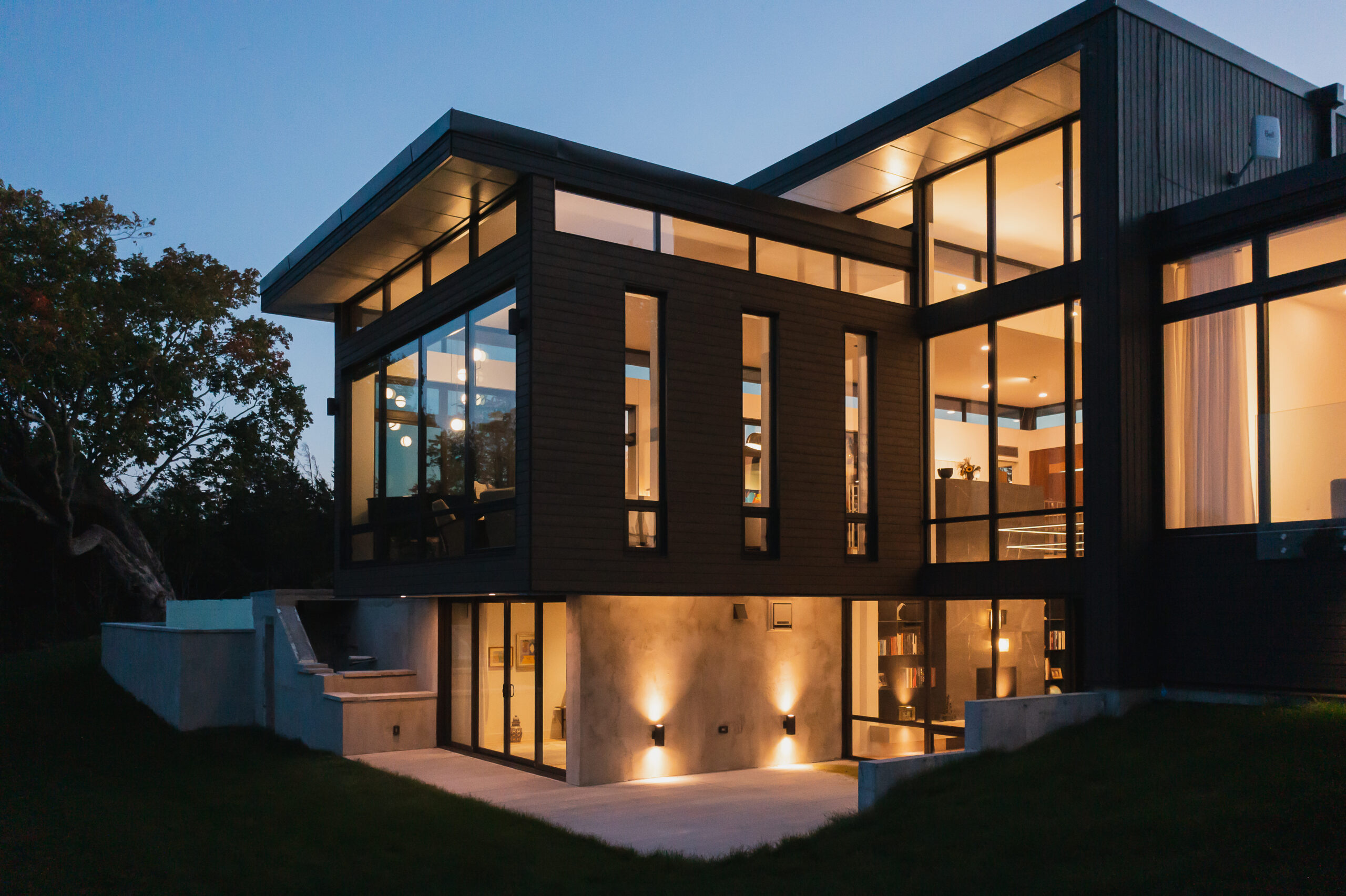 The couple's living quarters are on the opposite end of the guest suites, with a state-of-the-art kitchen neatly tucked behind a coffee and water bar for guests. It's the perfect work/live space. Nelmes and De Lemos are finishing an outdoor patio with a pool overlooking the lake for hot summer days and nights, along with a terraced backyard where they hope professional musicians perform candlelight concerts one day soon.
After a restful night in our suite, we wake up to the comforting, cozy scent of freshly baked banana bread that De Lemos has just whipped up for us and two more guests that stayed the night. We sit down to a hot breakfast of fried eggs, toast, and bacon, along with hot coffee, tea, yogurt, fruit and a side of conversation. It's easy to get used to the good life.
Like the changing skies reflecting the multihued lake, Mirazule is an evolving, organic entity that can shift from four-bedroom inn to an upscale events space for the press launch of a luxury car. It's recommended you book in advance because, although open for less than a year, the inn already has repeat guests. The genie is well and truly out of the South Bay bottle.
Photography by Darryl Griffioen