ēst: An Experience in Imaginative Cooking and Design
Encore, chef Sean MacDonald.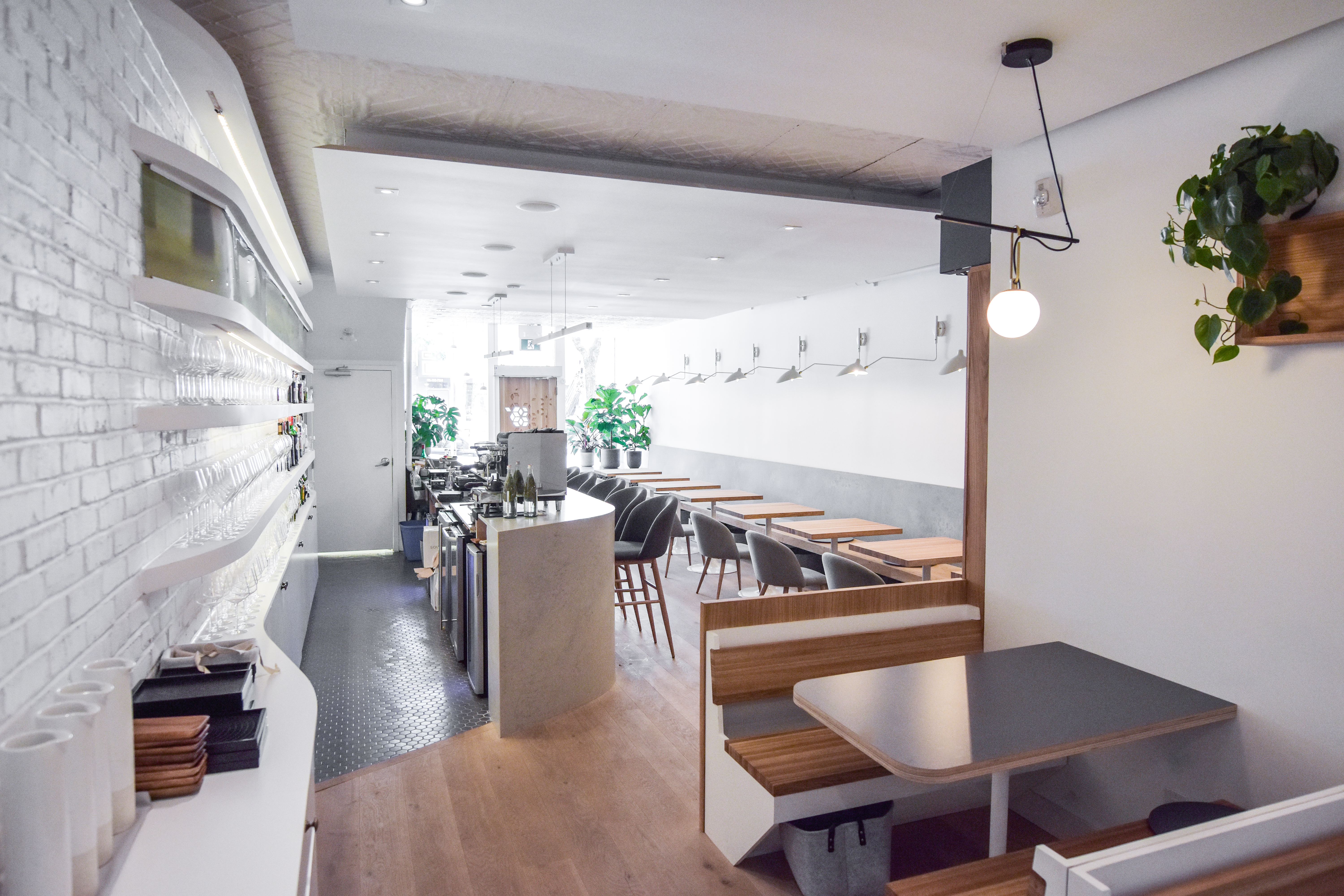 Taking a step into ēst (pronounced "east"), you notice a sense of calm unusual in bustling Toronto. The minimalistic room, washed in light woods and various grey hues, is enlivened with plants and warmed up by felt accents. Once you're seated, dishes appear tableside, as if they have been plucked directly from a Canadian forest. A cluster of pebbles, perfectly sized twigs, and bits of lichen frame the thoughtfully laid out portions. Spoons contain comforting corn custard enhanced with malted and candied buckwheat and flagged with black truffle. Micro brioche buns hug prawn hot dogs that are finished with chive mustard and garlic aioli. This is a theatre of food, and chef Sean MacDonald is directing the show.
MacDonald is a born Calgarian who got his start as executive chef at Calgary's Market Restaurant. He was 23. Next, he headed to Oakville's Hexagon, and then decided it was time to test his talents in a slightly bigger pool: Toronto.
MacDonald's awe-inducing plating abilities recently had him recognized as one of 36 rising talents by the Art of Plating. And in 2018, he was dubbed the 221st best chef globally at the Best Chef Awards in Milan. "For me to stay in Canada to open a restaurant, [Toronto] was the place to do so," MacDonald says. "I thought Toronto was a good place to be able to show my culinary vision and express my cuisine." He's yet to turn 30.
Toronto's Riverside neighbourhood, in its east end, beckoned him: with its up-and-comer status, incoming developments, and a dining scene that wasn't overly saturated. The recent addition of the Broadview Hotel has helped give the area international cachet. For MacDonald, this was the perfect place to build a destination restaurant.
The ēst dining room is linear space: a narrow build designed by the Creative Union, a collective of innovative designers in Toronto. Those keen on having a quick post-work drink and snack combo can seat themselves at the Caesarstone bar; the rest must opt for either the plant-based or carnivore tasting menu. Regardless of dining preference, Canadian-grown ingredients thread the fare together.
"My culinary philosophy is to create a dining experience that people haven't had before," MacDonald says. "I like to draw in art with my plating and serving of dishes to guests." Regarding the plant-based tasting menu, he wanted to ensure that no diner was left behind: "I think vegan food has the potential to taste very good—satisfying and unique, and I wanted to show guests that."
More dishes emerge from the kitchen. A wedge of charred cabbage is gussied up with a vegan take on XO sauce, with the carnivore version enhanced by squid. A plant-based legumes course arrives, with wasabi peas and blackened pea tops. Slices of dry-aged duck breast are divided by bright green chives and finished with hoisin sauce. One of MacDonald's most spectacular dishes, found on the traditional menu, is innocuous-sounding potato dumplings. Six tiny spheres bathe in a puddle of sauce whipped up from dried potato skins, parmesan rinds, and cultured butter. He has been working on and serving the dish at restaurants his entire career; what began as a gnocchi recipe has evolved into incredibly soft and fluffy potato dumplings.
After the night's show, the meal at ēst comes to an end. The palate cleanser is a micro version of a pint, with sea buckthorn smartly transformed into a foamy soda complete with a striped straw. For vegans, dessert means ube and poppy seed rice pudding with coconut water sorbet. Servers tell guests it's to help transport them back to the playful approach to baking they had as a child, summing up the ēst experience perfectly. As it turns out, the chef just wants to have fun and use his imagination to explore all that is possible in fine dining.
Photography by Ben Ehrensperger.
_________
Never miss a story. Sign up for NUVO's weekly newsletter here.