KAWS Makes His Canadian Debut in Toronto
The American artist brings his towering cartoonish sculptures to AGO.
Iconic American artist Brian Donnelly opened KAWS: Family last week, marking his first Canadian museum exhibition ever at the Art Gallery of Ontario. The gallery's deputy director and chief curator says the institution is "very proud to be the first Canadian museum" to present the artist's work, noting that his long-standing commitment to accessibility and creativity aligns well with AGO's principles.
Featuring a wide variety of materials from bronze to wood and paint, the exhibition, made up of over 70 pieces that span the last 20 years and two virtual reality installations, unites KAWS's reoccurring characters in one place to explore what defines family. Known for his large cartoonish sculptures and colourful paintings, Donnelly examines how mainstream media connects us, blurring the lines between popular culture, gallery settings, and commercialization to reveal a unifying thread of humanity.
Donnelly, who adopted the name KAWS because, spent his youth creating graffiti art on the streets of Manhattan and Jersey City, where he was born. He studied illustration at New York's School of Visual Arts before getting his start as an illustrator with Disney, working on projects that include 101 Dalmatians, Daria, and Doug.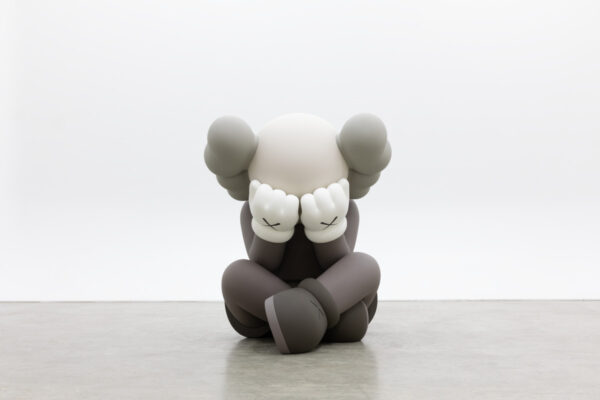 He continued to tag across the city in the evenings and quickly received acclaim, travelling to Germany, London, Paris, and Japan, and gaining a following and the attention of art critics. Donnelly's time in Japan was particularly influential and would lead to his interest in the commodification of his art and numerous collaborations with Japanese streetwear brands and toymakers.
"It was difficult to communicate since I didn't speak Japanese, but I could walk down the streets and see shops full of Simpsons merchandise," Donnelly says in a statement. "It was like, 'You know Homer, I know Homer: We might not be able to have a meaningful conversation, but to all of us, it's still Homer!"
Donnelly now has work at the National Gallery of Victoria, Brooklyn Museum, and Museum of Contemporary Art in Los Angeles, and he has exhibited across the world. His collaborations include Supreme, Nike, and Dior, as well as musicians (the vinyl record box made with K-pop group BTS is on view at AGO, as is the white-gold-and-diamonds Untitled (Space Chain) piece commissioned by Kid Cudi), and nod to the artist's redesigns of the Michelin Man, SpongeBob SquarePants, and Mickey Mouse that frequently appear in his work.
Spanning three galleries, the AGO show has many standouts (like Gang Sofa, a loveseat made from plush toys created in collaboration with Estúdio Campana), but of particular note is Family, a painted bronze sculpture that poses several of Donnelly's famous characters together. Standing more than six and a half feet tall, it's both comedic and eerie. The unique postures of each of the four cartoonish figures, two tall and two short as if a family of parents and kids, convey something surprisingly raw despite the mostly featureless faces.
"KAWS reminds us that art can be many things at once—priceless, useful, commercial, beautiful, familiar, thought provoking and funny," says Julian Cox, AGO deputy director and chief curator. "Like Warhol and Haring before him, KAWS welcomes the viewer with forms that are immediately identifiable, and having caught our attention, confounds with his nuance, pathos and technical skill, encouraging us to consider what is companionship, what is family, what is our relationship to objects."
KAWS: Family opens to the general public on October 11 at the Art Gallery of Ontario and will be on view until March 31, 2024.