Fuchsegg Lodge: Child's Play in the Bregenz Forest
You would be forgiven if you never left your suite as a guest of this hotel.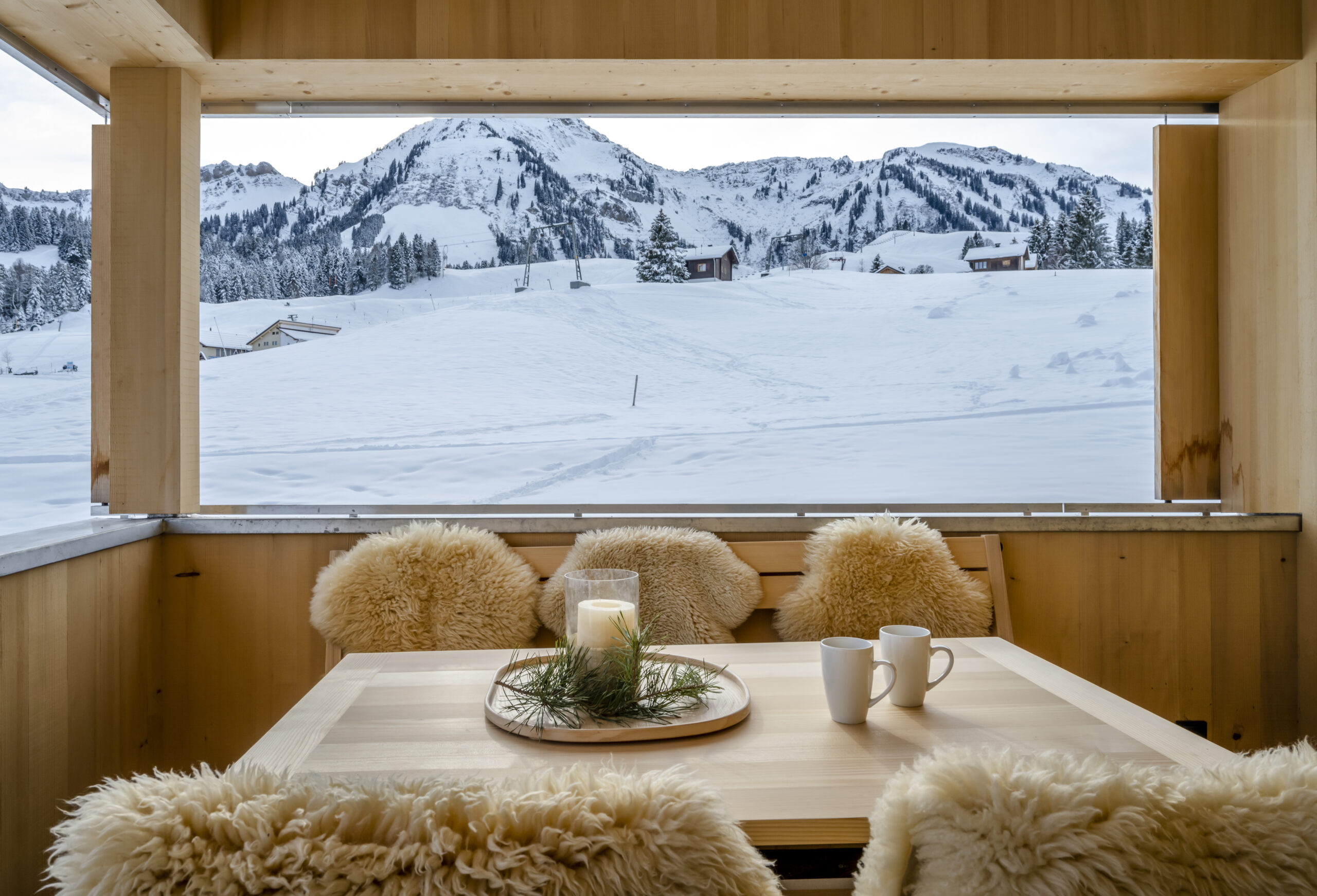 Some hotels demand your attention more than the beautiful landscape that surrounds them. Fuchsegg Eco Lodge is one of them.
Surrounded by meadows, forests, and the characteristic majestic mountains of Austria, the lodge is in the village of Egg in the Bregenz Forest, near the Schetteregg ski resort and a short drive from Lake Constance. Travellers flock to this lesser known region to escape, unwind, and reconnect with nature. But if being outdoors and exploring mysterious forests is not for you, Fuchsegg Eco Lodge, designed by Ludescher + Lutz Architects, is a worthy hotel for design enthusiasts who want to be inspired by not only Mother Nature but also local craftsmen in Bregenzerwald, an area known for contemporary alpine design. When the project was completed in 2020, owner Carmen Can opened the doors and greeted guests to the alpine hideaway.
Can, who vacationed in the area as a child, felt it was important that the lodge be built in a sustainable manner and integrated into the environment. Fuchsegg is designed to resemble the area's vorsäss settlements, simple farmhouses and stables used only in summer. The cluster of six individual buildings includes 30 rooms and suites furnished with locally made crafts, furniture, and materials unique to the Bregenzerwald region. Can personally chose furnishings from members of the Werkraum Bregenzerwald, an organization representing the area's craftsmen.
With the hotel meant for multigenerational vacationers, parents can enjoy the wellness centre in the middle of the property which has a steam bath, organic stone-pine sauna, and Finnish sauna. The heated outdoor year-round pool, on a traditional porch in front of the alpine sauna house, offers spectacular views of the Winterstaude mountain in the distance. Kids have their own play area overlooking the other side of the mountains with a foosball table, ping-pong table, and a choice of handcrafted bikes for exploring on their own.
In the hotel restaurant, guests enjoy regional cuisine with ingredients sourced from local producers. Traditional dishes such as käsespätzle are presented in a contemporary way.
Local food also influenced Fuchsegg in more material ways. The restaurant's raku tile fireplace and the rich blue accents punctuating the lodge's interiors were inspired by the blueberries Can picked in the area as as a child.