The big island of Hawai'i is welcoming visitors to experience a new luxury accommodation and ho'okipa (hospitality) at Kona Village, the first Rosewood Hotel in the Hawaiian Islands. This 81-acre resort on the Kona Coast's Kahuwai Bay was once a fishing village and is now a lush hideaway for families to enjoy the island's culture and flourishing landscapes.
The previous resort was destroyed by a tsunami 12 years ago. Since 2016, rebuilding it has been a labour of love for the new owner, who selected Hawai'i-raised architect Greg Warner of Walker Warner Architects to redesign it and San Francisco firm NicoleHollis for the interior design. Several buildings were designed according to LEED Gold certification standards, and the property includes many sustainable features, including 8,000 solar panels and biodiesel-fuelled generators, allowing the resort to operate off-grid.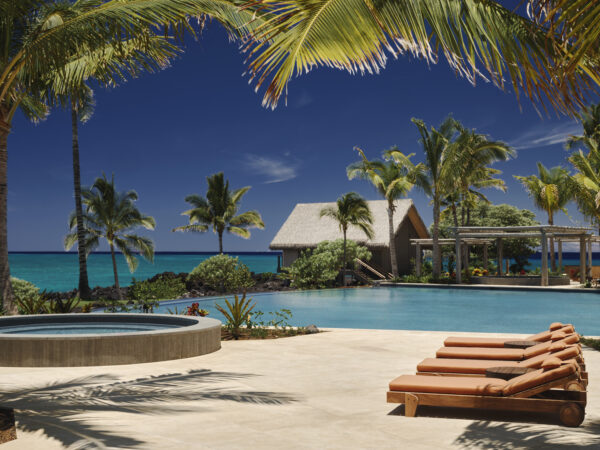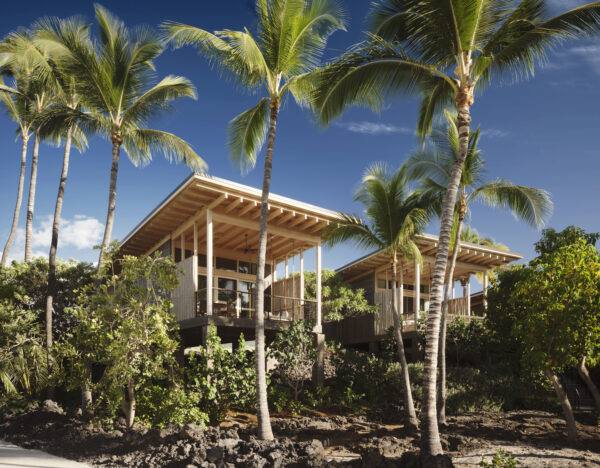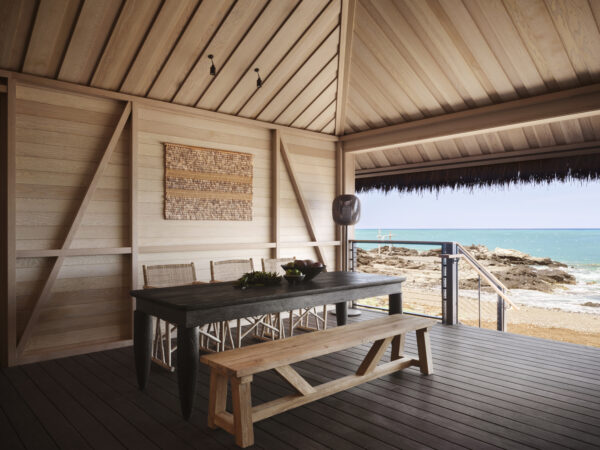 Focused on preservation, the owner formed a cultural advisory committee, resulting in the protection of some 150 petroglyphs; the remains of a holua, a slide used by ancient Hawaiians to enter the sea; archeological remains of a schoolhouse; and anchialine pools, ponds connected underground to the ocean.
NicoleHollis worked with the Kamehameha Schools cultural committee to source a diverse art collection for Kona Village, including a ceramic installation of the Makali'i constellation by Christopher Edwards for the welcome lanai and an abstract terrazzo sculpture of a piko, a symbol of where life begins, by Randall Shiroma in the surrounding gardens.
Crushed-coral pathways lead through the resort, where all buildings are single storey and below the tree line. Accommodation consists of 150 traditional Hawaiian hale buildings, akin to beach bungalows: each is detached with a thatched roof made from recycled plastic.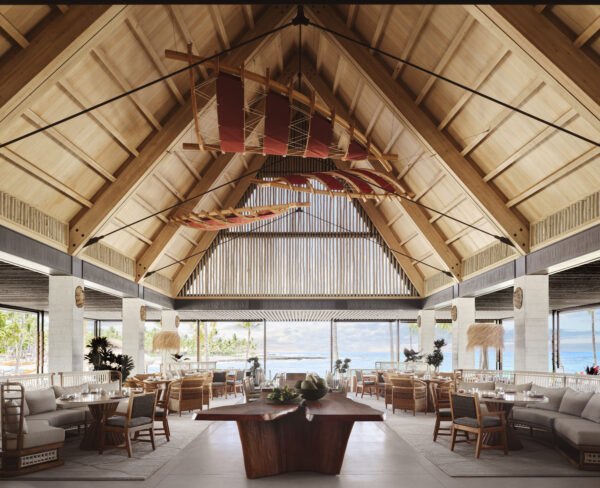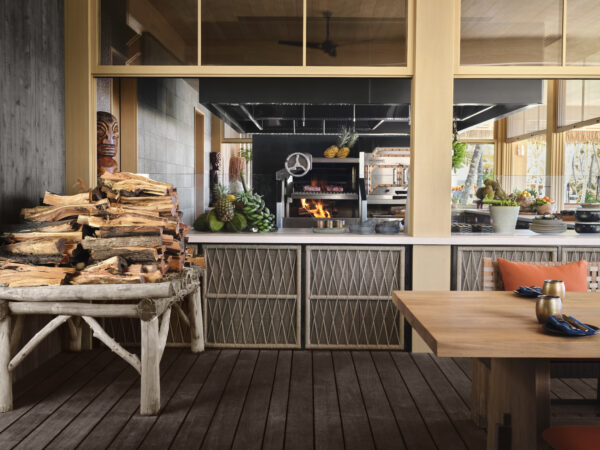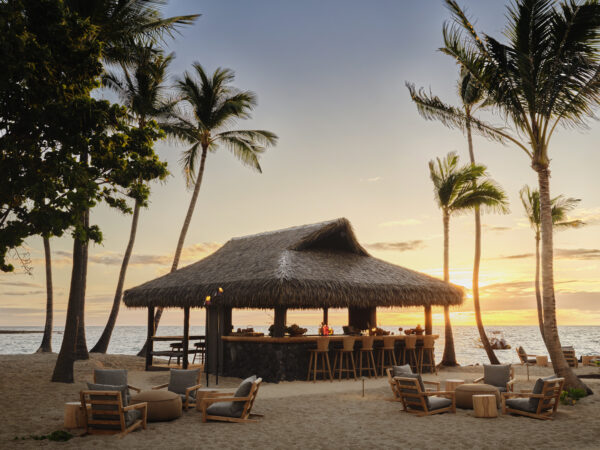 Ranging from one to four bedrooms, each hale includes an expansive lanai, spacious indoor bathroom with sink and soaker tub made from concrete reminiscent of lava, outdoor shower, and views of the ocean, garden, lagoon, or mountains through a window wall. There are five legacy hale buildings, on foundations first laid when the original resort opened in 1966, close to the sea cliffs.
Combining natural textures, custom decor, and locally sourced art, there are three design themes. The south village embraces shades of blue and yellow reflecting the ocean and beach; the north village is highlighted with red and black, reminiscent of lava fields and the nearby Mauna Kea volcano; and lagoon accommodation is shades of teal and deep green.
Each hale features scraped-wood floors, Douglas fir walls and ceilings, and handcrafted beds resembling the shape of a boat. Upholstery, rugs, and textiles were inspired by Hawaiian motifs, and patterns and decor reflect Hawaiian tools for carving, fishing, and knot tying. Additional art is by artists including Pegge Hopper, Linda Spadaro, Roen Hufford, and Jamie Makasobe.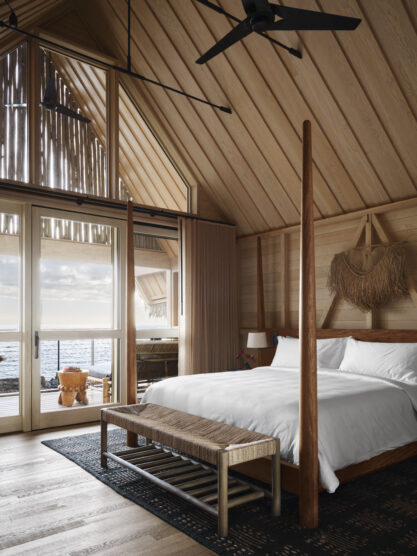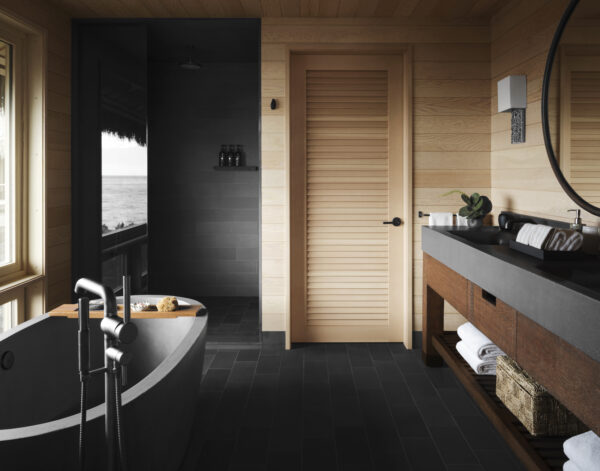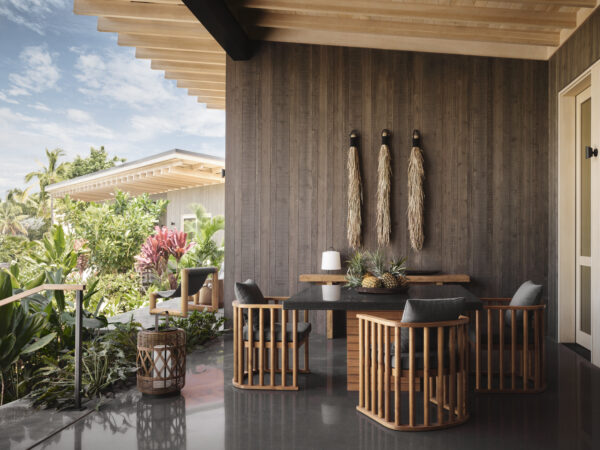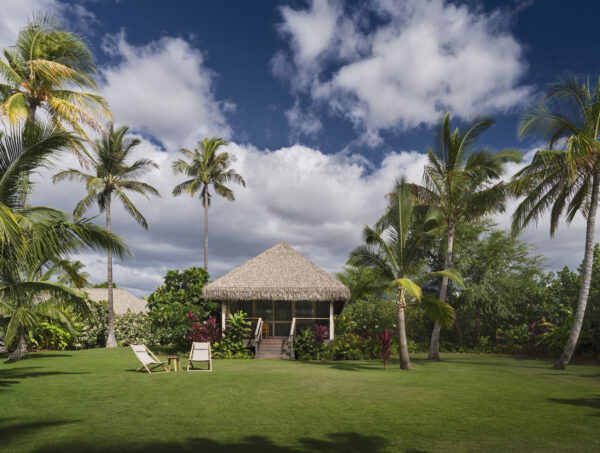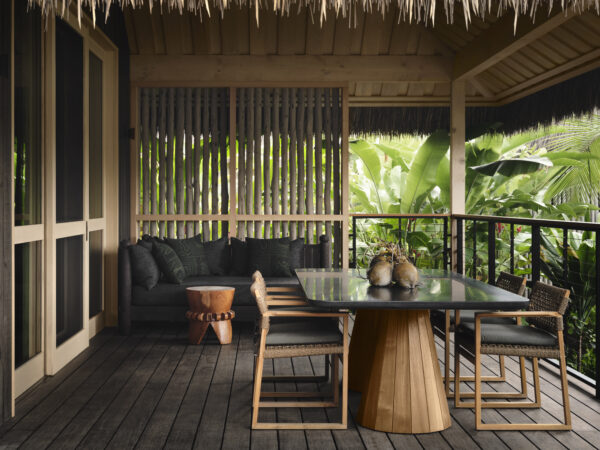 Guests can raise a glass at the Shipwreck Bar, constructed from the shipwrecked schooner The New Moon, sip cocktails on the beach at the thatched Talk Story Bar, and dine at the casual Kahuwai Cookhouse and Market at beachside tables below the palm trees.
The relaunched Moana, a fixture of the previous resort, now serves Pacific Rim cuisine, with 70 per cent of ingredients from island suppliers. Moana's open-air dining room features seating in earth tones of grey and natural woods, and a live-edge mahogany dining table from Hilo. The vaulted ceiling displays an installation by sculptor Kaili Chun, inspired by pe'a, the crab-shaped sails of a Hawaiian canoe.
And for those who love the water, Kona Village features four outdoor swimming pools, direct access to the ocean, and the Asaya Spa, decorated in a multitude of calming natural textures and featuring open-air treatment rooms.
Photographs by Douglas Friedman.