Theatrical accommodation.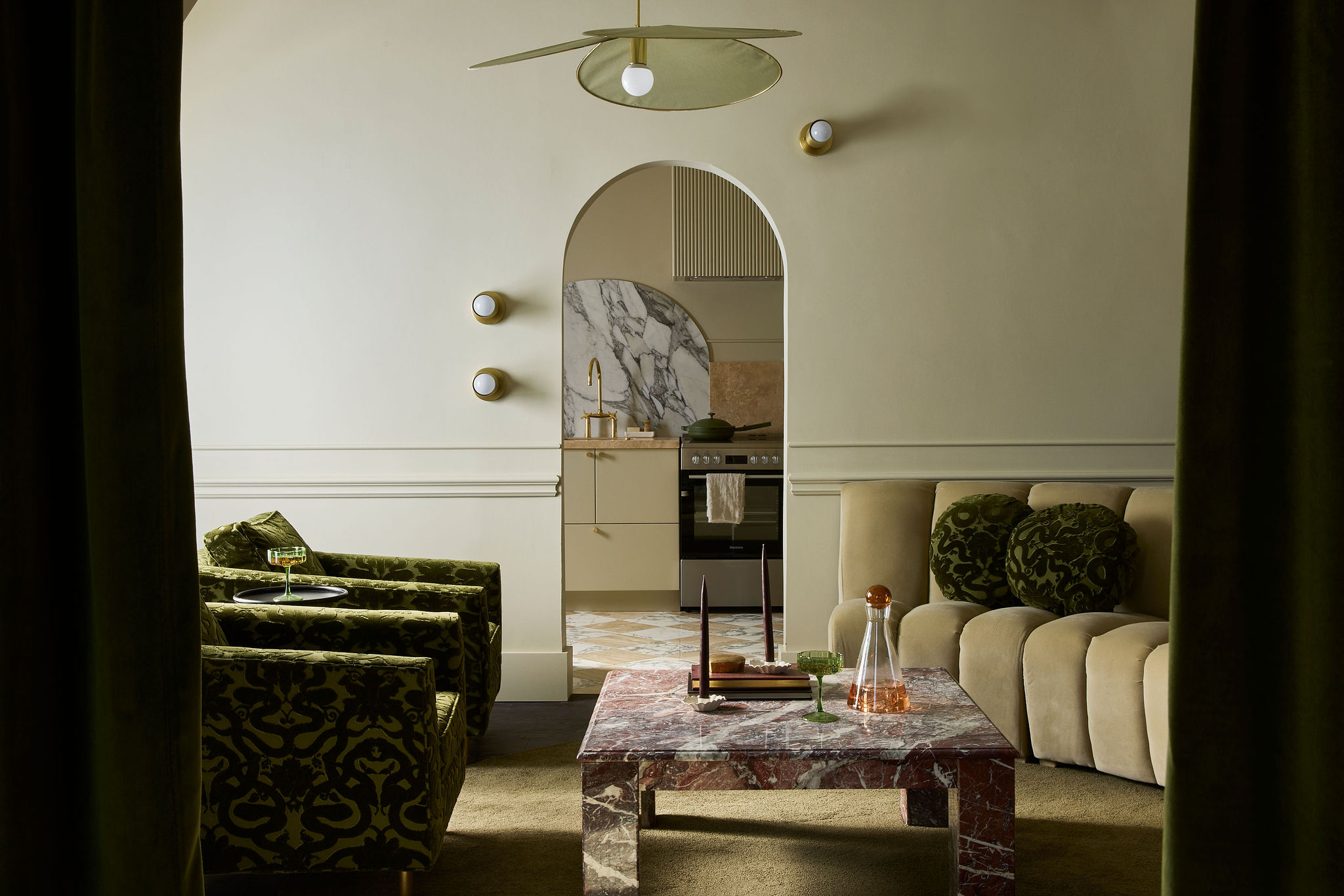 In Stratford, Ontario, renowned for its theatre, Hotel Julie is a 19th-century rowhouse reimagined as stylish short-term accommodation. With nine flats on offer, each individually decorated, guests can become characters on their own stage for a weekend or a week.
Owners Jake Tayler and Paula Mcfarlane, former paramedics who took the leap from saving lives to launching Tartan Developments, have now added accommodation hosts with this boutique hotel, formerly the St. Vincent Row Suites.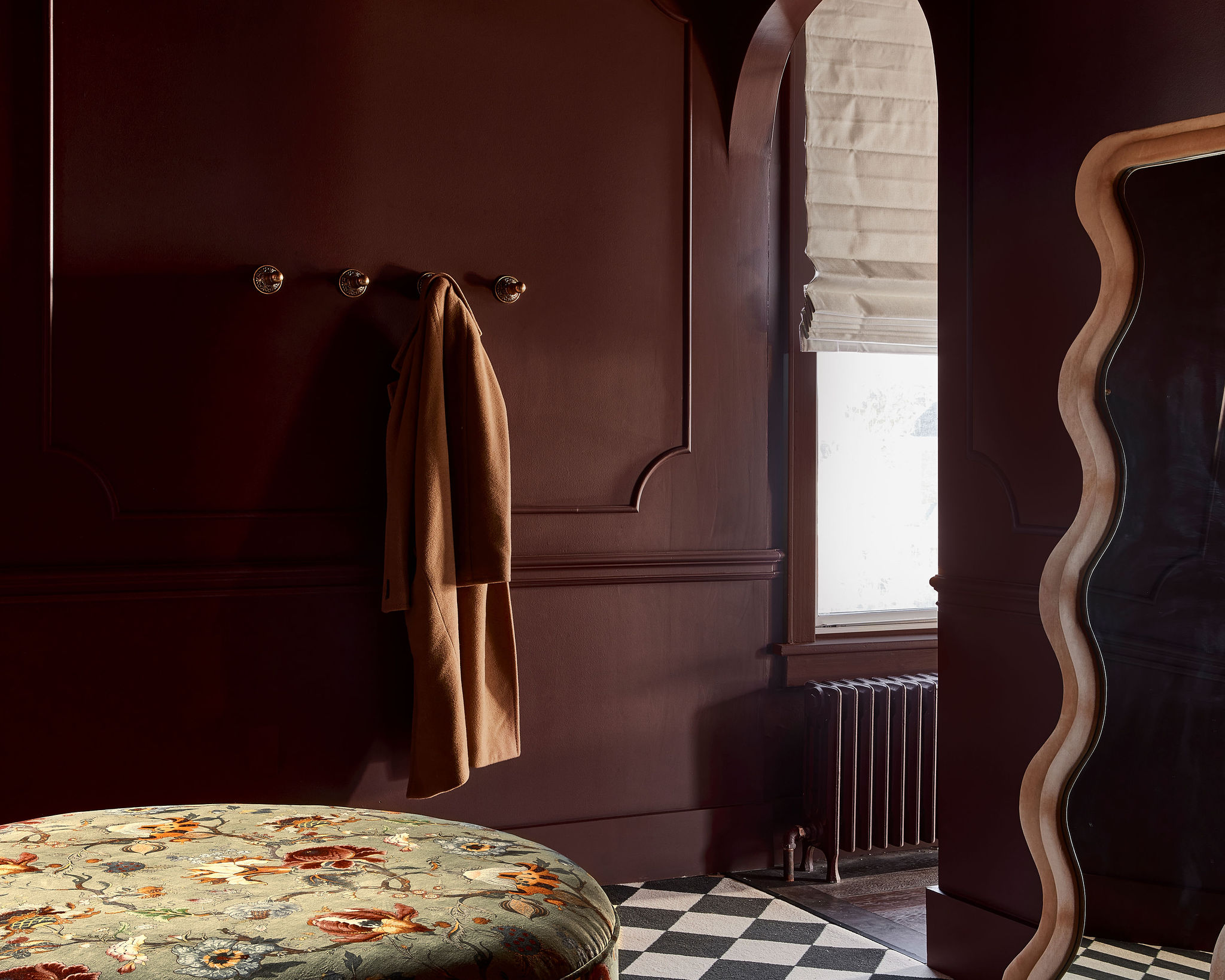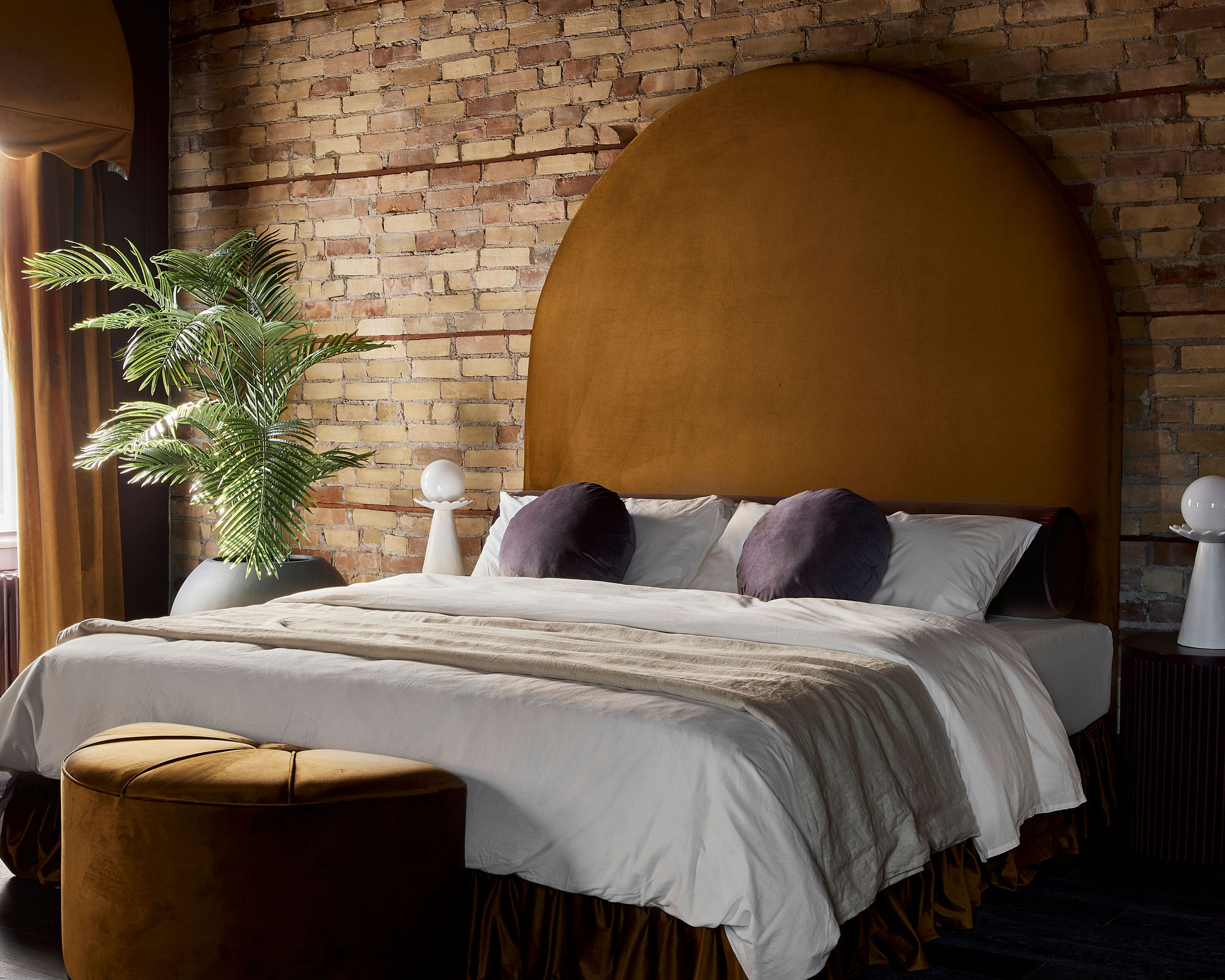 Collaborating on interior design with Autumn Hachey of Stay Here and Jillian Smith-Moher of Twenty Two Twelve Design, the team took cues from Stratford theatrical history, especially the connection to William Shakespeare, with each flat offering a selection of his titles and custom artwork by Toronto artist Dina Roudman.

All rooms include custom furniture, reupholstered vintage items (Hachey previously owned a vintage shop), repurposed pieces from the previous inn, rich paint hues from Benjamin Moore, detailed millwork, and luxe textiles such as velvet valances and bold florals. There's also an extensive use of marble and signature black-and-white checkerboard floors.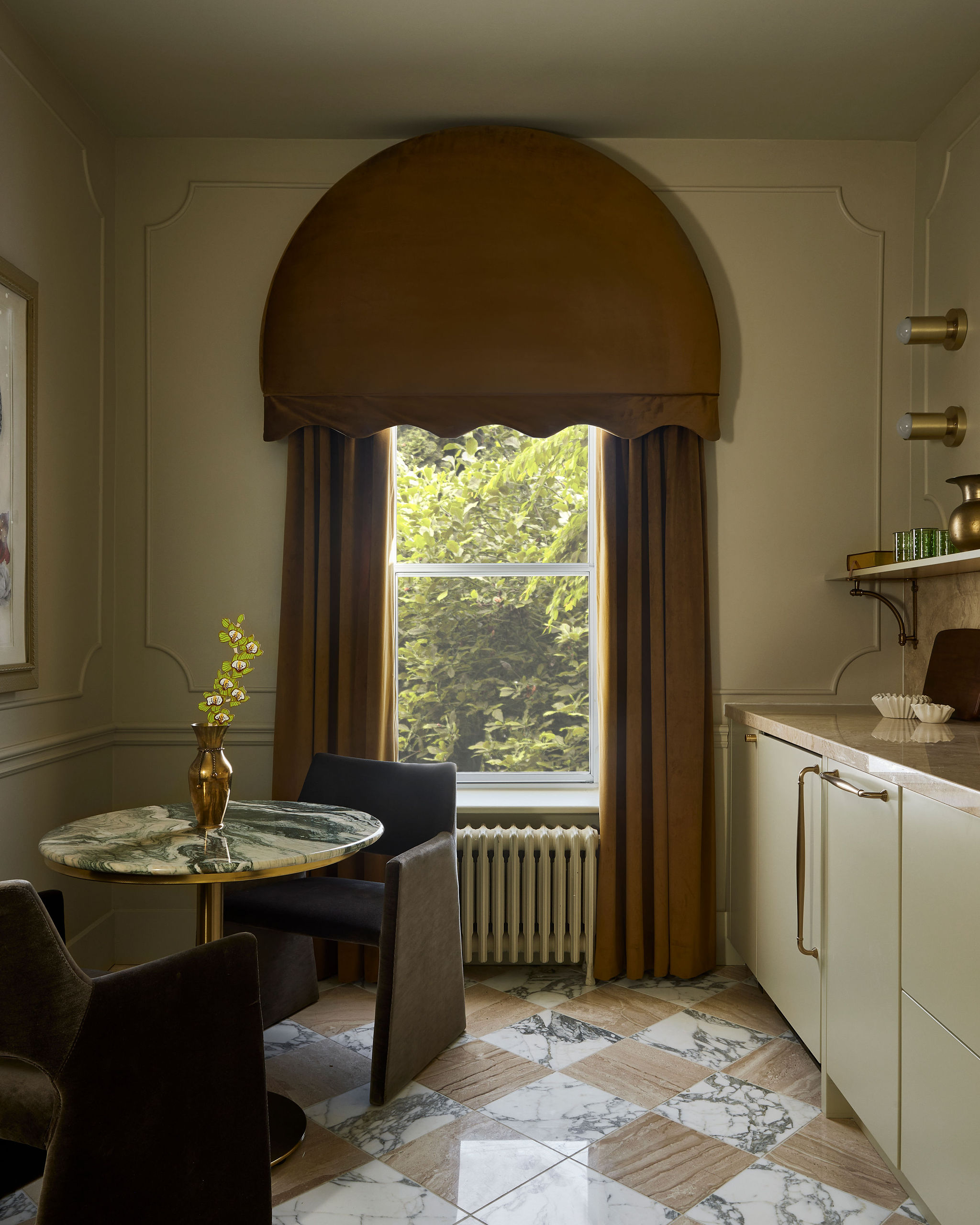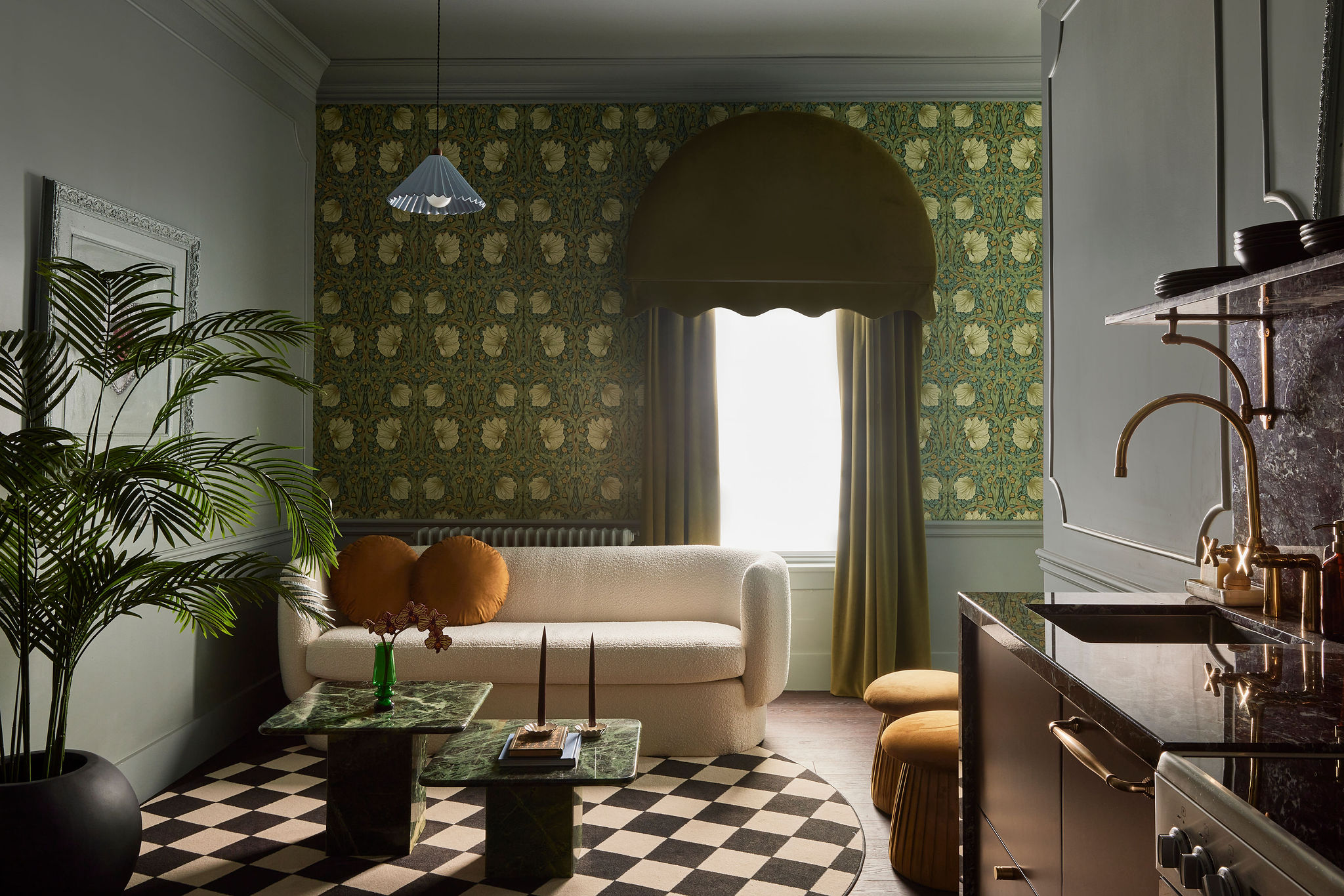 Every flat has a kitchen (except Flat 2, which has a kitchenette) with minifridge/freezer, dishwasher, and range, and includes coffee from Stratford's To Bean or Not to Bean, a variety of teas, sparkling water, bath amenity from Sssoaps, and a sweet treat from local Chocolate Barr's Candies. The hotel's room service closet offers guests complimentary snacks, toothbrushes, towels, and other necessities.
Custom "wiggle" headboards are interpreted differently for each room, designed by Stay Here and Kara Schuster of And Once We Were, each a noted curvaceous statement, and rooms have unexpected decor accents influenced by the theatre.
Flat 1 surrounds the guests in gold, accented with floral, quilted, and velvet textiles, brass hardware, and a custom burl closet. Flat 2 features dark green walls, ecru wallpaper, and sexy sconces over a custom marble sink. Decorated in chocolate brown and purple hues, Flat 3 has a white coffee table, burl bedside tables, and a bistro dining table paired with vintage chairs reupholstered in gold.
Flat 4, a.k.a. the Serpent Suite, is all about green: a reupholstered vintage sectional, snake chairs originally from Chicago redone in anaconda cut velvet, striking travertine floors, and floral art. The 615-square-foot Honeymoon Suite is Flat 5, romantic and spacious with exposed original brick, a gold-velvet oversized headboard and matching vintage ottoman, and a heart-shaped tub surrounded by marble tile and brass fixtures. Hot Tamale—Flat 6—has red walls, a dusty blue swivel chair, and travertine and Carrara-marble tiles in the kitchen.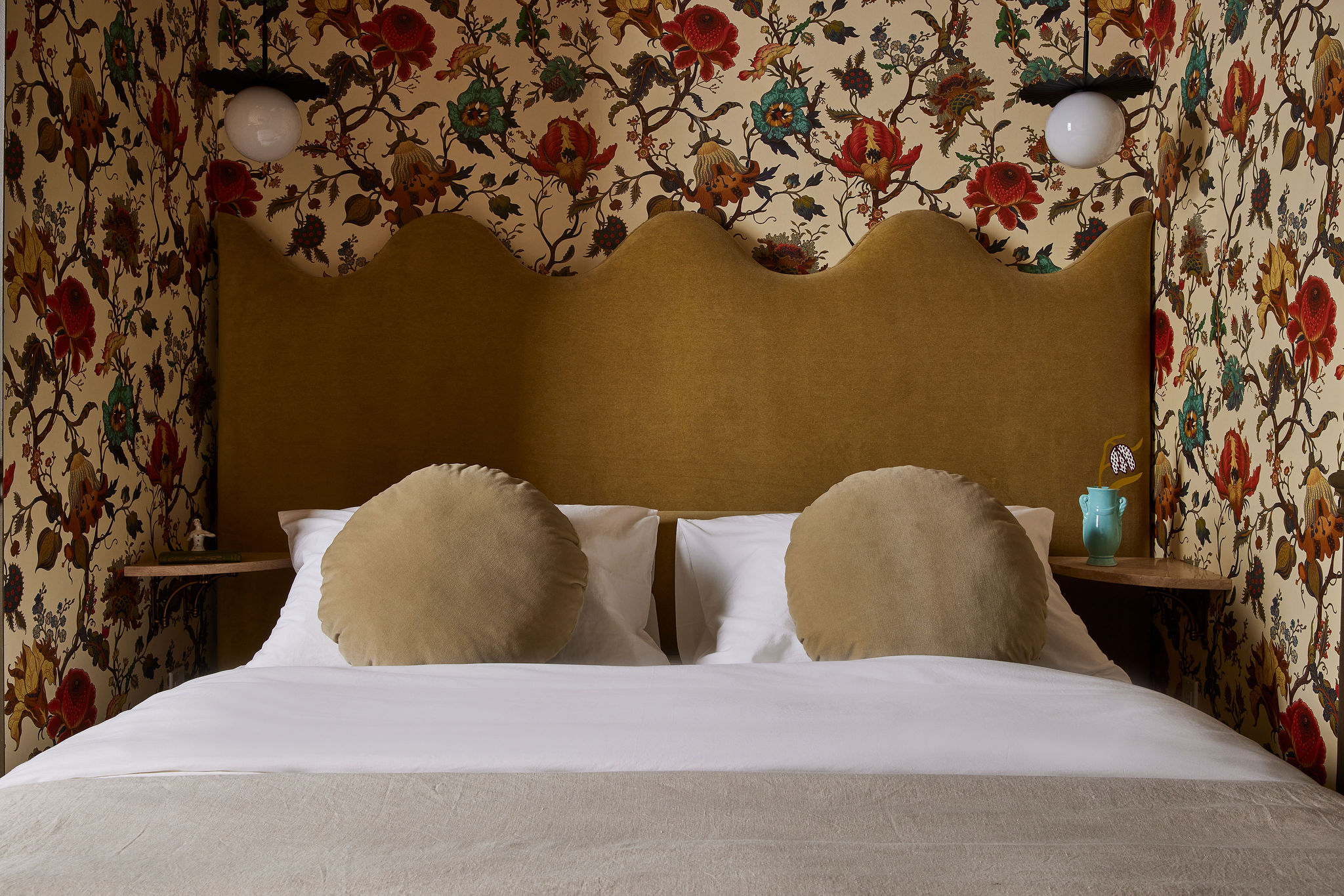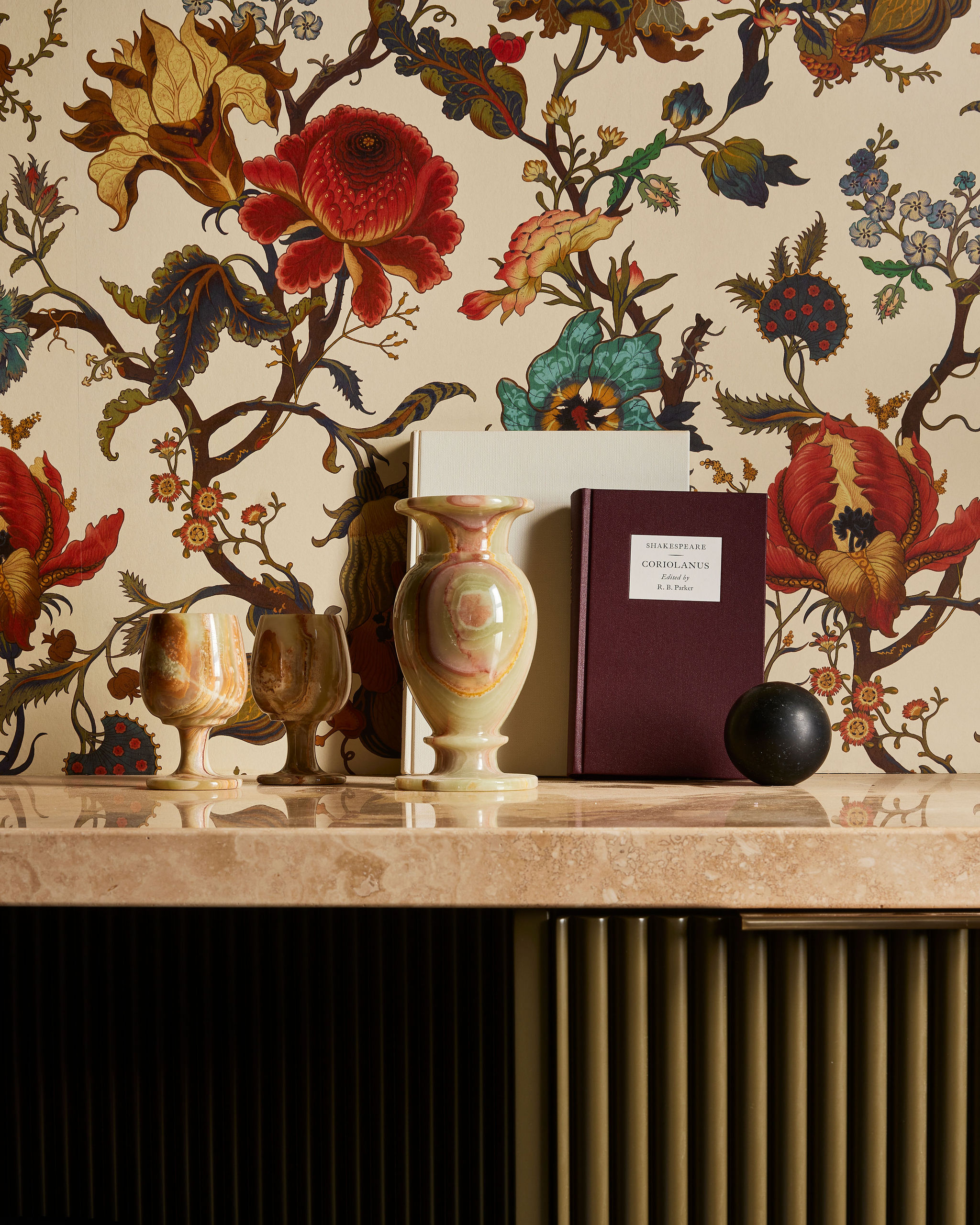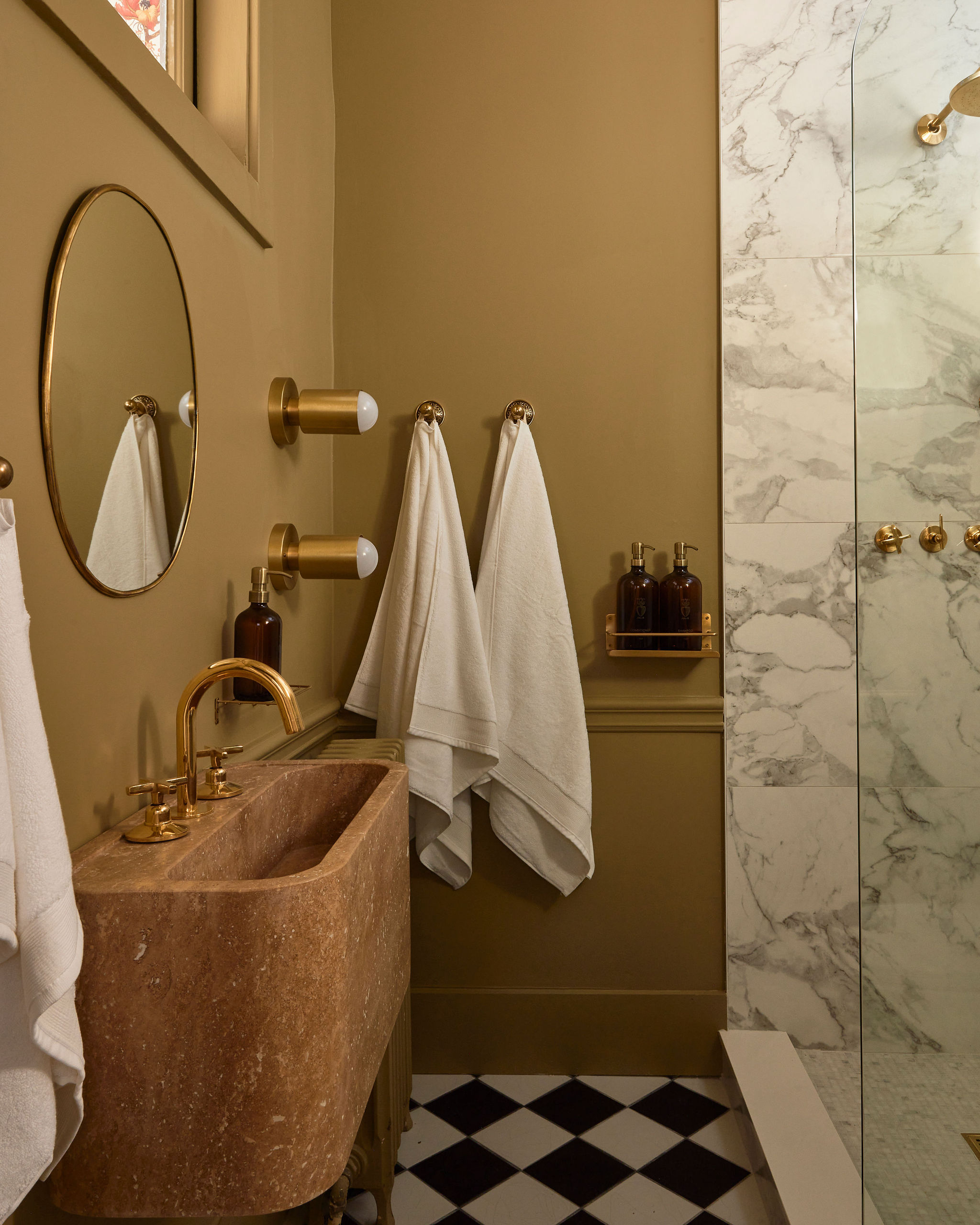 Flat 7 is a two-bedroom suite, with shades of maroon, green, blue, and yellow, including William Morris Pimpernel wallpaper, a vintage coffee table, a cream bouclé sofa, and a striking black-terrazzo vintage dining table. Flat 9 celebrates gold and amethyst, with a purple-velvet king bed and gold checkerboard flooring, a bathroom featuring floating travertine vanities, and a dining nook with amethyst banquette seating. Flat 10 has its own private staircase, wine-coloured walls, deep-red Rosso Levanto marble countertops and backsplash, and a round bathtub. There is no Flat 8.
Set the mood upon check-in with the house playlists. Created on Spotify by Hotel Julie's sensory strategist Danielle Barich, Symphony 1: We Burn Daylight and Symphony 2: Endless Night feature tunes from Leon Bridges, Jamiroquai, Alabama Shakes, and Big Wild.