First Look: Château Royal Berlin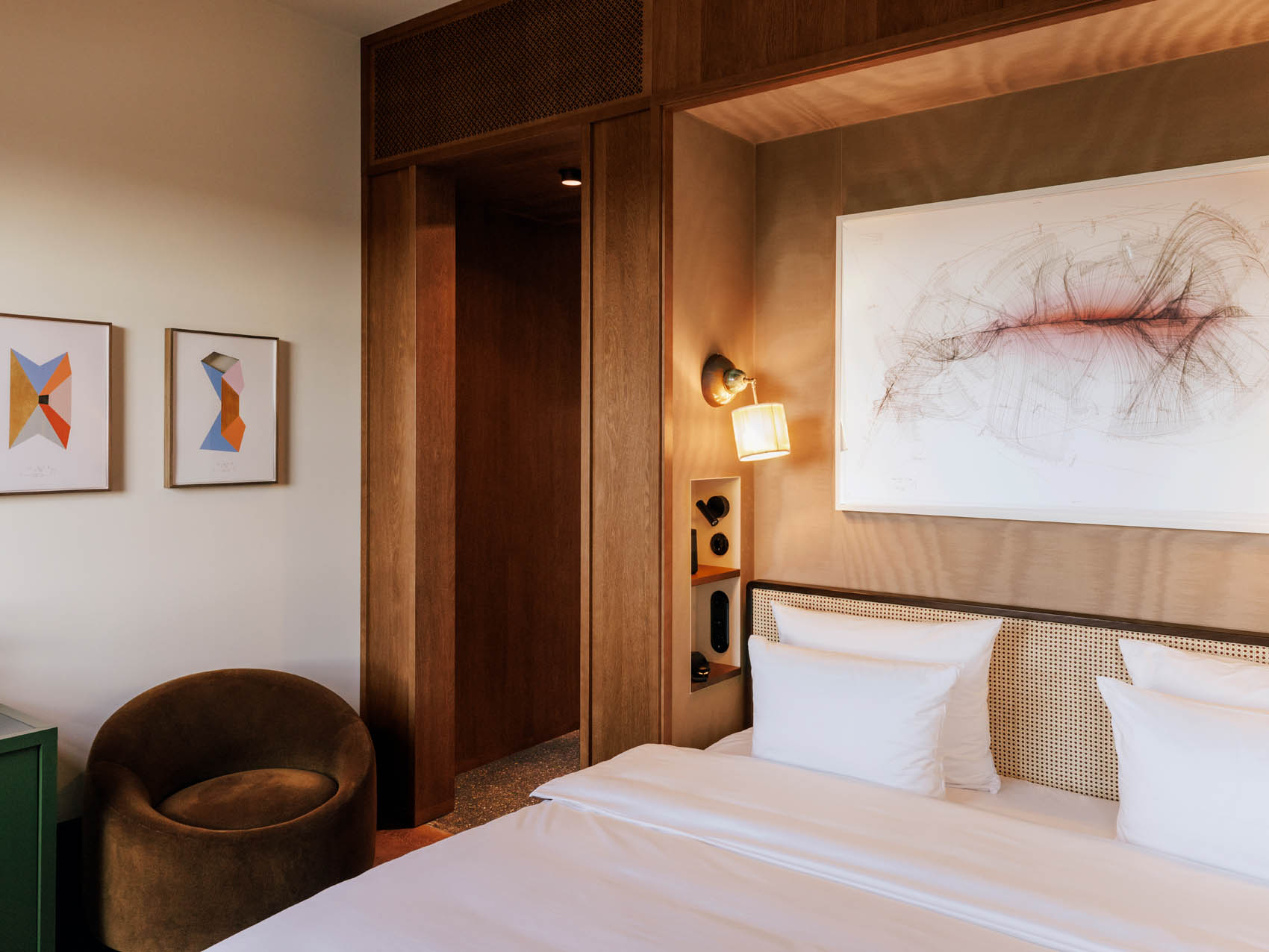 Transformed from a former Stasi spy base into a contemporary hotel, Château Royal has been reimagined in homage to bohemian Berlin at the turn of the 19th century: note the bronze dome with a weather vane by French artist Cyprien Gaillard crowning the hotel.
Opened in September 2022 in the Mitte district near the iconic Brandenburg Gate, the hotel has 93 rooms over five floors, including 26 suites, one apartment, a fireside lounge, a winter garden, Hotel Bar, and Dottír restaurant. Its two listed buildings from 1850 and 1910 were preserved and renovated by British firm David Chipperfield Architects, which also added a new roof and a third building on behalf of Grill Royal co-founder Stephan Landwehr, Grill Royal manager Mortiz Estermann, and chef Victoria Eliasdóttir.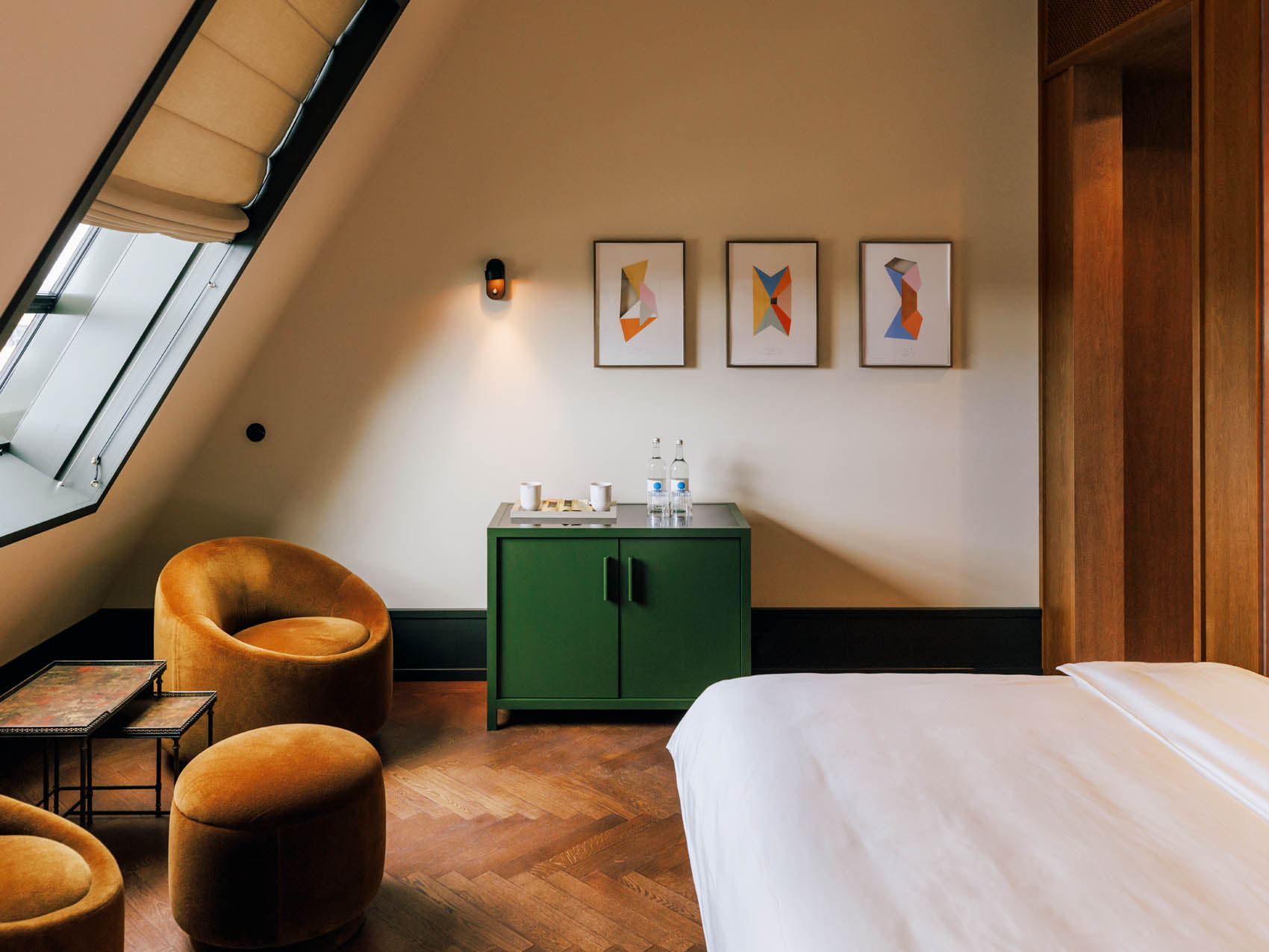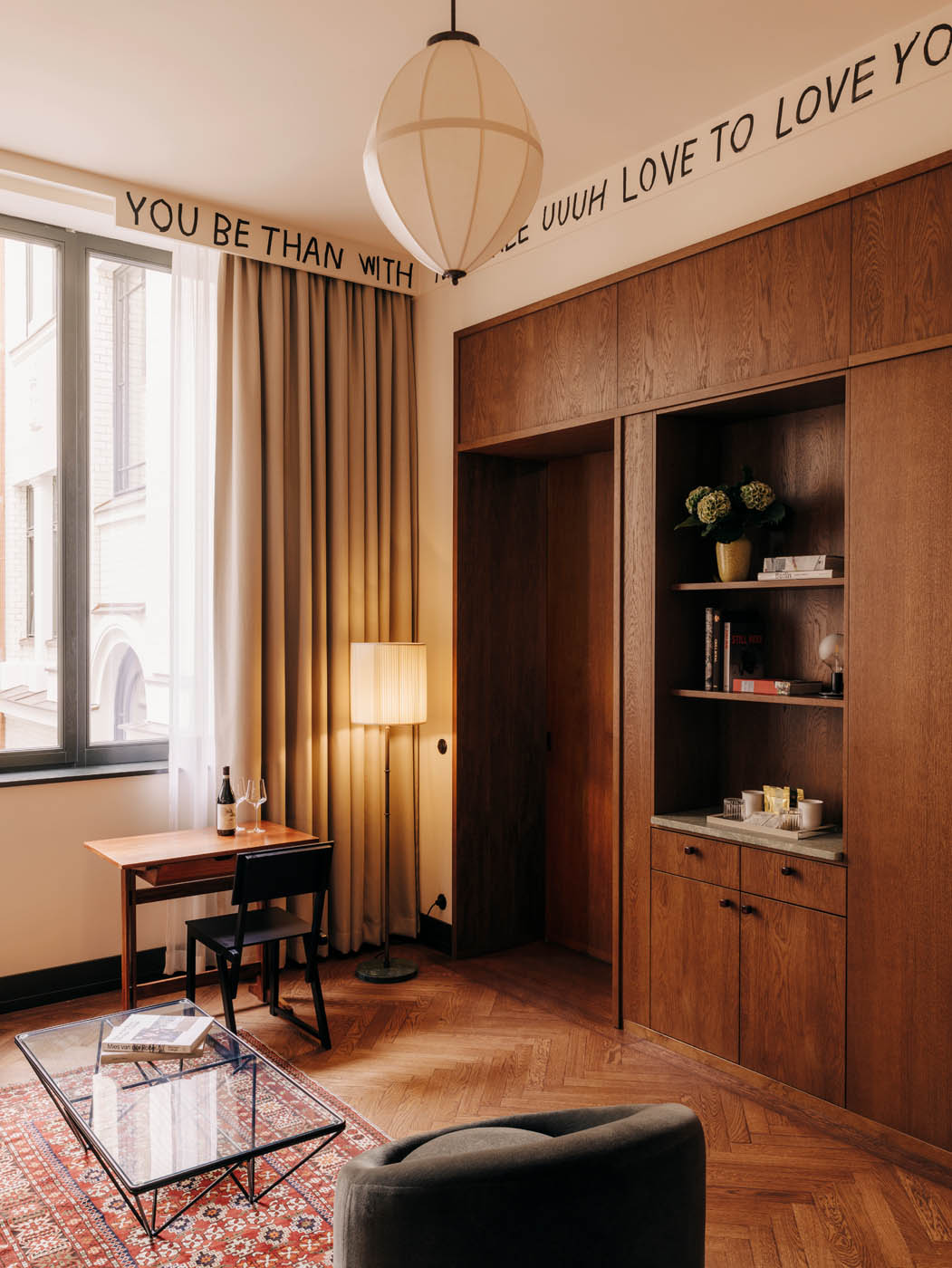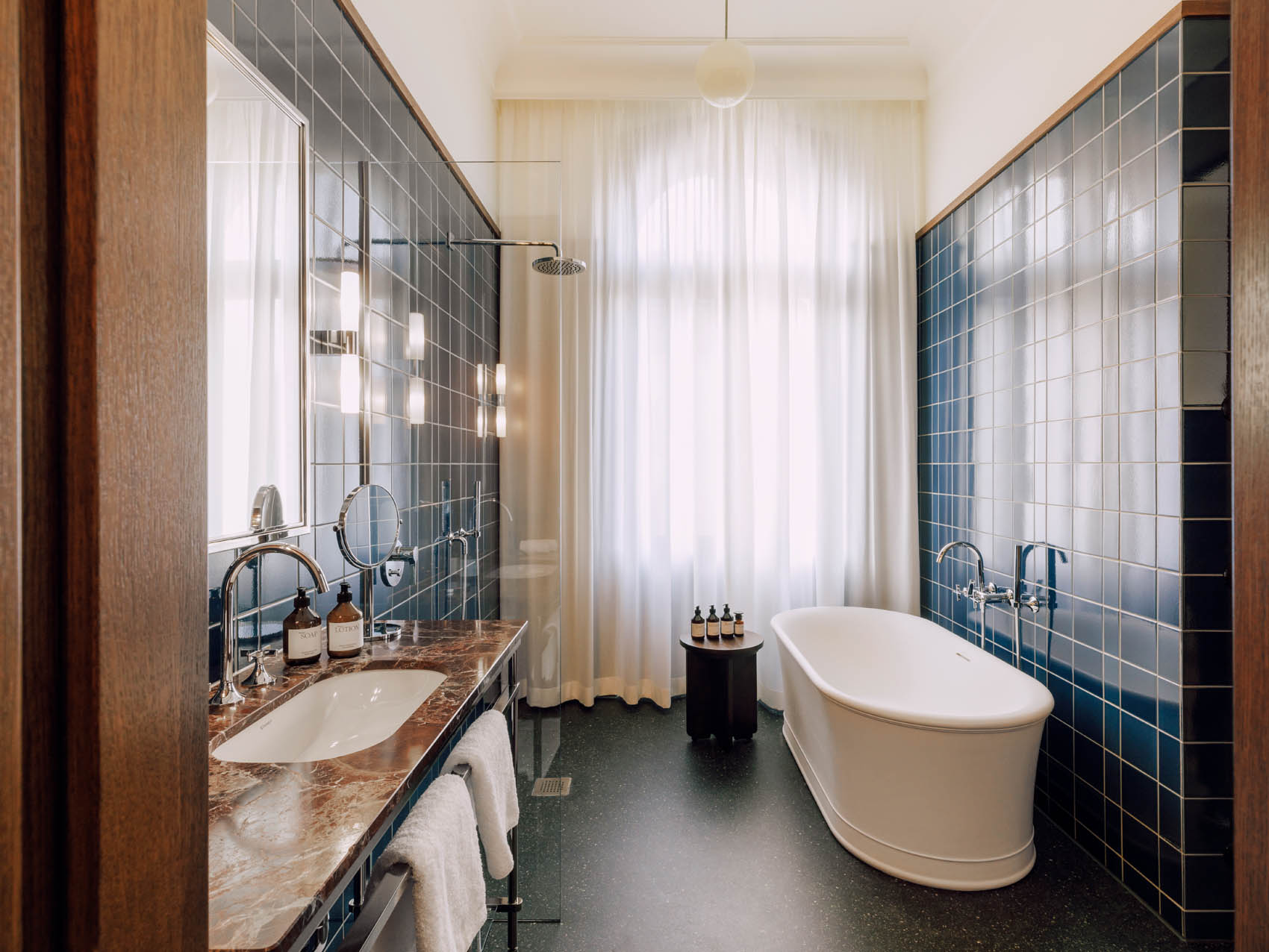 Interior design team Irina Kromayer, Etienne Descloux, and Katariina Minits also referenced the site's history, using colourful glazed bricks, stained glass, and natural stone and taking influences from expressionist and new objectivity paintings as colour sources for the palette. Berliners will note the craquelé tiles, often seen in private apartments and the city's U-Bahn, in eye-catching shades of blue, green, beige, and brown in guest bathrooms and the conservatory. The exterior lighting with coloured glass by artist Paul Hance is a modern take on the city's traditional lanterns.
For the guest rooms, Kromayer designed dark-wood bed frames featuring Viennese rattan headboards, and rosette ceiling lights inspired by a 1920s Josef Hoffmann lamp remade for the 21st century in brass and Japanese paper by Berlin manufacturer Loupiotte. Oak built-ins act as room dividers and shelving for guests to stash personal effects, and comfort is not overlooked: beds have natural latex mattresses and natural fibre textiles, while spacious Schinkel bathrooms include rain showerheads and heated floors.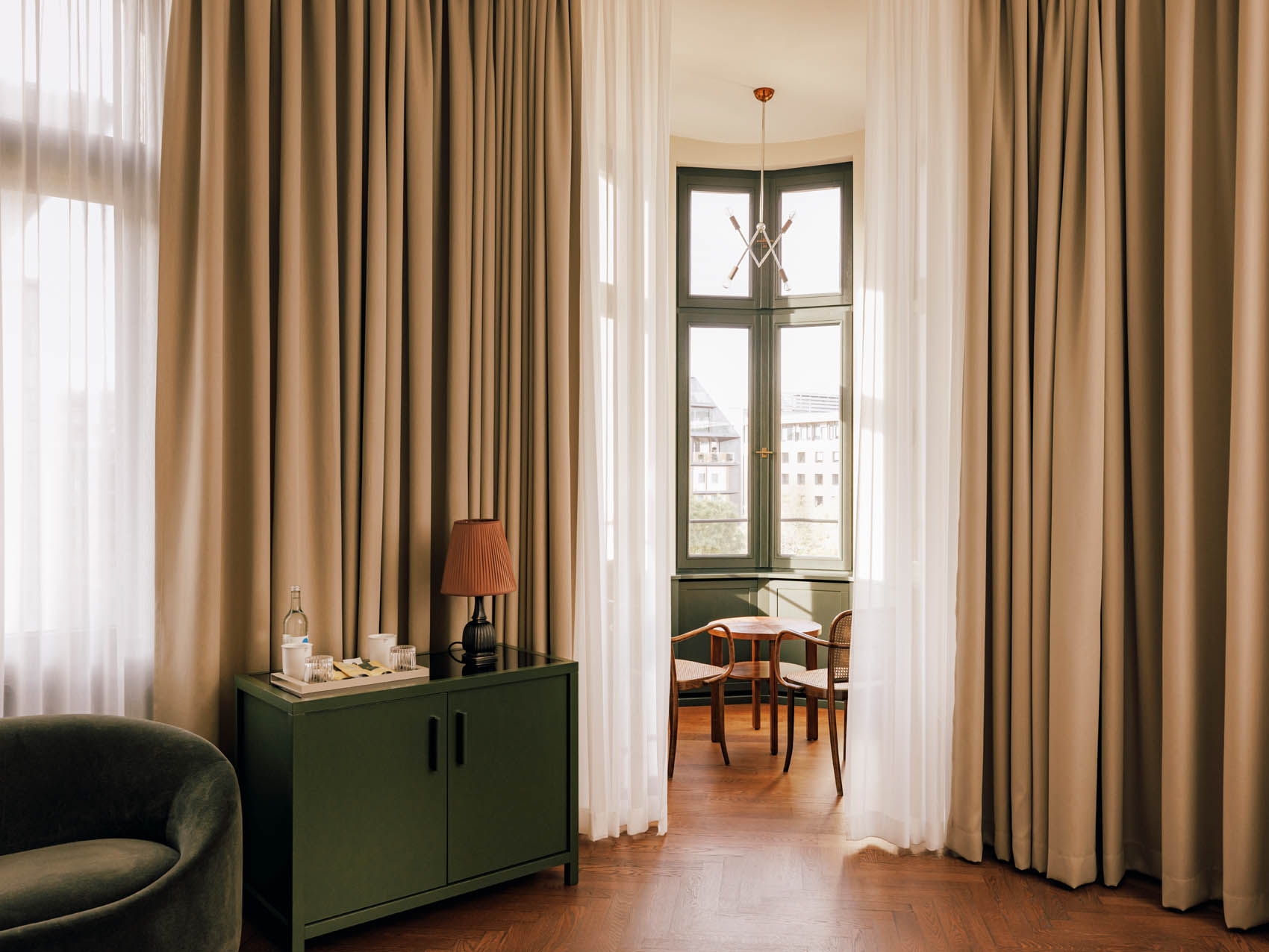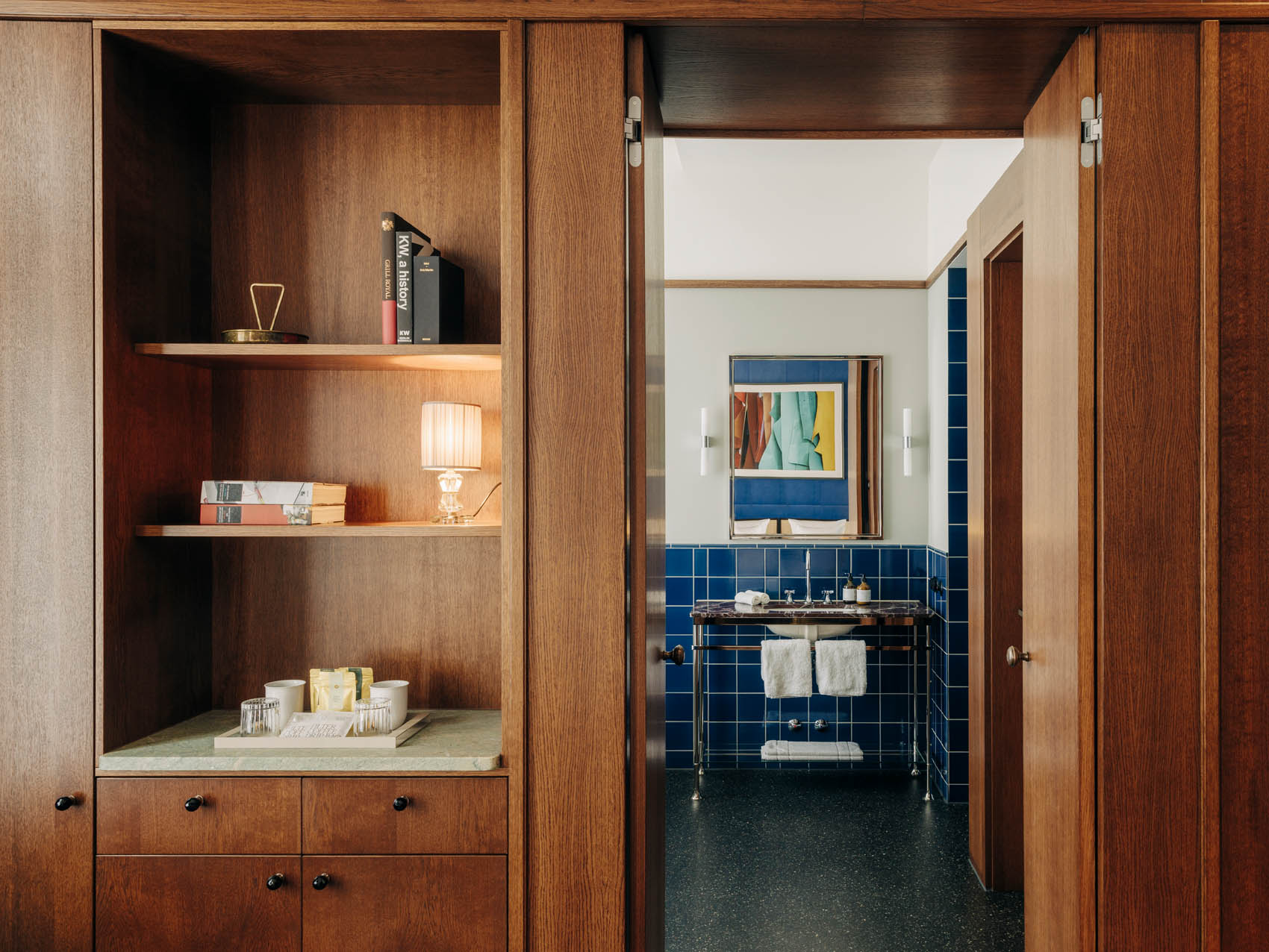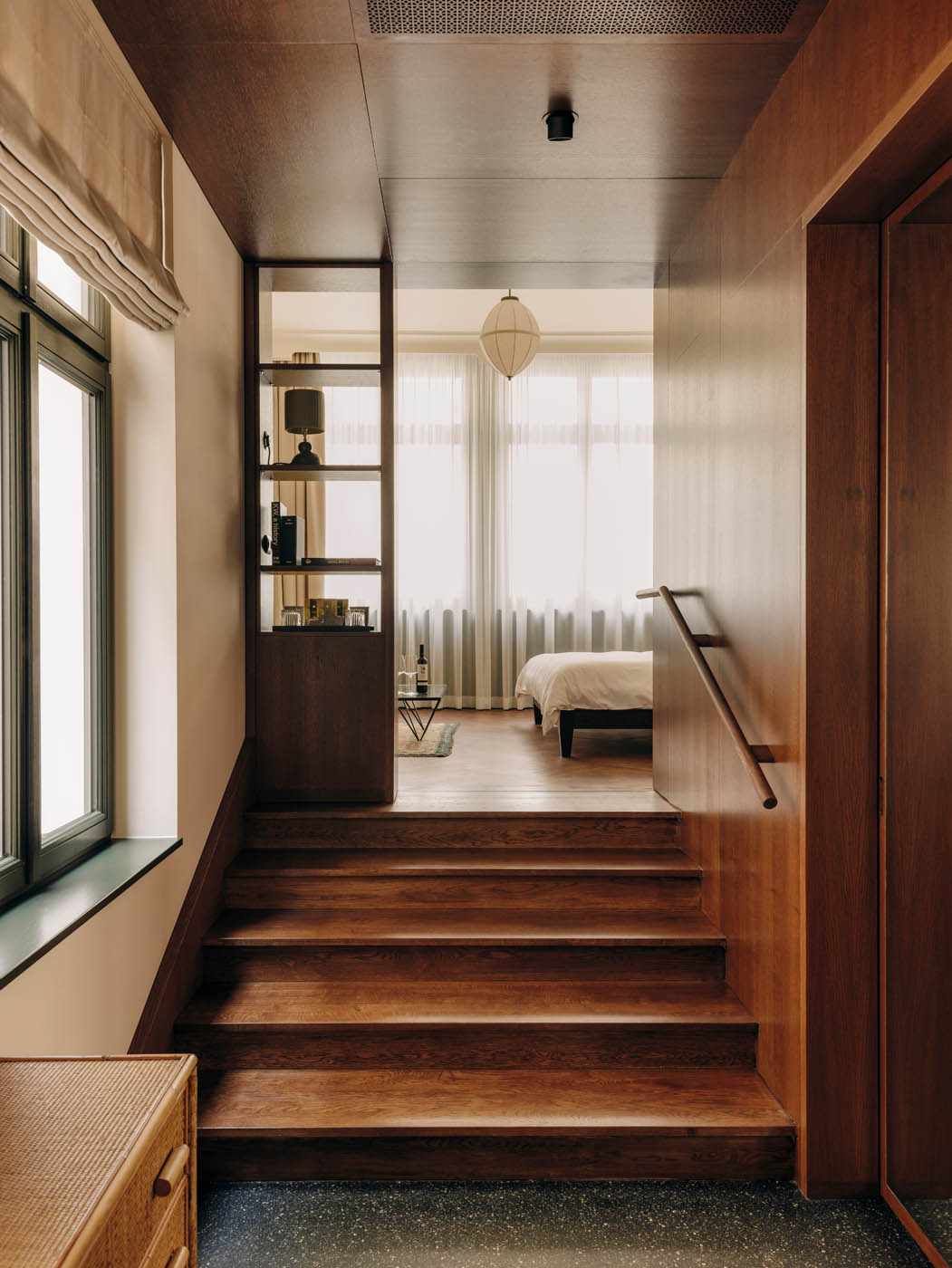 Vintage carpets, dressers, and side tables were sourced from across Europe, complementing the oversized art deco armchairs, sofas, and poufs in blue, burgundy, tobacco, petrol, and loden mohair velvet designed in collaboration with Portugal's Christian Haas. Additional warm-hued ceramic stoneware lighting and side tables were chosen from Kirsten Landwehr's KL line for Keramik, and Bauhaus chairs, Murano glass chandeliers, and French patio furniture round out the decor scheme.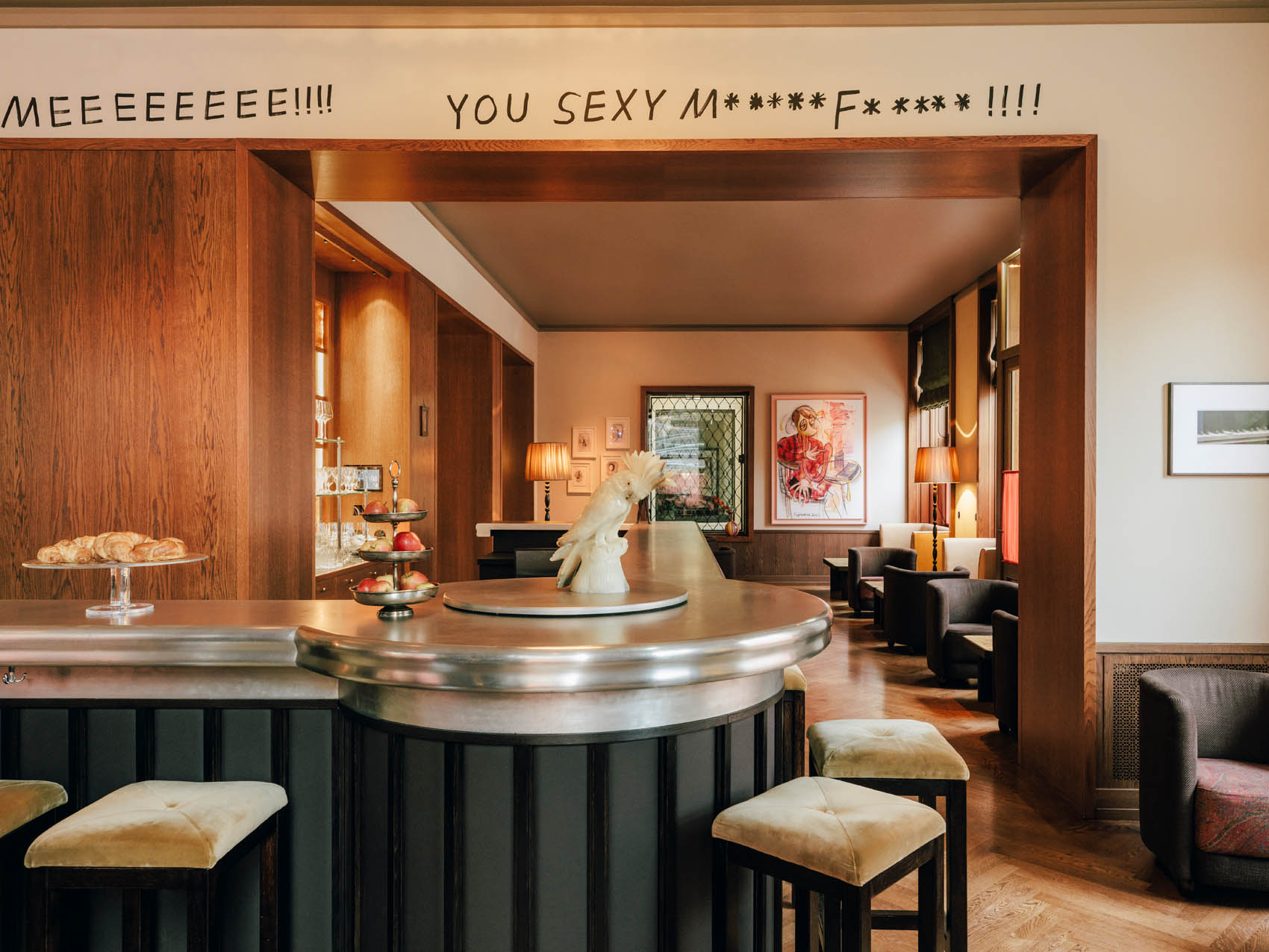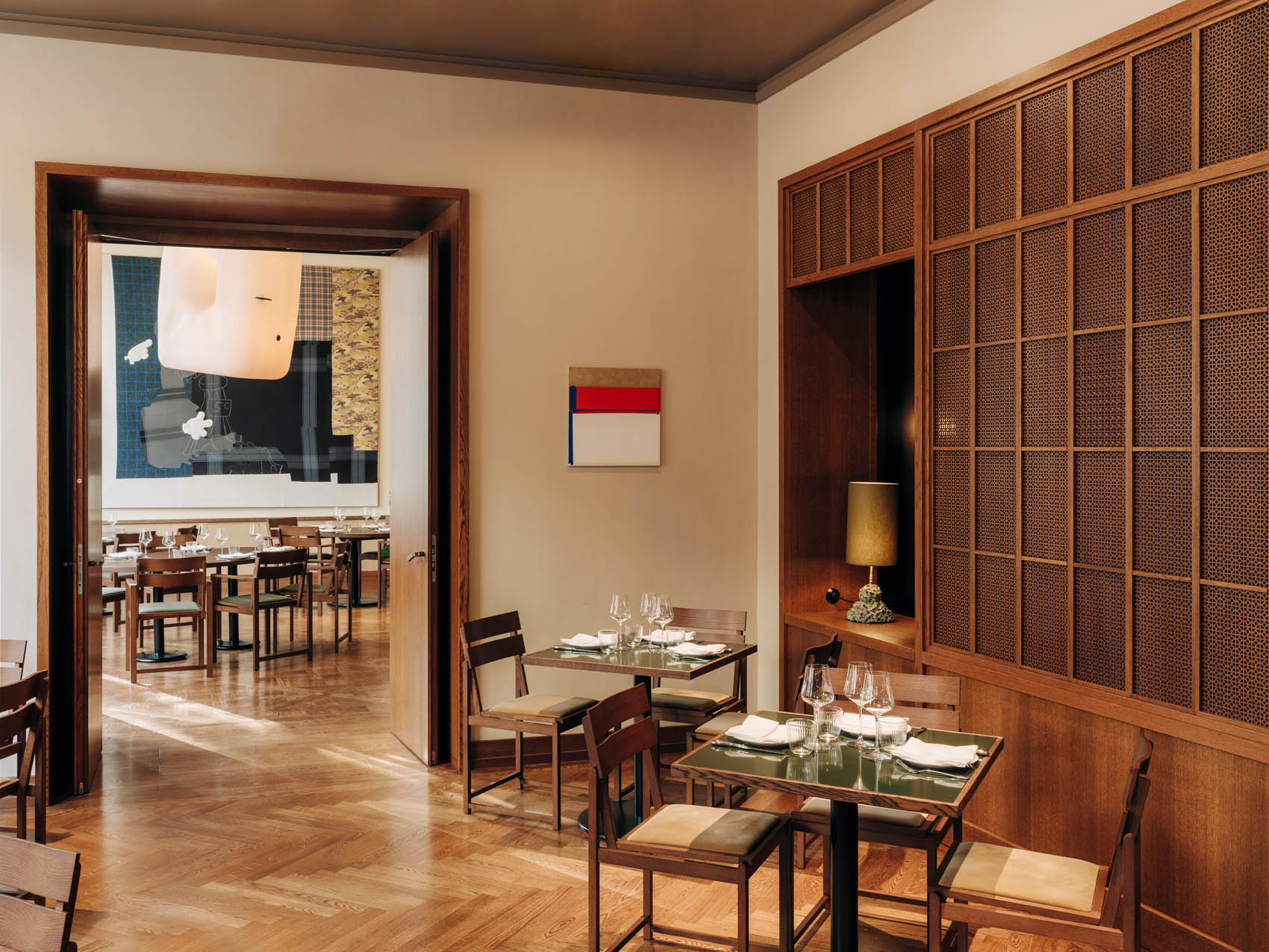 Landwehr, a former gallery owner, collaborated with Krist Gruijthuijsen of KW Institute for Contemporary Art to curate Château Royal's more than 100 artworks, including photographs, films, paintings, installations, video and sound. Each guest room features original art. Look for the Julian Charrière sculpture Denkmal, a stone inserted in the wall between two rooms, and wallpaper created by photographer/sculptor Thomas Demand.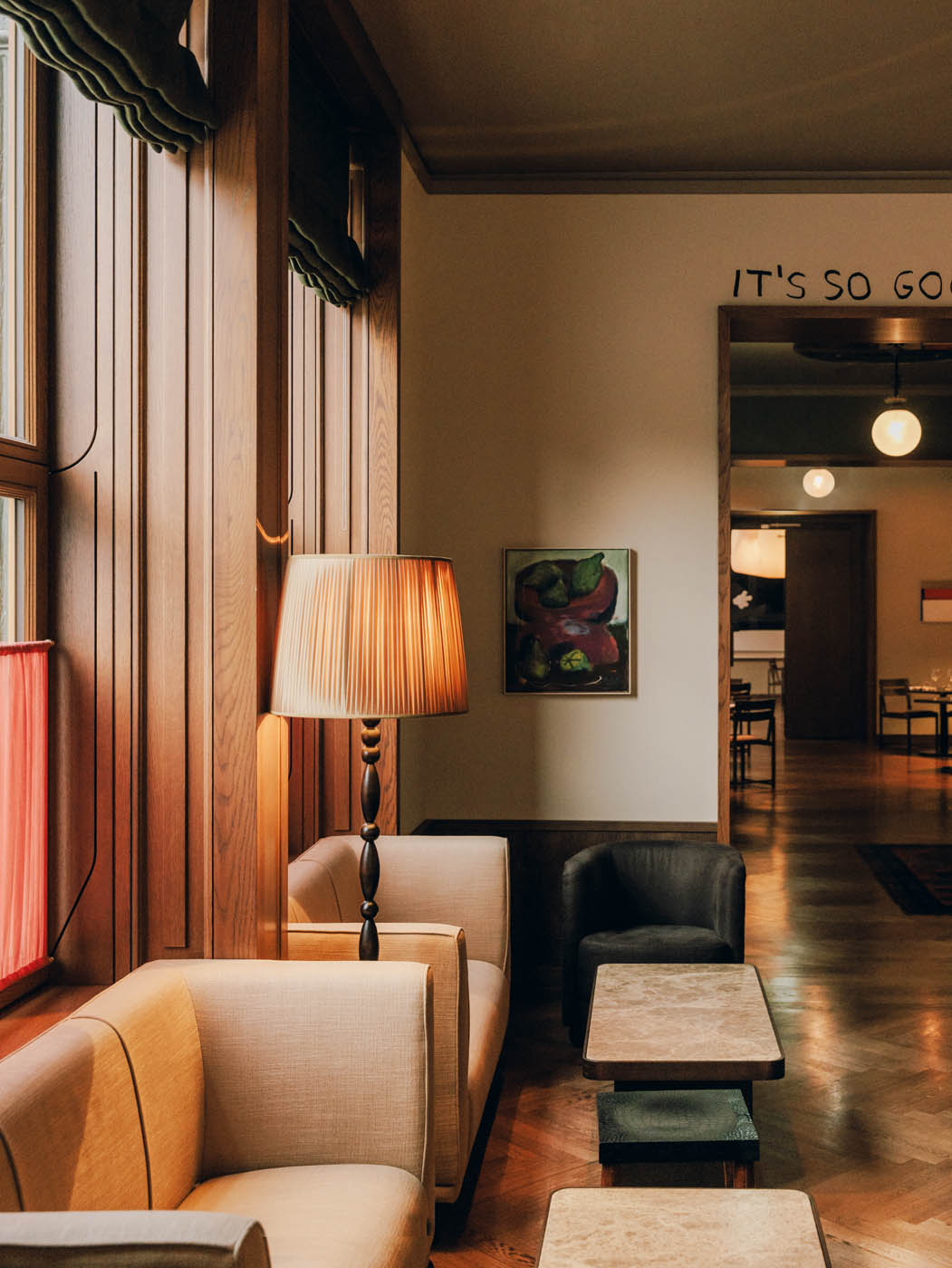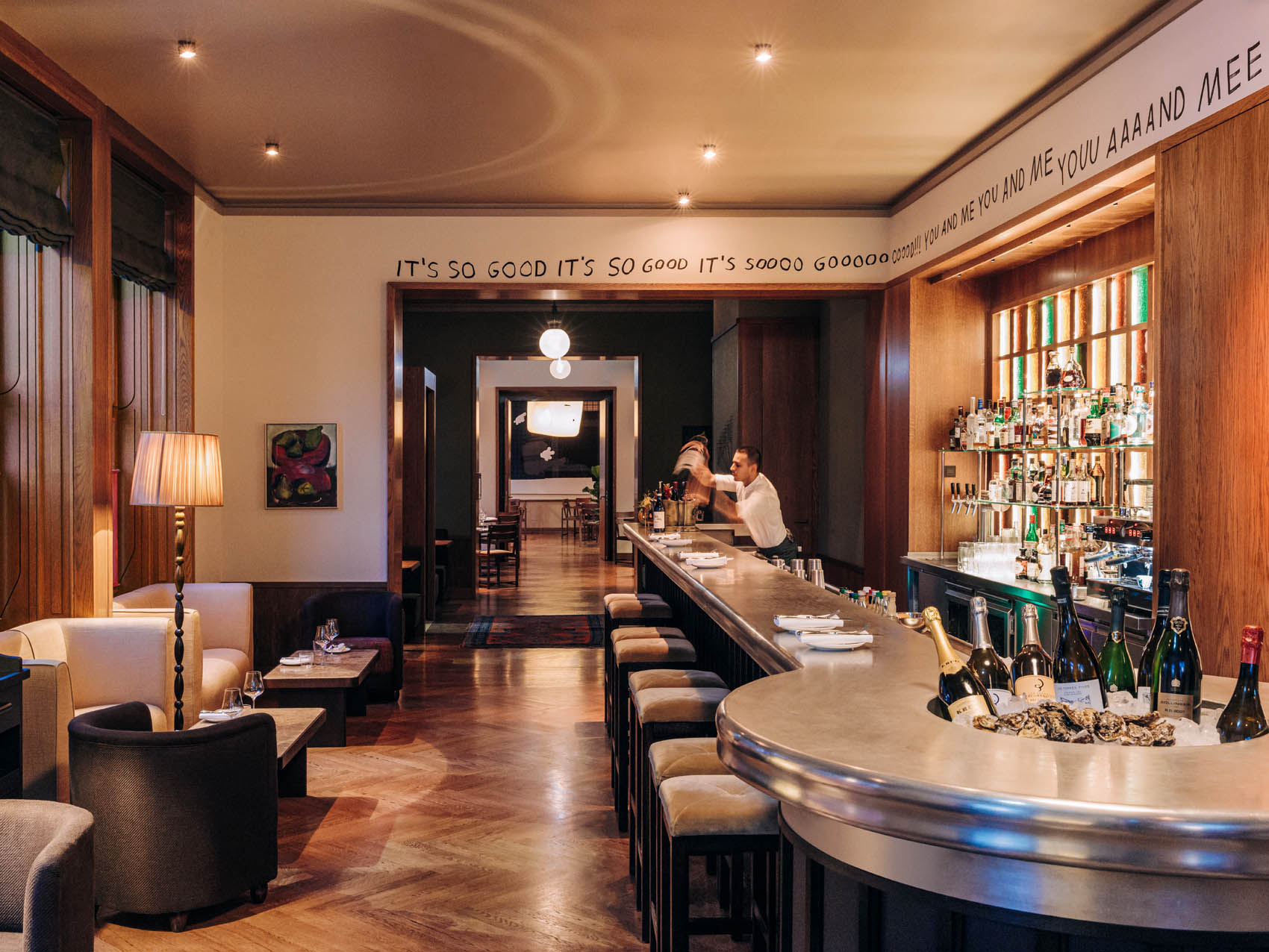 An artisanal Dall glass tile wall in hues of gold, pink, and green behind the wall of bottles in Hotel Bar bathes patrons in a warm glow. Consider a Chateau Express with gin, white vermouth, sencha, mint, and Amalfi lemon drop or a Hello Stranger, a sweet and spicy concoction of mezcal, coconut milk, red vermouth, chili, and chocolate.
The in-house restaurant, Dóttir, offers a seasonal menu overseen by chef de cuisine Elena Müller, with diners settled on reissued D1 and D2 oak chairs from Bauhaus designer Erich Dieckmann.
Photography by Felix Brüggemann.