Choosing a Tea Based on Your Favourite Perfume?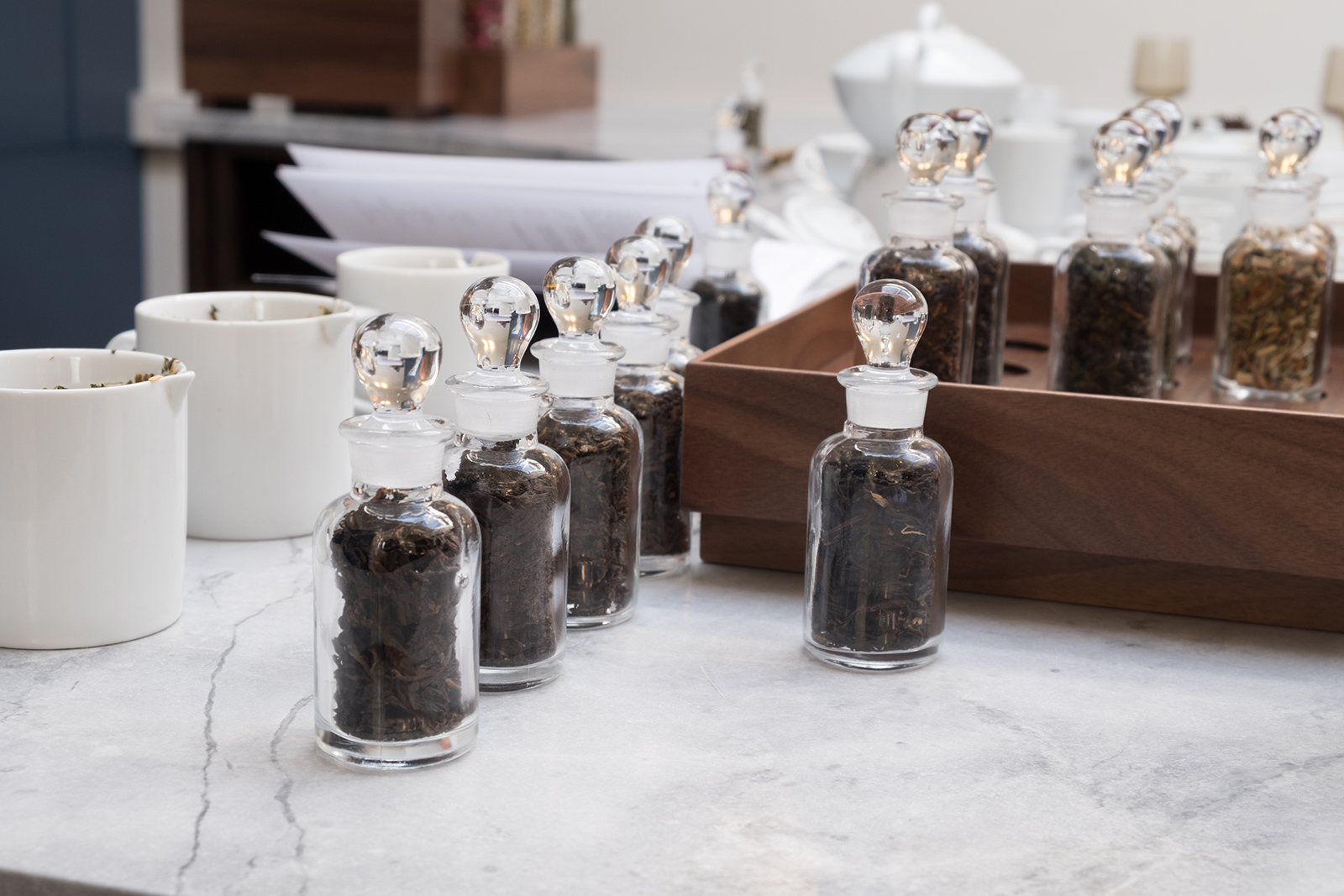 As Hoda Paripoush inhales one of Gucci's perfumes, her face lights up with childlike delight. "There's almost a little bit of dampness and campfire coming through," she says of the scent. "It's so sophisticated." As founder of Sloane Fine Tea Merchants, Paripoush has a nose that dazzles; she's able to pick up on nuanced notes that the general public would have difficulty pinpointing.
"I'd always been obsessed with perfumes," Paripoush says. Her desire to dive deep led her to Grasse, France, the birthplace of perfume, where she studied with a Maître Nez. "I was drawn into the world of perfumery because there's a science that's been broken down into an art as well," she says. "It's about combining the ingredients to marry them chemically." In theory, fragrance is broken down into top, heat and base notes. The same rule applies to tea. When teas are blended, it's not done arbitrarily; different notes and qualities that will knit well together in the cup are sought out.
Paripoush uses Sloane Fine Tea Merchants' Heavenly Cream tea to explain her point. Starting with the least dominant note, she then applies the more dominant. "We have the base tea—it's an Assam and Ceylon—and then we're adding in the least dominant note first—the vanilla—and then the bergamot," she demonstrates.
After studying to become a tea sommelier—the rare cousin of the classic wine-focused sommelier— Paripoush launched Sloane, her own line of distinguished teas. She has also crafted custom blends like the Midnight Blossom tea for The St. Regis Toronto and Desert Rose tea for Shook, restaurateur Hanif Harji's new vegetarian Israeli locale.
Since scent is so personal, those drawn to a particular type of aroma are also likely reach for a tea with similar qualities. Here, Paripoush matches the season's most noteworthy perfumes with their tea counterparts:
Black Tea
Gucci's The Alchemist's Garden Ode on Melancholy matches Masala Chai Classic
"Oh, look at that spice coming through!" Paripoush says offering a perfumed oil plucked from The Alchemist's Garden, Gucci's incredibly high-end collection of scents. Blended with cypriol, patchouli and sandalwood notes, the result is a warm, woody scent. "It's almost like my body temperature goes up a bit when I smell it." Paripoush's gut instinct is to pair the scent with her Masala Chai Classic tea; it looks to the streets of Kolkata for inspiration, getting its kick from cardamom, cloves, cinnamon and ginger. The result is a full-bodied tea that lingers on the palate.
Chanel's Gabrielle Chanel Essence matches Heavenly Cream
"Oh my goodness, that's amazing!" she Paripoush, following her first whiff of Gabrielle Chanel Essence. "It has the right amount of floral; you don't get the sugariness," she says, "You have the layered depth and body coming through." Chanel's latest eau de parfum is a creamier, richer version of Gabrielle, boasting 80 percent more tuberose than the original. Voluptuously floral, it tucks jasmine, ylang-ylang, orange blossom, and Grasse tuberose into its square bottle. "Something in here is translating into a vanilla—a deep, sophisticated rich creaminess—that's what I get from Heavenly Cream," she says. The tea is Sloane's signature, with Paripoush noting that both tea and perfume appeal to a wide market.
Tom Ford's Métallique matches Signature Black & Earl Grey
Tom Ford's Métallique scent opens with bergamot and pink peppercorn, with a floral heart of muguet and heliotrope backed by woody notes. "It's floral but not screaming rose or jasmine," Paripoush says of the perfume. "This is like every day; Signature Black and Earl Grey are everyday teas." Signature Black is an Assam tea blended with a sweeter Darjeeling, while Earl Grey is black tea blended with aromatic oil of Italian bergamot.
White Tea
YSL's Libre Eau de Parfum matches Perfectly Pear
"This is definitely on the sweeter side with like a hint — a hint!—of something smoky," Paripoush says of the YSL scent, which matches lavender with orange blossom and musk. "And some grassy notes almost like that aroma when you're cutting stems off a bouquet," she says. "Sexy." Sloane's Perfectly Pear is deemed a match for YSL. The signature blended white tea pairs Bai Mu Dan—a delicate white tea that can only be plucked during a narrow window each spring—with Asian pear, for a tea that's fresh and offers sweetness that doesn't overwhelm.
Byredo's Slow Dance matches Peaches & Cream
Byredo's latest scent features base notes of patchouli and vanilla married with geranium, violet, and resins. "It's very interesting," Paripoush says of Slow Dance.. "I get the combination of deep plum notes with the sweetness of almost like a sweet berry. There's a greenness to it, too." Paripoush draws parallels to her Peaches & Cream tea. "We have the soft fruity notes with a little bit of vanilla, but then you have the rawness from the white tea," she says.
Green Tea
Frédéric Malle's Music for a While matches Tropical Green
"I do get the rawness from the greenery in this coming through," Paripoush says, also detecting the sweetness of pineapple. The Frédéric Malle perfume has a body of lavender with patchouli, amber and vanilla, as well as notes of pineapple and mandarin. "This reminds me of the Tropical Green, which is a Japanese sencha," Paripoush says. "Often the notes that translate out of a sencha are freshly cut grass—vegetal, but not seaweed like." The tea is brightened with pineapple, citrus and lemon.
Herbal Tea
Twilly d'Hermès' Eau Poivrée Eau de Parfum matches Celebration Medley
"It's fresh, warming—you get the spice notes coming through," says Paripoush, immediately smitten with the fragrance. "This is literally like a brightly coloured scarf." Whirling together pink peppercorn, delicate rose and rich patchouli, this is the new, spiced take on the Hermès Twilly perfume. "This is Celebration Medley in every way," she says, comparing it to the tea. Starting with red rooibos, the tea is jazzed with apple, orange, and rose, with warming spices adding a festive kick.