Slumber Next to a Glacier at These Sustainable Canadian Hotels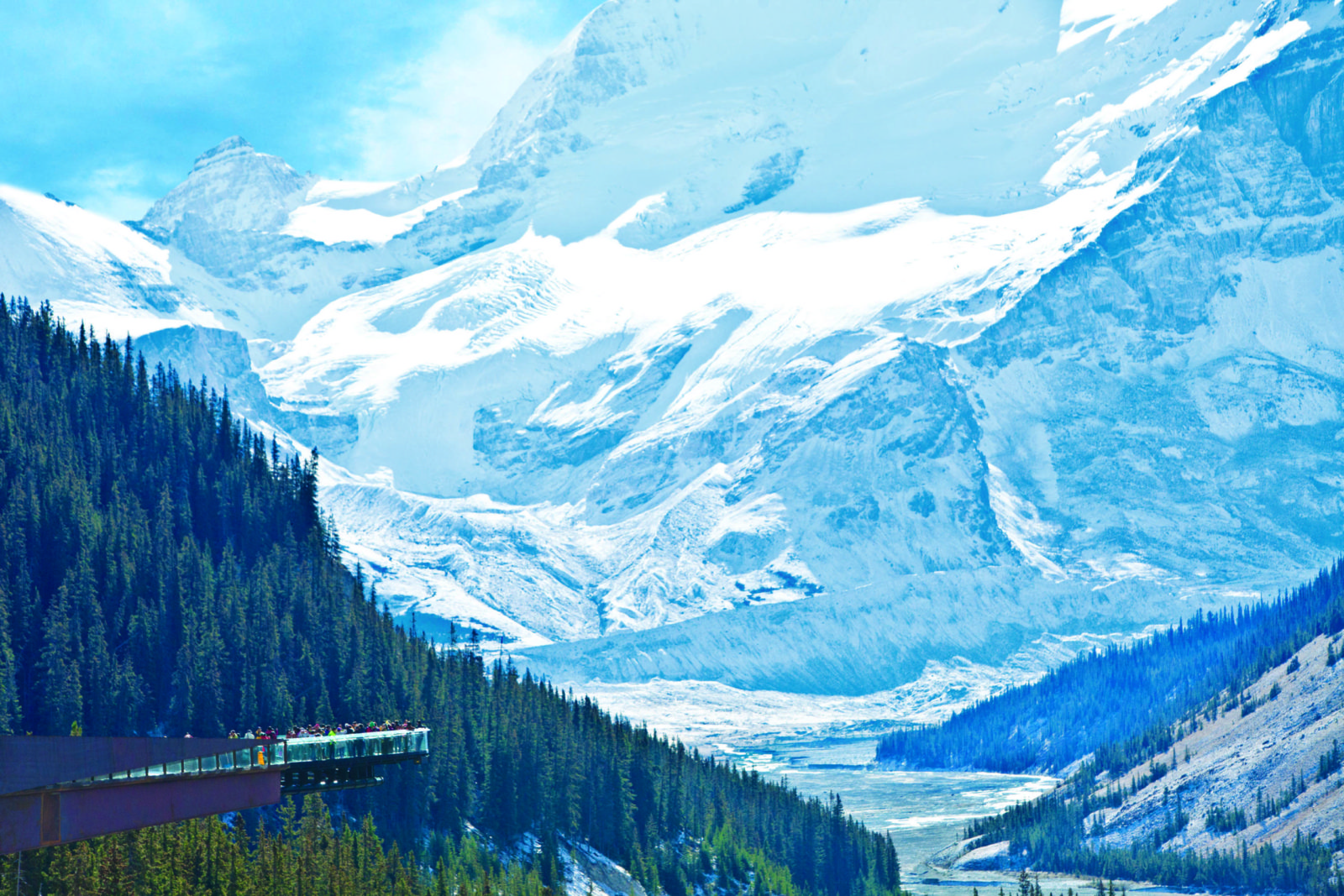 Today, glaciers aren't only accessible by cruise ship. Upscale lodges, camping expeditions, hygge hotels, and cozy cabins have set up shop next to these icy wonders, allowing guests to sleep not only under the stars but also next to a glacier.
And, while glaciers make up 69 per cent of the world's fresh water, they're quickly disappearing in the wake of global warming. Annually, the world loses about 390 billion tons of ice and snow per year, mainly from glaciers in Alaska. This past summer saw Greenland's ice sheet rising above freezing and the island losing 12.5 billion tons of ice in a single day—which means there has never been a better time to visit glaciers in a sustainable and eco-conscious manner. These three Canadian hotels bring you up close to these colossal wonders while reducing your carbon footprint.
Glacier View Lodge, Alberta
Glacier View Lodge, located around the base of Athabasca Glacier in Alberta, is the epitome of prime real estate. Newly opened in the summer of 2019, this sustainable hotel offers breathtaking glacier views from almost all of the 32 rooms. With lodgings akin to a Scandinavian chalet, guests can unwind before indulging in Canadian fare at altitude. Book the all-inclusive package to be treated to a private glacier walk after hours at the icefields and early-morning exclusive access to the Skywalk, a glass suspension bridge overlooking the icy peaks. The lodge also works to reduce its carbon footprint by sourcing all products locally and investing in a water treatment plan, eliminating pollutants through oxidation.
Purcell Mountain Lodge, British Columbia
Tucked away in the slopes of Bald Mountain is the Purcell Mountain Lodge. This 10-person timber lodge is best suited to backcountry mountaineers who still crave a touch of luxury. After a 15-minute helicopter ride from Golden, British Columbia, guests can settle in and hit the freshly powdered slopes. During the summer months, the lodge offers multiple hiking trails blooming with wildflowers. Surrounded by not one, but four, glaciers, including Avalanche Glacier and Duncan Glacier, guests are guaranteed a room with a view. To reduce the environmental impact, all the water is sourced directly from a nearby creek. It's also on a micro-hydro system allowing the lodge to generate its own power.
Fairmont Chateau Lake Louise, Alberta
Offering panoramic views of Alberta's Lake Louise and the Victoria Glacier, the Fairmont Chateau Lake Louise is notable for its luxe offerings, as well as its dedication to environmental stewardship. The perfect home base for those who love après-ski, this five-star hotel is also the closest to the famed Plain of Six Glaciers Teahouse at 360m of elevation. To mitigate its environmental footprint, the Chateau purchases 50 per cent of its electricity from wood-biomass generated green power and was the very first hotel in Canada to receive a 5 Green Key rating—awarded for massive decreases in utility consumption, waste, and emissions.
_________
Never miss a story. Sign up for NUVO's weekly newsletter here.