Canada's Craft Distillery Celebrates 10 Years
Dillon's Small Batch Distillers' Geoff Dillon talks a decade of innovation and collaboration.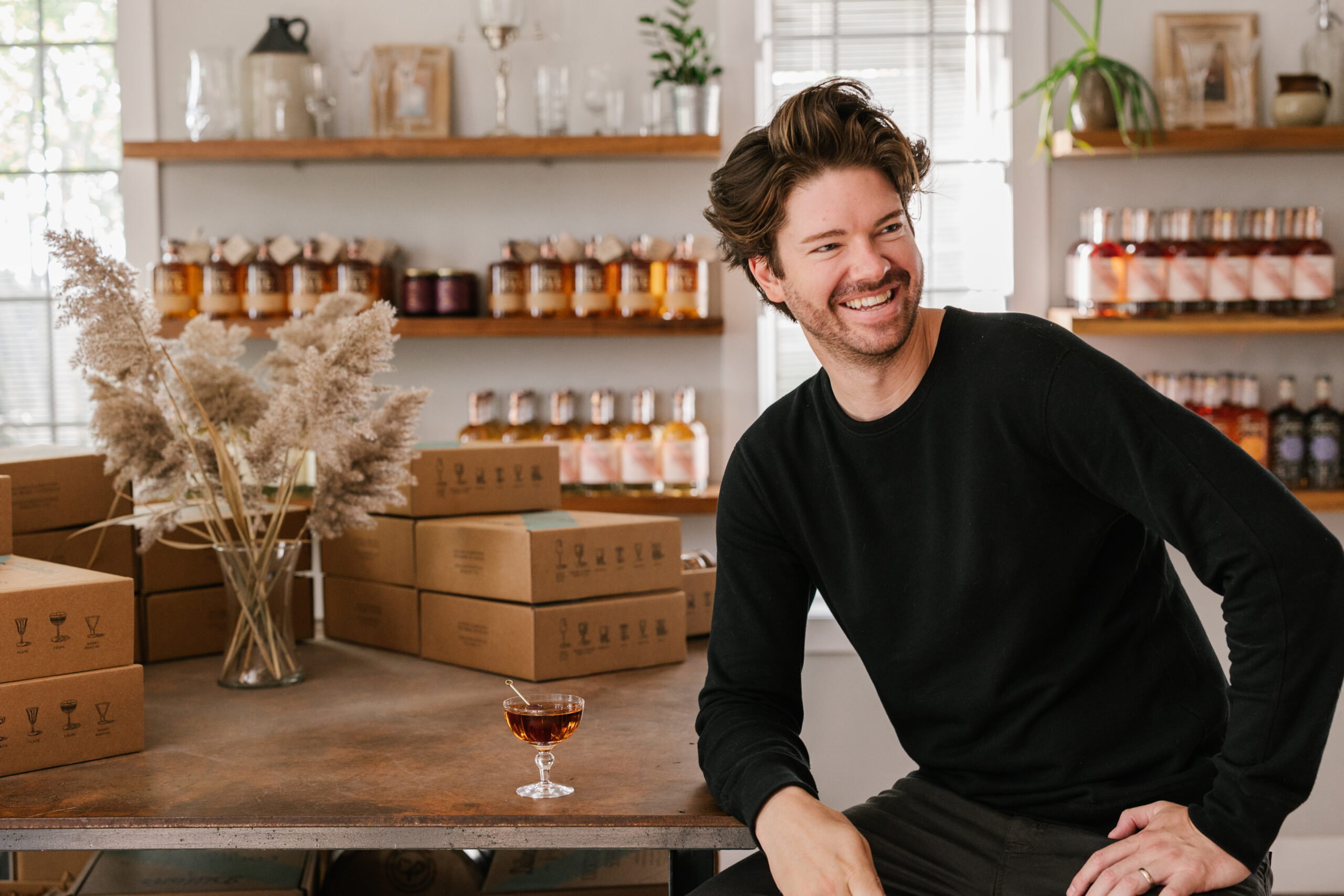 Geoff Dillon, founder of Dillon's Small Batch Distillers in Beamsville, Ontario, is always thinking 10 steps, or years, ahead. When he founded the brand in a former truck depot in 2012, he was already dreaming of making "rye whisky in Canada, not Canadian rye whisky." Using local rye, the Dillon's process, from mashing to bottling, takes place in Niagara. After marking its 10-year anniversary in December 2022, there is little doubt that Dillon's—whose fantastic whiskies and vodkas are now available in liquor stores across the country—is one of Canada's homegrown distilling success stories worth celebrating.
From the beginning, Dillon wanted to make high-quality craft spirits more available. In 2012, when Ontario had few craft distilleries, provincial regulations required companies that wanted to operate on-site distilleries with attached retail space to have a massive, costly 5,000-litre pot still. To legally circumvent these regulations, Dillon contracted a German company to build what he believes is the world's first hybrid distilling apparatus, a manageable 450-litre pot still attached to a 5,000-litre tank. Dillon went on to petition Ontario to change the law, which it did in 2015, after which the province's craft distilling industry skyrocketed.
To mark its 10th anniversary, Dillon's released 366 bottles of a commemorative single cask whisky that spent seven years in oak. Along with the brand's standard Three Oaks Rye Whisky, it is releases like these that motivate Dillon as a distiller. "Dillon's was started on one big idea—to follow a path no one was taking, and make true single grain rye whisky in Canada," Dillon says. "It began as our main focus and continues to be what propels us forward. The story of our rye whisky is the story of Dillon's."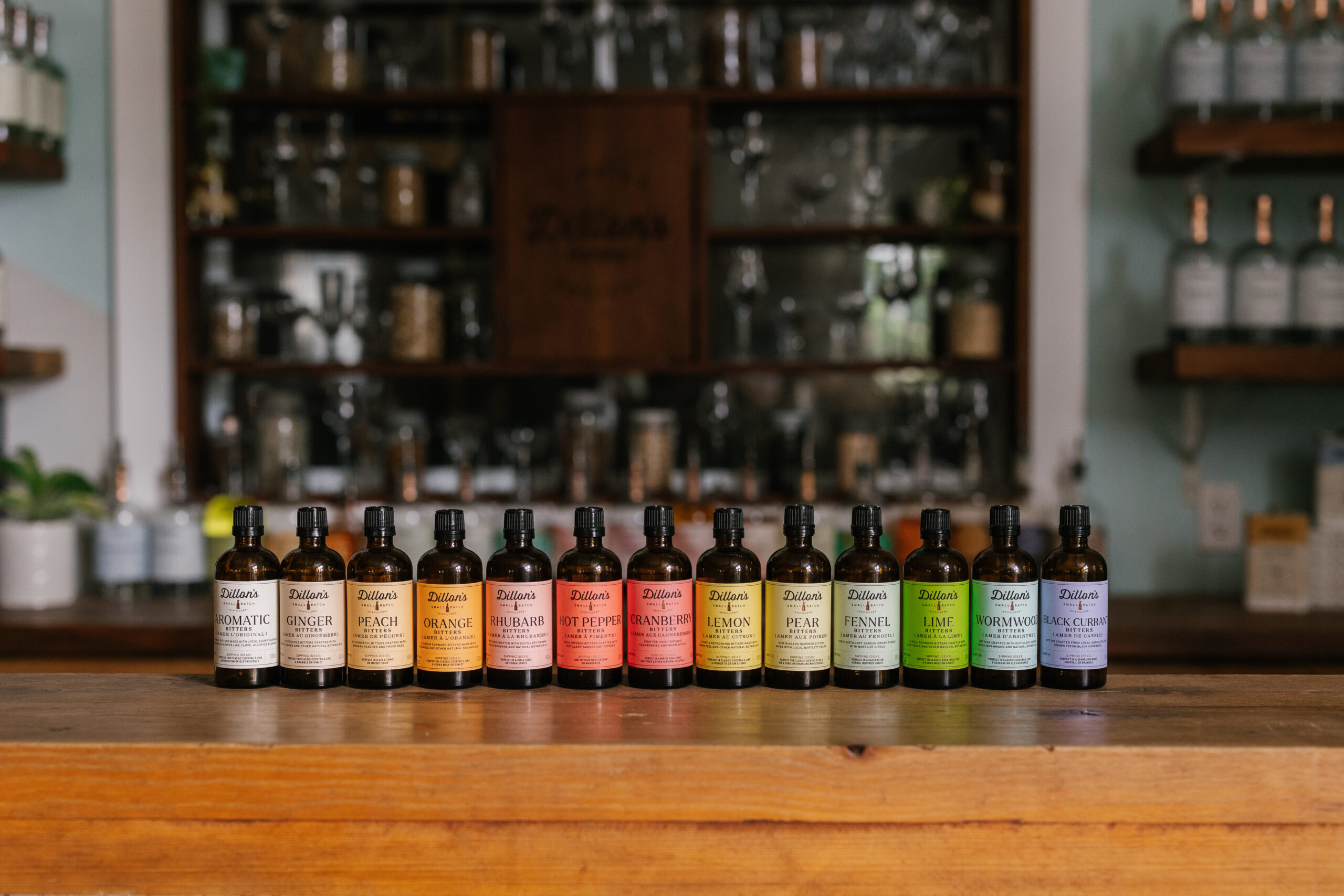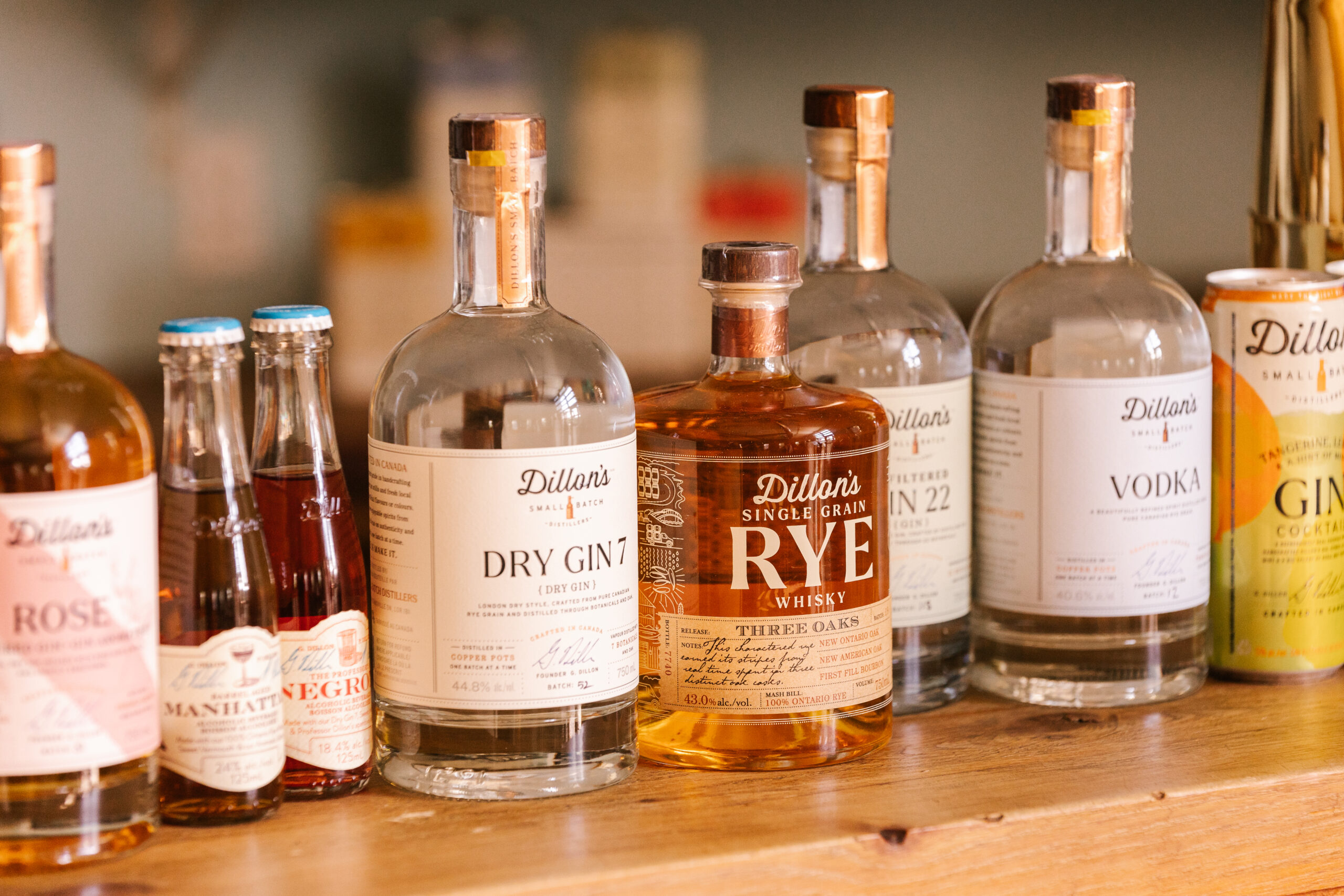 Dillon's has gone on to expand its portfolio, offering gin, vodka, ready-to-drink cocktails, bitters, and mixers along with a variety of rotating limited releases such as absinthe and brandy. As much as possible, the distillery works with Ontario farmers and craftspeople for its products. When Niagara farmers are without a buyer for produce, Dillon's often serves as a safety net, purchasing excess and finding a distilling use for it afterward.
Over the past decade, Dillon's has also established a good rapport with notable restaurants, collaborating to create unique spirits. "Our friends in the restaurant world are a huge part of the Dillon's story," Dillon says. "They have played a key role in getting us to where we are, by telling our story, especially as cocktails have become a larger part of the dining experience. Most recently, we spent the last year tweaking our Dry Gin 7 with the help of 15 of the province's top bartenders."
One of Dillon's foundational collaborations has been with Toronto-based hospitality group Oliver & Bonacini. With Maison Selby, the group's French restaurant operating out of the 139-year-old Gooderham House at the intersection of Toronto's Rosedale and Yorkville neighbourhoods, Dillon's produces four quirky offerings: cucumber gin, pineapple honey gin, strawberry rhubarb vodka, and elderflower liqueur. And for Canoe, the downtown fine-dining restaurant that proudly celebrates Canadian cuisine, Dillon's produces a delightfully idiosyncratic dill pickle vodka that, while it tastes fantastic on its own, is meant to be enjoyed in the most Canadian of drinks: Caesars.
However, as important as being Canadian is to Dillon's, helping Canadians is also part of its MO. A particularly proud chapter in the company's history came at the pandemic's outset, when Dillon's pivoted to produce and donate over 250,000 bottles of hand sanitizer to first responders and others, sacrificing two bottles of traditional spirits for every one of sanitizer.
Clearly, there is plenty to celebrate when it comes to Dillon's Small Batch Distillers' success. It's not often that a true craft distillery establishes a national reach while maintaining its sense of identity. But what about the next 10 years? When asked about his plans, Dillon is characteristically equal parts steadfast and ambitious. "We have accomplished a lot in our first 10 years, but it feels like it is just the beginning," he says. "At least one thing will remain constant—we will continue to take local ingredients and turn them into unique spirits. And with a little luck, we'll be doing that all over this great country."