Braised Short Ribs from Gotham Steakhouse and Bar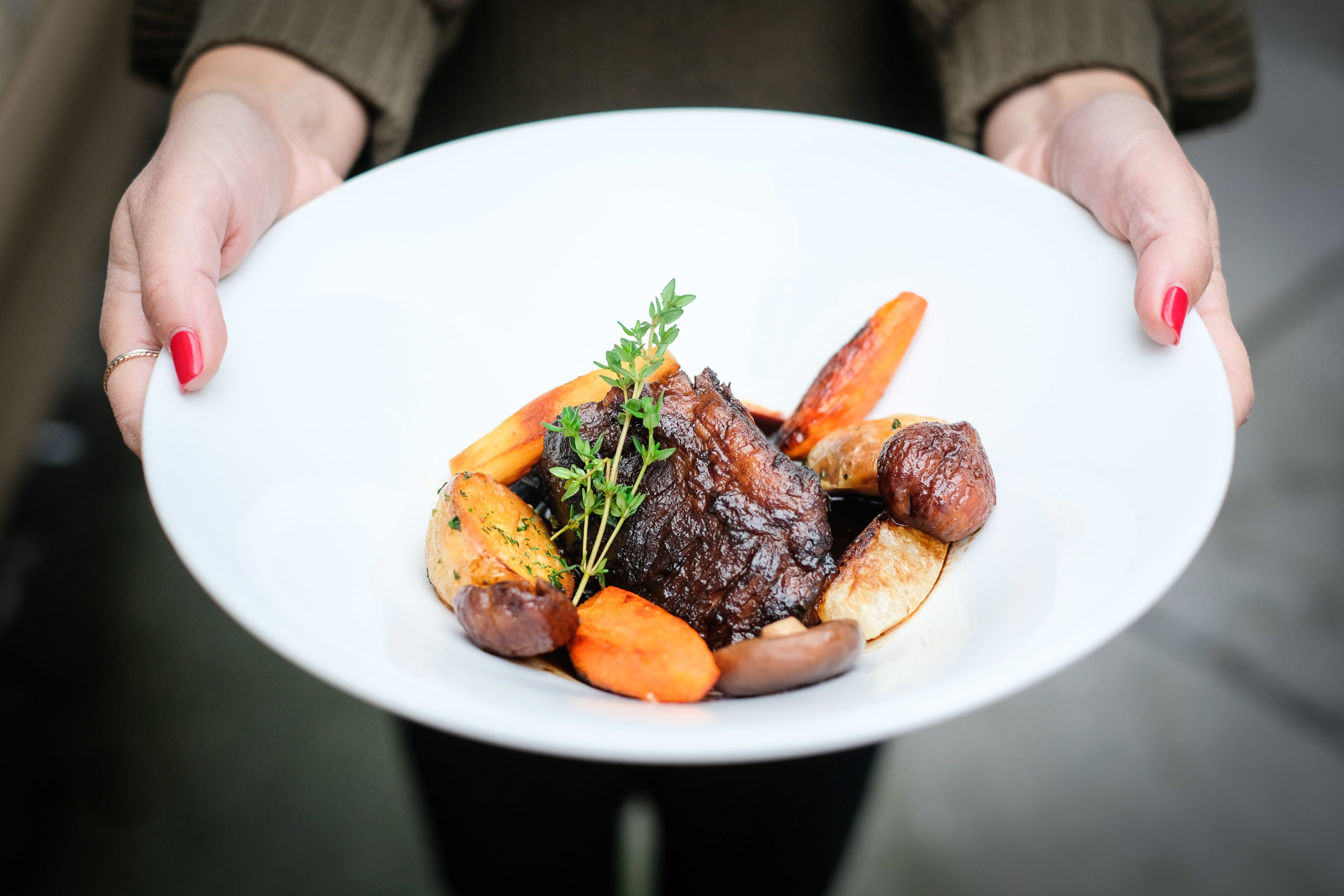 This recipe by Gotham Steakhouse and Bar chef Jean-Claude Douguet is perfect for a quarantine date night or even a family dinner. It may be more elaborate than your average meal but taking the time to lose yourself in cooking stress-free (hopefully), can be a wonderful thing. It is also a delicious feeling (pun-intended) to sit down and eat an extravagant home cooked supper on a Tuesday with loved ones.
Mirepoix
1 large onion cut into 1-inch (2.5-cm) pieces
2 carrots cut into 1-inch (2.5-cm) pieces
4 celery sticks cut into 1-inch (2.5-cm) pieces
Bouquet Garni
6 sprigs fresh thyme
2 bay leaves
1 leek leaf
Ribs
6 lb (2.8 kg) beef short ribs
Sea salt and freshly ground black pepper, to taste
¼ cup (60 mL) vegetable oil
2 bottles cabernet sauvignon or merlot
2 cups (500 ml) ruby port wine
10 cups (2.5 litres) brown beef or veal stock
8 garlic cloves, halved and peeled
4 large shallots, peeled and sliced
1/2 lb (250 g) fingerling potatoes
8 shitake mushroom caps
12 chestnuts
Method
Marinate the short ribs, mirepoix, and red wine overnight.  Next day, strain meat and vegetable separately. Reserve red wine. Season ribs generously with salt and pepper. Heat oil in a large Dutch oven, over medium heat. Add ribs carefully and brown them nicely on all sides. Remove the ribs to a plate. Do the same for the mirepoix for about 10 minutes. Return the ribs and mirepoix to the pot. Wrap bouquet garni in cheesecloth and tie with butcher's twine.
Preheat oven to 350°F (175°C). Boil and reduce red and ruby port wine by two thirds. Add wine reduction, stock, bouquet garni, and garlic cloves to the ribs. Cover the pot loosely with aluminum foil and place it in the oven for 3 hours. To make the sauce, remove the ribs from the pot. Strain the braising liquid through a sieve into a clean pot with the sliced shallots. Discard the solids. Bring the liquid to a simmer and cook until the sauce is thick, rich and glossy. Skim the fat with a ladle if necessary. Taste for seasoning. Return the ribs to a pot; cover with the sauce. Add fingerling potatoes, shitake mushrooms, and chestnuts. Return to oven for another 30 minutes. Transfer the ribs, sauce, and garnishes to a serving dish. Serve with roasted parsnips, white turnips, and carrots.
Makes 6 to 8 servings.
________
Never miss a story. Sign up for NUVO's weekly newsletter here.