Angie Crabtree Brings Her Opulent Diamond Paintings to L.A.
The Diamond Painter's exhibit is on now.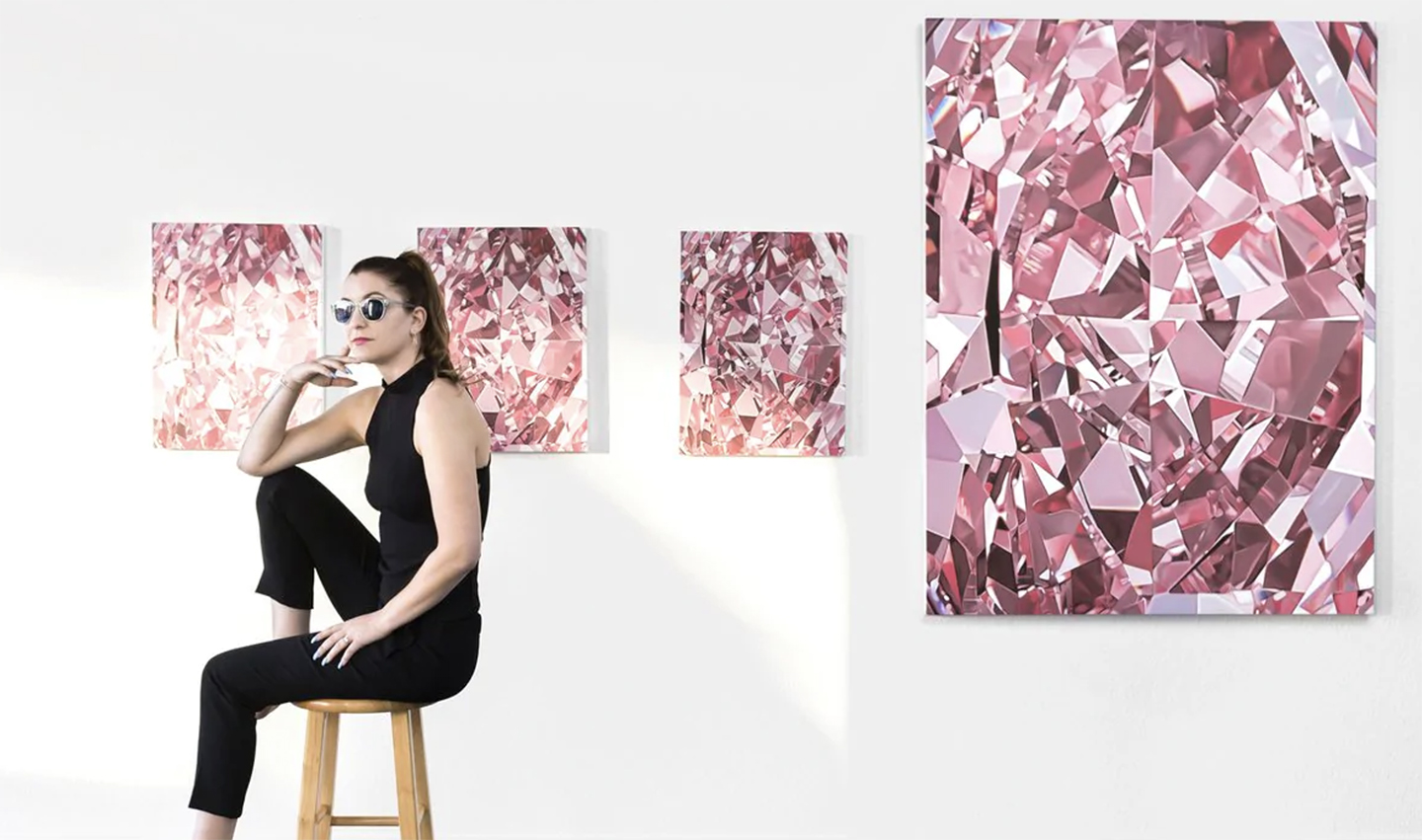 "I've always been fascinated by what it means to live the American Dream," says artist Angie Crabtree. There's perhaps no single object that better encapsulates the sparkling commodification of that dream than a diamond, which Crabtree puts under a microscope in her hyper-realistic paintings. Capturing the play of light and colour in large scale, she adds a rigorous new dimension to her work in her latest exhibition, which opened at the end of July in Beverly Hills.
Growing up on a ranch in rural northern California, Crabtree wasn't exposed to much art until she attended the San Francisco Art Institute. "It opened my eyes to new ways of living," she recalls. "The city exposed me to wealth and luxury." It was this opulence, on full display in the tech capital of the U.S., that inspired her dive into the American Dream and the obsession with luxury goods for her 2012 San Francisco exhibit Living the Dream, which included oversized paintings of a winning lottery ticket, a blank cheque, and a diamond. The diamond was a particularly big hit and would become her trademark subject, earning her the nickname "The Diamond Painter."
"I'm fascinated by humanity's commodification of nature. Diamonds are the most valuable example of that commodification," Crabtree says. "I could paint any object hyper-realistically, but seeing the response and the draw of diamonds is incredible." After Living the Dream, she met with jewellers and diamond cutters to learn more about the gem and began getting commissions to paint portraits of clients' diamonds, like an engagement ring or a family heirloom. From there, her artwork blossomed into partnerships with big jewellery names such as De Beers and Chopard, and making hand-painted fashion objets d'art, including an emerald YSL handbag, a pink diamond Balenciaga handbag, and a pair of Louboutin sneakers.
Her current exhibit, FLAWLESS, is her Los Angeles debut. "I've been envisioning this show for years," she says. "Beverly Hills is in many ways the epicentre of luxury, so my diamond work is very fitting." The collection features her largest painting yet, a 10-foot-tall emerald-cut diamond.
In another piece, Blood, Sweat, and Tears, she captures the likeness of a red diamond using oil paint and her own blood. Crabtree has had Type I diabetes since she was 12 and was recently diagnosed with a blood-clotting disorder. She constantly monitors her blood sugar and frequently pricks her finger to draw blood, as she was when the idea for the painting came to her. "The history of diamonds is full of blood, and using my blood in the painting was a way to ignite a conversation and weave my story into the history of diamonds," she says. "I put everything I have into my work, and this is the most interesting way to show that to my audience and collectors."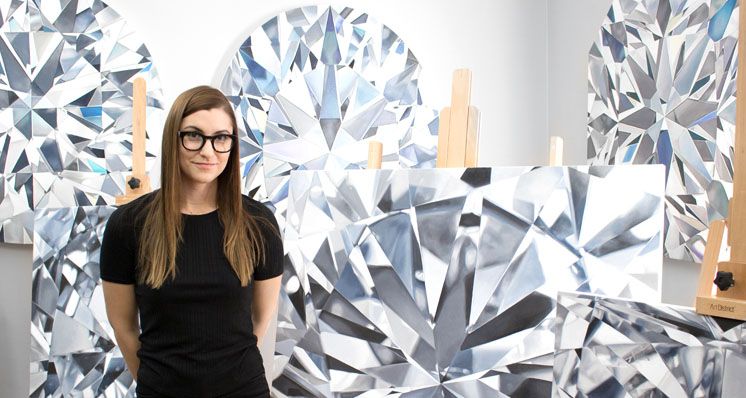 In FLAWLESS, viewers can expect to be immersed in lavish fun, with Polaroid cameras for taking selfies, real diamonds, ring pops, NFTs, and of course, Crabtree's signature huge diamond paintings. "I want visitors to experience the luxuriousness of my art and subject matter," she says. As with all her work, the pieces examine the pull of luxury goods.
"Humans collect diamonds, and sometimes millions of dollars are paid for a stone that's just several millimetres big. It's fascinating to take something small and treasured, and make it large and in your face," Crabtree reflects. "Luxury and branding have drawn us all in and changed the way we interact with each other and ourselves. Our relationship to what we own, desire, and value is what I'm seeking to understand through people's interaction with my work."
Angie Crabtree's FLAWLESS will be on display at 9410 Dayton Way, Beverly Hills, California, until August 14.