A Canadian-led Remake of Roger Waters' The Wall is a Contemporary Opera Success Story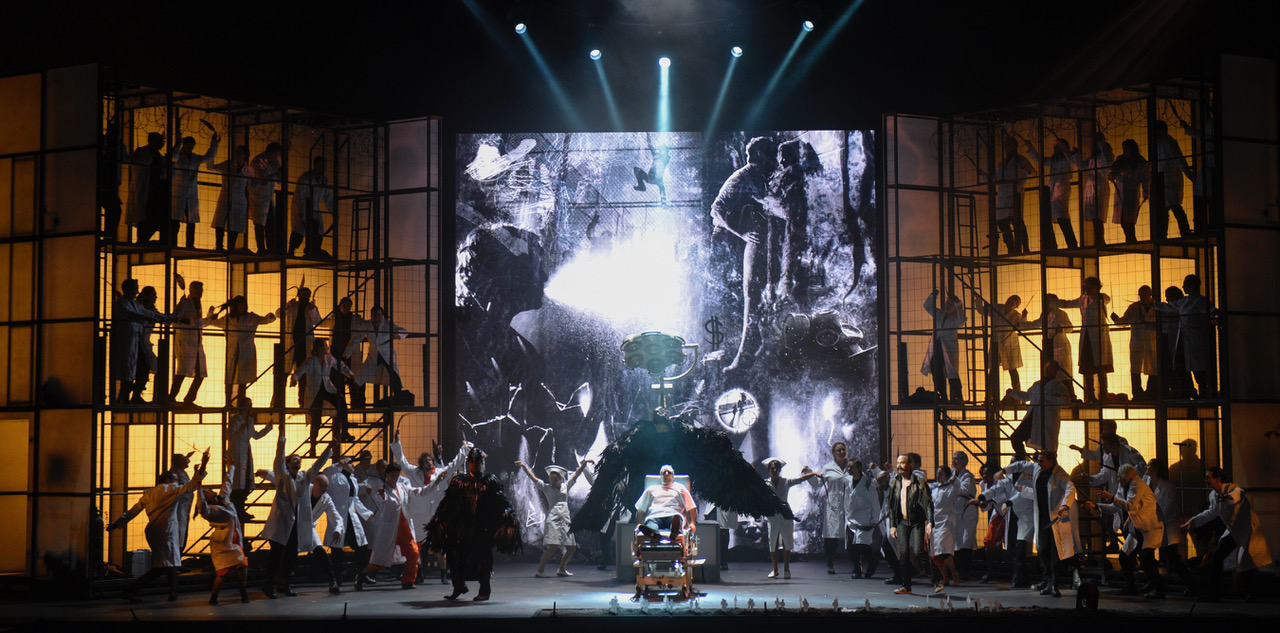 When Pink Floyd bassist and singer-songwriter Roger Waters spat in the face of a drunken fan while playing a concert at Montreal's Olympic Stadium on July 6, 1977, few at the time could anticipate that such an aggressive act of anger would end up spawning so much art. Unhappy with himself for having lost control at the tail end of the band's In The Flesh world tour, Waters went on a self-reflective inner journey, where he gained the poetic ruminations he would translate into The Wall, a dark parable/album that has become one of the most popular LPs of all time.
Since its 1979 release, the concept album has inspired several creative clones, including a same-named 1982 feature film starring ex Boomtown Rats front man Bob Geldof and a 2015 documentary. Now added to that list is Another Brick In The Wall, a Canadian-led operatic version of the original album. Its highly anticipated Toronto debut takes place this week at The Meridian Centre (formerly The Sony Centre), followed by performances in Quebec City and Vancouver in the new year.
A joint production of Productions Opéra Concept MP in Montreal and the Cincinnati Opera Association in the U.S., the adaptation features an original score by on-the-rise Quebec composer Julien Bilodeau that mixes melodies and lyrics from the original album with bombastic borrowings from Brahms and minimalist orchestrations written for eight opera singers, 36 chorus members, a child actor, and more than 50 classical musicians under the baton of conductor Alain Trudel.
The Montreal world premiere, an Opéra de Montréal presentation, emerged as a true cause de célèbre after a record-breaking $2-million worth of tickets were sold for the show's 10 performances at Place des Arts in March, 2017.
Today, Another Brick In The Wall continues strong, bolstered by the now 75-year old Waters who gives the opera's musical creator especially high marks. "Julien has nodded gracefully at the work I did all those years ago," says Waters at the work's Montreal press conference, "but he has also developed it in a sophisticated way that I wouldn't attempt."
For Bilodeau such praise is gratifying, especially given the source.
"Before I met Mr. Waters, I was asked by Opéra de Montréal to do that project, and I already had a vision about what I could do with this huge body of work that was already perfect in its rock form," he says. "It was clear to me that I did not want to go on the path of a pop symphony arrangement. I thought the medium of opera asked for a more sophisticated way of rewriting and recomposing what Roger Waters has done very well, but with rock and roll instruments. So, that was my first thought about that project and I didn't know at the time that Roger Waters was on the same page."
Opera is a skillful blend of sound and image, and this work is no different. Bilodeau's composition is a big draw but so too are the visuals created by a production team with ties to Montreal's acclaimed Cirque du Soleil.
Director Dominic Champagne worked on Cirque's Las Vegas Beatles show Love, and scenic designer Stéphane Roy and costumer Marie-Chantale Vaillancourt on Dralion and Cirque du X: The Land of Fantasy, respectively. Johnny Ranger, behind the massive ice and wall projections seen in Cirque's latest touring show, Luzia, created the video projections that work to advance the opera's plot: a tale oriented around a jaded rock star named Pink who revisits major episodes in his life via flashback while experiencing a mental breakdown.
The critics have found the $3.2-million work wanting. The Montreal Gazette called it "a sullen, gloomy flop," and Ohio-based Columbus Business First, reviewing its U.S. debut last July, said it "couldn't reconcile the 'sex, drugs and rock 'n' roll nature of Roger Waters' hallucinogenic story with operatic treatment."
Despite this,  Another Brick In The Wall remains an audience favourite. Last year, the opera took two prominent prizes at the 21st Opus Awards Gala – the Grammys of the Quebec music scene – one for best composer and one for best musical event of the year.
"I'm very proud because it's both a public success and a recognition from my peers … I'm very attached to that project because I am an opera lover and I think it brings a lot of people in for the first time, which is fantastic," says Bilodeau, whose next projects includes two more Opéra de Montréal commissions, La beauté du monde in 2021 and La Reine-Garçon in 2023.
He continues, "It also gives the opera world, which is maybe sometimes a bit conservative, an opening with a modern story. This one production has brought together so many people who are not used to being in the same hall – Pink Floyd fans and opera fans at once. And I think the thing that pleases me the most is that Roger Waters' message is now spread to more people than before – carried to a new horizon."
_________
Never miss a story. Sign up for NUVO's weekly newsletter here.