Glamping at WOODS on Pender Island, B.C.
An Airstream retreat tucked away in the coastal forest.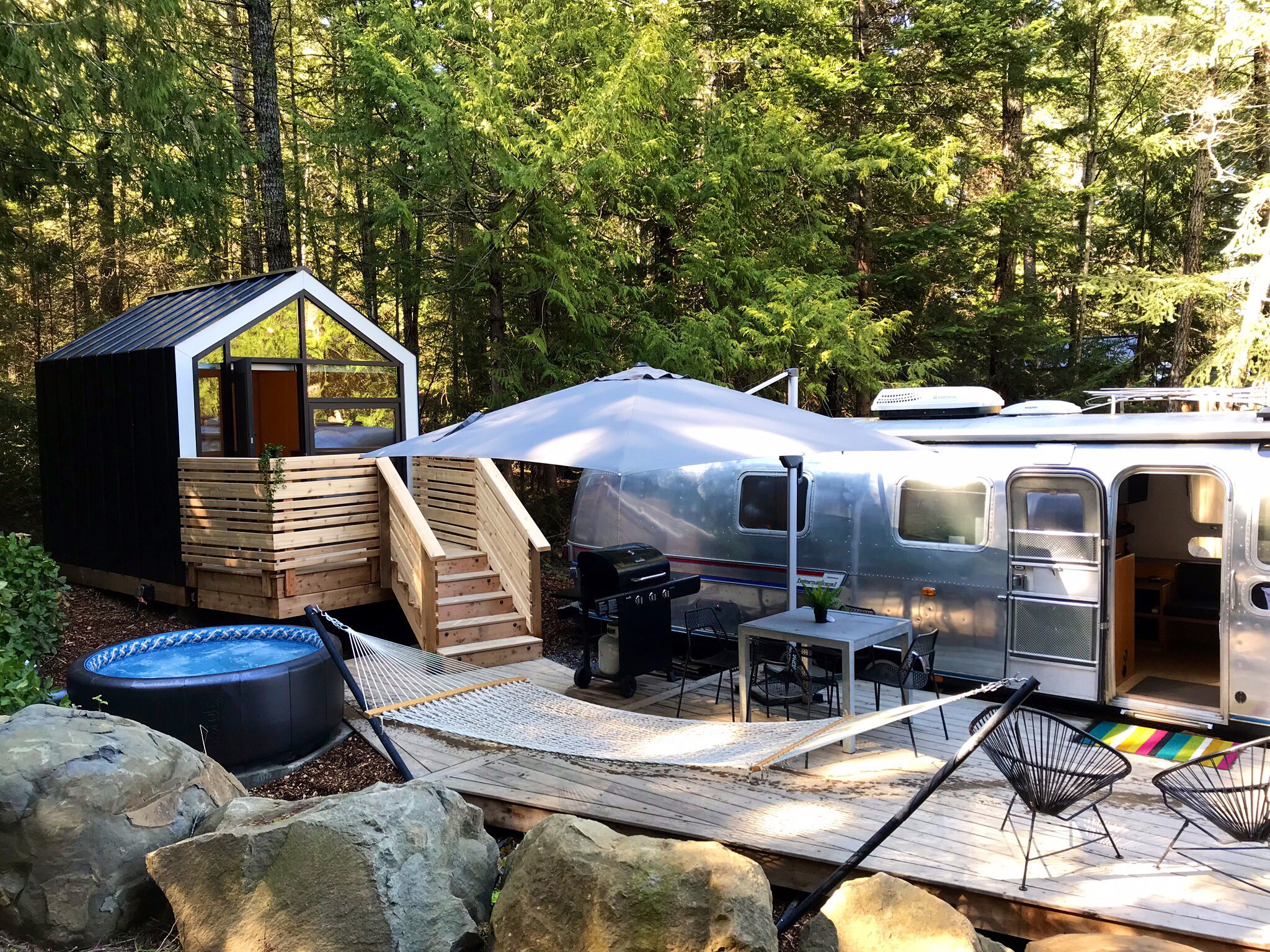 If you haven't woken up in the cozy confines of a refurbished 1978 Airstream trailer, opened the door, and hopped into a steaming hot tub surrounded by coniferous coastal forest—what are you waiting for?
At WOODS on Pender—located on Pender Island, one of the Southern Gulf Islands—this halcyon vision has been realized by Curtis Redel, an ex-Vancouverite who previously worked in real estate. Craving the island life and drawn to the idea of unfettered freedom that Airstreams represent, he transformed a 7.3-acre plot of land previously occupied by the Inn on Pender Island into a bucket-list glamping getaway, launching in 2015.
"When I first saw the property, it had a real camp vibe, so I kept that in mind when developing it," says Redel, the "chief concept guy" at WOODS, who has been adding new glampsites ever since opening. With air-conditioned Airstreams (lovingly restored vintage versions, as well as new ones), modern little Bunkie cabins (three new ones were added this spring), rustic cabins, and the WOODS Motel as well, accommodations are varied. There's even an on-site massage trailer, whose two practitioners can help you achieve your ultimate relaxation goals in the wild.
A contemporary Canadiana design aesthetic runs throughout the retreat (think doormats with HBC-style stripes, Adirondack chairs, large hammocks), and campfires are encouraged when the weather permits. "We don't advertise traditionally," notes Redel, who prefers to cultivate a community of like-minded customers through word of mouth and social media. With sites this pretty, it isn't difficult. One of the most spectacular is Airstream 8, open since May, which has high-end, modern Danish design from the frame up and an outdoor shower to accompany the private hot tub. Airstream 6 provides a perfect getaway for two couples: one pair can sleep soundly in the bed of a refurbished vintage trailer, while the other duo bunks in the luxe Bunkie Cabin next door (complete with glitch-free Netflix on a wall-mounted TV). Cooking is made easy in situ: the Airstream is outfitted with culinary comforts like a microwave and a French press, destined to be used at the crack of dawn with the jar of Fernwood Coffee (from Victoria) provided.
En route to WOODS, you'd be well advised to pick up a carton of organic heritage eggs at one of the many "honesty box" stands scattered around the island. Don't feel like cooking? There is the CAMP food truck, which turns out farm-to-table fare on the front lawn, while the Coffee + Kitchen restaurant is a sit-down affair, decorated with local art and lined with stacks of Cabin Porn–style design books. Here, you can sip on a handcrafted lavender margarita and dine on cuisine like smoked salmon pizza or fresh gnocchi with gorgonzola, bathed in a heavy cream reduction and speckled with wild mushrooms and organic peas. If you look closely, you'll see that the man in the kitchen is none other than Redel himself, who doubles as the head chef and has an intensely local outlook on ingredients. (Greens are supplied by the on-island Raven Rock Farm and pasta by the Pender Pasta Co.; goat cheese comes from the Salt Spring Island Cheese Company, bacon from Hertel's in Port Alberni, and the list goes on.)
Locals love dining here too, and (most) are thrilled when tourist season begins, as the restaurants that shutter for the winter open up their doors afresh. A friendly couple at a nearby table may well strike up a conversation with you and recommend a favourite island hike ("Mount Norman, for the view at the top" was a winner). They may also introduce you to the term "Pender sleep"—a deep, satisfying slumber that some are said to have on this idyllic Gulf Island. There may well be no better place to experience it than at WOODS.
_________
Never miss a story. Sign up for NUVO's weekly newsletter here.