La Prairie's Anti-Aging Rapid Response Booster.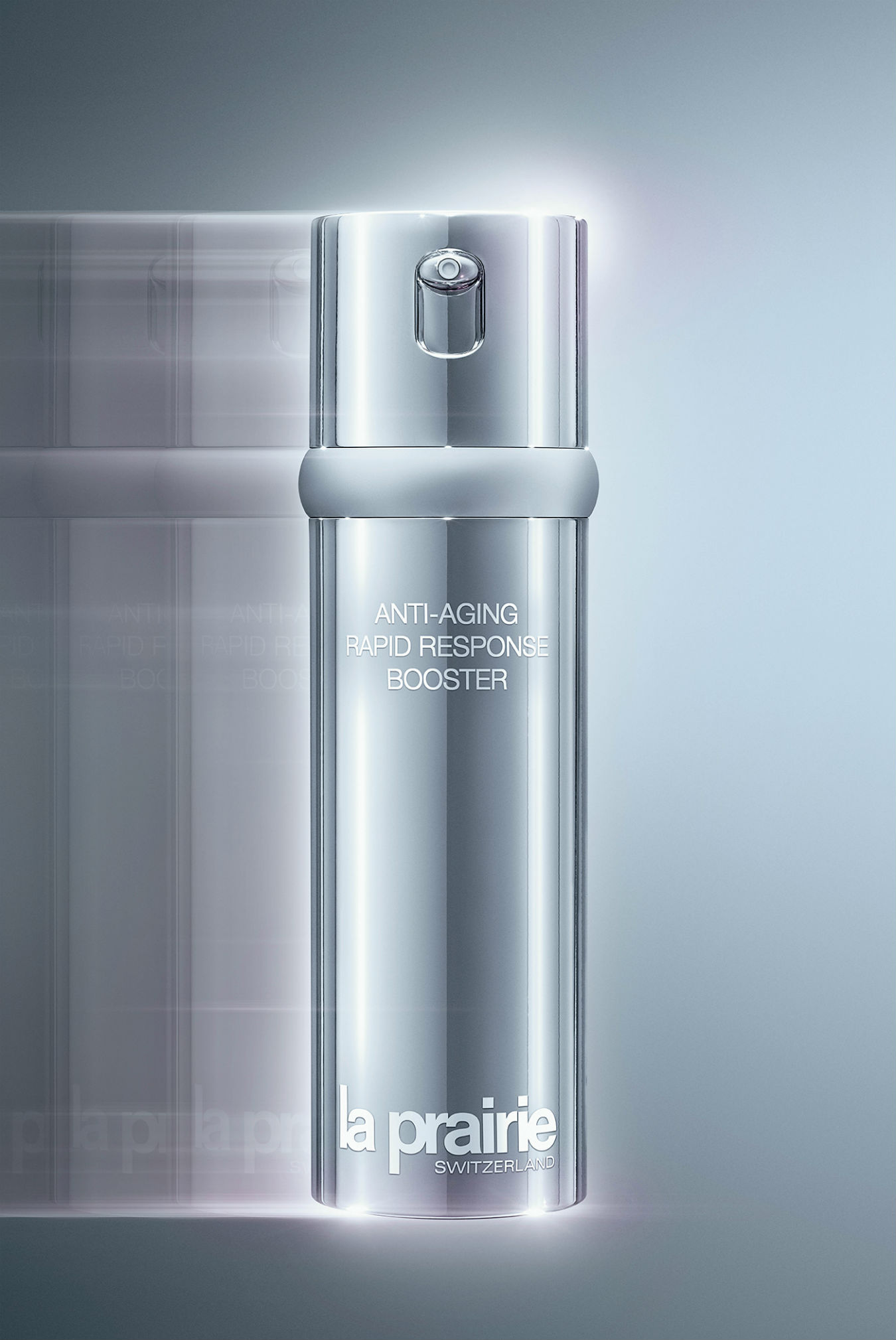 When the Swiss skin-care company La Prairie writes up an ingredient list for its luxe product range, no expense is spared. Caviar extract, high Alpine flowers, gold, and platinum may all seem better-suited to the shelves of a high-end delicatessen or a jewellery case than in a jar on a cosmetic counter, but they're right at home in these shiny bottles. "[We are] really looking to push the envelope to find the rarest, most meaningful ingredients," says Elizabeth Lamont, vice president of marketing for La Prairie, who proves how the products' exotic ingredients and formulas are not just for show, they're for results.
"The La Prairie mission was established for us in the 1930s by [professor Paul Niehans, a renowned Swiss surgeon], who believed that one day science would unlock the secret to anti-aging. He developed an array of therapies to help intercept aging at its source, at a cellular level," says Lamont. "And that's really the genesis of the brand and the products that we sell today. It's his cutting edge science."
The hard facts behind skin-care products are always rife with numbers and jargon, so it's easy to tune out the how behind any given bottle's promise, but Lamont breaks down how La Prairie's creams, oils, and emulsions work. Take, for instance, the new Anti-Aging Rapid Response Booster, which launches at Holt Renfrew on April 1. When Dr. Daniel Stangl, the brand's director of innovation, unveiled the cream last year, he announced the preliminary findings: 100 per cent of trial users noticed a measurable difference in the number, depth, and length of their wrinkles—fine lines are reduced by 39 per cent, and deeper wrinkles by 42 per cent, in just two weeks. "So, obviously the test was flawed because that's impossible," says Lamont. "And so, we actually did the test again. But the test wasn't flawed, because those were the results, again and again and again. And I mean, [Dr. Stangl] is a scientist, but even he was really excited."
The booster is the first serum to be added to the longstanding anti-aging collection in over seven years, and it uses a fast-acting anti-wrinkle peptide that targets the fibroblast area of skin cells (where elastin and collagen are created). "It works from within to build up the skin's surface layer—this smooth, line-free look—in a very short period of time," says Elizabeth. "The technology has really moved at such a rapid pace, it's our most advanced wrinkle interceptor." Of course, the bottle's unique ingredient list stays true to the La Prairie ethos, and includes plankton extract harvested in Brittany, France; silver vine extract from East Asia; and doses of ginger and licorice.
Skin-care aisles' pretty packaging and famous faces on ad campaigns might be more digestible than scientific facts, but La Prairie—and your skin—knows what's more important.
Mar 27, 2015
Updated: April 1, 2015