Where to Stay on the Atlantic Coast
6 elegant destinations in Canada's ocean playground.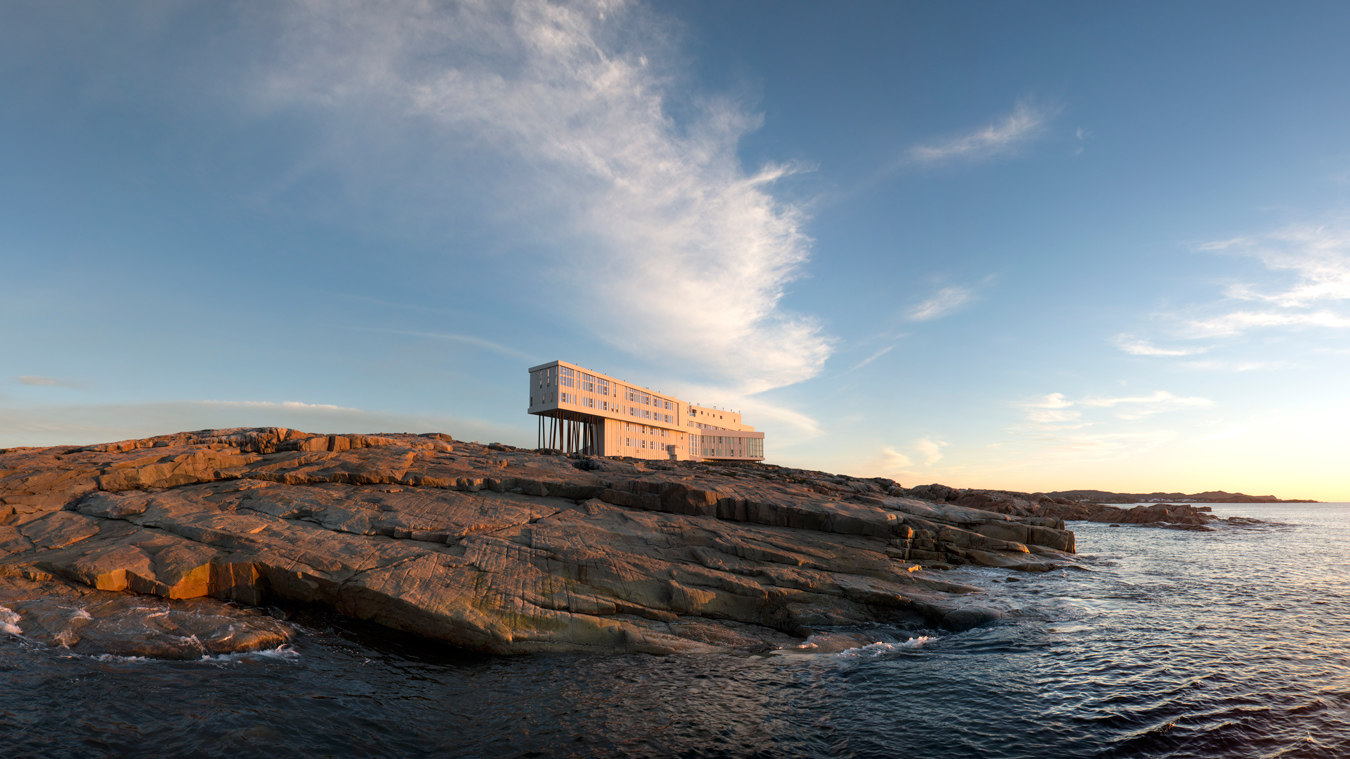 Clustered at the eastern-most edge of Canada, the Atlantic provinces are bastions of inimitable coastal life. Informed by an animated past (including rapacious pirates and a complex path to confederation), Nova Scotia, P.E.I., New Brunswick, and Newfoundland and Labrador are characterized by impressive landmarks: handsome lighthouses, fish-filled waters, national parks, distinctive red sands. Not to mention the burgeoning culinary scene: the lobster and oysters reaped from the Atlantic are heralded as some of the world's finest. Of course, to enjoy any of this, good accommodations are required—fortunately, the Atlantic Coast offers lodgings as luxurious as they are hospitable.
Kingsbrae Arms

Set above New Brunswick's dramatic Bay of Fundy coastline and within 27-acres of lush, seaside gardens is the secluded five-star Kingsbrae Arms, Relais & Châteaux's only Eastern Canadian property and the only Forbes four-star hotel in the Maritimes. Built in 1897, the manor was renowned for its house parties, which enticed all manner of poets, painters, and debutants. The estate opened as a boutique hotel in 1996, but the famed 19th century hospitality persisted, punctuated with an eye to modern luxury. Each room offers a marble bathroom, private fireplace, and balcony with striking views of the bay (home to the highest tides in the world). During the summer, chef Ciaran Tierney prepares a nightly bespoke dinner—local seafood is often the star, with main courses like Bay of Fundy farfalle and scallops with homemade pasta pappardelle—accentuated with vegetables harvested from the surrounding gardens that day. Before indulging, guests are encouraged to grab a cocktail and a canape and enjoy a late-afternoon stroll throughout the award-winning, salty-aired garden.
Shobac Cottages
Nova Scotia's Shobac Cottages are part of a compound that has become an intellectual and social gathering place for people from across Canada and the globe. The cottages began as a project to house attendees to the annual design workshop Ghost Architectural Laboratory. As interest in them grew, the cottages became available for rent between May and November. Today, guests can choose from four fully-equipped loft cottages, an 1830s Chebogue schoolhouse (rescued from demolition and transported to the Shobac property), the Studio (a comfortable, cliff-side abode), the angular Point House (surrounded by ocean on three sides), and the secluded two-storey Enough House, its minimal steel exterior standing markedly amid Shobac's bucolic fields. Read more.
Fogo Island Inn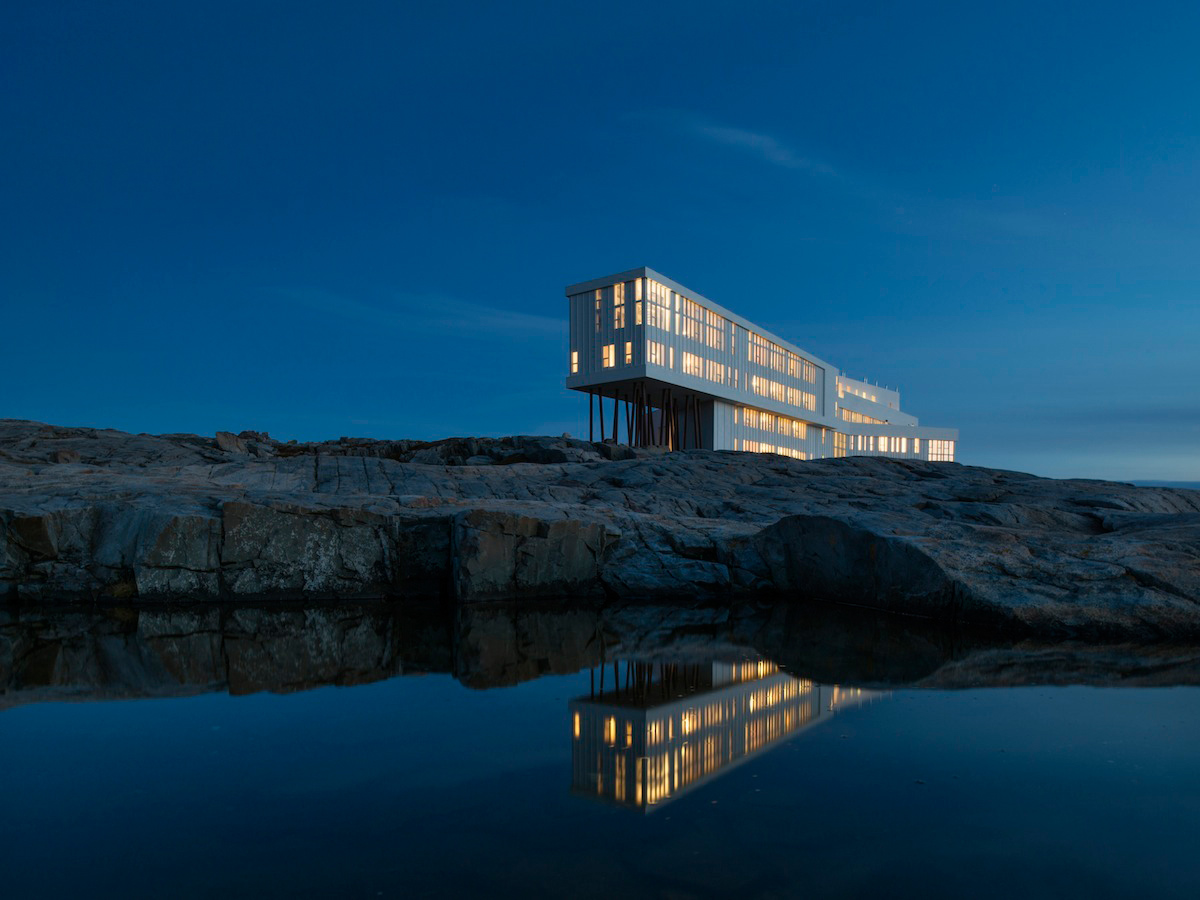 Architect Todd Saunders has made his mark by turning the middle of nowhere into the place to be. The Saunders-designed Fogo Island Inn in Newfoundland is a five-star feat of contemporary architecture that stands today as a cultural hallmark of the island. Twenty-nine rooms overlook the wild North Atlantic, the Inn's talented culinary team prepare daily repasts (which can be enjoyed while seated before floor-to-ceiling windows that overlook the ever-changing ocean), and a poke around the inn's eponymous shop is recommended, where handmade wares created with materials specific to Fogo Island, one of Canada's oldest communities, are sold. Read more. 
Rodd Crowbush Golf & Beach Resort
A 25-minute drive from Charlottetown is P.E.I.'s well-appointed five-star Rodd Crowbush Golf & Beach Resort. Located on the manicured grounds of The Links at Crowbush Cove golf course, guests can choose to stay in one of the detached lodges or within the 49-key main hotel. A day of luxe repose at the property is all too easy for non-golfers: start the morning at David's restaurant, which offers elevated breakfast classics like Eggs Lobster—an Eggs Benedict graced with decadent portions of North Shore lobster—griddled pancakes, and French toast with berry compote. One can relish in an afternoon of pampering at the property's spa, enjoy the bar's live music and local, brine-y oysters, and then head out to enjoy the commanding views of the white-sand North Shore before a beach bonfire held each summer night.
West Point Lighthouse Inn & Museum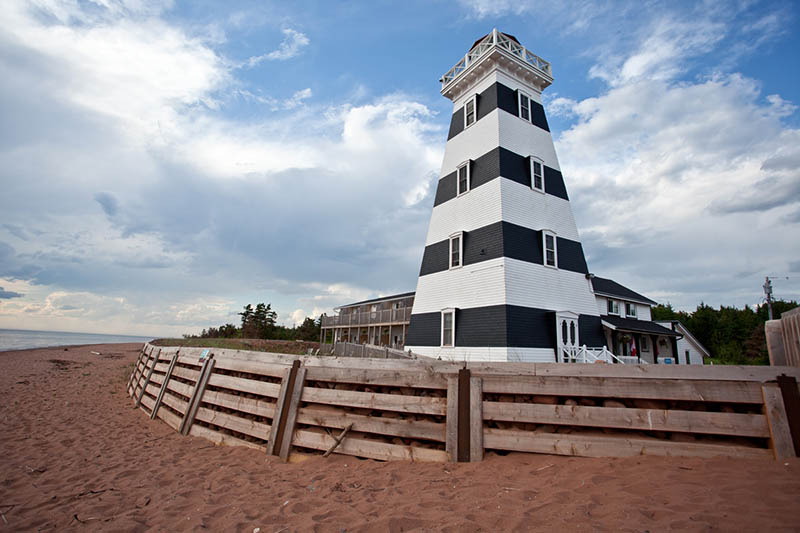 P.E.I.'s 13-key West Point Lighthouse Inn & Museum offers guests the unique experience of spending the night in an operative lighthouse. Built in 1875, it is the province's tallest and most unique lighthouses, standing at 69 feet tall with uncommon white-and-black stripes. The Northumberland Strait can be seen from each room (11 suites offer walk-out decks with panoramic views), and two rooms, The Keeper's Quarters and The Tower Room, are located within a private section of the attached West Point Lighthouse Museum. The museum is an encompassing collection of maritime history, offering one of P.E.I.'s most complete collections of lighthouse memorabilia. Spending time outdoors is also a must: West Point Beach's infinite sandy shores gradually recede to form the Cedar Dunes Provincial Park, which offers campsites and hiking trails among the rare eastern white cedars that occupy the dunes.
Inn at Bay Fortune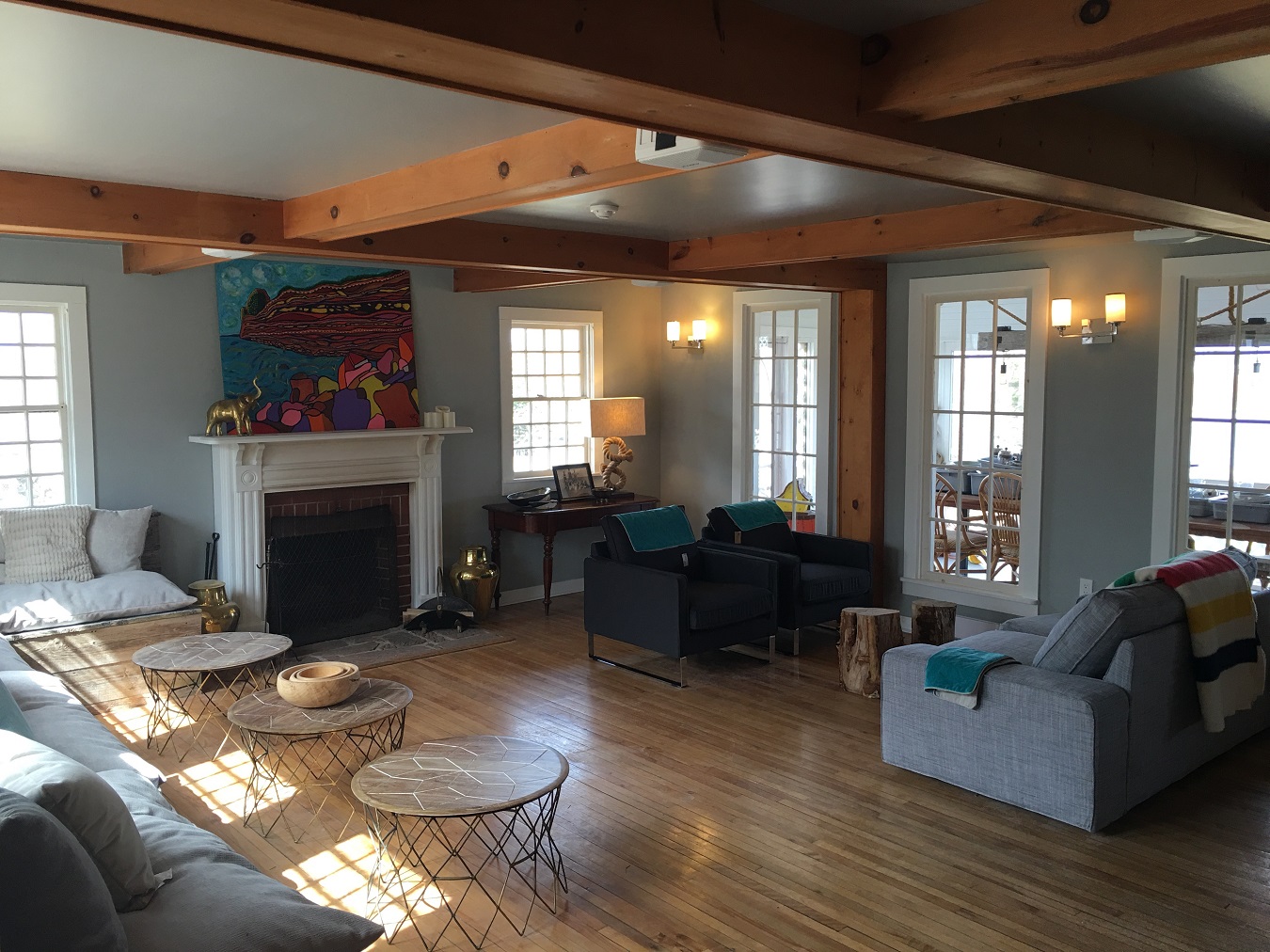 Inn at Bay Fortune is P.E.I.'s only five-star country inn. Located an hour outside of Charlottetown, it is home to award-winning chef Michael Smith and his restaurant FireWorks. Each night, guests are invited to what Smith calls a "kitchen party", which begins at 6 p.m. with all-you-can-slurp oysters, followed by house-made sausage and smoked salmon, cocktails made with locally-distilled spirits, and local craft beer. For the main course, the kitchen's 25-foot-long wood-burning stove—which utilizes every known form of fire-cooking (nine, to be exact)—is used to serve up a daily-rotating menu meant to be shared and savoured. The kitchen's offerings are a celebration of the island's bounty—100 per cent of the vegetables used are grown on-site—but global flavours appear, too; the property's Wine Library boasts international and home-grown wines. With full bellies, guests can retire to one of 15 rooms, each adorned with Bath & Body Works toiletries, 300-count sheets, and Nespresso coffee machines.