48 hours in Colorado's capital.
Perhaps you know Denver, Colorado, best from its airport, hardly skimming the ground en route to your final destination. If so, slow down a bit; the Mile High City makes a solid case to stay a couple days at least. With plenty to see and do, here are a few starting points.
Stay: The Crawford Hotel puts Denver at your fingertips. Located in Lower Downtown's Union Station (nicknamed "Denver's living room") with guestrooms that vary from Pullman-style (reminiscent of a train's luxury sleeping car), to luxe suites and lofts. In-room services include delivery from two Union Station eateries located conveniently downstairs, including Snooze (which offers six types of eggs benedict). Built in 1914, the train station's major centennial renovation established the building as a social destination first and transit terminal second, meaning you're steps away from joining Denver society in the grand, light-filled space beneath three 1,200-pound chandeliers for business meetings, treats from Milkbox Ice Creamery, drinks at the Terminal Bar or Cooper Lounge, or a friendly shuffleboard match.
For a reprieve from Denver's bustling downtown, The Art, a hotel, is the ideal accommodation to ease into the city's Golden Triangle museum district. Filled with pieces of art in every space, The Art has become a museum of its own.
Eat: Beneath the strung lights in downtown's Larimer Square, chef Troy Guard's restaurant, Tag, features a menu inspired by his Hawaiian upbringing and Asian and Latin American travels. Along with the city's benefit of receiving fresh seafood flown in day-of from either coast, this makes for some inspired fare—like surprisingly delicious taco sushi and miso-marinated black cod.
In the RiNo area (River North), a refurbished two-storey warehouse is home to Avanti Food & Beverage, a sophisticated "collective eatery" with all the relaxed atmosphere of a food truck festival, minus the inconveniences of weather dependency or limited seating. One bar anchors each floor, with seven dining options on the main floor. These concept restaurants, serving out of chic shipping containers, are given the opportunity test their ideas on the Denver crowd before committing to a bricks and mortar location; popular choices include Souk Shawarma, Quiero Arepas, and Portland-based sustainable Bamboo Sushi.
Explore: One would be remiss to neglect Denver's speakeasies. Though the days of Prohibition are long over, these hidden venues continue to pop up throughout town—discreetly, of course. The thrill is in the discovery, and Larimer Square is a gold mine. First, the Crimson Room, which you'll find behind a nondescript red door. This sultry lounge is becoming known for hosting live jazz music and menu of cart cocktails. Across the street is Denver's worst-kept secret, Green Russell. Don't be discouraged when following the sign downstairs leads to a kitschy pie shop. Instead, push past the industrial steel door at the end of the hall and be rewarded with the popular speakeasy. A paradoxical air of secrecy and spectacle bubbles in the space's aquamarine glow, whether the crowd is mostly tucked behind curtained tables or cheering on the bartender as he chisels a mammoth block of ice down to cocktail-size.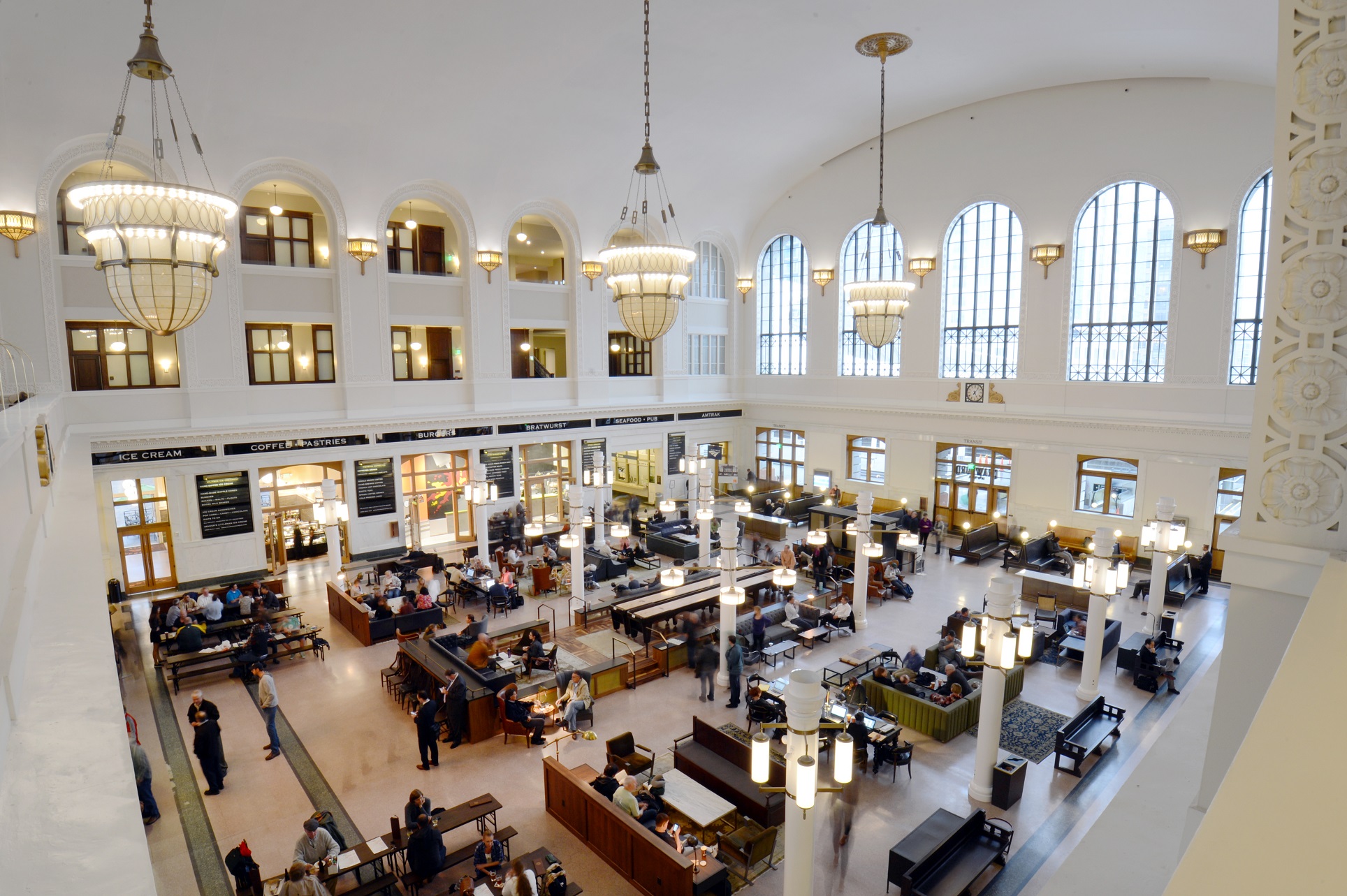 Though the Denver Art Museum boasts an impressive collection, a stroll around downtown reveals a scattering of whimsical sculptures, intriguing murals, and interactive art pieces. It's no coincidence: instated in 1988, the Denver's Public Art Program decrees that 1 per cent of any capital improvement project over $1-million U.S. must be put towards including a work of public art within this project. This has resulted in works like the giant chess pieces outside Market Street Station and the endearing 40-foot-tall blue bear peering into the Colorado Convention Centre (Lawrence Argent's I See What You Mean). It also includes the much less endearing—but every bit as intriguing—blue mustang rearing outside the Denver Airport, its red neon eyes flashing as you speed away to your next destination.
Photos provided by Visit Denver.