The New Ace Hotel Toronto Brings an Exciting Vibe to the City
Toronto's newest hotel is open for business. Ace Hotel Toronto, in the historic Garment District steps from bustling Queen West, is a boutique hotel whose memorable façade of red brick, wood and glass with a curvaceous arch creates an alluring entry, beckoning locals and visitors inside.
"We wanted the hotel to have its own personality," says Little Wing Lee, design director of Atelier Ace in New York. "Toronto is such an international city—the people, languages, and food—we wanted to bring those elements into the hotel." Early on, Atelier Ace tapped Toronto's Shim-Sutcliffe Architects to be its partner in realizing Ace Hotel Toronto, the company's first foray north of the border. "Thanks to Shim-Sutcliffe, we were welcomed into the local design community and started making connections," Lee says.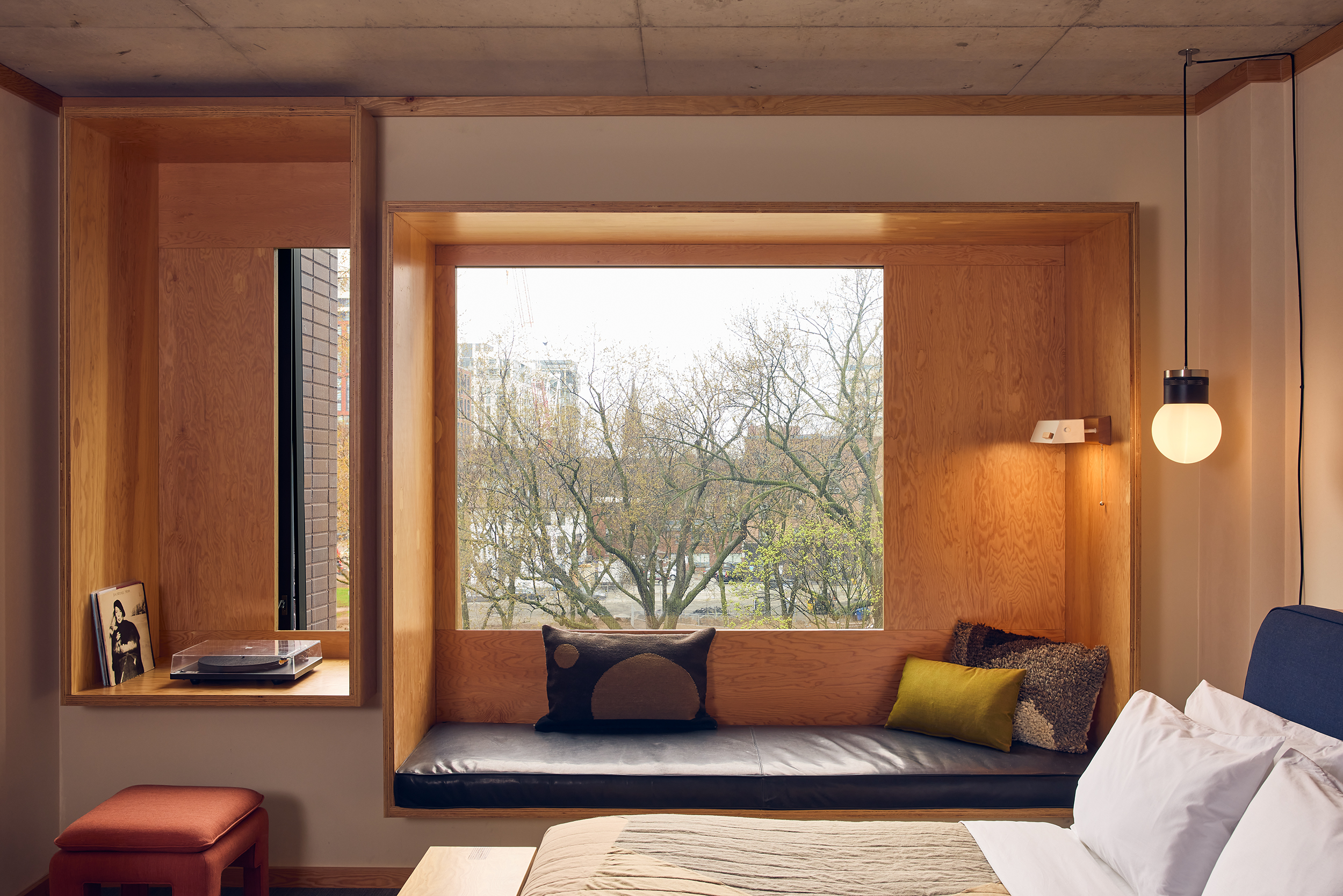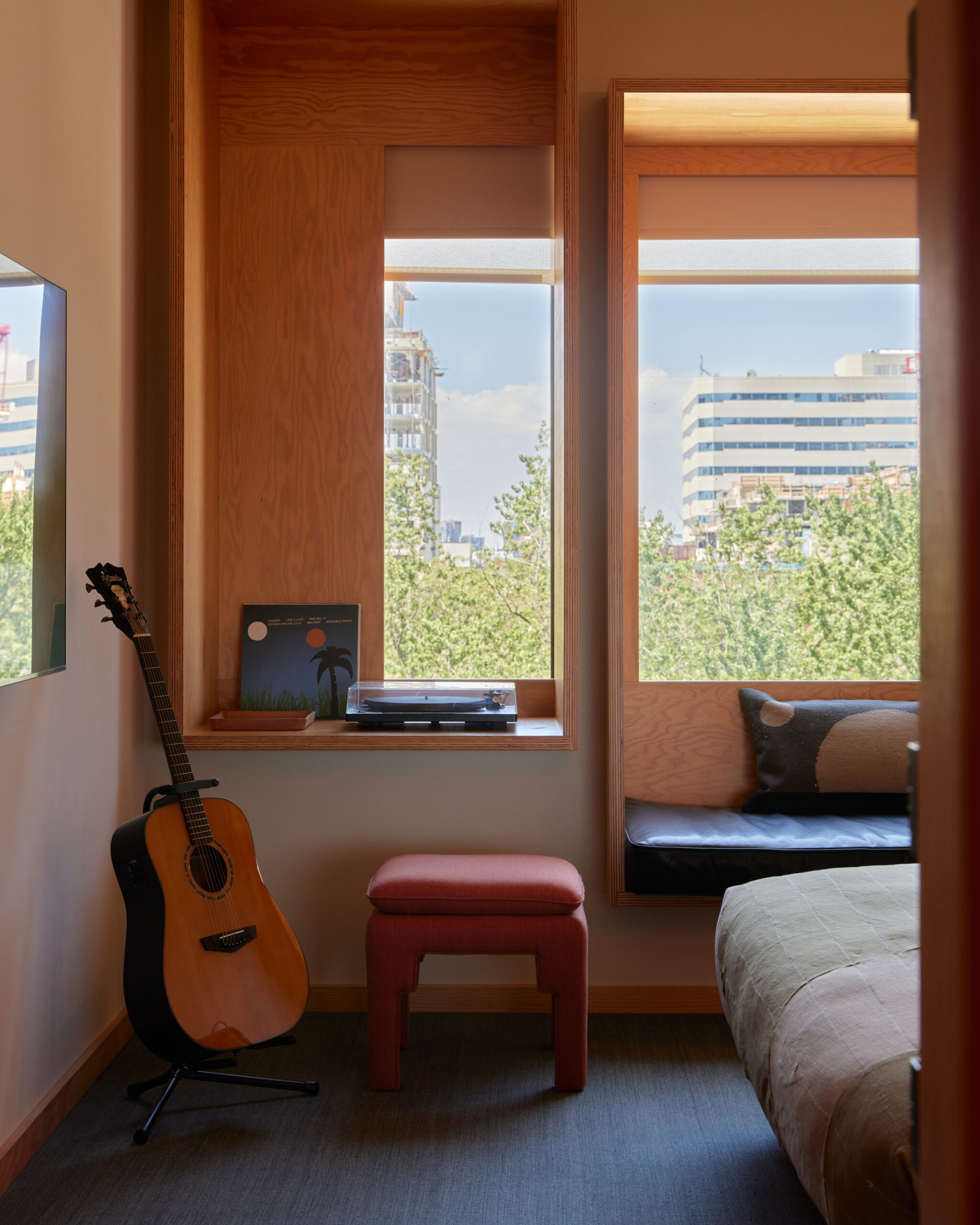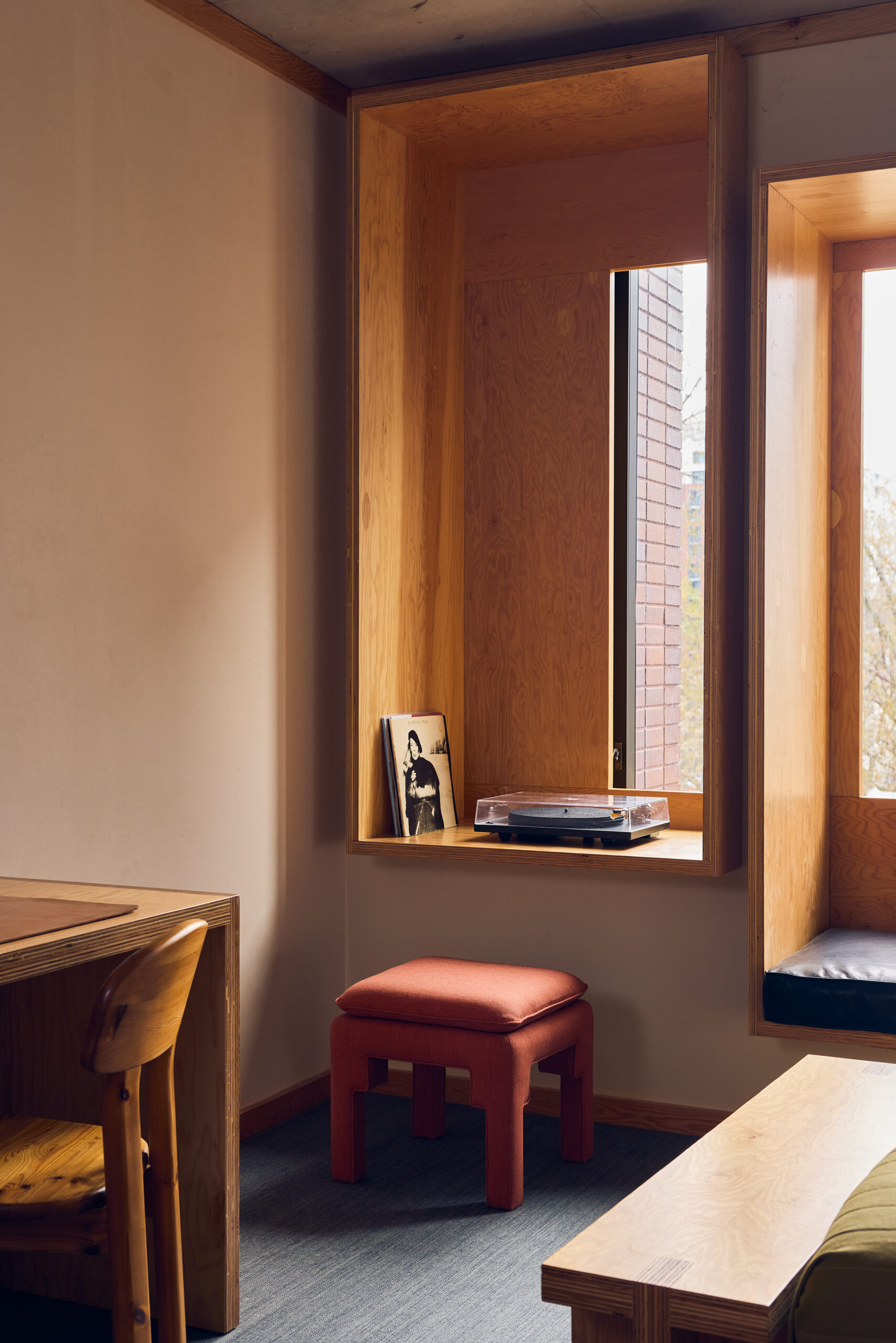 Lee and the Atelier Ace team sought advice from friends and contacts on how to exemplify Toronto. They also spoke with artists, creators, and musicians they hope to showcase in the hotel, to better understand Toronto's DNA. Ace Hotel Toronto incorporates the city's past and present within the walls of this new 123-room build.
"It's an exceptionally modern space," says Brad Wilson, CEO of Ace Hotel Group. "There's a real emphasis on natural and organic materials and a good balance of light and space."
Left of the entry, past a sleek in-house boutique and reception area, a staircase leads to FORM, a 1500-square-foot event space, and FLOW, a 500-square-foot meeting room. The Lobby Bar features low-slung seating clusters below repeating arches of concrete and red oak, and a healthy dose of plant life highlighted by oversized windows. An eye-catching feature wall also dominates the lobby space: Horizon Line, a plywood panel installation created by Shim-Sutcliffe's A. Howard Sutcliffe.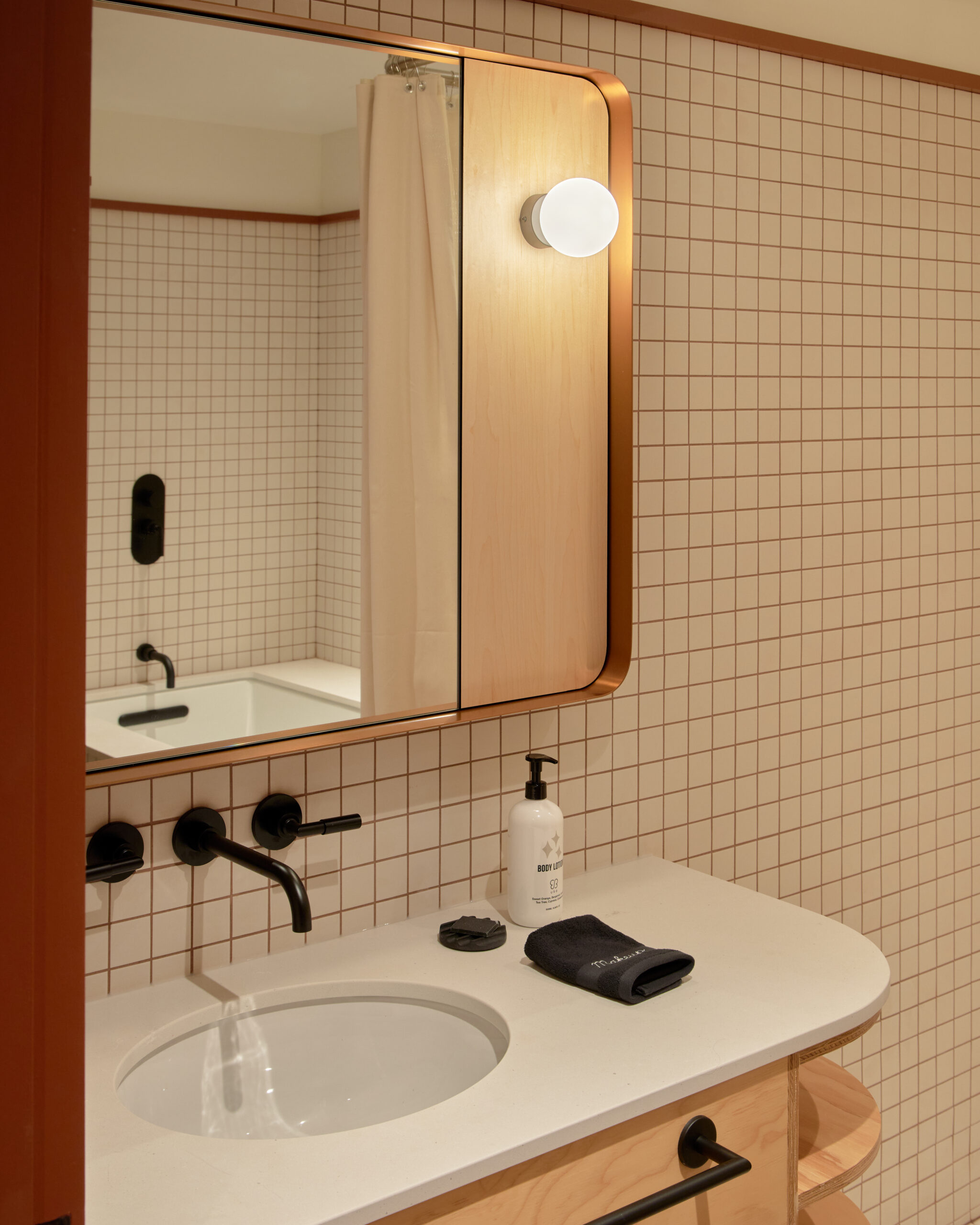 "We wanted to bring a sense of story and history to the hotel with the furniture," says Lee, who happily got her shop on sourcing vintage furniture from Hamilton design source Filter, Toronto's Zig Zag and Guff, and L.A.'s noted midcentury treasure trove Amsterdam Modern.
Downstairs, the Mediterranean-inspired Alder, the newest creation of chef Patrick Kriss, will be opening for dinner service on August 9. The dining room features a similar palette to the hotel's other public spaces but with piles of cut logs throughout, fuel for the wood-fired menu. Dining tables and banquettes are lit by natural light by day and cozy copper lighting custom-designed by Shim-Sutcliffe in the evening.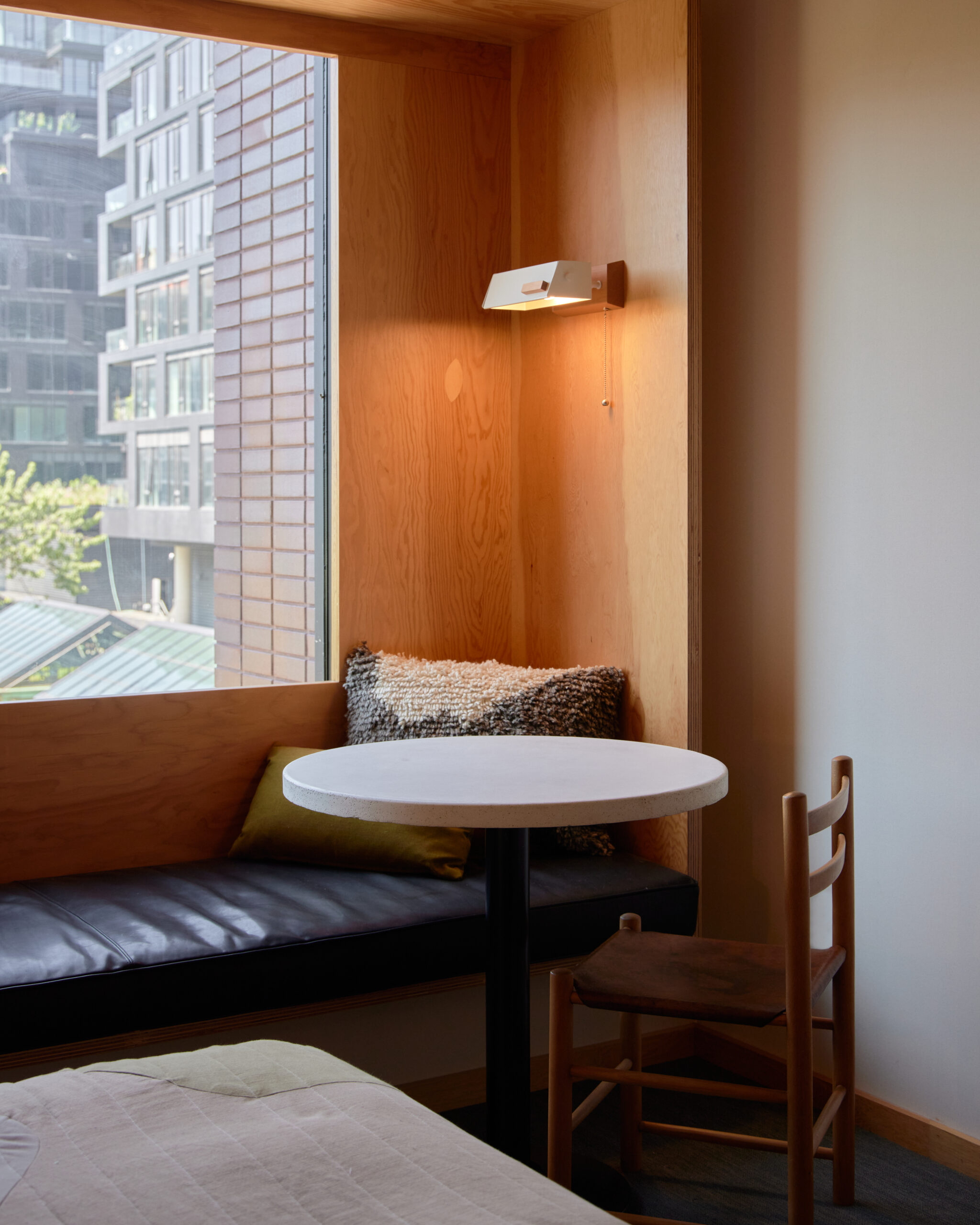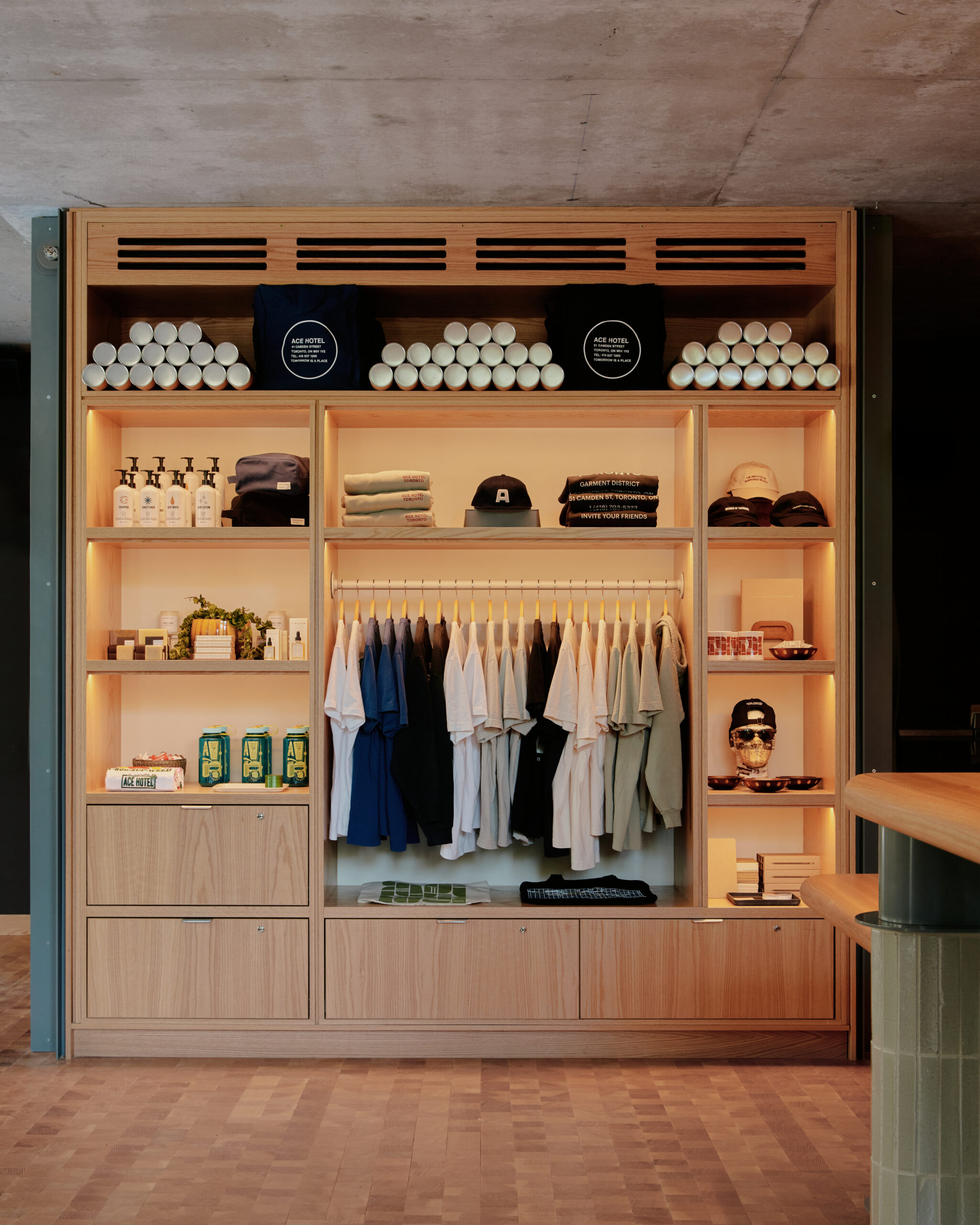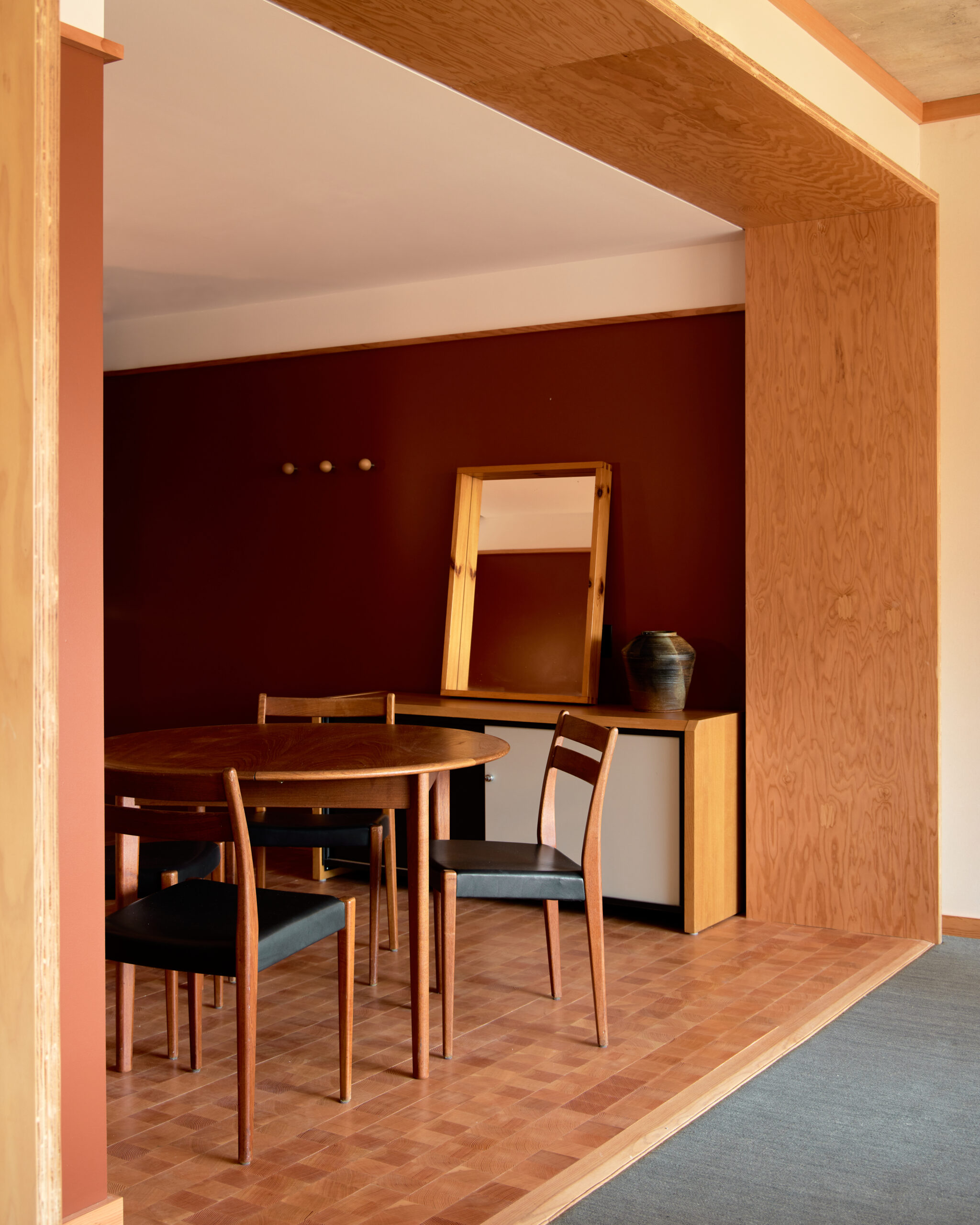 Evangeline, the 14th-floor rooftop bar/lounge will open later this year, with indoor/outdoor areas, vintage seating, and two brick fireplaces. All in-house menus will be overseen by chef Kriss.
One constant at an Ace Hotel is music. The Lobby Bar will host music and other cultural programming; guitars are in-room amenities; and many rooms feature a turntable and vinyl collection. Canadian musicians are prominently featured, including Neil Young, Drake, Joni Mitchell, Alvvays, Oscar Peterson, the Weeknd, the Band, Metric, Jacques Green, and BADBADNOTGOOD.
The streamlined guest rooms have calming Douglas fir panelling and flooring, Atelier Ace custom copper and fabric headboards, desks, night tables and work tables, and a custom quilt by Kevin Parent. "We wanted a warm and inviting space in the rooms–a cabin feel with a few secrets," Lee says.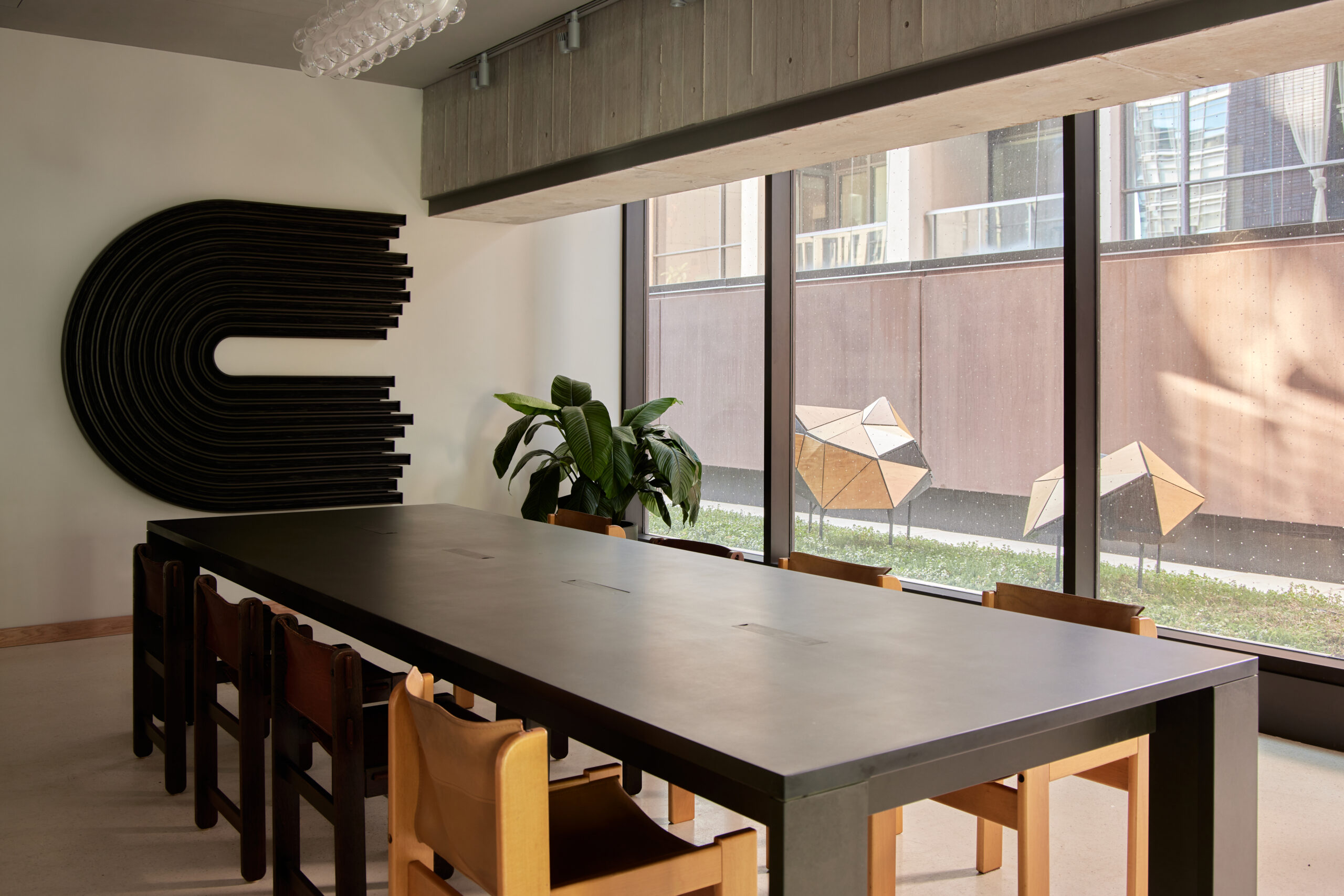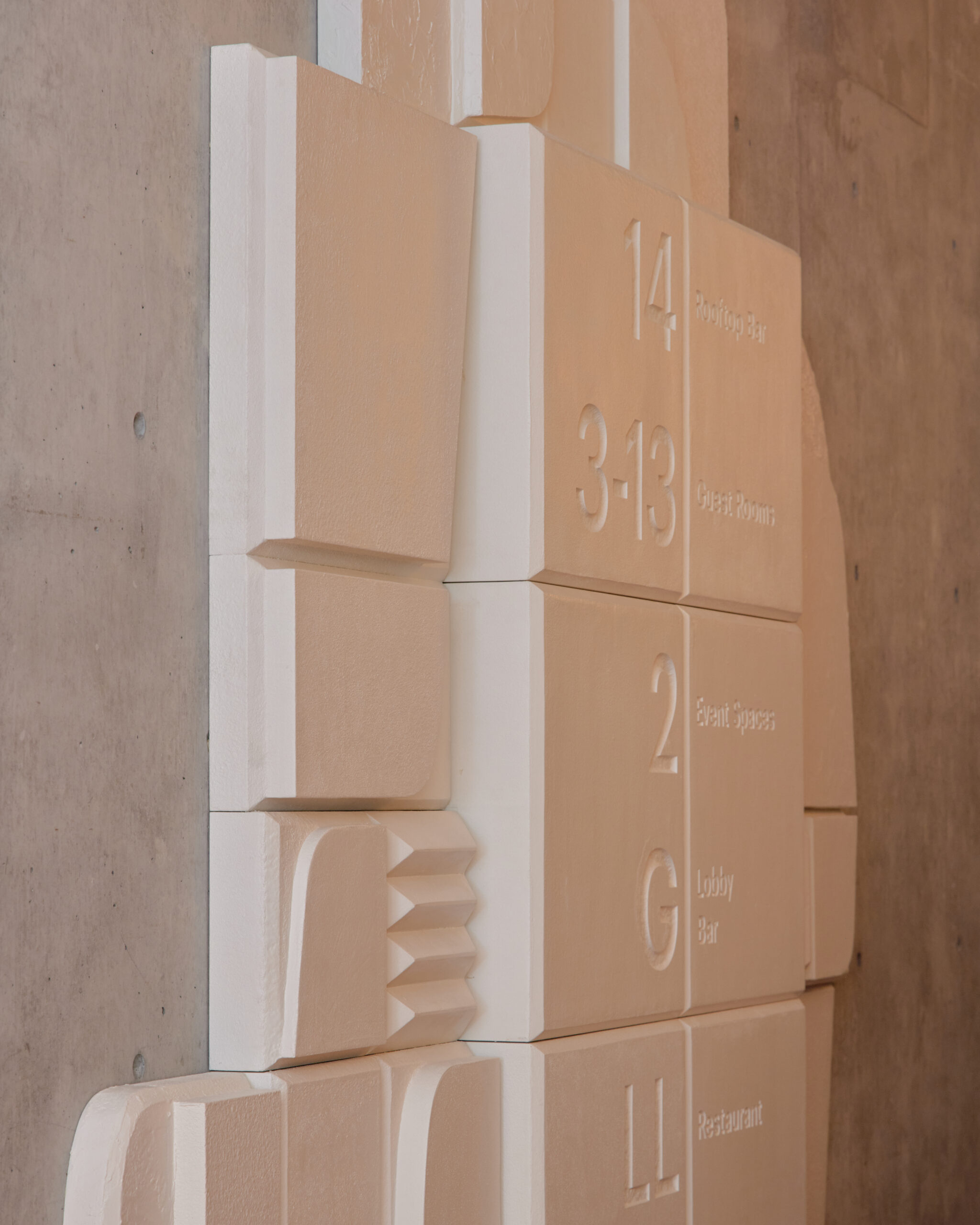 The star of each room is the deep-set window bench, an enviable spot for views of the city. Gaze at the skyline in quiet contemplation, use the room as inspiring new work space, or add to your photo reel for endless Insta likes.
Ace Hotel Toronto rooms also feature commissioned art from two programs: Poems from Home is a collection from 24 Toronto-based artists who made 55 works inspired by poems about home, while Community Canvas is a collaborative "call and response" artwork of 70 canvases by artists Claudia Gutierrez and Guillermo Trejo.
51 Camden Street, Toronto, ON M5V 1V2
Photography by William Jess Laird.