The ideal family accommodation at Pacific Sands Beach Resort.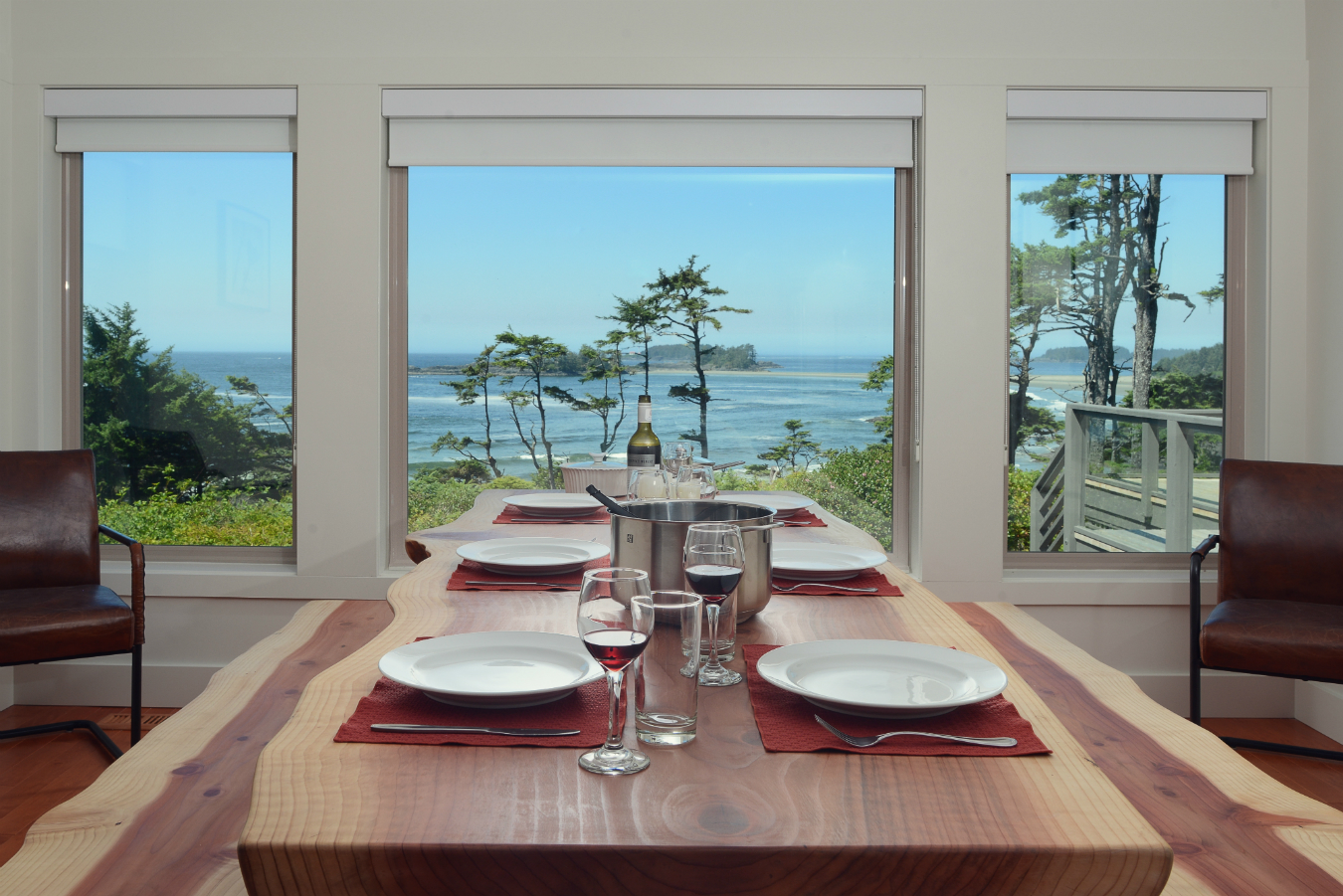 Visitors to Tofino are often hooked on the town's coastal charms from their first lungful of fresh, conifer-scented air. And yet, even though any who wander as far as the westernmost point of Vancouver Island have already traversed land and sea to reach the highway's end, it's finding comfortable beachfront accommodations that truly is the final frontier—especially for those travelling in a group.
Pacific Sands Beach Resort sits on 1,000 kilometres of pristine beach and another 1,500 kilometres of expansive undeveloped coastline. The resort's newest addition, the Sunset House at Rosie Bay, adds even more space.  The home sleeps 10 in beds and two more if they don't mind overnighting on the nine-foot leather couches flanking the gas fireplace. Sunset House represents one of the many resort upgrades resort director Shane Richards has seen to since the property recently changed owners for the first time since 1976. "We offer such a great variety of rooms," says Richards, "but the addition of the Sunset House at Rosie Bay has allowed us to host three generations of a family, or any large group, under one roof."
Perched on a private bluff, the view from the house is phenomenal—a few windblown spruce trees dot the foreground and the infinite blue ocean stretches beyond. There is a hot tub on the deck, and a small grassy backyard with a fire pit over which one may roast marshmallows from the s'mores kits available at the front desk. Contemporary furnishings and local art contribute to the Sunset House's charm, though its scenic situation and appealing seclusion from the rest of the resort makes it truly feel like a private luxury home. Aside from a lighthouse's flash, one sees nary a sign of humanity from its windows, and being so close to the water, undisturbed morning beach combs are at hand (one may discover enormous fronds of bull kelp, sunflower sea stars, alien-looking globs of jellyfish, or perhaps even a beached Humboldt squid pulsing red and white on the sand).
Also new to Pacific Sands is an on-site "Surf Shack" outpost of Tofino surf school Surf Sister, which exclusively teaches surfing lessons in Cox Bay in front of Pacific Sands. Unshielded and situated dead west, it's the best surfing spot around thanks to its large swells with nothing beneath but beachy smoothness smattered with sand dollars. "We found that the idea of a surfing school with all-girl instructors made trying the sport out a lot more inviting for men and women alike," Surf Sister owner Krissy Montgomery explains. "Sometimes when it's all guys surfing you get this sense of machismo … " Surrounded by beach chairs painted primary colours and hammocks strung between post beams, the Surf Shack makes braving the waves extra convenient—from boards to booties, everything you need to surf is on the resort's property. After pulling on wetsuits, participants get a lesson in surf-technique from the staff, some of whom have been with the company for a decade and yet are still only 25-years-old. Then the true fun—carousing in the quickening waves. "The Pacific Sands Surf Sisters Shack has become our most popular location," says Montgomery. Although the Surf Shack closes during the winter, Surf Sister also offers year-round lessons at Cox Bay out of its outpost in town (and, yes, the wetsuits keep you warm).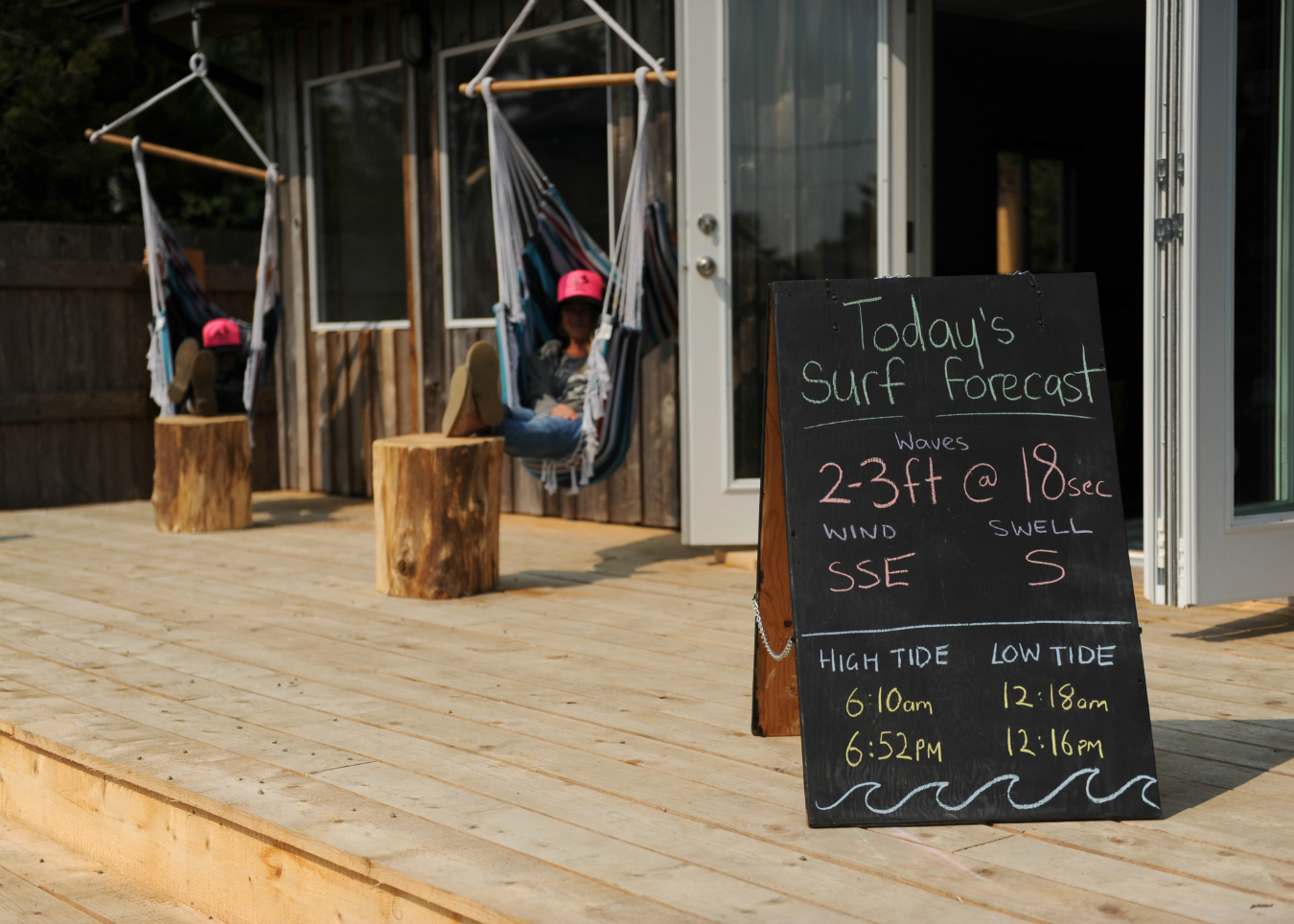 After emerging from the ocean, a trip to one of Tofino's pitch-perfect, family-friendly restaurants is called for. Craving noodles? Kuma (it means "black bear" in Japanese) offers rich shiro ramen and kimchi udon, as well as tempura-puffed oysters to snack on. Tacofino, the holy grail of Western Canadian taco culture, doles tacos and fat burritos out of an orange truck, and acclaimed restaurant Wolf in the Fog serves enormous platters of food to share. Then, fill a growler at Tofino Brewing (the kelp stout is particularly good, offering a hint of brininess—it's what one images Poseidon might drink after a long day sinking ships and brandishing tridents).
Well-fed, pleasantly tuckered, and immersed in natural beauty with your kin—a stay at the Sunset House may promise the most satisfying vacation one could hope to have with the whole family.