Cultivating sustainable luxury.
Fiji's oceans have long fascinated travellers, as has the curious, colourful, and rare Fiji pearl. Unlike the white, black, and gold varieties often found in the South Pacific, Fiji's small but spectacular pearl harvest is gloriously vivid. Champagne, cranberry, pistachio, peacock, and copper are just a few of the extraordinary hues to behold. For a country with rainbow reefs, it only seems natural, but in actuality, it's a science—one that employs Japanese technicians, marine conservation practices, and hundreds of locals from nearby villages. The exclusivity of Fiji pearls has made them highly sought after. Walk through Baselworld in Switzerland and you might see J. Hunter Pearls on display alongside Rolex—an unusual feat for a small yet sustainable pearl producer from a coastal town on Fiji's northern island of Vanua Levu.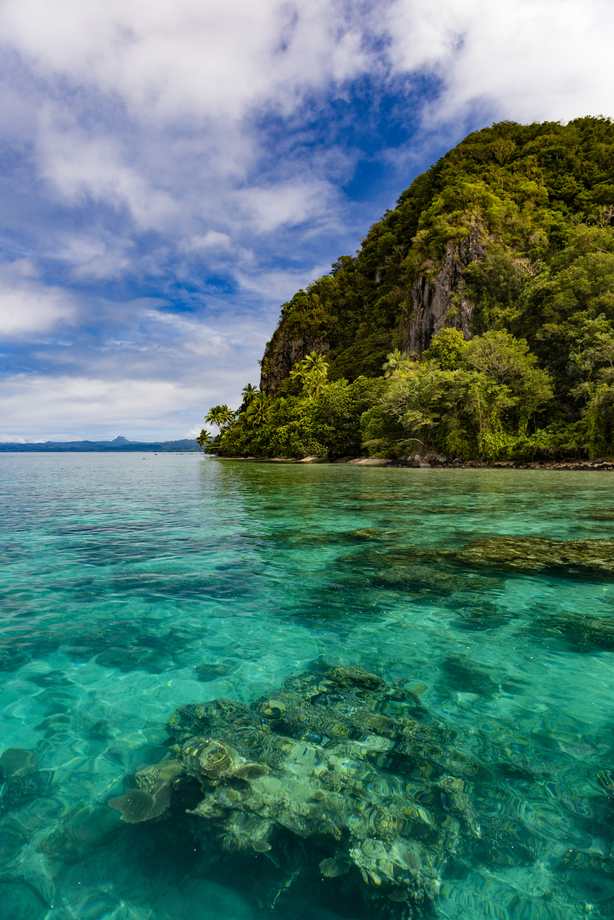 Combining luxury and a touch of adventure, it's no wonder Fiji's pearl farms have piqued the interest of those keen to dive underwater to see the pearl cultivation process for themselves. The destination may be remote, but once you're exploring the depths of Vanua Levu's turquoise waters, the jet lag melts away.
Northern Fiji's five-star hotels have tapped into the novelty of pearl farm tours. Eco-friendly Jean-Michel Cousteau Resort in Savusavu has partnered with J. Hunter's pearl farms to invite guests to snorkel around the oysters and learn about their sustainable practices. Further north, on the island of Taveuni, Raiwasa Private Villa helps weary travellers de-stress through once-in-a-lifetime experiences; naturally, a tour of CIVA Pearl Farm, a green operation owned by two Canadian expats, fits the bill.
The exclusivity of Fiji's pearls can be credited to its host, the Fijian pearl oyster, which requires pristine waters to flourish and has always been notoriously scarce. As a result, there are only a handful of pearl farms in Fiji and they must follow stringent environmental guidelines to produce results.
The exclusivity of Fiji pearls has made them highly sought after.
What the country can't offer in quantity, it makes up for in quality, and an interesting backstory. Pearl farming in Fiji began in the 1960s, shortly after pearl industry experts Yasuharu Tokito and Koji Wada arrived from Japan to establish the first farm off the island of Ovalau. When they realized oysters were scant, the duo moved on but left behind a shred of hope that pearling could be viable for Fiji in the future. In 1999, the government revived the industry and Fijian-American marine biologist Justin Hunter saw an opportunity to produce large pearls in distinctive hues in his hometown of Savusavu. By creating hatcheries with controlled conditions to ensure healthy growth and survival rates, Hunter increased Fiji's oyster production. He's also developed community partnerships and scholarship programs, making pearling in Fiji a sustainable business from a socio-economic perspective.
Today, J. Hunter Pearls employs about 70 local men and women from nearby villages to maintain the pearl farms and ensure the surrounding waters are free of rubbish. Twice a year, they call in a team of Japanese technicians to execute the artificial insemination of the oysters. The pearl cultivation process, developed by Japanese entrepreneur Mikimoto Kōkichi during the turn of the 19th century, is highly technical. The pearl nucleus is created by implanting a small pearl bead formed from mussel shells found only in the Mississippi River. The small beads are then inserted into saltwater oysters, which coat the implant with their own nacre (also known as mother-of-pearl), forming the lustrous outer coating. Ensuring that the oysters are not stressed during the implantation operation and can grow subsequent pearls is a delicate art. While a natural pearl can take 10-15 years to form, Mikimoto's method shortens the cultivation period to about 18 months.
The sustainability of Fiji's pearls has proven to be key, especially following 2016's Tropical Cyclone Winston, which wiped out many of the country's oyster nurseries and natural habitats. The silver lining is that the marine environment can be restocked—providing Savusavu Bay remains clear of pollution. In July, J. Hunter Pearls deployed 2.2 million baby oysters into the wild, where they'll grow over the course of the next three years and boost Fiji's oyster population in general. In the process, J. Hunter Pearls is rebuilding some of its oyster nurseries, helping to ensure a vibrant future for Fiji's pearl industry and a string of new adventures for world travellers.
Never miss a story, sign up for NUVO's weekly newsletter, here.