Canada's Most Luxurious Hotel Suites
When selecting a hotel, many factors play into our final decision that often have little to do with the property itself: how close is it to a metro station? What sort of restaurants are nearby? Is there shopping in the area? Perhaps, instead, we should refocus on the merits of the hotel itself—especially when it offers exclusive, elegant, and well-appointed suites. Here, we have put together a selection of the most luxurious hotel suites from across the country to inspire your next vacation (or staycation).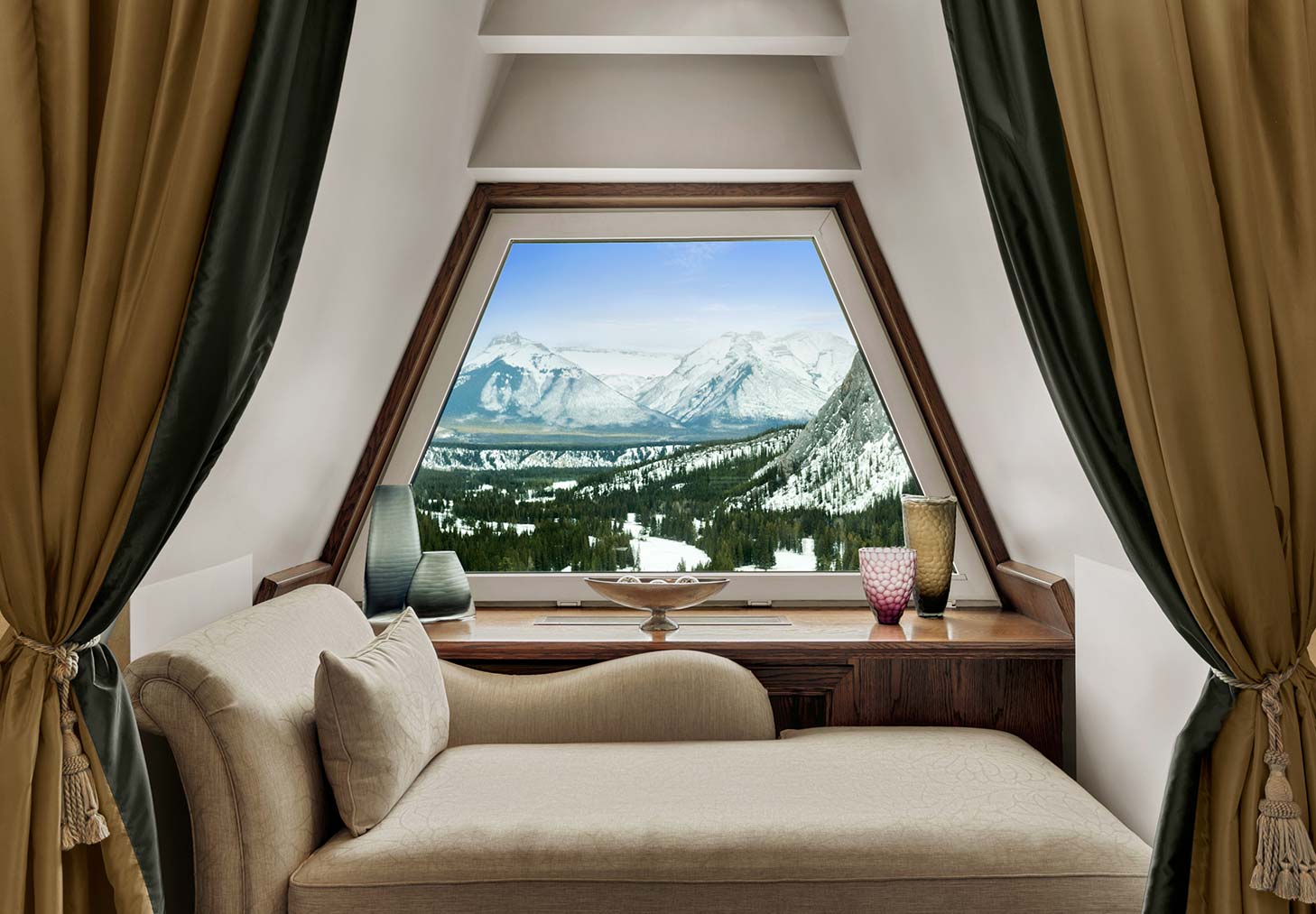 Royal Suite, Fairmont Banff Springs, Alberta.
The most spectacular element of the Fairmont Banff Springs is its view—a glorious mountain vista. So it makes sense that the hotel's 1,500-square-foot Royal suite, designed for dignitaries and extra-special occasions, would offer a 360-degree view from the castle's pinnacle peak, alongside perks like a library, grand piano, and crystal chandelier.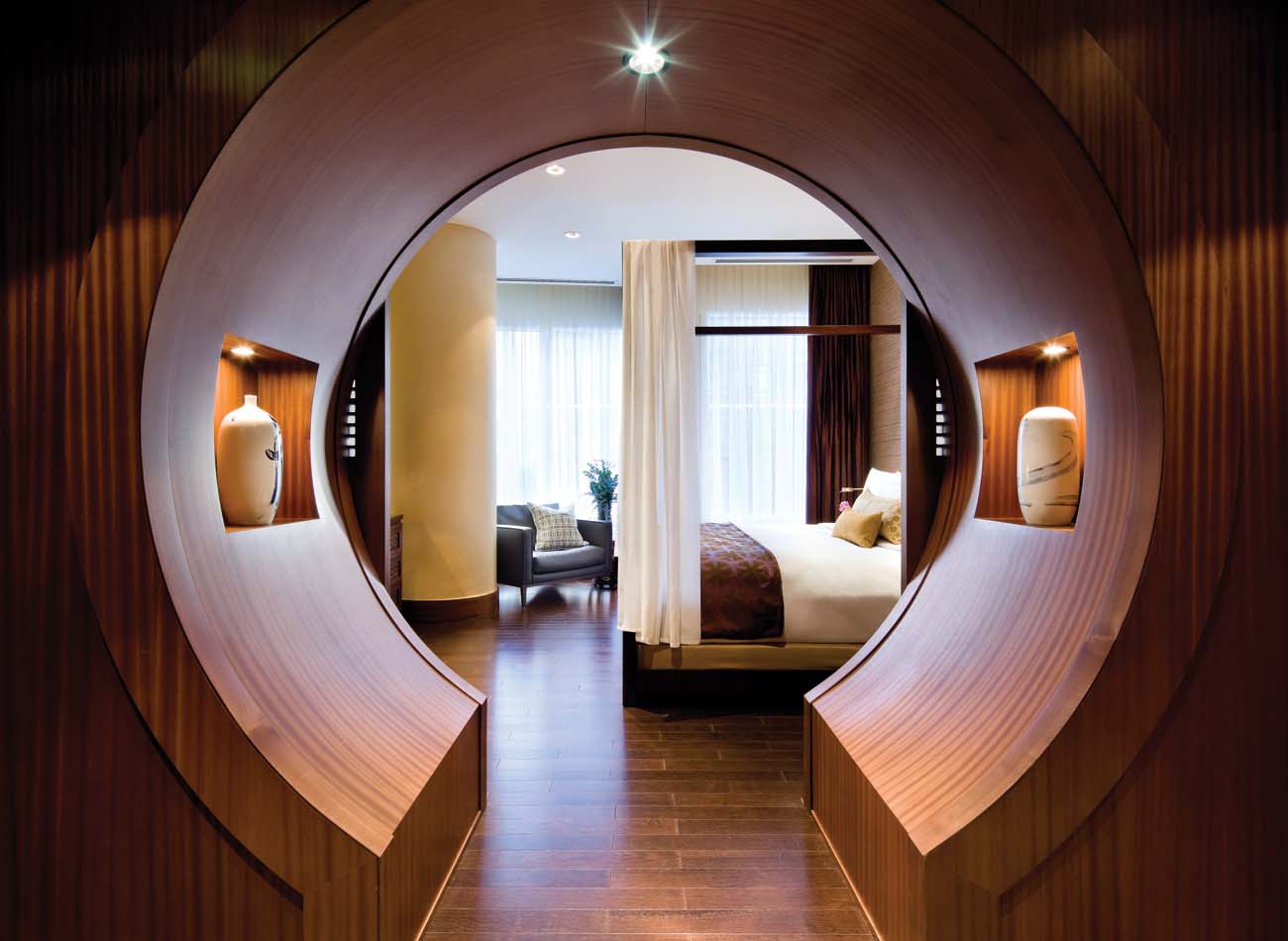 Shangri-La Suite, Shangri-La Toronto, Ontario.
Located on the 17th floor, the Shangri-La suite is a Zen enclave far removed from the hustle and bustle of downtown Toronto. Drawing influence from Asian design elements, the suite features Japanese lattice screens, blue-and-white porcelain vases, and a striking moon gate doorway to the bedroom.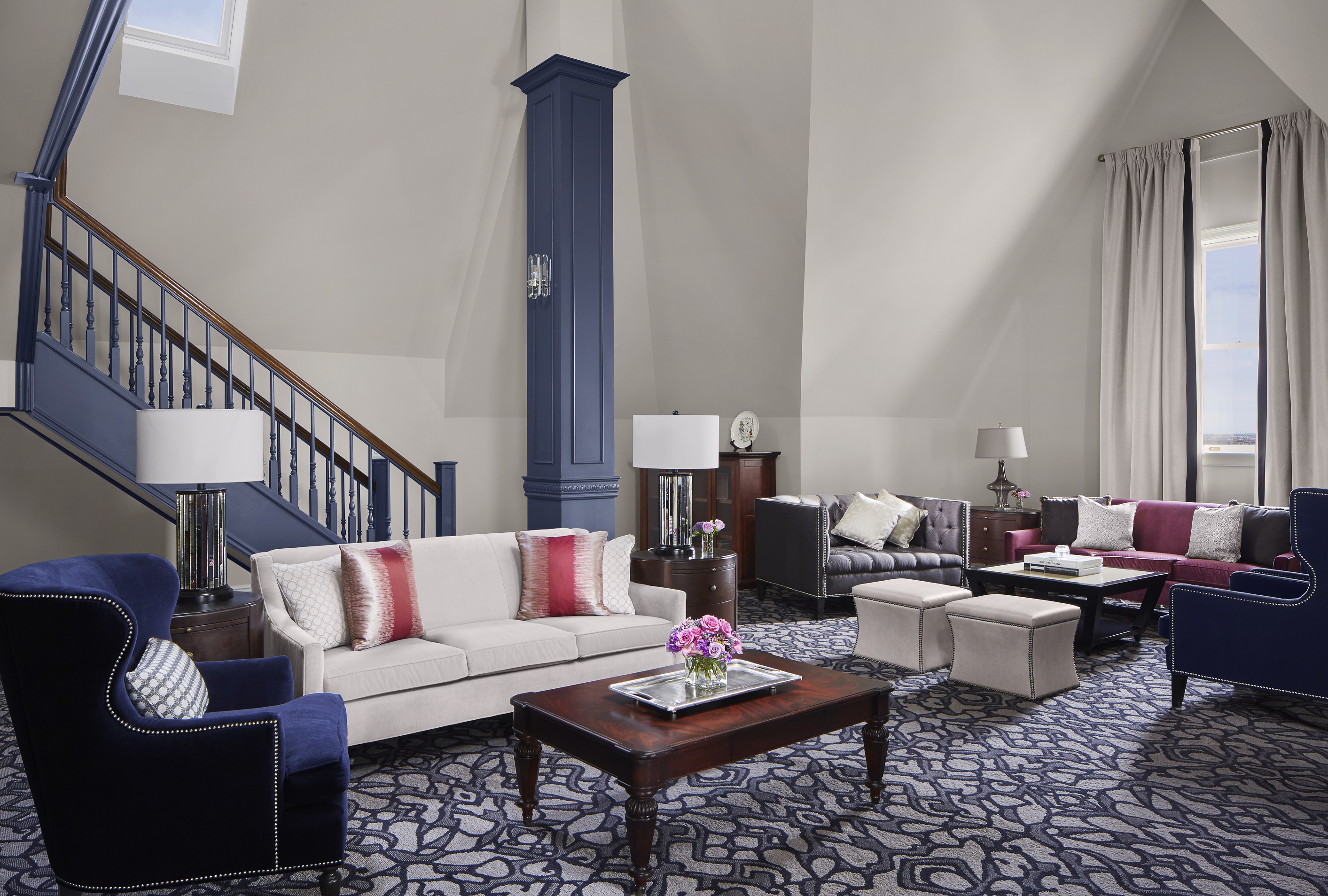 The Queen Elizabeth II Suite, Fairmont Hotel Macdonald, Alberta.
It's been over 60 years since Queen Elizabeth II first stayed at the Fairmont Hotel (known at the time as Princess Elizabeth), and yet the eighth-floor suite named in her honour is as regal as ever. In 2016, the hotel underwent a renovation, devoting $350,000 to this suite alone. Today, one can live like royalty beneath the suite's grand cathedral ceilings.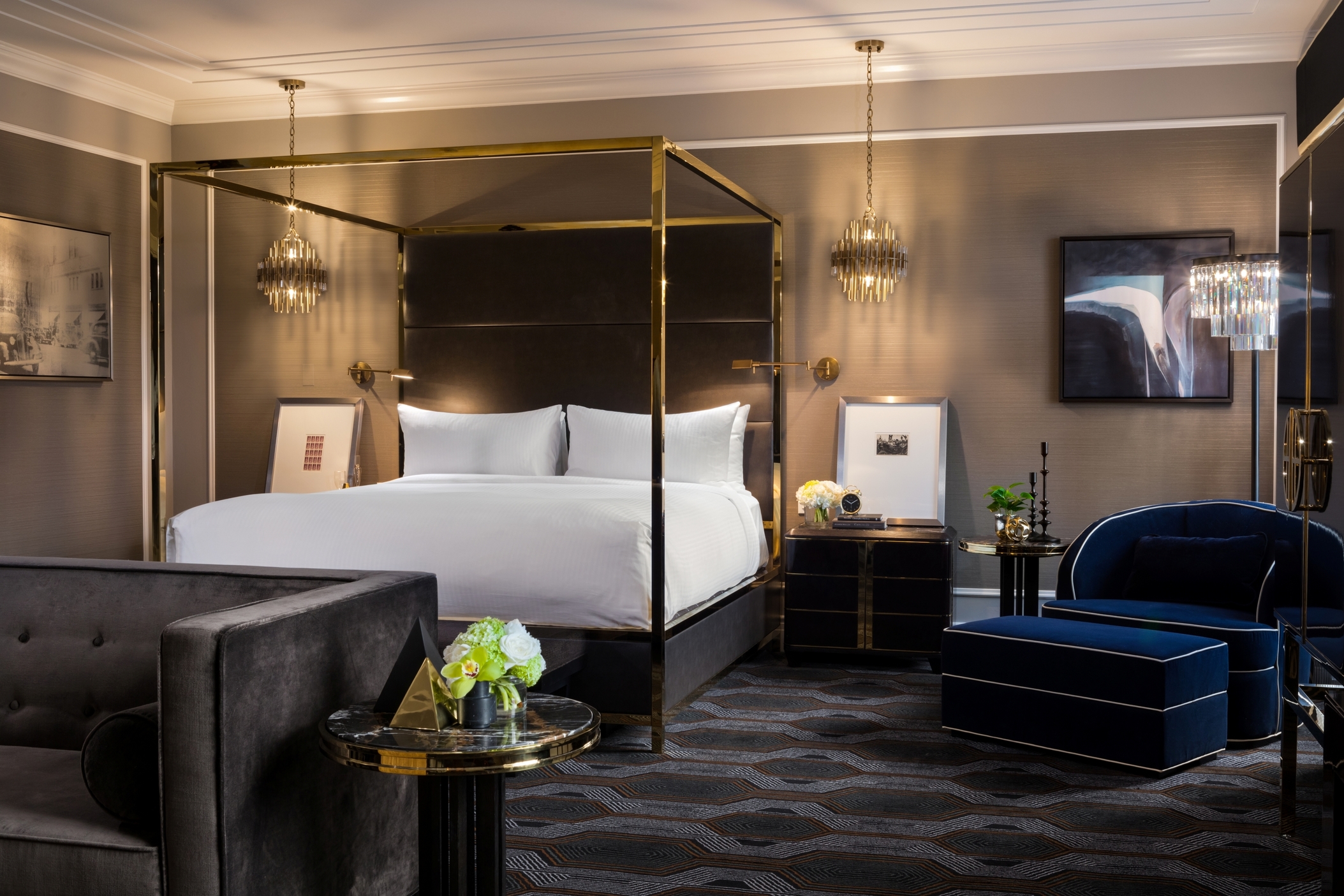 Lieutenant Governor's Suite, Fairmont Hotel Vancouver, British Columbia.
The recently revamped Lieutenant Governor's Suite on the 14th floor of Vancouver's grand downtown Fairmont kept its heirlooms (its English black walnut veneer-paneled walls originating from a single walnut tree, for instance) but gained a touch of art deco opulence. The suite was featured in the film 50 Shades of Grey, but don't hold that against it (fans can even book a lingerie-themed package).
Rosewood Suite, Rosewood Hotel Georgia, British Columbia.
This two-bedroom suite offers gorgeous sunset views from the 12th floor private plunge pool and garden, as well as everything you could wish for inside: a rainforest shower, a tastefully-appointed living area—even the option to expand the space by conjoining it to an adjacent room. Feel utterly regal amid the towers of downtown.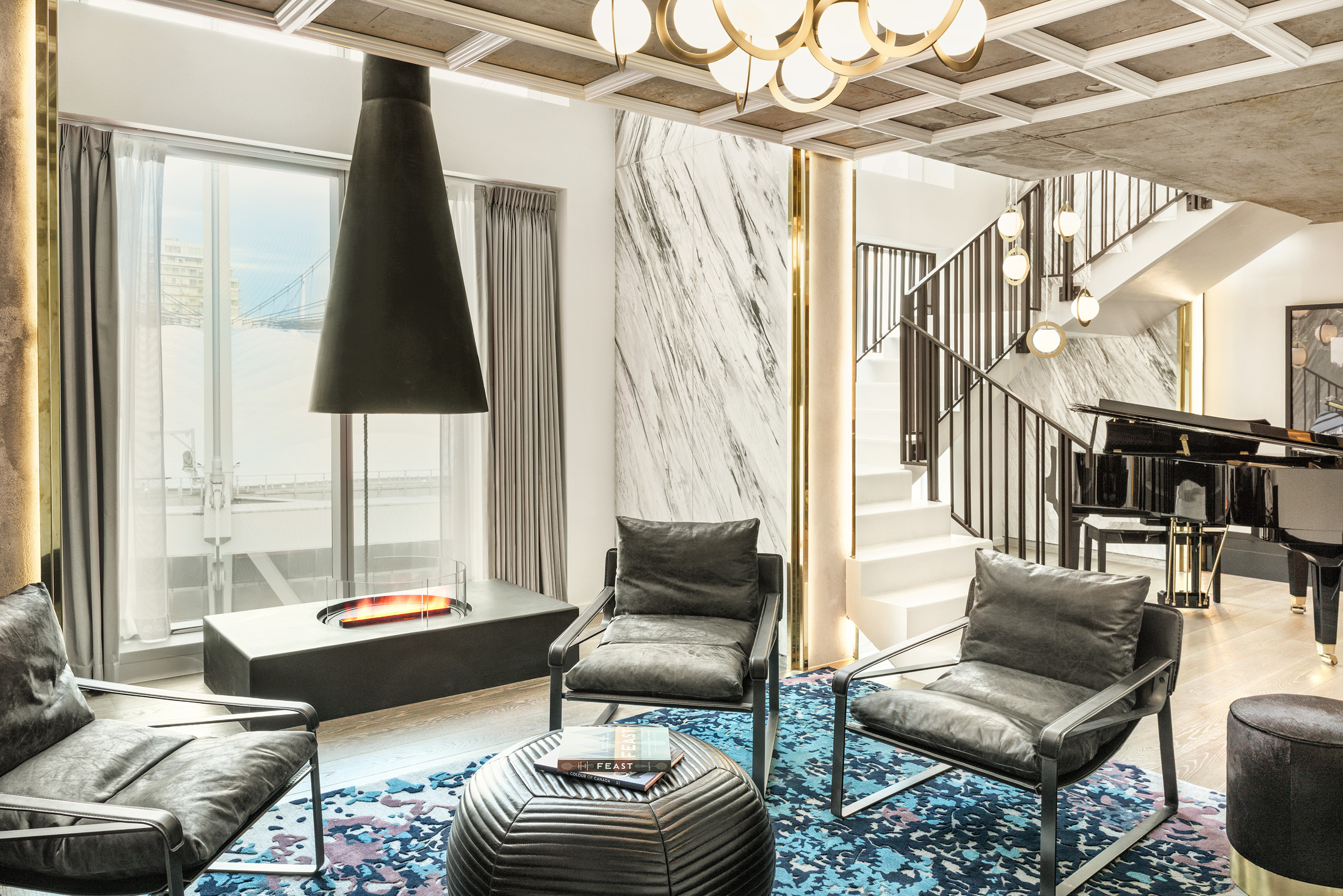 The Loft, The Douglas Vancouver, British Columbia.
The Douglas' one-bedroom, bi-level Loft is certainly sophisticated, but it's also youthful, quirky, and fun. A park view, grand piano, 400-square-feet of outdoor space, and a floating fireplace keep things elevated, and yet, outfitted with wood accents and natural tones, something about it is almost retreat-like—your own ultra-luxe urban treehouse escape.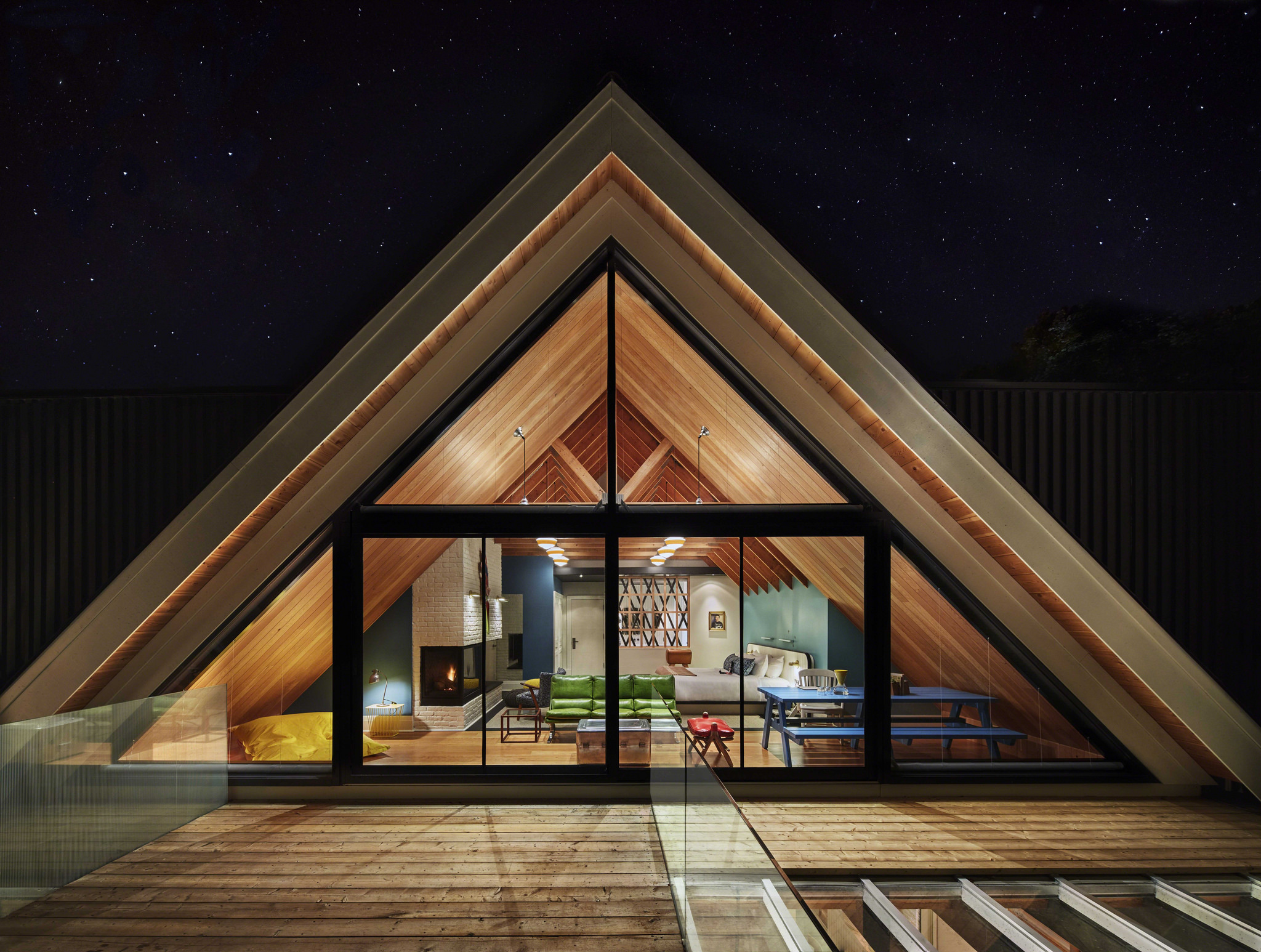 Owner's Suite, Drake Devonshire, Ontario.
With its A-frame ceiling and private lakefront patio, the Owner's Suite at the Drake Devonshire in Prince Edward County is like a camping tent gone ultra-chic. There are nods to Canadian design talent throughout the suite, with custom furniture designed by +tong tong studio and original artwork by Rick Leong.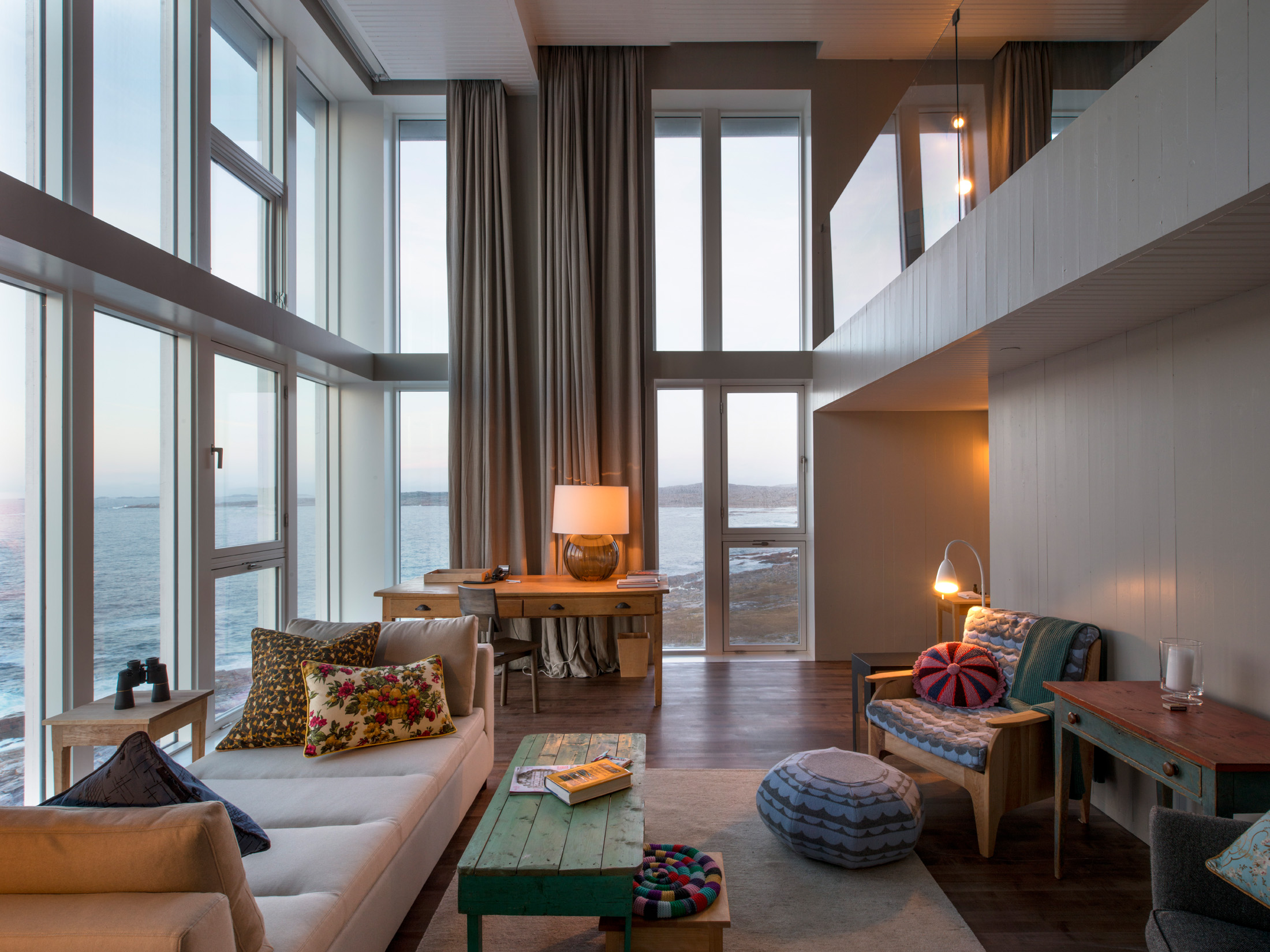 Flat Earth Suite, Fogo Island Inn, Newfoundland.
Surrounded by the Atlantic Ocean, Fogo Island Inn is an architectural gem designed by Todd Saunders, located off the coast of Newfoundland. The two-storey, 1,000-square-foot Flat Earth suite, also referred to as the "Captain's Quarters", is a tranquil, unparalleled vantage point for waterfront views that appear to stretch far beyond the horizon.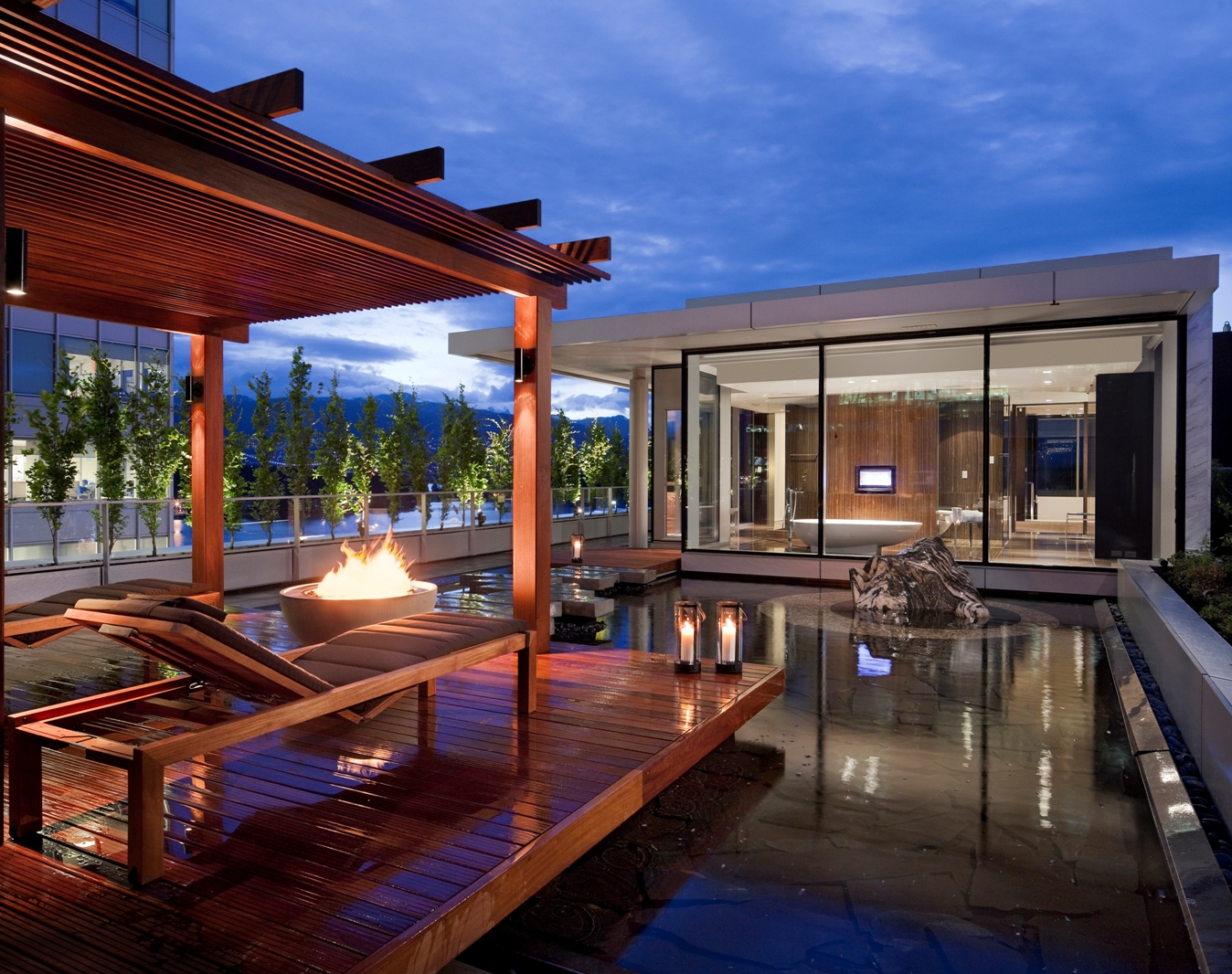 Chairman Suite, Fairmont Pacific Rim, British Columbia.
This two-story, open-concept 2,250-square-foot room is also known as the "Rock Star Suite" thanks to its private elevator, entertaining area, and butler. Inspired by a Balinese villa, the space features a lavish outdoor patio with a private gazebo, meditation pond, and firepit, all overlooking Coal Harbour and the North Shore mountains.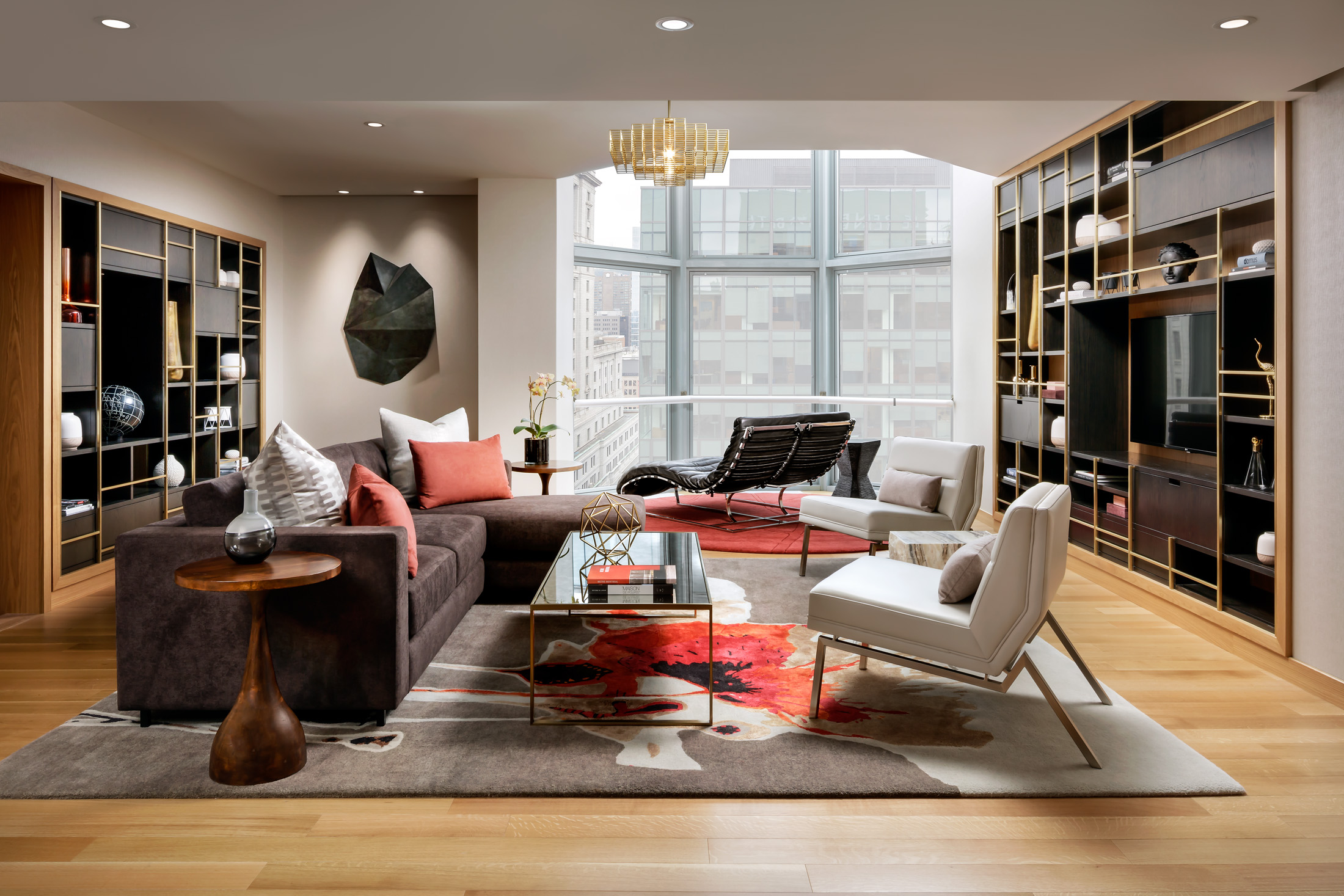 Royal Ville-Marie Suite, Fairmont The Queen Elizabeth, Quebec.
Though the hotel's John Lennon and Yoko Ono suite might be the main draw for some (the couple staged their Bed-In for Peace at the hotel in 1969), the Royal Ville-Marie suite is an unparalleled choice for those seeking luxury. Designed to feel like an apartment, the suite includes a foyer, dining room, living room, library, master bedroom, ensuite bathroom (equipped with Le Labo products), and its own private elevator.
Royal Suite, Ritz-Carlton Montreal, Quebec.
Having garnered notoriety as the place where Elizabeth Taylor and Richard Burton said their vows in 1964, the Royal suite at the Ritz-Carlton Montreal is as glamorous as its history. Plush furnishings, sparkling chandeliers, and fine artwork can be found throughout the 4,700-square-foot suite, and with personal touches like an exclusive pillow menu and butler service, every whim is catered to.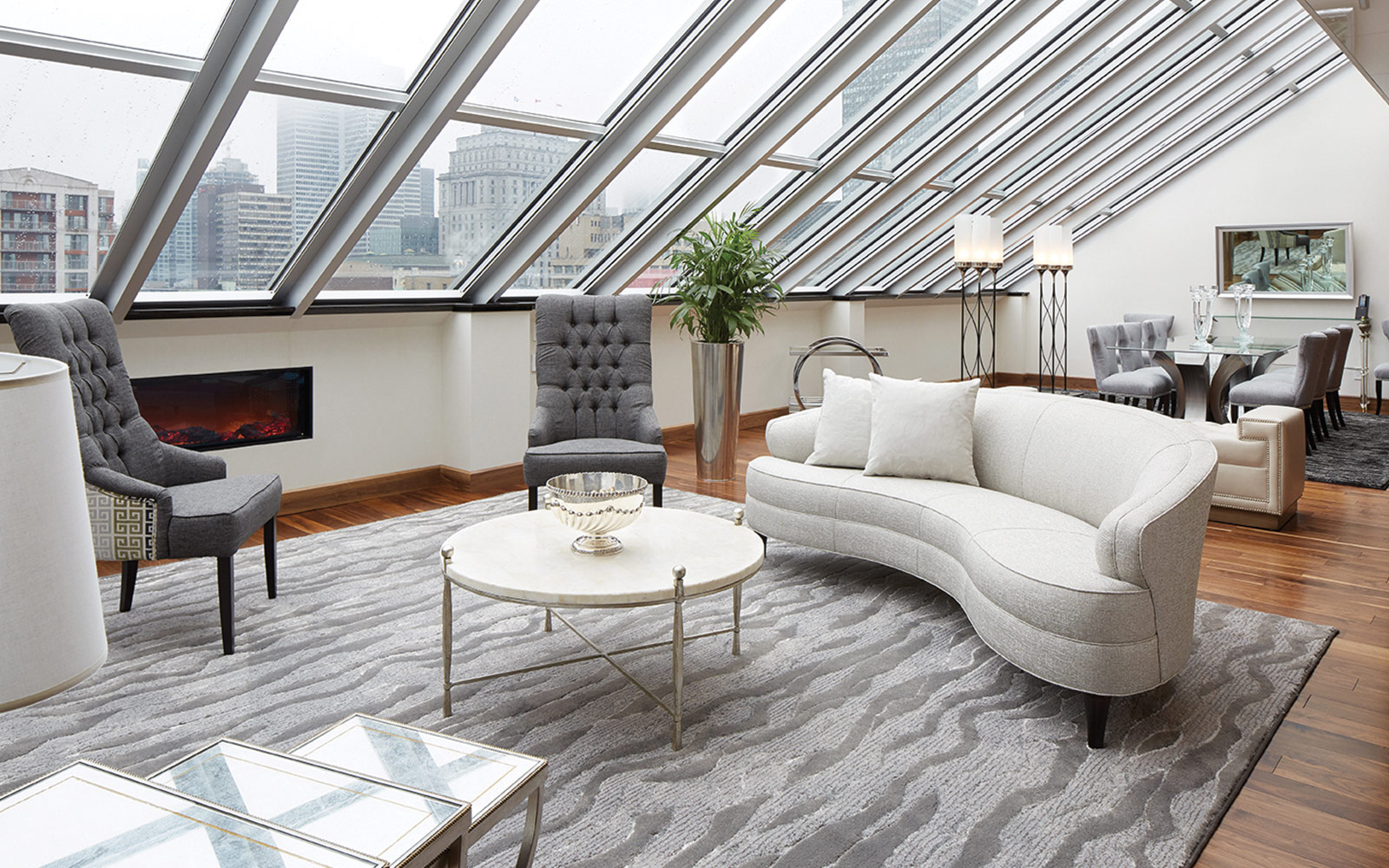 Royal Suite, Le Mount Stephen, Quebec.
Montreal's historical Le Mount Stephen has a long legacy of luxury, and thanks to a recent $20-million renovation, it is a legacy that is sure to continue. The sleek and contemporary Royal suite features glass ceilings that frame the city skyline and flood the 5,000-square-foot space with natural light. There are also not one, but two private terraces—it is Montreal, after all.
_________
Never miss a story. Sign up for NUVO's weekly newsletter, here.