The Aston Martin Goldfinger DB5 Continuation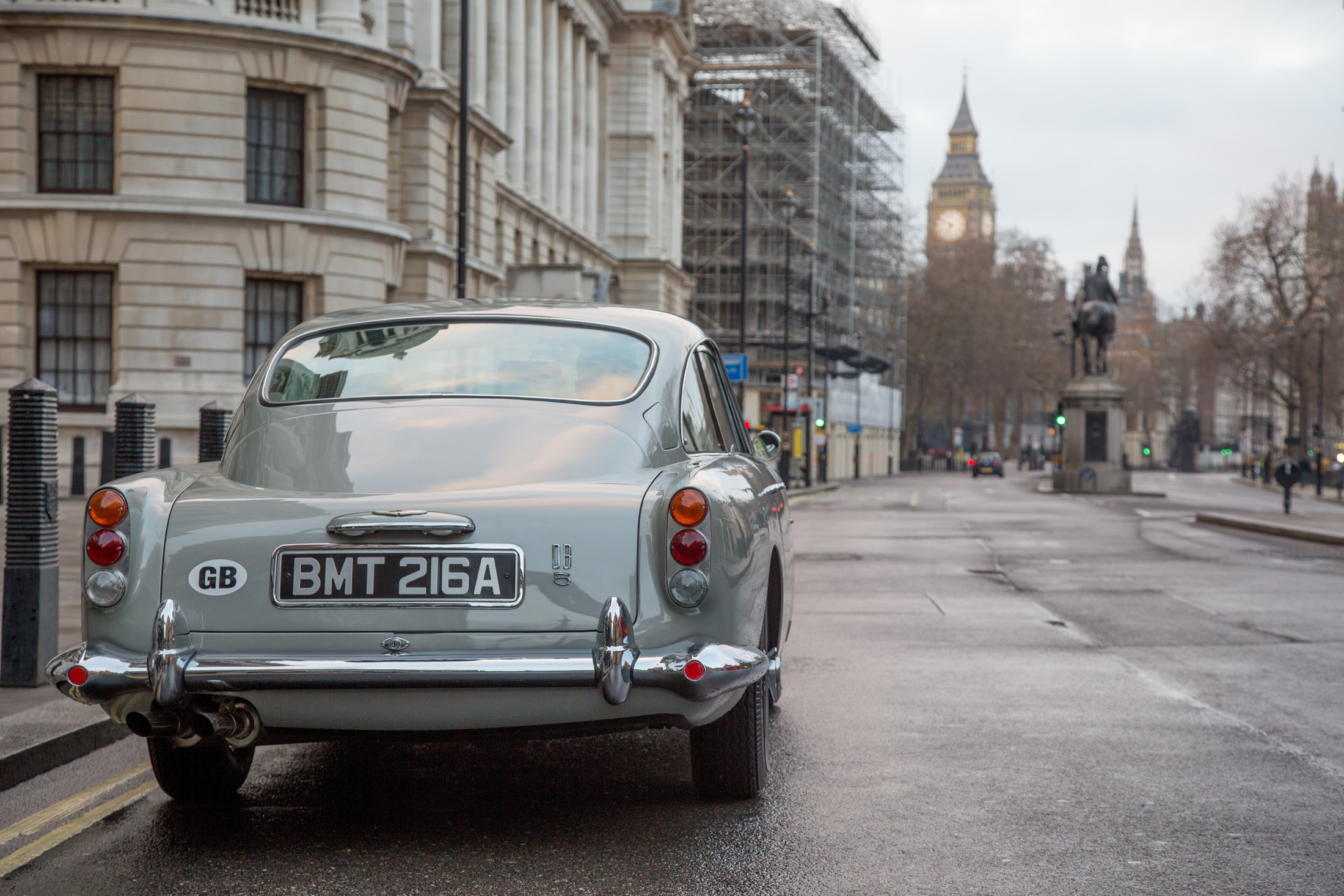 Aside from a vodka martini (shaken, not stirred), there is probably nothing more inextricably linked to James Bond than Aston Martin. Now, to the delight of Bond fans and automotive collectors alike, the British manufacturer has announced a special project to produce a limited-edition continuation series of the Goldfinger-spec DB5. The project comes close on the footsteps of Aston Martin's DB4 G.T. continuation program.
Planned in partnership with EON Productions, the house behind the James Bond franchise, these "new" DB5s will be built at Aston Martin Works (just like the original DB5) and will feature working examples of some of the gadgets made famous by Bond's DB5 in the 1964 film Goldfinger.
Arguably the most famous of the Bond cars, the Aston Martin DB5 first hit the road in 1963 with a shape designed by Carrozzeria Touring Superleggera and lightly updated from the previous and similar-looking DB4. The DB5 would help to establish Aston Martin as a producer of stylish and beautifully designed British luxury cars, thus it was a perfect match for Sean Connery's James Bond and the third film in the growing series.
The DB5 became something of a character within the storyline of Goldfinger, as the car had a series of modifications from Q Branch, MI-6's in-house technology department. Bond-specific modifications included everything from revolving license plates to a smoke screen and even a plot-specific ejector seat. While Aston Martin hasn't divulged all of the gadgets that will be recreated for the Goldfinger DB5 Continuation, they have said it will feature a working implementation of the film version's revolving license plates.
The Goldfinger DB5 will follow closely in the format established by the original DB5 and use a 4-litre straight-six engine that produces 282 horsepower and 280 lb-ft of torque. Running that power to the wheels via a 5-speed ZF gearbox, the DB5 could manage 0-60 in 7.1 seconds, which was pretty quick in 1963.
The Goldfinger DB5 Continuation will be available exclusively in Silver Birch paint, the same color used for the car in the film, and only 28 examples will be produced, with 25 of those going to well-heeled James Bond fans, one for Aston Martin, one for EON, and one to see auction for charity.
By now you may have guessed the hook, but it's actually two-fold with the Goldfinger DB5. Yes, there is the price, which is an incredible 2.75 million GBP (or about $4.6 million Canadian, at the current exchange). Additionally, like the DB4 G.T., the Goldfinger DB5 is not street legal.
As this isn't a re-build of an existing vehicle (like Porsche's Singer 911 or the forthcoming Zagato 356), these "new" Aston Martins would be required to pass all of the safety and regulation standards for a modern car. Given that the project is to produce the vehicles much as though it were still 1963 (with a few updates), these DB5s are essentially vintage cars, and can't pass modern safety requirements (especially when taking into account whatever Bond-inspired gadgetry makes its way into the final cars).
Indeed, this legal reality means the Goldfinger DB5 is certainly more of a collector item than it is a drivable car. Sure, some owners will take theirs to a track, or maybe even sneak registered plates from a street-legal DB5 onto their Bond car, but I doubt many of these cars will see actual use, which is a shame because the DB5 is about as beautiful a car as has even been created and would likely be wonderful to drive, whether turning laps at the track or taking down a gold smuggling operation.
_________
Never miss a story. Sign up for NUVO's weekly newsletter.