Auction Highlights from Monterey Car Week
Under the hammer at Pebble Beach.
Of all the events at Monterey Car Week, the auctions are by far some of the most exciting to attend whether bidding or simply spectating. Last week, both RM Sotheby's and Gooding & Co held rather remarkable auctions, with a lineup including the most expensive car ever sold at auction, to Gary Cooper's own Deusenberg, to some incredibly rare hardware from the likes of Mercedes-Benz, Aston Martin, and Ford. Needless to say, the top lots at the Monterey Car Week auctions are not for the casual collector, nor those light on disposable income—here are some highlights from the week.
1963 Aston Martin DP215 Grand Touring Competition Prototype
Race cars proved to be very hot this year and RM's lot 141 offered something particularly special. The 1963 Aston Martin DP215 Grand Touring Competition Prototype is a unique creation from Aston Martin Works, originally created as a possible entry into Le Mans. Retaining its original engine, this beautiful car has been entirely restored and maintains all of its original character. Vintage Aston Martins always do well at auction, but a one-off race prototype based on a DB4 that was, in 1963, capable of 319.6 km/h is something that will raise more than a few bidding paddles. As such, this racy Aston achieved a final bid of $21,450,000.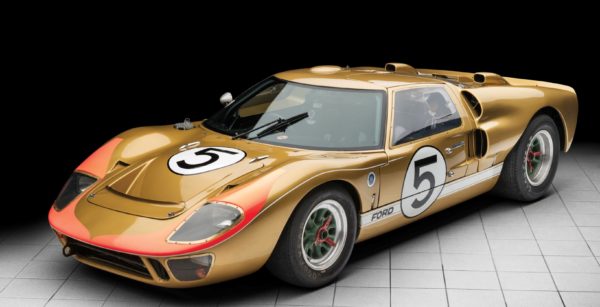 1966 Ford GT40 Mk II
When car collecting reaches a certain level, there are more actual race cars that enter the mix—the most special among them being one that has been in, and preferably won, an iconic race. Enter RM Sotheby's lot 124, a 1966 Ford GT40 Mk II. This GT40 is nothing short of Le Mans royalty, having placed third overall at the race in 1966, an iconic year in which Ford took on the European racing community and even beat Ferrari at their own game. Ford's dominating GT40 not only managed a 1-2-3 finish in 1966, but would go on win Le Mans the next three years in a row. It's one of the great come-up stories in racing history and this Mk II helped to establish a rivalry with Ferrari that exists to this day, a provenance that was reflected in it's $9,800,000 hammer price.
1998 Mercedes-Benz AMG CLK GTR
Following in a not entirely dissimilar format to that Deusenberg, the much more modern 1998 Mercedes-Benz AMG CLK GTR is a factor-built, very limited-edition, ultra high-performance road car. Based directly upon the brand's GT1 and Le Mans racing programs, the CLK GTR was limited to 25 units in the hardtop configuration and has become an icon in the history of AMG's most wild creations. With a mid-mounted 6.9-litre V12 engine making more than 600 horsepower, the CLK GTR was the most expensive production car in the world when it was originally put on the market. Now, some 20 years later, this example fetched a remarkable $4,515,000 at RM Sotheby's Monterey 2018 auction.
1962 Ferrari 250 GTO
Generally heralded as the most desirable collector vehicle in the world, there was a great deal of anticipation for RM's lot 247, a 1962 Ferrari 250 GTO. Only 36 GTOs were ever made and they have become the vintage Ferrari, with the last example sold at auction claiming $38,115,000 in 2014. This example, chassis 3413, was the third ever built and has racing pedigree from the Italian GT Championship and Ferrari's 1964 manufacturer's trophy at Targa Floria (to name only a few of its wins). With rarity, racing legacy, and generally insane demand, when a GTO comes up for sale, the collector community at large takes notice. While many were watching, few can play at this level and the GTO's final price was an incredible $48,405,000, making it the most expensive car ever sold at auction.
From pouring over the catalog to watching as the cars are sold one-by-one, I love a good car auction and Monterey Car Week is an excellent environment to see some amazing cars like these come to the stage.
All prices listed in USD.
Photos courtesy of RM Sotheby's.
_________
Never miss a story. Sign up for NUVO's weekly newsletter.