It's like driving the future, and it wants to go fast.
It's before dawn in La Cañada Flintridge, California as I brim the tank of a Glacier White McLaren 720S. This gas station is at the bottom of my favourite stretch of road in the entire world: Angeles Crest Highway. With the tank full, I slide into the low-slung bucket seats of this alien-looking ride—even at a gas station that sees all manner of hot cars, the 720S is something special. The cabin of the 720S is focused, purposeful, and wrapped in swaths of sporty Alcantara. The engine roars to life at the press of a button and I snake my way out of the lot and onto Angeles Crest. This high-tech McLaren feels like the perfect car for a dawn run through the forest.
Leaving the station, the winding canyon road climbs high into Angeles National Forest. Carving a seemingly endless array of corners, not only is this a perfect and often empty driving road, it's also a great spot for photos. With numerous pull-outs and large rest areas, many patterned with the streaks of tire markings, Angeles Crest is my favourite place to take a special car in L.A.
I'll get to details and specs, but first, I want to highlight two details that still feel crystal clear from my time in the 720S. First, this is hands-down the fastest car I've ever driven. Second, over a twisty bit of road, this may well be the fastest car in the world. I've driven the 650S, and spent three days straight behind the wheel of a 570S, but the 720S feels like a whole new zone for McLaren. Technically the replacement for the 650S, the 720S is a mid-engine supercar with dihedral upward-opening doors, two seats, plenty of tire, and a couple of turbo chargers to ensure you're never bored. Driving around downtown, it was comfortable, easy to drive, simple enough to park, and calm enough for traffic—but it didn't feel like a race car. Up in the canyons, however, it comes alive.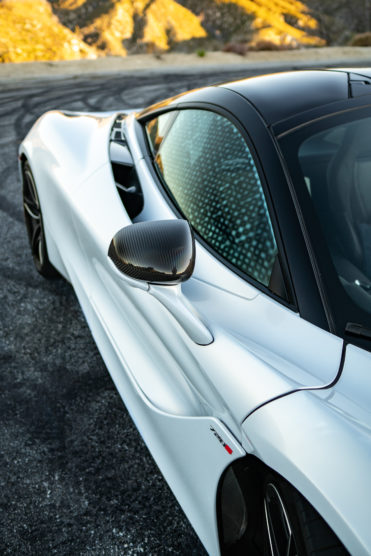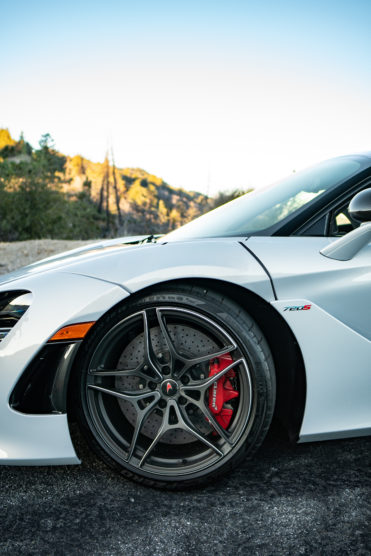 Equipped with a rear wheel drive like a proper sports car, the McLaren 720S uses a 7-speed dual clutch transmission to push 710 horsepower and 568 lb-ft to the tires. That incredible power figure is supplied via a 4-litre V8 and its pair of turbochargers. Unless you're very brave (read: braver than me), traction control is a must and I was astonished by the amount of grip the 720S managed in all manner of corners. The steering is so fast, so sharp, so connected, that each corner is just a bit faster than the last. This is the sort of car that quietly makes you a better driver, encouraging you to explore the grip, the acceleration, and the remarkable stopping power from its carbon ceramic brakes.
The performance figures are, as you'd expect, pretty wild. Zero to 100 km/h is 2.9 seconds (though it feels even faster), top speed is 341 km/h, and you can brake from 200-0 in 4.6 seconds. Truthfully, all of these numbers are great, but the car is so much better. It's marvellously fast and felt at home on Angeles Crest, shooting from one deeply diving corner, along a flowing ridgeline and then climbing to the next hard braking zone. The communication in the steering, the seemingly endless power, the amazing brakes, and the lightning fast transmission all work together to offer an experience more than the sum of its parts. I adored putting 1,000 km on a 570S a couple years back, but 100 km on the 720S is somehow more appealing.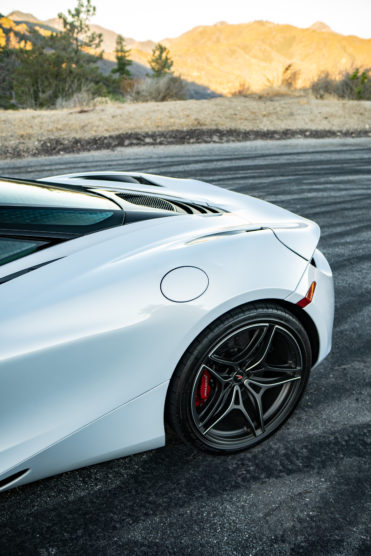 My connection with the 720S was not only because of the pace, but also the ergonomics. I don't fit well in most supercars as my hip-to-heel length is an issue in many examples of the genre. From the 570S to the Huracán Performante Spyder I recently drove, I usually don't have enough legroom. In the 720S, I had plenty. Add to that an excellent seating position and best-in-class visibility–thanks to a long and beautifully curved windshield. That windshield means that almost any driver will be able to see, whether it be around the next corner or simply when glancing up at a stop light. These may seem like a small details, but if you're tall and you've driven a handful of supercars, you know that ergonomics and forward visibility can often be compromised.
The 720S has a striking appearance that makes it unlike anything else on the road. It's futuristic, curvy, low, and has the road presence of a fighter jet, with a complex mix of curves and creases. Not unlike some advanced aircraft, the 720S has an active rear wing that raises to increase downforce and grip when you need it most. While Glacier White might not be my first choice for a colour, it still looks amazing and overall, the 720S is a complete stunner.
Following this meandering ribbon of tarmac as it crosses the forest and subalpine skyline of northern Los Angeles, I find the 720S has confounded my expectations. While the raw performance was perhaps along my expectations of an $312,500 car, the way it all connects in the steering wheel and the pedals is an evolution that makes for a fun, lively, explicitly sensory, and nerve-wrackingly fast drive. With the 720S, McLaren threads the needle between a future-forward supercar and a visceral backroad-slaying sportscar—and even within the context of the endless one-upmanship of the supercar world, it is nothing short of an achievement.
_______
Never miss a story. Sign up for NUVO's weekly newsletter, here.