Sustainable Delivery Services in Canada
These days, the environment is top of mind for many consumers. Zero-waste groceries were once an outlying trend, both figuratively and literally—a few years they were so few and far between that for most they were inaccessible. Now, even major food conglomerates are getting in on the action. Most recently, an Ontario-based online platform called Loop partnered with Loblaws to test whether Canadians are ready to switch over their brand-name single-use packaging for reusable vessels. Loblaws liaises with the food brands to create and source packaging that can be reused at least eight times, and Loop manages the waste.
Take into account the explosion of home deliveries during lockdown and our society's obsession with convenience, and we have a completely new category of eco-conscious shopping. However, there are many considerations when selecting the most eco-friendly options. What kind of vehicles are used for transportation? Is the packaging compostable, because that may not be all it's cracked up to be? How are the products sourced or made?
Here, we have explored all of the categories for home delivery services across Canada and selected the ones we think are doing the most sustainable and environmentally friendly work.
Groceries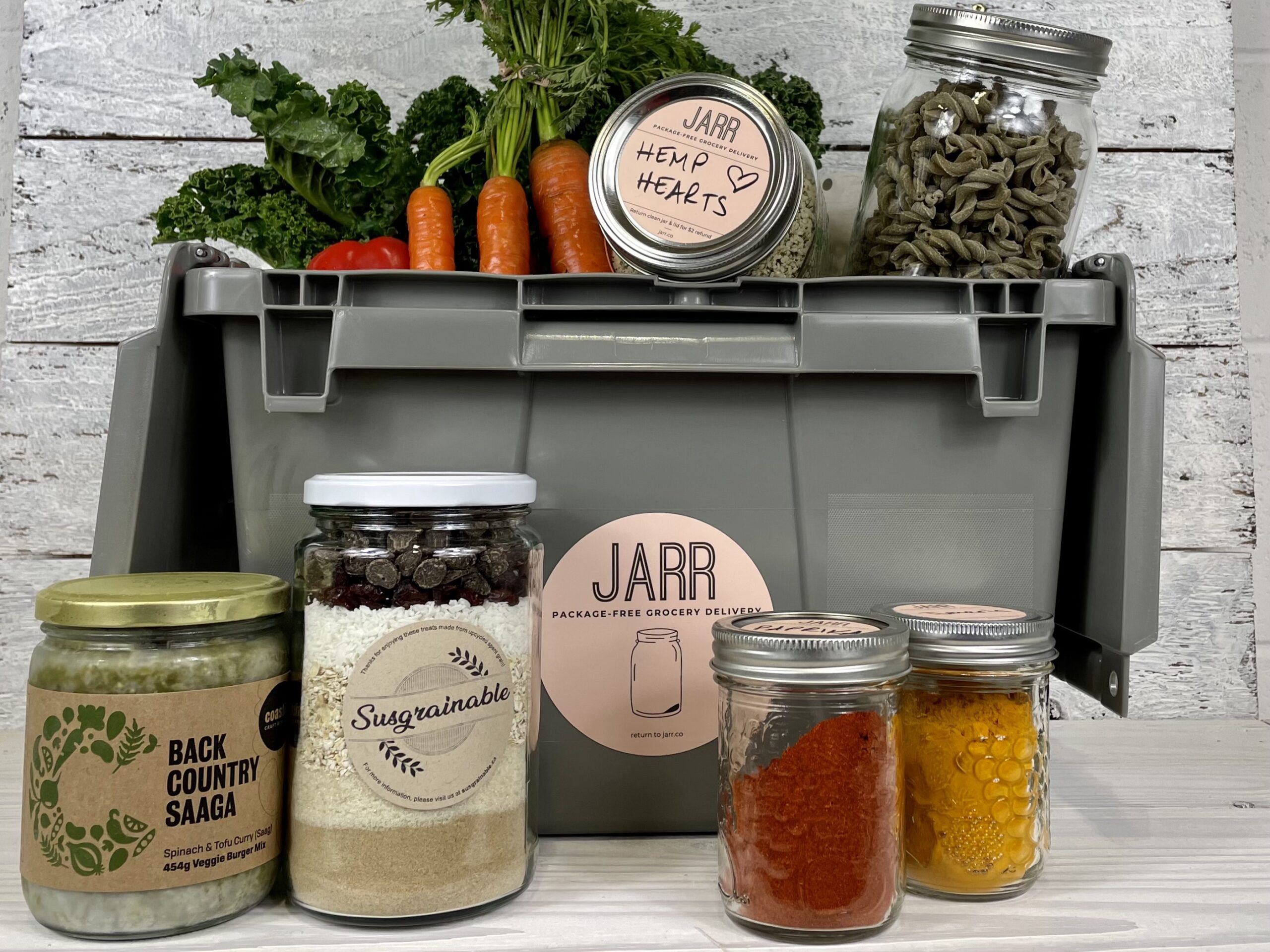 There are many options for grocery delivery across Canada, but the most sustainable are usually those that come directly from the source. Supporting local farmers and growers is crucial to the maintenance of our food systems, and researching organic farms in your area will not only change your perspective on the food chain but will help them weather the COVID storm.
Bryson Farms in the Ontario-Gatineau region delivers freshly picked seasonal produce (the day before delivery), organic eggs, turkey, chicken, prepared meal kits, and other food items weekly. It offers free delivery on orders over $55 and only asks that you provide a cooler with ice packs in a predetermined spot outside your home to leave your groceries in.
Fresh Option Organic Delivery in Winnipeg connects people to small-scale family-run farms and does the major legwork for them. Customers can choose between its fresh bin service, which is a preset box (dietary restrictions can be input upon sign-up) delivered weekly or shop its site for a bespoke one-off order. The goal is to create a localized sustainable food system that gives back to the community through waste reduction and food security initiatives. Fresh Option donates surplus food to local food banks.
A Vancouver favourite is zero-waste grocery service Jarr, so named for the reusable glass Mason jars used to package many of the food items. Jarr carries everything from shelf-stable pantry staples to personal-care products, with produce, frozen foods, and household supplies in between. Everything used to package the items is reusable and should be set outside your door to be returned to Jarr. A credit is applied to your account for each returned container as well. To make the service even more environmentally friendly, Jarr will be introducing bike couriers in the summer months.
Home Supplies
Refillable dish soap containers found in grocery stores feel a lot like a ploy when you consider how much plastic is generated just to create the refill bottles. Enter, Better Basics with a 1.5-litre paper jug of dish soap. The jug can refill an average-sized soap dispenser four times, and the Better Basics starter pack comes with a sleek metal dispenser to eliminate as much plastic as possible. The Vancouver-founded company also offers hand soap, body wash, and all-purpose cleaning spray made with Earth-safe ingredients, and they can be delivered to your door on a designated schedule across Canada.
The goal of the brand is to not only reduce plastic but also highlight the ingredients. For instance, Better Basics carries sustainable swaps for typical household items like scrub brushes, shopping bags, and travel mugs made with materials such as bamboo and organic cotton that are more renewable and use less water to produce than average consumer products.
Takeout
As with groceries, environmentally friendly takeout starts with the source—in this case, restaurants. Because of the nature of takeout (read: packaging), it isn't the most environmentally sustainable option, but finding restaurants and chefs that prioritize sourcing local and organic ingredients, use whole-food preparation techniques (using every part of the ingredient to cut down on food waste), and have eco-friendly containers is the best way forward. And again, it takes research.
From there, ordering is pretty simple since there is only one eco-friendly food delivery app. Facedrive foods—a subsidiary of Facedrive, the popular Toronto ride share company—contributes to local tree-planting initiatives to offset carbon emissions. The app took over for Foodora in Canada and claims to be "people-and-planet first."