Mother's Day Brunch 3 Ways
Don't forget to do the dishes too.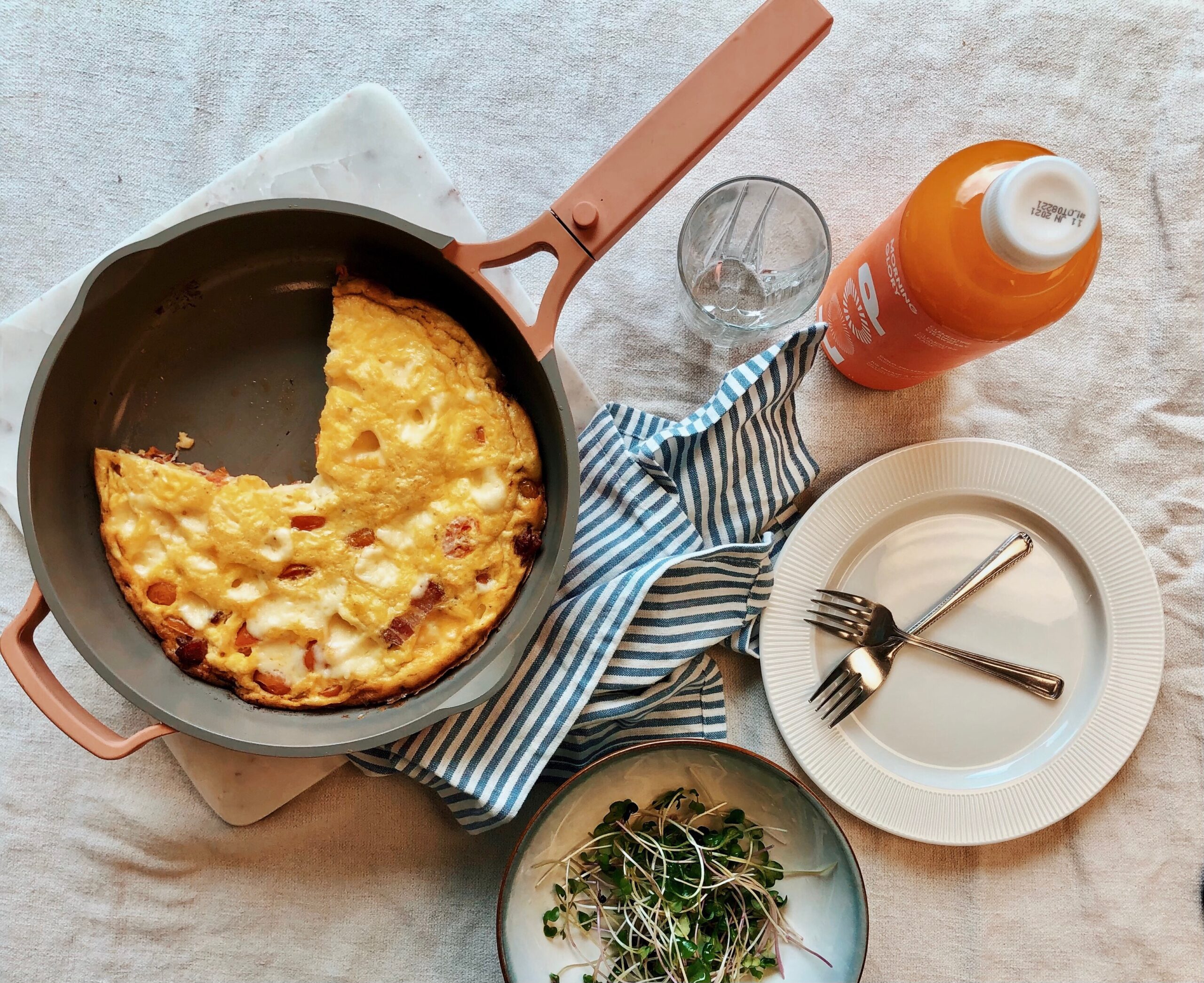 Ask restaurants and chefs throughout Vancouver to share their go-to Mother's Day dishes and no surprise, there is a brunch theme. Here we have a mix of sweet and savoury delights to show Mother how much you care.
Mother's Day Frittata From Craig Sheridan, Founder and CEO of Legends Haul
I love an egg frittata—it's my answer to an easy, multi-ingredient dish. I especially like the flexibility in utilizing fresh ingredients in the fridge without the hassle of a specific recipe. I'll sub potatoes with sweet potatoes, Spades bacon with Bohème Grove sausage and always fresh produce, and depending on the time of year, throw on a handful of fresh local greens. The cheese for me really rounds out the dish, and once again, I'll see what we have in the fridge and do my best to pair with the other ingredients. I'll serve it with black coffee, fresh orange juice, and a little bouquet of flowers to really impress my wife.
In our home, I celebrate Mother's Day by mixing in time with all the ladies in my life. I always cook a big breakfast for my wife, Jill—it's one of our favourite meals. It's her special day for fresh flowers, sweet notes from our kids, and a card from me to remind her just how amazing we think she is. This is a big day in our home and in my life; my Mother raised me alone, alongside my grandparents. After brunch, we always make it a priority to see my mom and 85-year-old grandmother. I wouldn't be here without these two wonderful women! This day for me is about stopping, reflecting, and making sure these three pillars in my life know how much I love them.
Ingredients:
1/2 pack of Spades bacon, sliced into lardons
1 pint of cherry tomatoes, cut in half
12 eggs whisked with 2 tablespoons cold water
1 pinch salt
Black pepper to taste
1 pack of Little Qualicum Raclette, diced into big cubes
1 bunch Zaklan Heritage Farm radish greens
Lemon juice
Olive oil
Method:
Preheat the oven to 400°F.
Saute bacon over medium heat. Once crispy, add cherry tomatoes and then the eggs (salt and pepper to taste).
Once eggs start to cook around the edges, add the cheese, making sure to leave some hanging out on top.
Once eggs are fully cooked (approximately 10–15 minutes), broil in the oven for 3 minutes to get the top golden brown. Remove from the oven and let it settle for a few minutes.
Dress the radish greens lightly with lemon juice and olive oil. Sprinkle over the top of the frittata. Enjoy!
Trattoria Breakfast Pizza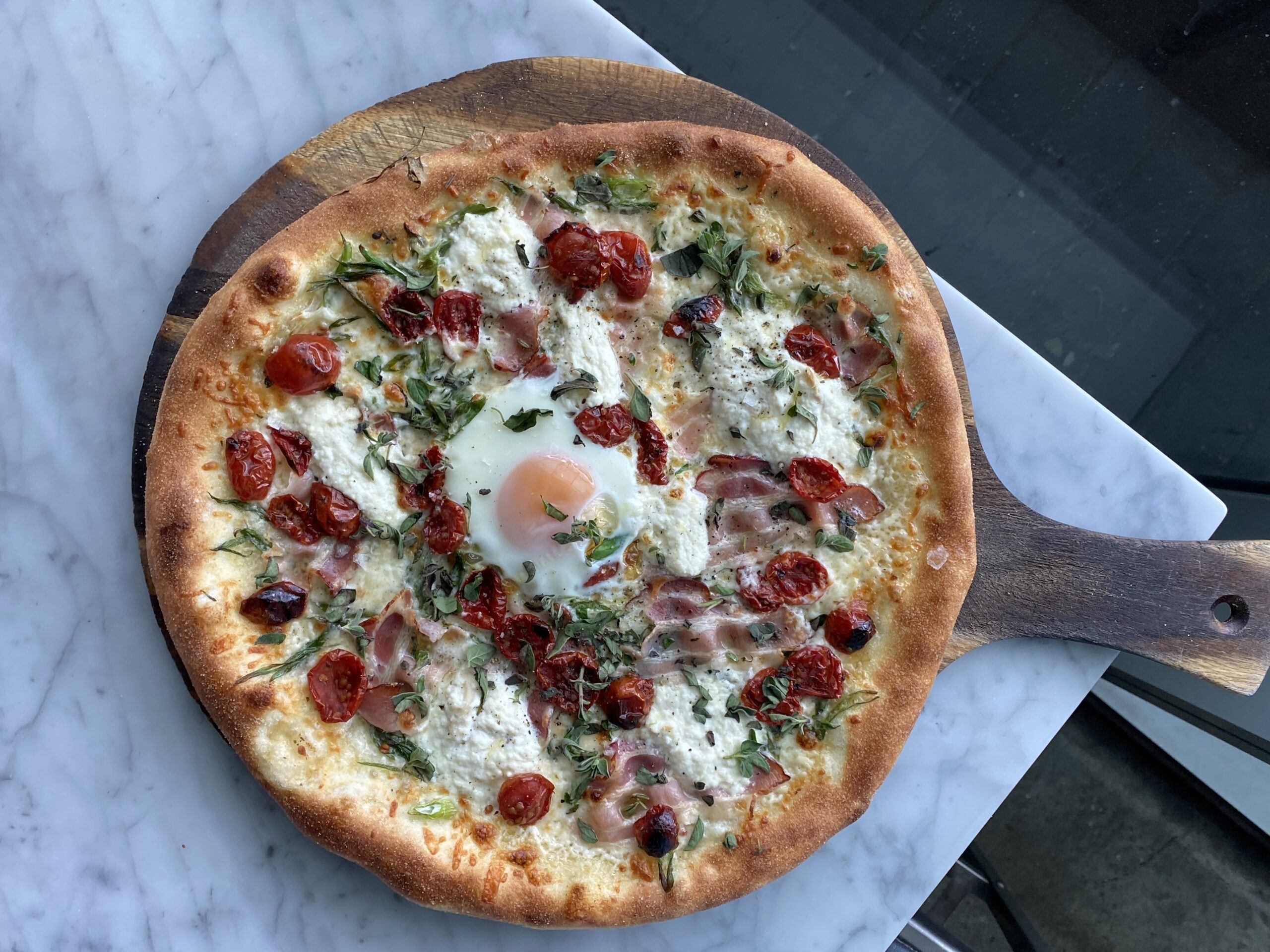 Ingredients:
1 pizza dough, can be frozen precooked
60 millilitres whipping cream.
½ cup shredded mozzarella
4 slices thinly sliced pancetta, bacon, or ham
¼ cup sliced green onion
1/8 cup sliced sundried tomato, or cherry sundried tomato.
¼ cup ricotta cheese
1–2 large eggs
2 tablespoons fresh oregano leaves (optional)
Salt
Cracked pepper

Method:
Preheat oven to 400°F
On a sheet pan, stretch or lay precooked pizza dough.
Spread the whipping cream on the dough as the sauce base.
Sprinkle with mozzarella.
Place pancetta (ham or bacon), sundried tomato, and green onion all over the pizza.
Using a spoon, dollop the ricotta all over.
Crack the egg (or 2) in the middle of the pizza.
Bake in the oven between 8–15 min, depending on type of oven.
Top with fresh oregano leaves, season with salt and fresh cracked pepper.
Savoury City Scones
Makes 6 large scones
Ingredients:
2 cups all-purpose flour
4 teaspoons baking powder
½ teaspoon salt
¼ cup granulated sugar (plus extra to sprinkle on top before baking)
6 tablespoons unsalted butter, cold
2/3 cup heavy whipping cream
1 egg
Method:
Preheat oven to 400°F.
Add flour, baking powder, salt and sugar to a food processor and pulse to combine. Add the cold butter. Pulse 6 to 8 times or until you have a sandy mixture. There should be no visible chunks of butter, nor should the mixture clump together.
Transfer the flour mixture to a bowl and mix in the heavy cream with a spatula. Combine until you have a smooth dough, being careful not to overmix.
Using a large cookie scoop, portion the scones into the size of a baseball. Place on parchment-lined baking sheet.
Whisk egg with a touch of water to create an egg wash, then brush each scone with the mixture and sprinkle with a touch of sugar.
Bake for 20–25 minutes until golden brown.
Ask for Luigi Banana Bread with Cinnamon Ricotta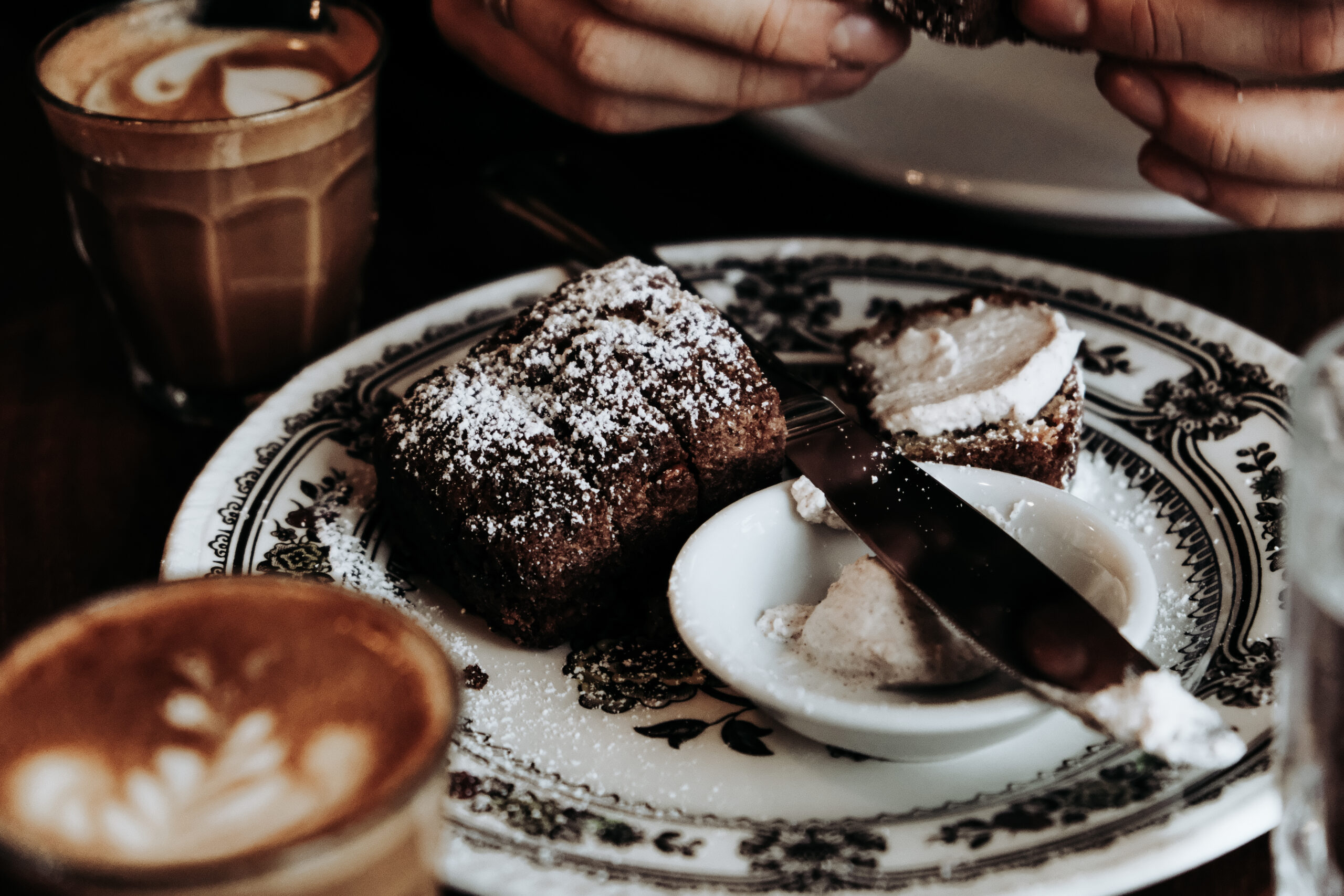 Chi dorme non piglia pesci—an Italian proverb meaning, "He who sleeps catches no fish." When Luigi first offered weekend brunch, our chef was making banana bread off-menu and decided to offer it complimentary within the first hour of opening as a way to reward the early risers.
While certainly not a tradition in Italy, Luigi brunch is our North American version of how we imagine it would be: gathering with family on a Sunday over espresso and pasta.
Nearly eight years later, our banana bread has become one of Luigi's signature menu items, offered during the entire brunch service, for both early and late risers looking for a sweet treat.
Yields: 1 loaf
Ingredients:
2 bananas
2 cups sugar
4 eggs
1 cup canola oil
2 cups flour
1 teaspoon baking soda
½ teaspoon salt
1 cup chocolate chips
For the cinnamon ricotta:
½ cup ricotta
1 cup whipping cream
¼ cup icing sugar
2 tablespoons cinnamon
Method:
Preheat oven to 350°F.
Place bananas, sugar, and eggs into a mixing bowl. Whip on high speed until smooth (about 2 minutes).
Lower to medium speed and add oil.
Slowly add the remaining dry ingredients and mix until just combined.
Fold in chocolate chips by hand.
Grease a small baking pan and fill with the batter.
Cook in oven until done, about 30 minutes.
For the cinnamon ricotta:
While the bread is cooking, combine all ingredients for the cinnamon ricotta in a mixing bowl and whip until stiff peaks form.
Serve banana bread with cinnamon ricotta.