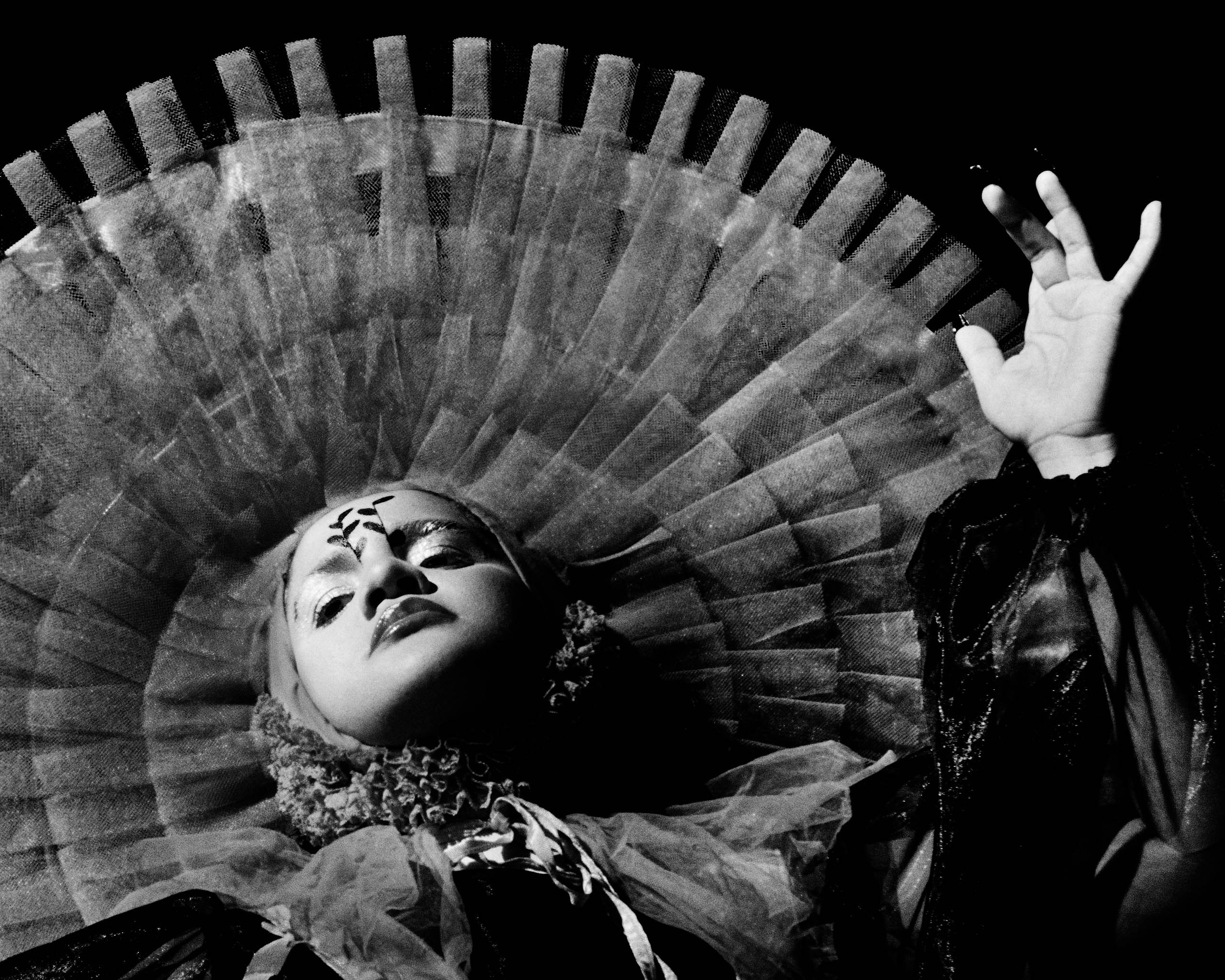 Carving Out Space With Lido Pimienta
Brown girls (still) to the front.
"Life begins in the testicles," Lido Pimienta declares solemnly onstage at TIFF Festival Street. She pauses to let the statement hang in the early autumn air, the crowd suspended in anticipation. The sizzling energy o f the Toronto International Film Festival (TIFF) is ripe. It's that time, in the middle of the 10-day festival, when the excesses of art, alcohol, music, and celebrity have condensed into a dome above Toronto's King Street, and the promise of something great is bubbling above the surface.
"So let's have a moment of silence for the trillions of lives lost into a sock, or a sink in a McDonald's, or some random spot on King and Yonge," she finishes mournfully.
Laughter. And then applause. And like that, a fresh slew of Lido Pimienta fans are born. The singer aims her microphone toward the audience and leads a chant of my body, my choice across the raucous crowd. Then the drums kick in and she seamlessly glides from English to Spanish to begin the next song.
"My music shows are a bit of a comedy show too," Pimienta tells me a few days before her TIFF performance. "I don't like to translate my music. I like to contextualize it, because the songs are really intense. I use humour as a way to communicate my message."
In her stage performances, she does a bit about abortion. "The rhetoric that so many pro-life people have is that abortion is murder," she explains to me. "Then I say, yes, call it murder. But then you know who else is a murderer? Everyone who ejaculates outside of the holy womb. Because in one drop of semen, there lies the lives of trillions of beautiful little babies. If you're going to say that women can't have an abortion, then you also need to make ejaculating outside of the womb illegal."
Pimienta is not known for her subtlety. The Grammy-nominated, Polaris Prize–winning singer and artist has carved out a space for herself in the creative scene through equal parts absurdity, beauty, and outrage. When onstage (and offstage), she is part activist, part performer, part stand-up comedian, and—often dressed in layers of bright, fluttering outfits—part moving art piece.
Back on the TIFF stage, her fake mournful expression turns into one of tender sadness. Her haunting vocals glide over the sounds of flutes as she sings, "Si es que mañana muero / No le tengo miedo pues soy mujer y llevo el dolor adentro." ("If tomorrow I die / I am not afraid of it, for I am a woman and I carry the pain inside.")
Born in Colombia and based in Ontario, Pimienta is Afro-Colombian on her father's side and of Wayuu Indigenous descent on her mother's side. Her songs, mostly sung in Spanish, trace sonic fingertips across the traditional sounds of her culture, from cumbia-inflected rhythms to the use of flutes and tambora drums alongside electronic beats. Lyrically, however, the singer is rigidly centred on the present: she sings about the aches of womanhood, the betrayals of governments that are supposed to protect you, and the tentacle-like grip of colonial legacies—both in Colombia and Canada.
With roots in the Colombian punk and metal scene, Pimienta has the air of a rebel, something that shines through in the fierce anticolonial messages of her art. Appearing at The Walrus Talks of the Future gala in 2018, she spoke about her vision for the future of art, addressing the crowd while cradling her newborn infant. "Art now, as I see it, fuels the white supremacist machine, and in Toronto, it fuels gentrification," she said, before expressing hope in a democratically digital, matriarchal, and Indigenous future of art.
A year earlier, just a few months after winning the 2017 Polaris Prize for her debut album La Papessa, Pimienta sparked a viral tirade of anger when she paused her Halifax show to call for Brown girls to move to the front of the crowd, an invitation for BIPOC inclusivity she does in every performance. When a white female photographer pushed people aside to get to the front, Pimienta asked security to kick her out. The incident made headlines across the country and resulted in thousands of death threats and online abuse from the alt-right toward Pimienta. "That was one of the best moments of my life because it really helped me understand my power," she reflects. "It has made me more eloquent, fearless."
Pimienta's unshakeable fearlessness and eloquence is perhaps best defined in her latest creative endeavour, Lido TV, her first exploration into filmwork. The six-episode CBC Gem series, which made its world debut at TIFF the same night as her Festival Street performance and went live September 23, plays like a pressurized explosion of classic Pimienta personality.
Somewhere between a variety show, documentary program, and comedy sketch show, Lido TV defies categorization. And like Pimienta herself, the show uses comedy to tackle deeper subjects. Each episode is titled after the topic it covers: colonialism, hate, feminism, beauty, privilege, success. Visually, the show takes cues from the surreal world of colour and whimsy of her own visual aesthetic, from puppets to pastels. It's as if The Big Comfy Couch's Loonette the Clown or Blues Clues & You met MADtv and blended themselves with a dash of Vice.
Comedy sketches of a rural Canadian family digging graves every time the teenage son jerks off—based on Pimienta's stage routine on the same theme—or of a who-can-deliver-the-best-land-acknowledgement game show create absurdist paths into more journalistic segments filmed in Colombia, where women make space for themselves in the patriarchal DJ scene or the Spanish appropriation of Afro-Caribbean music is explained.
Yet for all its larger themes, Lido TV, as its name suggests, is rooted in Pimienta's own experiences. To introduce the audience to a topic, some episodes take us back in time to a specific memory from the artist as a girl growing up in Colombia.
In the second episode, Pimienta opens a conversation on beauty—specifically, Eurocentric standards of beauty—by sharing a story of kids in her class who once cut her hair behind her back and teased her for its texture. The episode later finds her back in Colombia as an adult, exploring the salons and spaces Black women have carved for themselves to celebrate and care for their hair. At the end of the episode, she sings to four little girls a song about not letting other women become your enemy simply for being women.
Asked why she chose the song, she says, "I have a little daughter, and when she starts growing up, she's going to start developing this beautiful personality, and it might all end with one bad interaction with another girl. The bullying is real and it's brutal. So I just want [this song] as a response that it's so much better to be friends with women." She notes, "I don't love all women. Some of them are garbage. But I don't want any of them to be my enemy."
As a child in Colombia's coastal city of Barranquilla, Pimienta's imagination had no limits. The freedom of her youth found her hidden in the tangled branches of mango trees, singing along to songs on her Walkman, following twisting rivers, and weaving traditional Wayuu bags with her grandmother.
"But when I was in the city for school, I was a bit of a loner kid because I've always been a little bit socially awkward," Pimienta tells me. "And you know, kids are brutal. They will make sure you know that you're different and not welcome. So music became my haven, my shelter."
She started performing in punk and metal bands at only 11; the stage became a fixture of her teens. "I got all of this experience playing live so young, having experiences that, at least in North America, would probably happen later in life," she says. "Of course I was very precocious. And of course, by the time that I was 19, I was like, 'I want to get married and have kids.'"
_________

"I don't love all women. Some of them are garbage. But I don't want any of them to be my enemy." —Lido Pimienta
By 19, she had recently immigrated to Canada, arriving from Barranquilla to London, Ontario, in the dead of a bleak and grey winter. She would eventually move to Toronto to study art and find success, releasing her first EP Colors in 2010. She taught herself to produce music through YouTube tutorials and, with some grant money, went to on make La Papessa in 2016, her Polaris Prize–winning album that shot the artist to national fame.
Still, her first impression of Canada was disenchanted. "The idea of Canada outside of Canada is that a) it's the best country in the world, and b) English people came and built Canada. And when they arrived, there were just a few people that lived in igloos here. And racism doesn't exist. And everyone was welcome. That was what we were told when we were doing our citizenship process," she says. "That wasn't my experience. My experience was that we're in a broken place without real culture and that the people of this land, and their actual culture that we could be learning from, get pushed aside."
She remembers learning about Canada's colonial past—a past not unlike the Spanish colonial legacy in Colombia—when she walked into an Indigenous knowledge centre in London. She looked around and realized the people around her were her cousins, in a metaphorical sense—both peoples inherently connected by parallel legacies of exploitation.
Pimienta is known for her sharp criticism of Canadian history, born out of her own disillusionment. But her most recent album Miss Colombia, a 2020 follow-up to La Papessa, turns her discerning eye back to Colombia. "Miss Colombia is about just giving Canada a break—in the sense that this place is messed up, but Colombia's also messed up and let me tell you why," she says.
The title is a reference to Steve Harvey's internet-breaking blunder in 2015, when he mistakenly announced Miss Colombia as the winner of the Miss Universecompetition, only to take back the award and give it to the correct winner, Miss Philippines. For Pimienta, watching the ensuing onslaught of online racism from Colombians toward Miss Philippines made her look closer at her home country.
In tracks like "Pelu Cucu," she sings as a character whose mother wants her to marry outside her race, to tame the hair of their bloodline. The song carries a defiant tenacity, however, as she ends the song with, "Beat that drum hard / May it be heard in La Guajira / I have nappy hair."
Pimienta's rebellious nature blends naturally into her belief in a better future. Projects like Miss Colombia and Lido TV pay respect to histories and perspectives that have not been given space to exist. And it paves a path to moving forward.
"It's about revindication, or what's worth living and fighting for," she says. "Which is culture, which is Black and Indigenous culture in Colombia, and it's the only way forward. It's honouring those traditions and that culture and those stories. Let's make a new quilt of stories and hopefully ones that are not so covered in blood."
At the end of her TIFF performance, Pimienta exits the stage to emphatic applause. The crowd is a mix of staunch fans and curious passersby, but all are elated by the frantic energy of her music. The calls for an encore are insistent. Lights flare back up, drums kick in, and the singer returns to the stage with a sly smile as if she never really intended leaving.
Lido Pimienta is not done yet.  
Styling: Cathleen Calica. Makeup: Rahnell Branton.