Architect Sophie Dries on Navigating Disparate Channels of the Design World
Contemporary dreamscapes.
One thing to know about Parisian architect and designer Sophie Dries is that she's hard to keep track of. During the spring, as art and design fairs bloomed across Europe, Dries's flight path resembled the movement of a monarch butterfly, flitting from one city to the next in rapid succession. Even pinning her down for an interview proved difficult.
By the beginning of summer, it felt like I had been circling her for weeks. There was a quick hello in Milan at the beginning of June during the Salone del Mobile furniture fair, where she was presenting her latest project for Nilufar Gallery. The following week, I briefly spotted her dark curls across the Messe hall at Art Basel in Switzerland, where she was scouting new work for her clients' homes (contemporary art is a frequent centrepiece of her interiors) before she vanished into a thick crowd of linen suits and Prada bags. Finally, at the end of the month, we had plans to meet in Hyères, a sleepy beach town on the French Riviera for the annual Design Parade festival, a competitive showcase of up-and-coming designers where Dries usually makes an appearance during the opening. But instead, a last-minute request from an interior design client whisked her back to Paris, where I finally reached her, over the phone, at home.
Since opening her office at the age of 28—a young, independent female designer in a sea of male-fronted firms—the pace has rarely slowed. In the past several years, her projects have run the gamut from high-concept retail designs to stylish private homes and inventive furniture. However, the appeal of Dries's work can be broken down into three central tenets: fine craftsmanship, often the result of close collaborations with traditional artisans; a passion for experimentation, particularly with new and obscure materials; and fascinating, deep-cut references that come from an extensive knowledge of both contemporary and historical art and design.
For instance, at the Arturo Arita flower gallery in Paris, she transformed a former deli into a Mannerist-style cave, a popular garden feature during the Italian Renaissance (a 16th-century example in Florence's Boboli gardens features false stalactites and allegorical sculptures carved into the rock). On the walls, white plaster is rendered to resemble rough-hewn stone, which surrounds a central workbench with a craggy-edged grey-veined marble top that seemingly floats above its transparent plastic base. Niches set into the walls frame cascading bouquets of birds of paradise and technicolour orchids. When customers step inside the 538-square-foot storefront, they enter a surrealist fantasy.
The dreamlike flower boutique is stylistically a world away from another recent project, shoe designer Michel Vivien's flagship on Paris's Rue du Faubourg Saint-Honoré. There, she installed a softly curving walnut wall stained a deep shade of auburn and studded with floating display shelves. Dries then offset the earthy wood tones with amoeba-shaped Murano glass wall lighting of her own design.
Nonetheless, what gives Dries her edge is the ability to navigate so many disparate channels of the design world, toggling from complicated architectural projects to small-scale object design with ease. But it hasn't been entirely frictionless. When she first started, people kept telling her, "I don't understand—do you do architecture, interior design, or furniture design?" She still hasn't precisely answered that question, for good reason.
"To me, there are no such boxes," she contends. She points to the modernist tradition of the Gesamtkunstwerk, which, in architecture, means each element is designed to fit a single, all-encompassing vision. She cites midcentury icons like Frank Lloyd Wright, who, for example, designed everything from the table lamps to the armchairs in his Taliesin West residence in Arizona. Dries tries to approach each project in a similar way, as an opportunity to envision an entire world.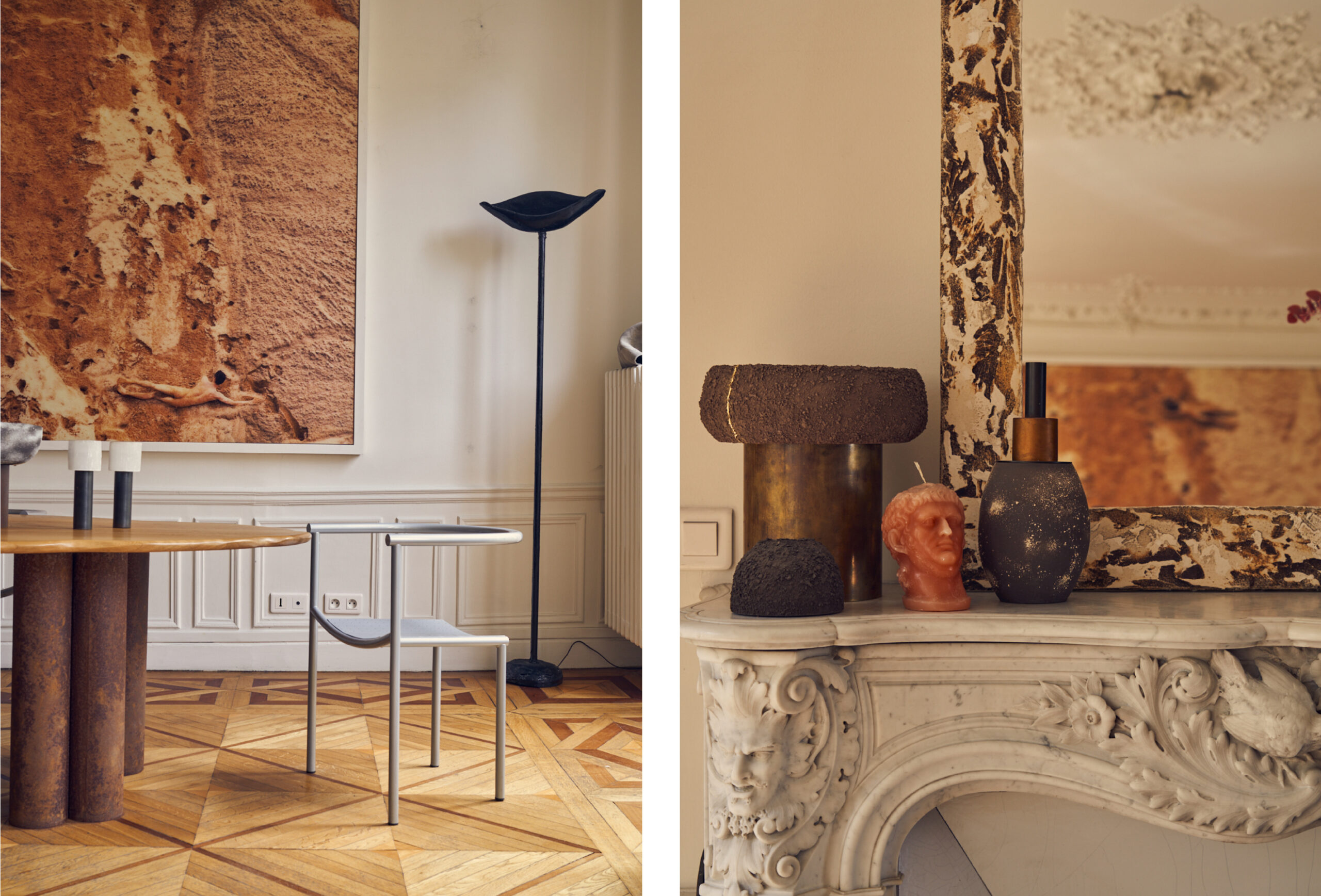 This fluidity has been a hallmark of Dries's work since the beginning of her career. She even tailored her education to be as versatile as possible: a degree in architecture at ENSA Paris-Malaquais; Aalto University in Helsinki for a master's in furniture and interior design; courses in contemporary art at L'École du Louvre. After graduation, she completed stints with architect Jean Nouvel and interior designers Pierre Yovanovitch and Christian Liaigre, where she honed her skills before opening her own office in 2014.
Her earliest commissions came from like-minded acquaintances who saw the potential in her sense of style. She started to design flats in Paris for friends, resulting in the Wunderkammer-like pieds-à-terre that make up her early portfolio: the compact but treasure-filled home of filmmaker Zoë Le Ber nestled in the mansard roof of an hôtel particulier built in 1681 or an airy, light-filled apartment that features a striking iceberg-shaped structural column in the centre. They were quickly followed by retail commissions, including a clothing shop in Istanbul inspired by the arches decorating the façade of Palazzo Quadrato, the imposing Rationalist monument on the outskirts of Rome.
_________

"I am very interested in materials and alteration of materials. As a child, I wanted to be a chemist." —Sophie Dries
However, it was Dries's first great roadblock as an independent designer and business owner that led her to formally branch out from interiors. Following the 2015 attacks at the Bataclan concert hall and elsewhere in Paris, interest in developing new projects in the city sharply declined. "It was a period of instability," she remembers. So instead of waiting for new clients to crop up, she focused her energy on a novel venture that had been brewing in the back of her mind for several years: objects and furniture, specifically, her first collection of ceramic vessels. She wanted a closer relationship with craft, she says of the motivation to launch the project. She enlisted a ceramicist and metal worker to help her create her Traces collection, a series of vases with textured surfaces that fuse disparate materials in an almost industrial way. "There are different textures that I wanted to experiment with," she says. The experiment was an immediate success.
Overnight, she was fielding requests from international magazines, and hip galleries were asking to represent her. That started the conversation with Nina Yashar, Dries says, referring to the kingmaking gallerist who founded Milan's hallowed Nilufar Gallery. "Sophie's narrative and creativity have a peculiar sense of harmony and balance," Yashar says of Dries's work, which she has championed for going on seven years now. "Her rigour and meticulous research of details is what makes her work so rich and sophisticated."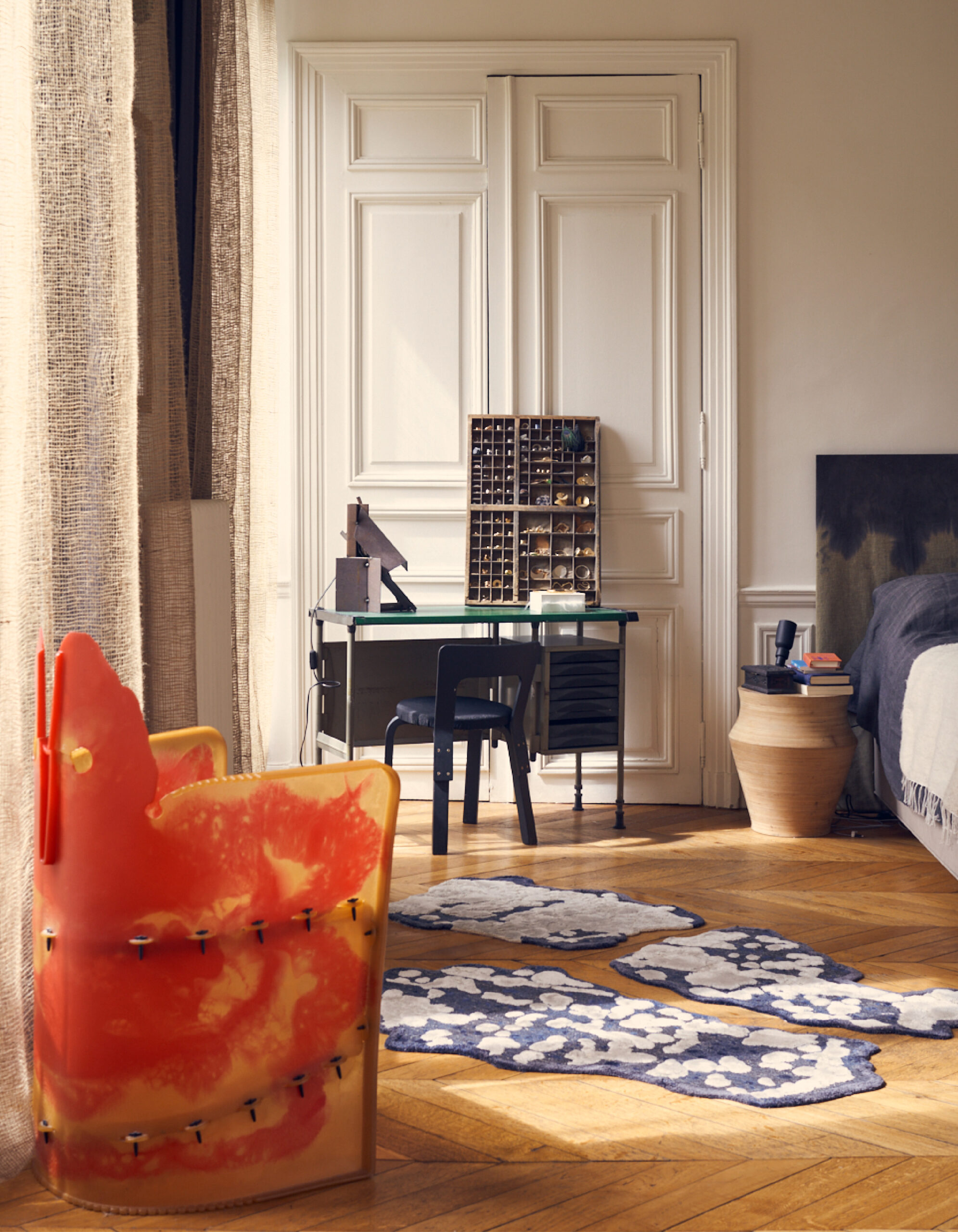 Her latest pieces for the gallery, a collection of Murano glass mirrors called Levitation Alchemia, were born from this spirit of research. "I'm very interested in materials and alteration of materials," she explains of her inspiration. "As a child, I wanted to be a chemist." The mirrors are made by encasing flaky, gold-toned mica in the molten glass. When it hardens in a series of overlapping pools, which she places around the edges of the mirror, the mica appears suspended. "It's a lot of chemical experiments," she says of the trial-and-error process of developing the collection, which brought her to Murano to work alongside the island's fabled glass masters.
Unsurprisingly, the spirit of experimentation is equally perceptible in her own home. The 1,450-square-foot Haussmanian-style apartment is where the varying threads that define her practice meet. She shares the flat with her partner, sculptor Marc Leschelier, and their young daughter. It's brimming with the flourishes one would expect in a 19th-century bourgeois home: elaborate floral moulding decorating the ceiling; wide glass doors that open onto wrought-iron balconies overlooking the Paris rooftops; wainscotting on the walls that exaggerates the height of the soaring ceiling. But in devising the decor, Dries resisted the pull to stay true to the building's original 1850s design. She is trying to make a statement, she explains of the space, which also acts as a showroom where she can demonstrate new ideas to her clients, to show that you can have very contemporary or even radical design pieces in a classic apartment like this.
For instance, on a living room wall, she's hung a large-scale image by photographer Ryan McGinley that captures from above several nude figures lying draped over a rocky red Martian-like desert landscape. The photo sets the tone for the room's caramel colour palette, which leans on natural wood hues in a variety of finishes, such as the original two-tone parquet flooring that traces geometric patterns around the edges of the room. In the centre, directly in front of the ornately carved marble fireplace, is a coffee table by British designer Max Lamb made of packing foam and coated in polyurethane rubber, giving it a glossy sheen similar to lacquered wood. It is next to a half-moon-shaped sofa set into a four-sided burl-wood outer shell, one of Dries's own designs. Between the balcony doors sits a glass-topped side table made of stacked cracked cinder blocks by Leschelier.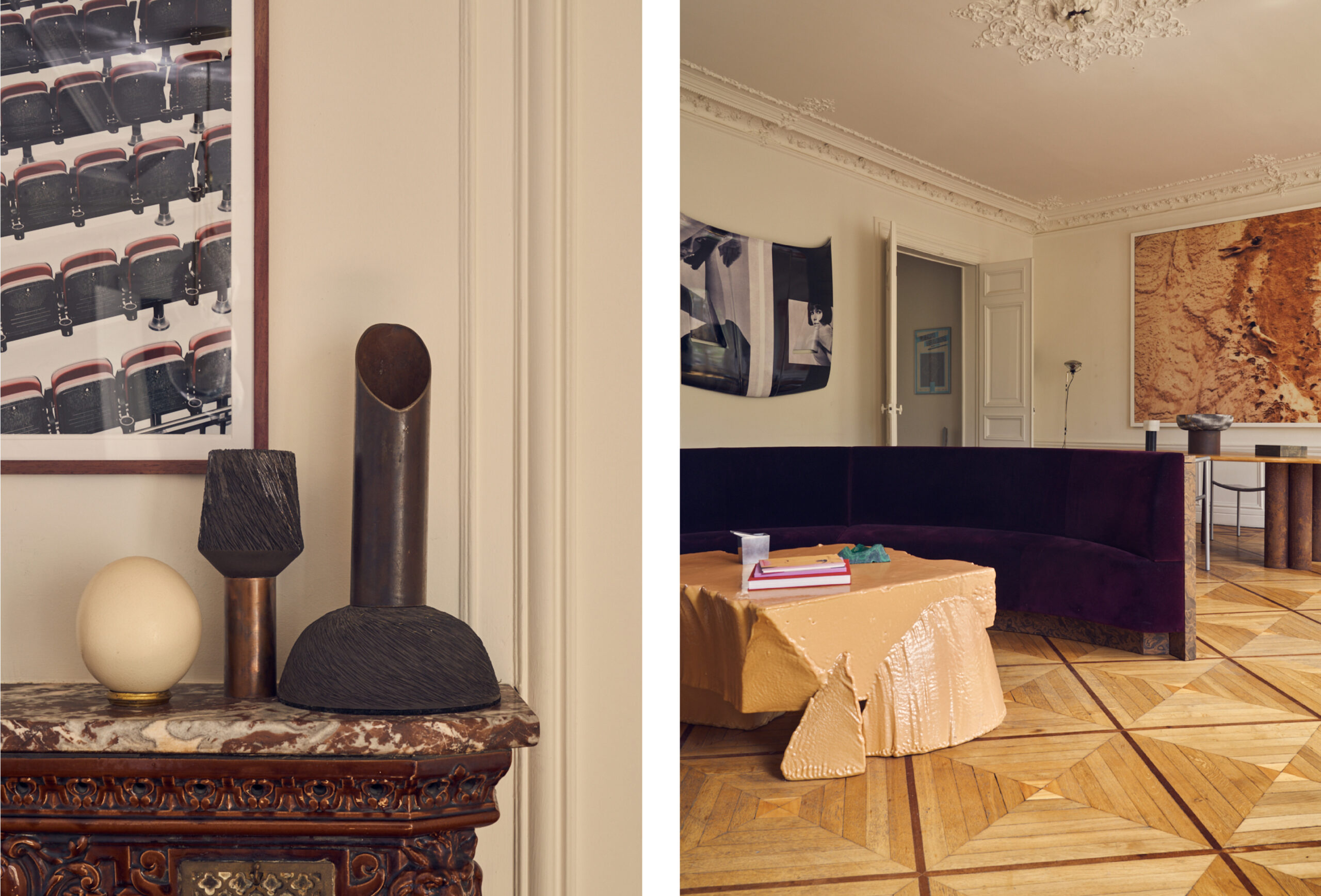 "I'm trying to show my clients some extreme pieces, because they use rust, they use concrete, they use very raw materials," she says, also referring to the sculptural dining table. It's composed of an amorphously shaped blond oak tabletop and a cluster of tubular rusted-steel legs. She's matched it with steel chairs designed in the 1980s by Philippe Starck. Indeed, vintage furniture from the 1980s and '90s is a significant presence in her home, including pieces in multicoloured resin by postmodern Italian designer Gaetano Pesce. "My vintage is from the '80s and '90s," she says, although at the moment she has her eye on a few contemporary pieces, including from research-based design studio Formafantasma and Spanish designer Guillermo Santoma.
Nonetheless, the apartment functions as an ever-evolving petri dish for her work and so will forever be in a state of flux. She compares designing a house for someone to painting their portrait. "It's like a representation of yourself, your house, and also it's intimate, right? So you have to be true to yourself, because you have to feel comfortable where you are."