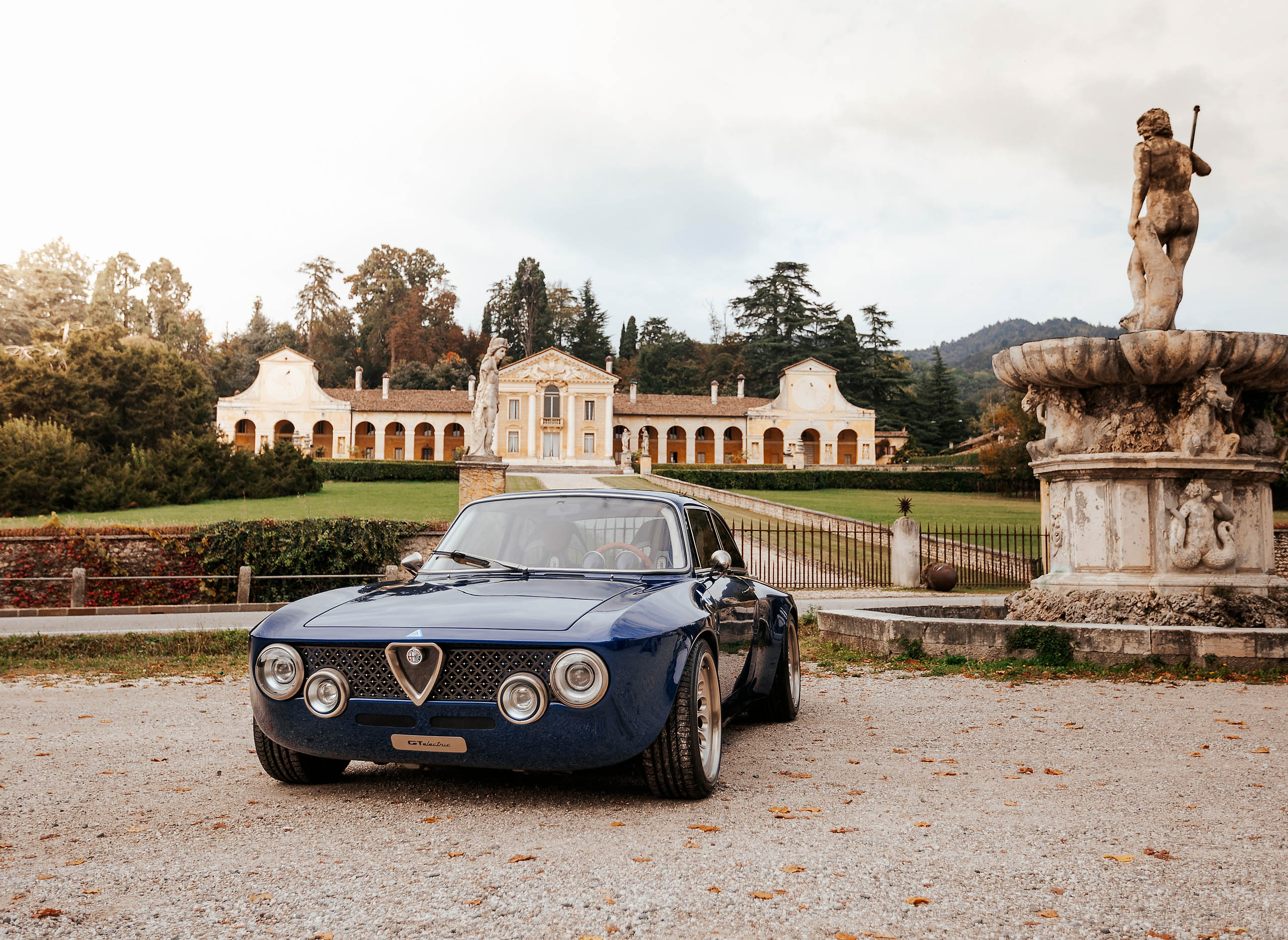 The Electric-Powered Alfa Romeo by Totem Automobili
Modern performance and nostalgic experiences come together in one Italian package.
The dream of many automotive enthusiasts is to imbue an iconic design with modern performance. It sounds easy in practice, as hot-rodders have been stuffing grunty V8s in old cars for decades, but these days, a V8 feels old. As for the boxy American cars frequently used for hot-rodding, they aren't that sexy anymore.
Some say modernized German and British cars are played out, whereas trying to modernize a Ferrari or Lamborghini would offend the legions of car collectors whose net worth is defined by how many supercars are in their garage. One then has to look at revitalizing classics from that other Italian brand known for pushing the envelope of design: Alfa Romeo. The Alfas of yesteryear appeal to enthusiasts by delivering heartbreaking style and exceptional performance, but today, the automaker is releasing one new model a year and shuns its aficionado audience by developing new SUVs and mainstream sedans.
The company's stagnation led designer Riccardo Quaggio to leave Alfa Romeo and pursue his own homage to the storied brand. Enter Totem Automobili. "In 2018, I was at Alfa Romeo, and I was sad about what I was doing," explains Quaggio, now in the business of modernizing classic cars. As founder and CEO of Totem Automobili, he has a singular focus: transforming the Alfa Romeo Giulia GTA. The 1960s model, considered one of the most beautiful car designs of all time, becomes a modern performance car once Quaggio and his team at Totem Automobili are finished with their work. He became obsessed with showing Alfa Romeo and the world how to make a timeless, high-performance, handcrafted car, starting with the Giulia GTA.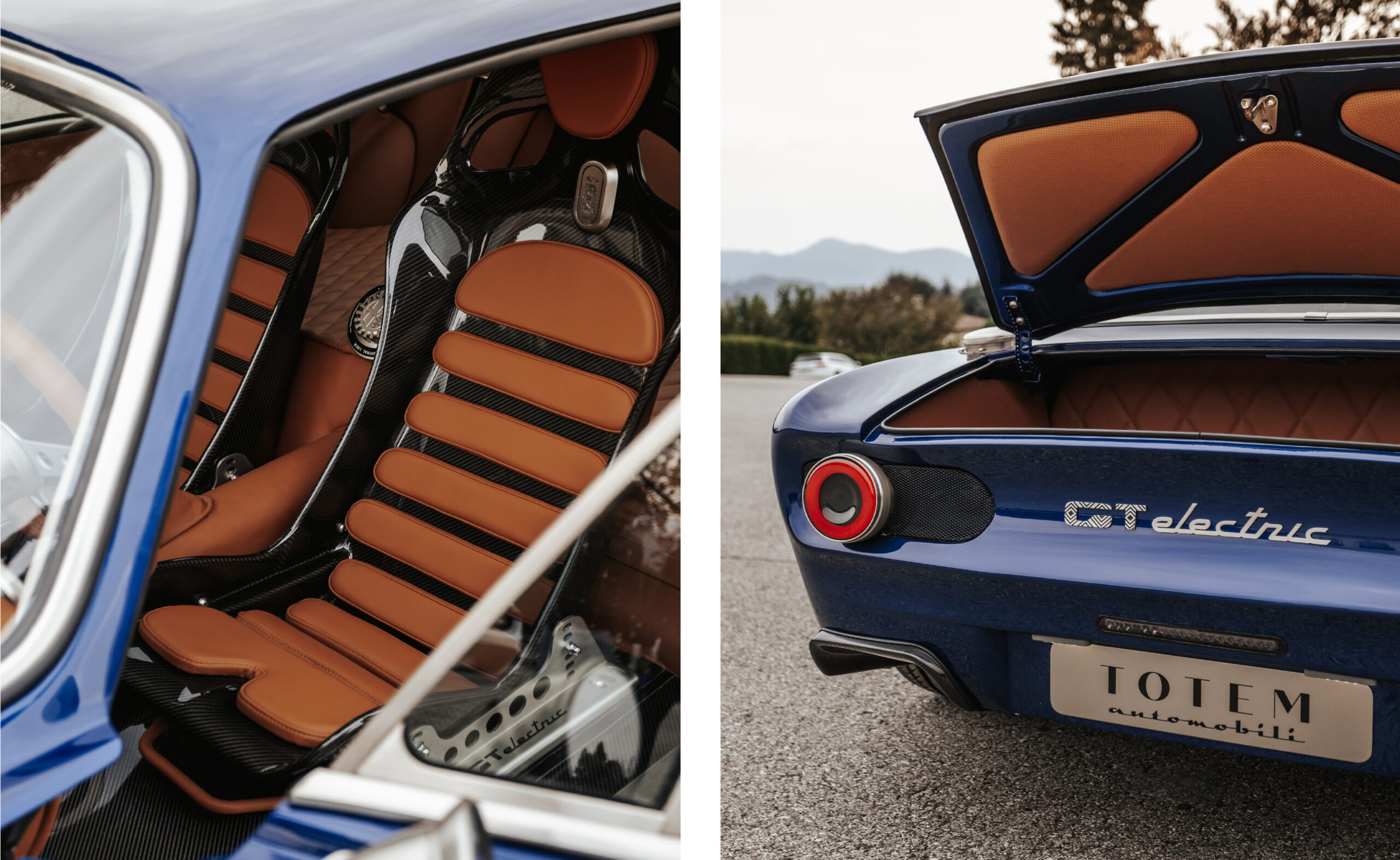 Totem Automobili isn't just jamming new engines or batteries in old chassis. Instead, they take a donor car and merge it with a stiff and lightweight carbon fibre monocoque. This makes the car a bit wider, but it remains perfectly proportioned. Size was the hardest thing to get right, Quaggio says. Though a bit bigger than the original car, the Totem GTs still feel like small driver-focused classics. Totem Automobili's philosophy in action is to extend the Alfa Romeo legend into the modern day. They accomplish this with two models: one with a zero-emission electric powertrain and the other with an all-new gas motor.
For many, the internal combustion engine is the soul of a car, appealing to the senses with the way it rumbles, smells, and sounds. Those enthusiasts would like the GT Super model with a newly developed 2.8-litre twin-turbo V6 engine. The motor is one of the most compact and lightweight units in its class, packing 600 horsepower. Those figures are possible thanks to a unique twin-stage sequential turbo setup that'll deliver excellent response and a healthy thrust of torque as soon as 3,000 RPM. A six-speed manual gearbox sends all that power to the rear wheels. One of the best features of this model is its weight—about 2,600 pounds, making it incredibly light. That's lighter than an everyday subcompact car, let alone other small sporty cars like the Porsche Cayman. This helps the GT Super feel lively and exciting with every turn of the steering wheel.
But when it comes to modern automobiles, it's hard to ignore the smooth feel and instant performance of an electric powertrain. Fortunately, Totem Automobili is embracing this solution with the GT Electric model. "The electric car market is very boring," Quaggio says, referencing Tesla and Mercedes, which emphasize technology over handling. As for small-scale EV restomods, he says, "They're not that good, especially for a car that is half a million dollars." Quaggio's concern is they don't feel like real cars, lacking the emotional and physical connection associated with gas-powered speed machines. "It's all very complicated to achieve this" in an EV, he admits.
The Totem Automobili GT Electric features a relatively large 81-kilowatt-hour battery that should provide at least 400 kilometres of range and all the expected features of an electric car, such as DC Fast Charging, which will recharge the battery from zero to 80 per cent in just 15 minutes. Like the gas-powered model, the GT Electric is all about driver engagement, an area electric cars have struggled with since their inception.
The vehicle packs 500 horsepower, all sent to the rear wheels, providing a sub-three-second 0–100-kilometres-per-hour acceleration time. But the novelty is the sounds of an engine, shifting, and braking it emits, playing through hidden external speakers, making it seem less like a quiet, standard EV and more like the epic classic it resembles.
The car features a unique six-speed "gearbox," delivering the feeling of shifting gears that's typically missing in an EV. It lacks a true transmission, but manipulating the gear stick will change the engine mapping to mimic a gear change. "The software is done, but we need to refine it," Quaggio says. The idea gave him a thousand problems, but who said being cool is easy?
The pursuit of a perfect vision required custom solutions. For example, Totem Automobili had to marry the communications port of a modern EV to old-school analogue gauges, which hasn't been done before. It's these details that make a car feel unlike anything else on the market. The company is just about to produce 20 GT Electrics before moving on to the GT Super models.
While the cars boast modern technologies, high-output engines, and fancy carbon fibre bodies, the overall experience should be nostalgic and old-school. It's a delicate balance to strike, but if done right, it will achieve Quaggio's first goal of showing Alfa Romeo how to make a timeless, high-performance, handcrafted car.