Hands on with Pastaio David Marcelli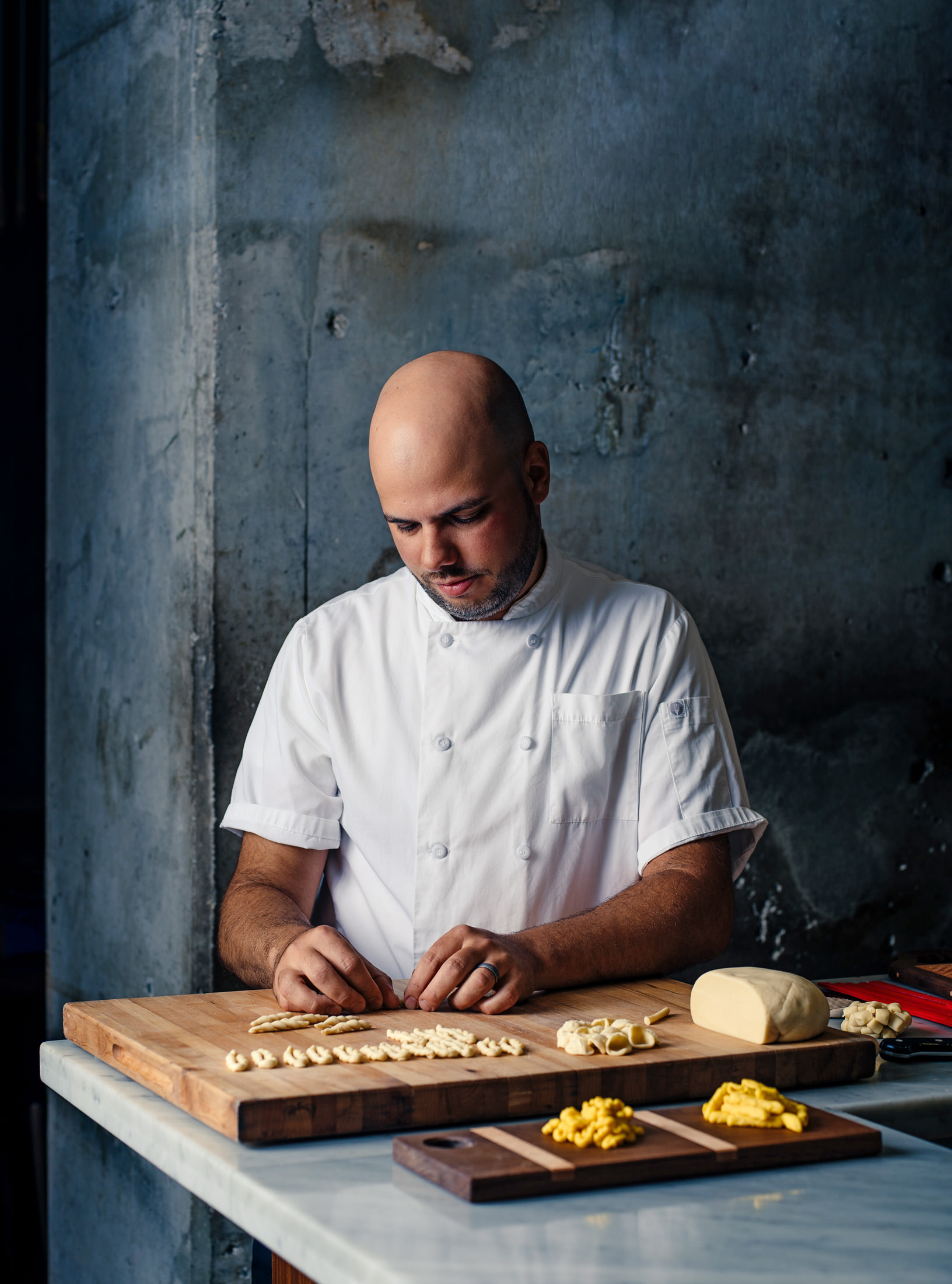 It's a regular weekday morning and David Marcelli is working away at a ball of dough. Since the early hours, he's been rolling, stretching, braiding, and sculpting pasta. As pastaio (pasta maker) for Toronto's Buca Osteria & Enoteca, Marcelli is tasked with turning flour and eggs into a sacramental object. Most of what he makes is based on centuries-old recipes originating in Italy, where pasta making is an art whose ingredients and techniques are handed down generation after generation. Marcelli, a 34-year-old father of two, is an eyewitness to that culinary heritage and a true inheritor of that legacy.
Without a doubt, pasta is Marcelli's superpower, a foodstuff he makes almost intuitively despite all the studying and research he puts into it. It's in his blood. His love of food in general, and pasta in particular, began in the kitchen of the home in Edmonton where he grew up, the son of Italian immigrants who had come to Canada in the 1980s. His mother came armed with Old World practices she had grown up with in the town of Monte San Giovanni Campano in the province of Frosinone—including making homemade pasta using recipes her mother had taught her. "She made everything from scratch—she was adamant about Sunday home-cooked meals," Marcelli says. "Once I was older, I started paying closer attention to what she was actually doing."
But he never thought of it as a career—not at first. In 2003, Marcelli enrolled at York University in Toronto to study information technology. He dropped out of the program when he realized that he preferred working with his hands. For him, cooking is tactile, a labour of love. He likes how it allows him to engage with people, including ones from his ancestral past. "I spent time in Italy, where I saw pasta as something more than food," he explains. "I saw it as an art."
Marcelli made the link while studying culinary arts with a focus on Italian cuisine at George Brown College. His program included a semester at the Alma cooking school in Colorno, close to Parma. There, he learned not just recipes and their methods, but food production and sourcing. He spent time with producers of prosciutto, balsamic vinegar, wine—the whole spread of Italy's culinary delights—and relished the experience.
After graduating in 2007, he went back to Italy to learn more. That's when his love of pasta—his mother's comfort food—became a calling. "I have always loved to eat pasta," says the Canadian-born pastaio. "And now I love making it."
In terms of ingredients, pasta isn't all that complicated. The materials are semolina flour—made from durum wheat—and eggs. Seasonal changes and geography typically inspire the diversity of pasta forms and flavours. It's estimated that there are over 300 traditional kinds of pasta, each peculiar to a region of Italy. Some pastas are thick and large to support a heavy sauce. Others are small and light, even to the point of transparency, savoured with only a sprinkling of oil and salt. Some require a heavy hand, others a dexterous twisting and fanning of the fingers. This is where pasta's complexity lies.
"I don't work out," says Marcelli, who is broad shouldered and muscular. "I work a lot with my upper body and hands, especially when rolling the dough." Shaping the pasta is a more delicate matter. Marcelli "is always researching new techniques and striving to master them," says Rob Gentile, the Buca group's chef director. "It's like he has little pieces of Italian history at his fingertips."
Marcelli's fresh pasta creations are an ever-shifting array of gastronomic discoveries. Marcelli's repertoire includes maccheroncini, a thinly rolled, long-cut pasta from Campofilone in Italy's Marche region; bigoli, a long strand of duck egg pasta from the Veneto; tubetti, a small tubular pasta from southern Italy; ravioli pappa al pomodoro, based on a traditional bread-thickened Tuscan soup; and spaghetti al nero di maiale, a rich, rose-red pasta made with pork's blood that is a house invention.
Marcelli works by memory and instinct, gauging the thickness and consistency of the dough beneath his hands. Some of the work involves pasta roller machines and tools such as bronze die extruders, double-bladed pasta cutters, ridged wooden boards, and bronze stamps and moulds. (On a recent trip to Italy, Marcelli chanced upon a treasure trove of hard-to-get artisanal pasta tools at a 300-year-old kitchenware shop. "I spent more money on that trip there than on all my hotels and transportation combined," he says. "But I couldn't resist.")
Beyond these instruments of the trade, Marcelli often just works with his hands, using his thumb and index finger to pinch, curl, twist, and tie the dough into edible abstract figures. Some of his pasta shapes, like the spiralling gemelli, the wagon-wheel rotelle, and the bow-tie farfalle are well known. Less common is the diamond-shaped cresc' tajat, a pasta made from leftover polenta and usually served with a meat sauce. Marcelli discovered this working man's pasta through research, reviving it with a new visual identity. "I have a library of pasta books and cookbooks at home," he says, "and one of my favourites is the Encyclopedia of Pasta, a very extensive book that doesn't actually have recipes in it. It lists names of pasta from the different regions of Italy, it gives the history—where it was served and how and why—and where to find it. When I find something I like, I usually go online to hunt down the ingredients." Marcelli's interpretation of cresc' tajat is "the traditional diamond shape made new by folding the pasta over itself to make something original. It's usually served late winter and into the spring, with beans or octopus."
These unusual pasta specimens get star billing on Marcelli's dazzling @pastaiodavid Instagram account, to the delight of its nearly 30,000 followers; his social media presence extends what he does in the kitchen, drawing in even more fans. "Enjoying the food is the ultimate satisfaction," he says. "Having that plate in front of you, however, is worth more than any picture."
________
Never miss a story. Sign up for NUVO's weekly newsletter here.