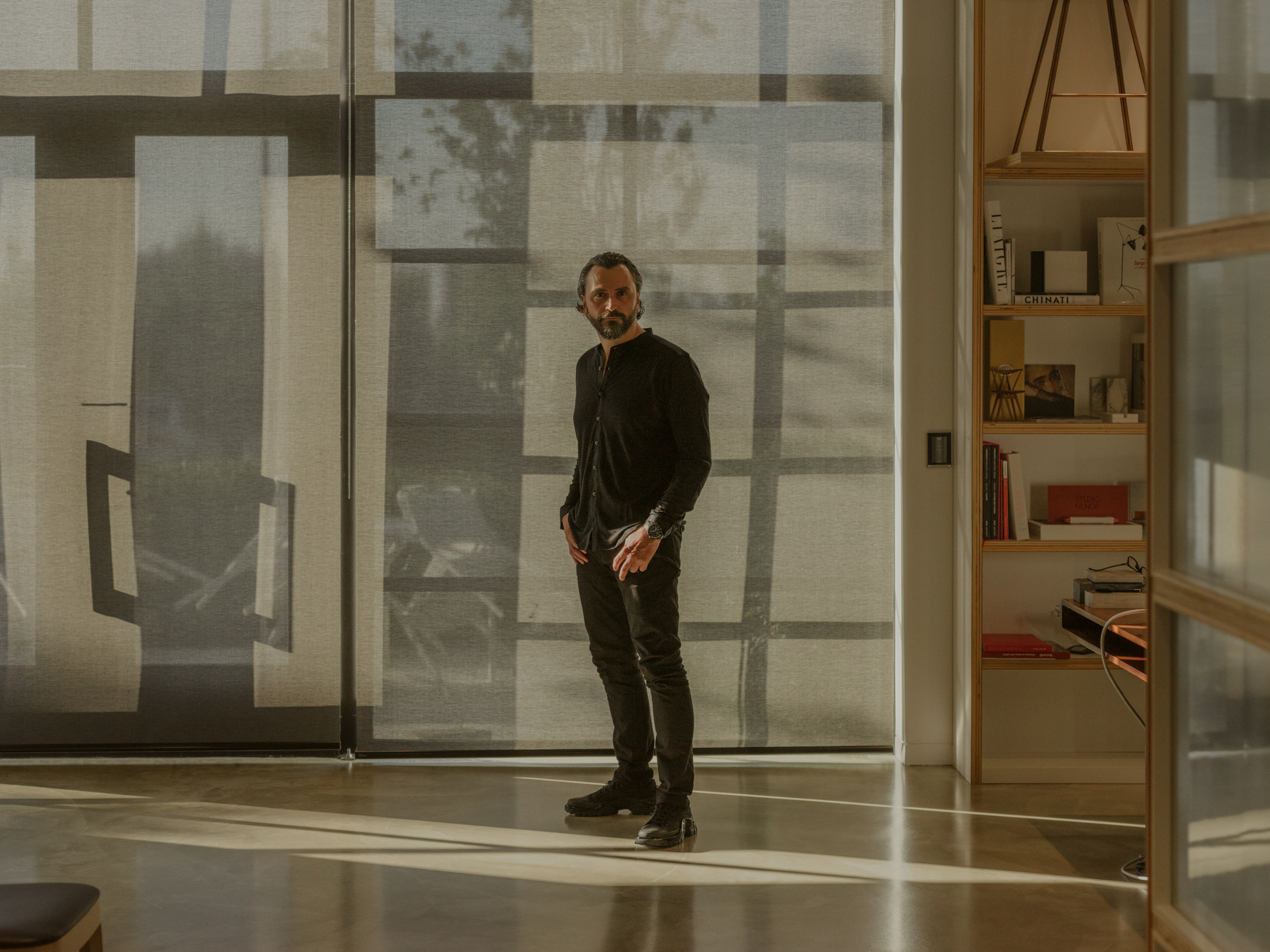 All parents think their children are special. But Alessandro Munge's mother, Nella, had proof that her son had a gift. Nella ran a drapery business. One day during a sales call at a client's house, she was having a hard time explaining what a window treatment would look like. As she fumbled for the right words, the client stopped her and pointed to a sketch that Alessandro, who was on a break from school, was quietly making in the background. "Nella, why don't we just make what Alessandro has drawn?" the client asked.
Nella was thrilled. ("We didn't grow up with much money," says Munge, pronounced MOON-Je. "My mother went out and hustled to put food on the table.") But on the drive home to the Toronto suburb of Woodbridge, Ontario, where they lived, she confessed she didn't know how to construct what he had drawn. During the trip home, Alessandro made a paper model detailing exactly how to do it. He was 13.
In the 35 years since then, the rest of us have come to agree: Alessandro Munge is special. His work—which is unified less by aesthetics and more by an immersive, detail-rich quality—is particularly well known in Toronto. His 60-person atelier, Studio Munge, has seemingly cornered the market on hospitality hot spots. The restaurants he designs (such as Sofia, located in Yorkville, one of his most recent, a send-up of the Mediterranean's dolce vita with swirling Murano chandeliers and lipstick-red, lush velvet banquettes) as well as his hotels and residences (such as Bisha, which Toronto Life magazine described as opulent enough to house a Saudi Arabian prince) are perennially packed.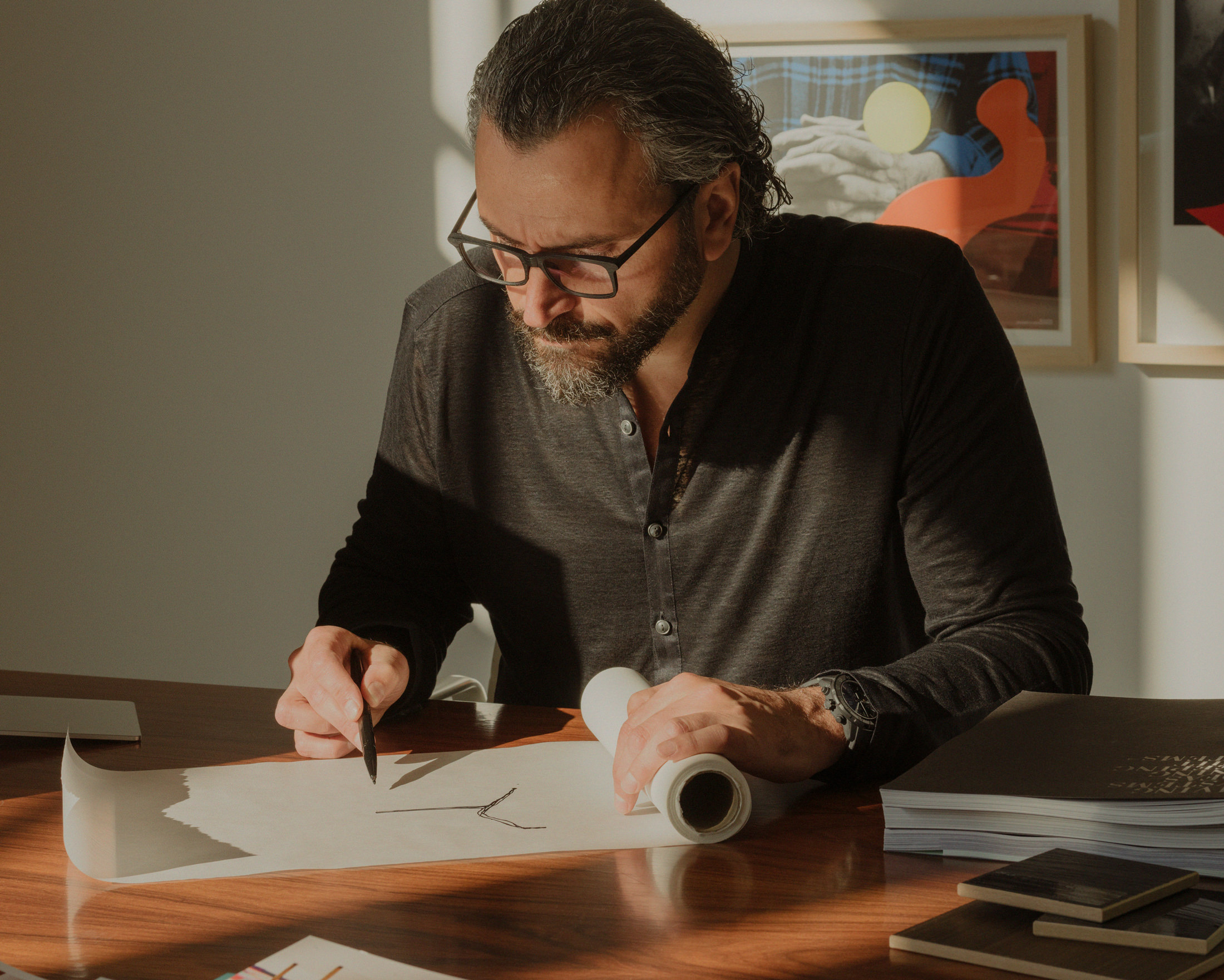 But Munge's best is yet to come. One of his eagerly anticipated Toronto projects is the world's first integrated Nobu restaurant, hotel, and residence. The design, which should be complete by 2020, features Japanese minimalism rendered in luxe marbles, granites, and warm woods, with a multistorey atrium that will pierce the building like a column of light (the development team includes Robert De Niro and Nobu Matsuhisa). Another buzzed-about project is 50 Scollard, a midtown Toronto condo done in collaboration with iconic architectural studio Foster + Partners. When complete in 2022, it will have the elegance of a Savile Row suit: classic, tailored lines with high-end finishes like zebrawood and brass.
It's hard to understate the significance when globally recognized companies like Nobu and Foster + Partners not only put down roots in Toronto, but do so by working with local talent. The city has long clamoured to be recognized as world class, and it loves evidence suggesting that it has, indeed, arrived. But for Munge, it also means his decades of hard work are paying off, giving him international recognition and a platform to increasingly extend his practice outside his home country (he was born in Germany and lived in Italy until he was five, but has lived in Canada ever since and very much considers himself Canadian).
Munge didn't anticipate any of this when he was studying interior design at Ryerson in Toronto in the late 1980s and early '90s. "I just knew one thing," he says. "Good enough was never good enough for me. I had to strive to be better every day. And when you strive to be better every day, you get to work with world-class partners. And that's awesome." He's currently collaborating with brands such as Shangri-La Hotels and Resorts and MGM Resorts on restaurants, spas, and hotels everywhere from Shanghai to Las Vegas.
Part of what makes Munge's work both remarkable and enduring is that he consciously eschews fads. "Aesthetics are fake to me," he says. "Fashion comes and goes. Just because something looks good, graphically or in a photograph, doesn't mean it will make you feel something special." Instead, he aims to create immersive experiences that evoke emotions such as anticipation, surprise, and joy.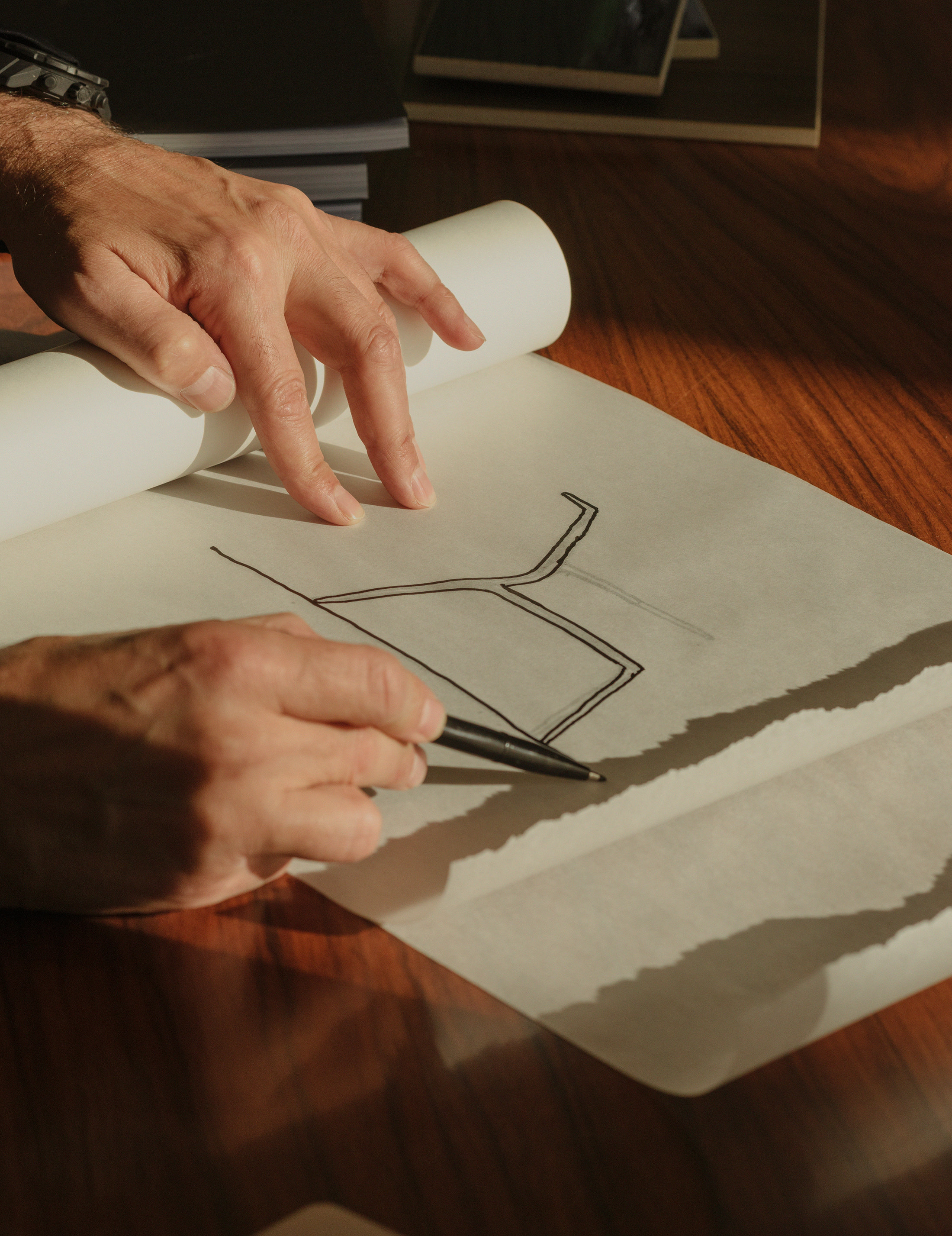 As such, his projects look totally different from each other. "Doing the same thing every time would drive me crazy," he explains. His creations are also characteristically rich in detail. Every surface and space, including floors, ceilings, and seemingly mundane areas like stairwells, washrooms, and elevators, is painstakingly considered. The resulting environments are so convincing in their authenticity that the stresses of life seem replaced by the mood he's going for. Munge calls this approach "designing in 360." It's akin to the difference between watching a play and having the starring role in a cool movie.
"I'm not a fan of two-dimensional, lipstick solutions," he says. "I'm also not a fan of a one-hit wonder in a space, where one design language happens throughout. For me, there has to be layers and different moments and experiences. I live for when someone turns the corner and says, 'Wow, that's so cool,' pointing to something they weren't expecting. I always want people coming back with the feeling they didn't see it all the first time."
Cluny Bistro & Boulangerie exemplifies the idea. For visitors to Toronto's Distillery District, Munge designed an elegant, Parisian-style restaurant, wine bar, and café with a boulangerie. Each area has a distinct vibe—the bar is date-night intimate, the café friends-and-family casual, the dining room lively with bisque-sipping tourists—encouraging repeat visits. And zones are all admirably appointed, right down to the custom colours of the mosaic floors (a robin's egg blue ushers people into the main eating space) and the carved flourishes in the coffered wood ceiling (which is so ornate, it's impossible to discern the ductwork it's hiding). Together, it all makes for a rapturous joie de vivre that's quite the feat in a spot that was once a brick-walled tank house for distilling liquor.
Munge's process relies less on tangible things, like sourcing trendy furnishings and finishes (in fact, he has his own team of six industrial designers that can create one-off pieces whenever required, freeing him from the strictures and whims of third-party suppliers), and more on intangibles—like what emotions a customer might want to enjoy, and the best way for a space to unfold to bring that about.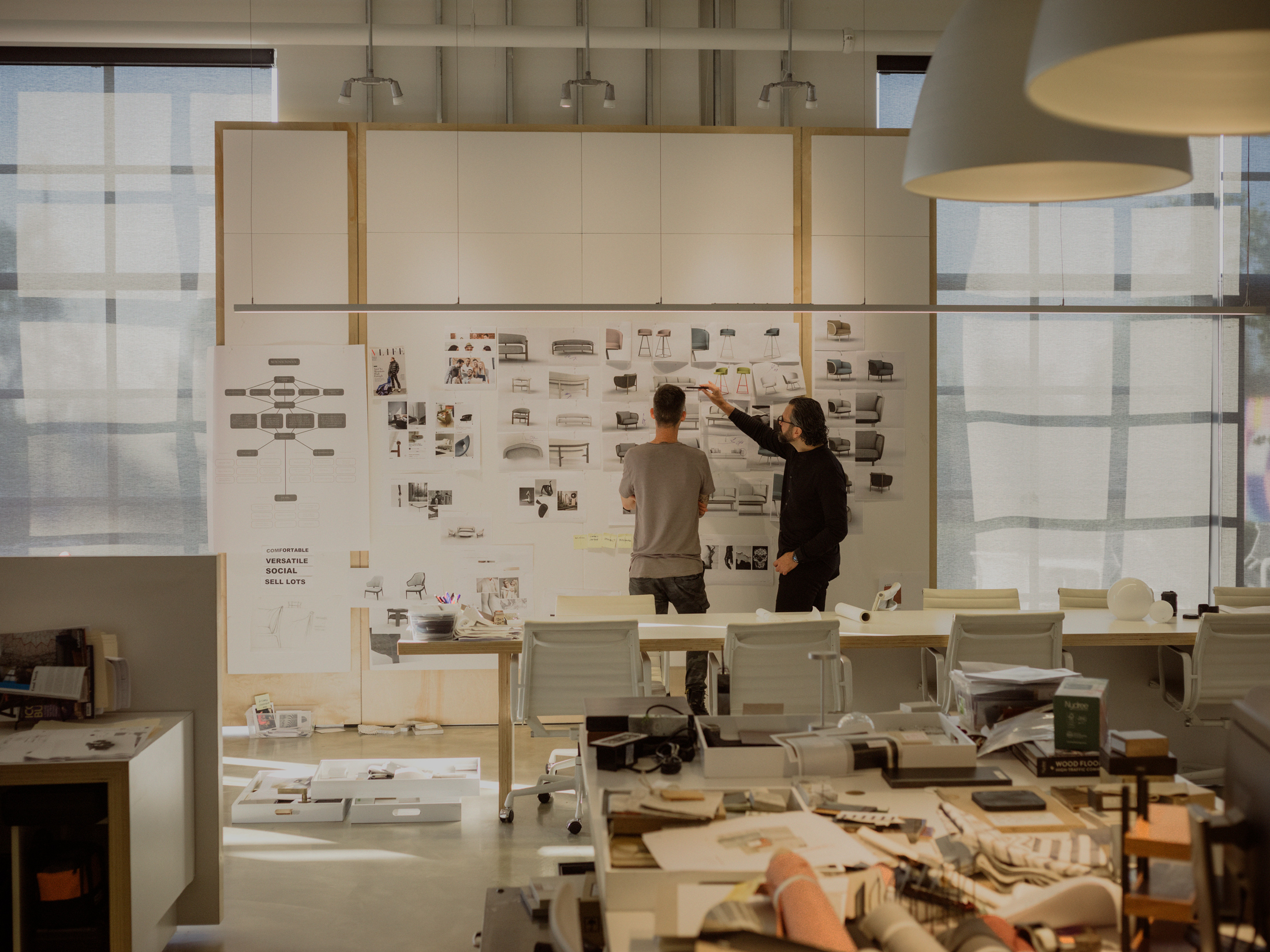 Munge's process often starts with photos of the people he imagines will use the space. A story then develops around those people, including where they come from, if and how they know each other, and why they've arrived in a location. "It's certainly not paint by numbers," he says. "It requires a lot of empathy and understanding. But if you can evoke strong feelings in a place, it connects people more deeply. It becomes a much more effective design."
In an industrial area in the north end of Toronto, Munge's office is located in a massive converted warehouse. There are a few artsy touches—like a series of Alexander McQueen scarves, laid flat and framed under glass behind the front desk—but it's otherwise remarkably undecorated. The large boardroom is entirely white (save for one painting), as is the open space where dozens of designers busily work. Although his projects for clients are never so spare, Munge prefers this blank canvas approach. It means that when a hotelier or restaurateur comes in for a meeting, they aren't distracted by pre-existing design features. It also means his team is always motivated to fill the white walls with fresh ideas.
To foster the creative frisson, Munge has also cultivated a highly collaborative environment. His desk (a mid-century-modern piece from Italy) is located in the corner of the studio, but he almost never sits at it. Instead, he constantly hops from team to team, unrolling tracing paper and drawing his ideas as he goes. "I've never been the kind of person who feels uncomfortable drawing in front of other people," he says. "The pressure helps me think."
In the basement of the studio, there's an open concept gym that is complimentary for staff, and facilitates team bonding. Weekly yoga classes are taught by one of the interior designers, weekly Muay Thai classes led by one of the industrial designers. "Seeing people in that different context, boxing or sparring together, helps us all relax around each other back in the studio," says Munge, who originally installed the gym for himself, frustrated that his work schedule made visiting a gym impossible. "We get to know each other on a different level."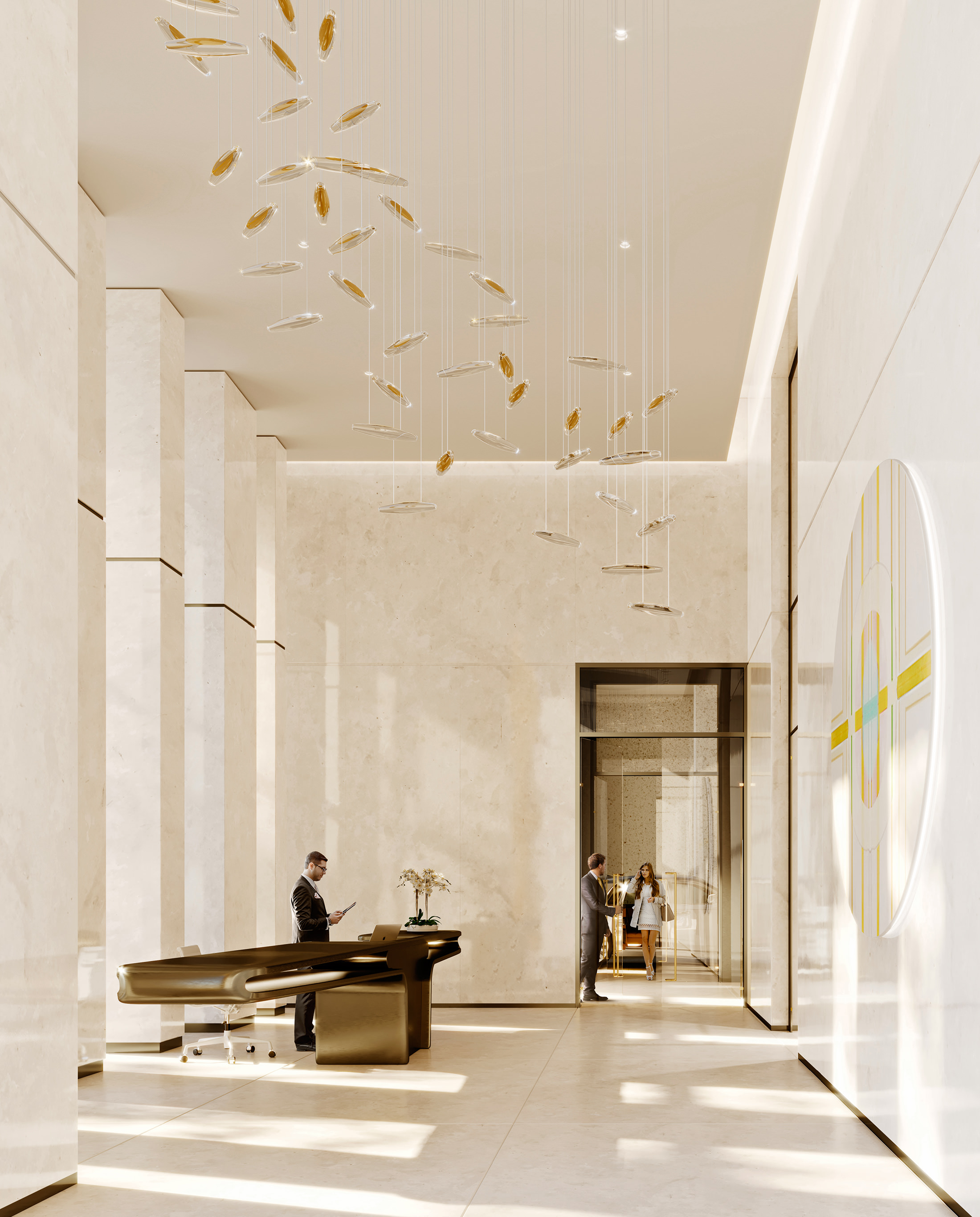 Working well with others has been at the core of Munge's approach since his days helping with his mom's drapery business. After that first time he drew the window coverings, his mom took him on more sales calls. "The kid designing was attractive to people," he says. "So we took the show on the road and started closing larger and larger contracts." The job allowed him to develop his creativity, but it also showed him the value of building long-lasting, trust-based relationships—the kind that are necessary for a design-based business such as his mom's, and later his own, to flourish.
One of Munge's first independent commissions was from Charles Khabouth—the Toronto hospitality entrepreneur and CEO of Ink Entertainment—for the popular Guvernment nightclub. Opening in 1996, it hosted everyone from the Rolling Stones and Bon Jovi to Deadmau5 and Tiësto (it was shuttered in 2014 when the land was sold for a condo development).
Khabouth is notoriously demanding and has even been known to climb a ladder to change light bulbs in his bars if he thinks the atmosphere is off. But he liked working with Munge because he was always available to talk through decisions. "Alessandro and the Studio Munge team have an impressive ability to understand our projects' concept and varying target audience, as well as my vision—whether for one of our restaurants, our hotel, or nightclubs," says Khabouth. "Maturity and sophistication come across in all of their work. Their attention to detail is exceptional and provides layers of decor to appreciate, while delivering on unique experiences we strive to create." In the years since Guvernment was built, the two have collaborated on over 30 spaces, including the aforementioned Sofia and Bisha.
Munge's business acumen has been instrumental in helping him make a strong case for his ever more ambitious projects. Because he creates superdetailed rooms (with custom furniture, et cetera), he needs big budgets. The payoff is that his spaces tend to build loyal followings, grossing a premium per square foot that more than covers the extra costs. "I'm always thinking of ways to not only improve my designs, but my clients' businesses," Munge says, noting that his Lago at the Bellagio in Las Vegas—an open, airy space with a view of the resort's famous fountains through floor-to-ceiling windows—is one of the most profitable restaurants in MGM's vast portfolio.
"To me, it's still magic that since I was 13 or 14 years old, I've been able to draw out these things that not only get built, but put food on the table," he says, "helping not just me, but my team and my clients. And all of this just relies on some sketches." 
_________
Never miss a story. Sign up for NUVO's weekly newsletter.