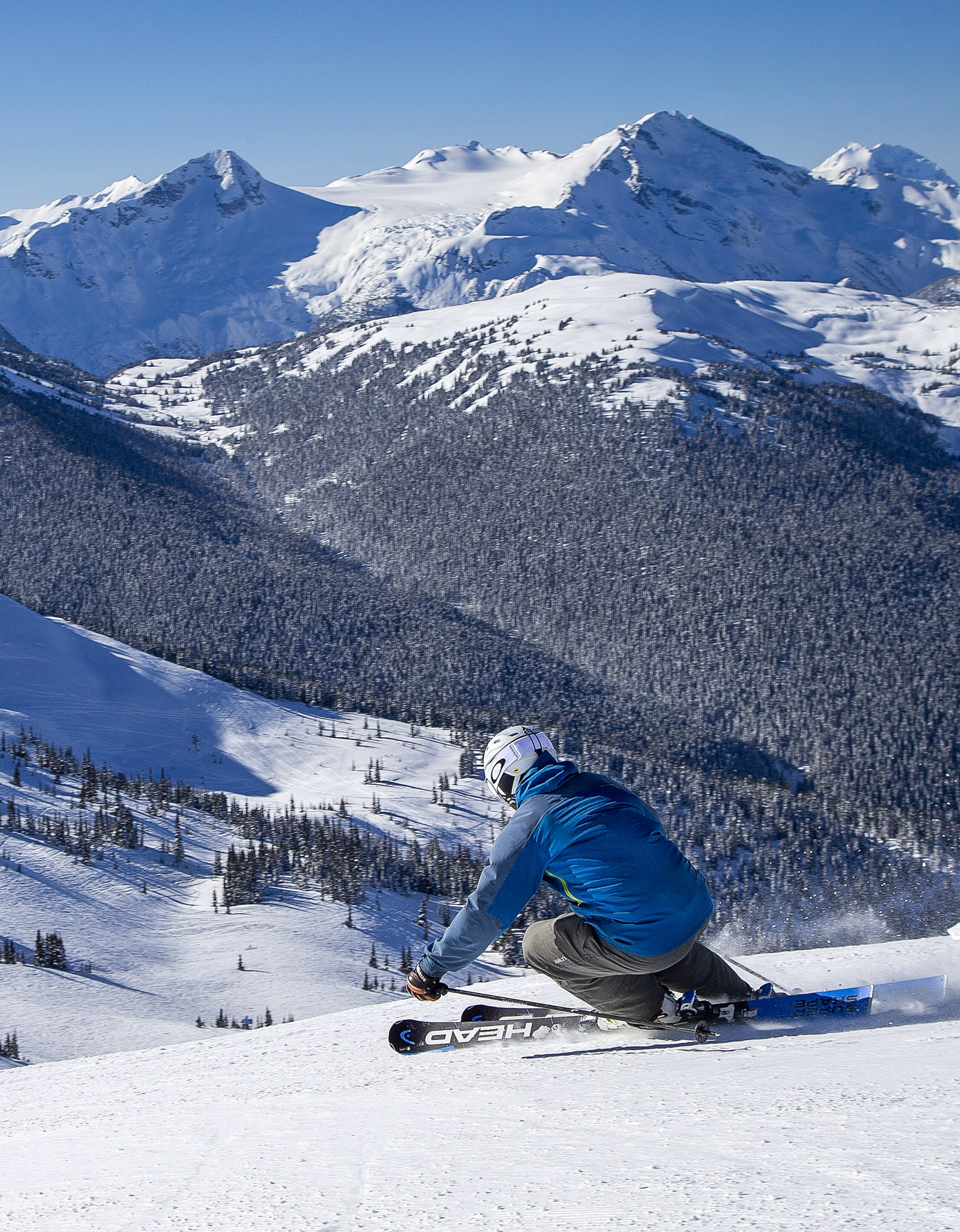 Hugh Smythe has seen Whistler Blackcomb mountain resort through its first half century of history. On January 15, 1966, when the mountain opened, he was an 18-year-old volunteer ski patroller, driving up on weekends from Vancouver. It was the beginning of a career that has seen Smythe play a central role in the development of what's arguably North America's most successful mountain resort.
"This is pretty great, isn't it?" enthuses Smythe, looking out the expansive windows of Christine's restaurant on Blackcomb for a mid-day meal break. Though long retired from the helm of Whistler Blackcomb, Smythe still takes to the slopes 70-plus days each season. "I like to experience Whistler as a local now," he says, although he can't help but run a critical eye over the workings of the mountain.
No one figures more prominently in the history and development of Whistler Blackcomb than Smythe. He has been present at, and played a role in, almost all of the key moments in its development. Among the highlights: leading the group that was awarded the rights to develop Blackcomb in 1978 and the opening of Blackcomb in 1980; meeting Intrawest CEO Joe Houssian and convincing his company to buy into Blackcomb; bringing a T-bar lift to Blackcomb and opening 7th Heaven Summit; bringing Whistler and Blackcomb together as one company; the awarding of the 2010 Winter Olympics to Whistler and Vancouver; and the opening of the Peak 2 Peak Gondola.
The Whistler Valley had for centuries been a primary route used by First Nations to traverse the dense Coast Mountains to reach the Pacific Ocean from the British Columbia Interior. In 1914, the railway came through, connecting the mining and timber production of the Interior with the port of Squamish, 60 kilometres south of Whistler. The same year, a fishing lodge opened on Alta Lake in the Whistler area. For all its proximity to Vancouver, Whistler was isolated. Until the late 1950s, there was no road from Vancouver to Squamish. The journey was made by ship.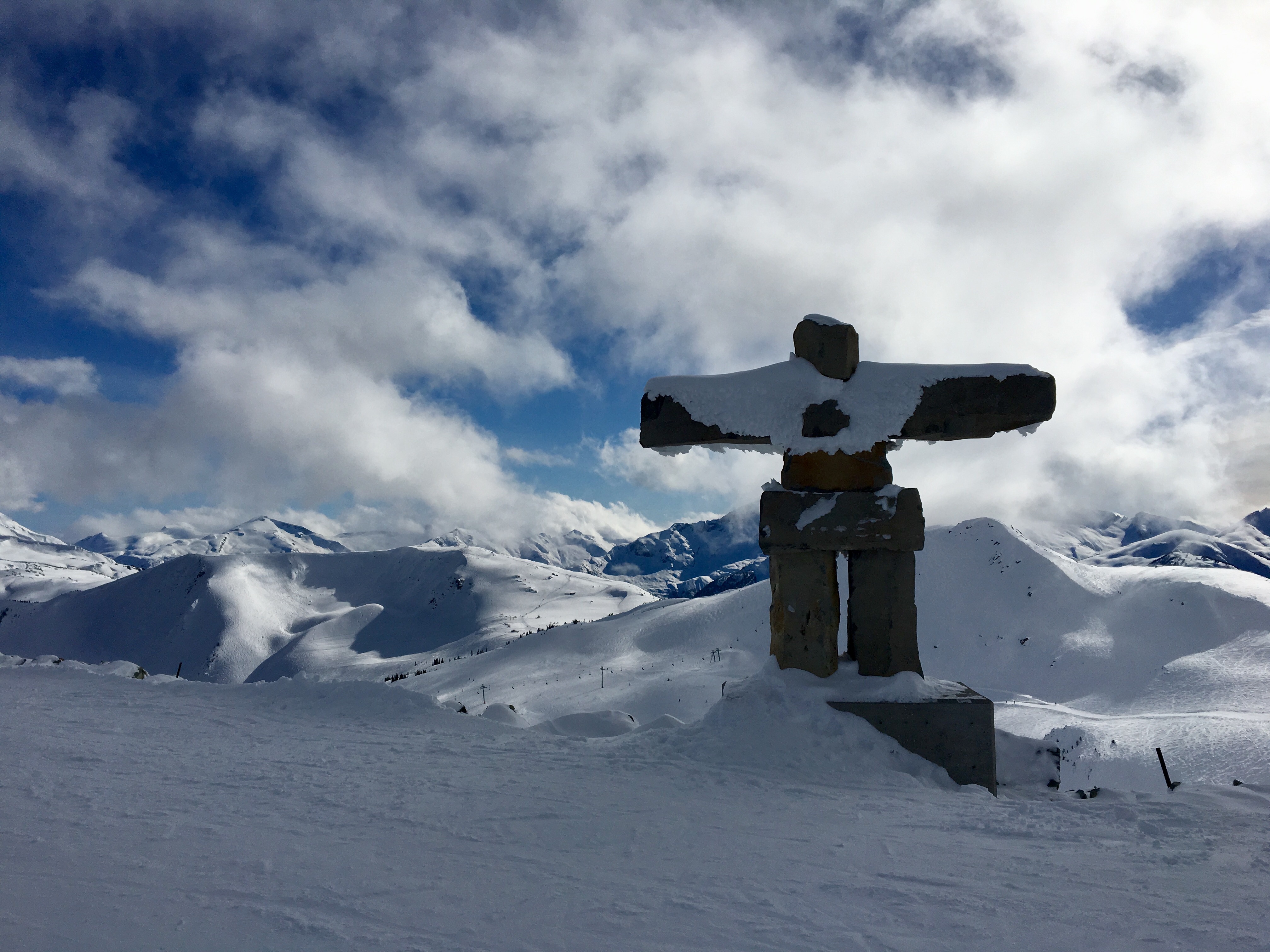 The Winter Olympics held in Squaw Valley, California, in 1960 inspired a group of Vancouver businessmen led by Franz Wilhelmsen to search for a similar place in the Coast Mountains. They found it at Whistler. The Olympic dream was a long shot, given how raw and remote Whistler was, but six years later, after struggling to raise financing, Whistler Mountain opened. There was a four-person gondola, one chairlift, two T-bars, and six runs.
No one figures more prominently in the history and development of Whistler Blackcomb than Hugh Smythe; retired from the helm of the mountain resort yet still takes to the slopes 70-plus days each season.
"Those early days," says Smythe, "the place was rudimentary and rugged, but there was a fun, can-do attitude that prevailed." Working first as a volunteer patroller and later hired on full time, Smythe was named head of ski patrol at age 20. "I was lucky. Twenty and patrol leader. It's important to give young people a chance to step up to the task, but those things don't happen that much today," he says. Smythe recalls marking the base terminal for the first Green Chair with Wilhelmsen, Whistler's first president, where Ego Bowl and Jolly Green Giant meet. Wilhelmsen was in a helicopter above dropping rolls of toilet paper to mark the location. Smythe was on the ground trying to spot the toilet paper in the trees.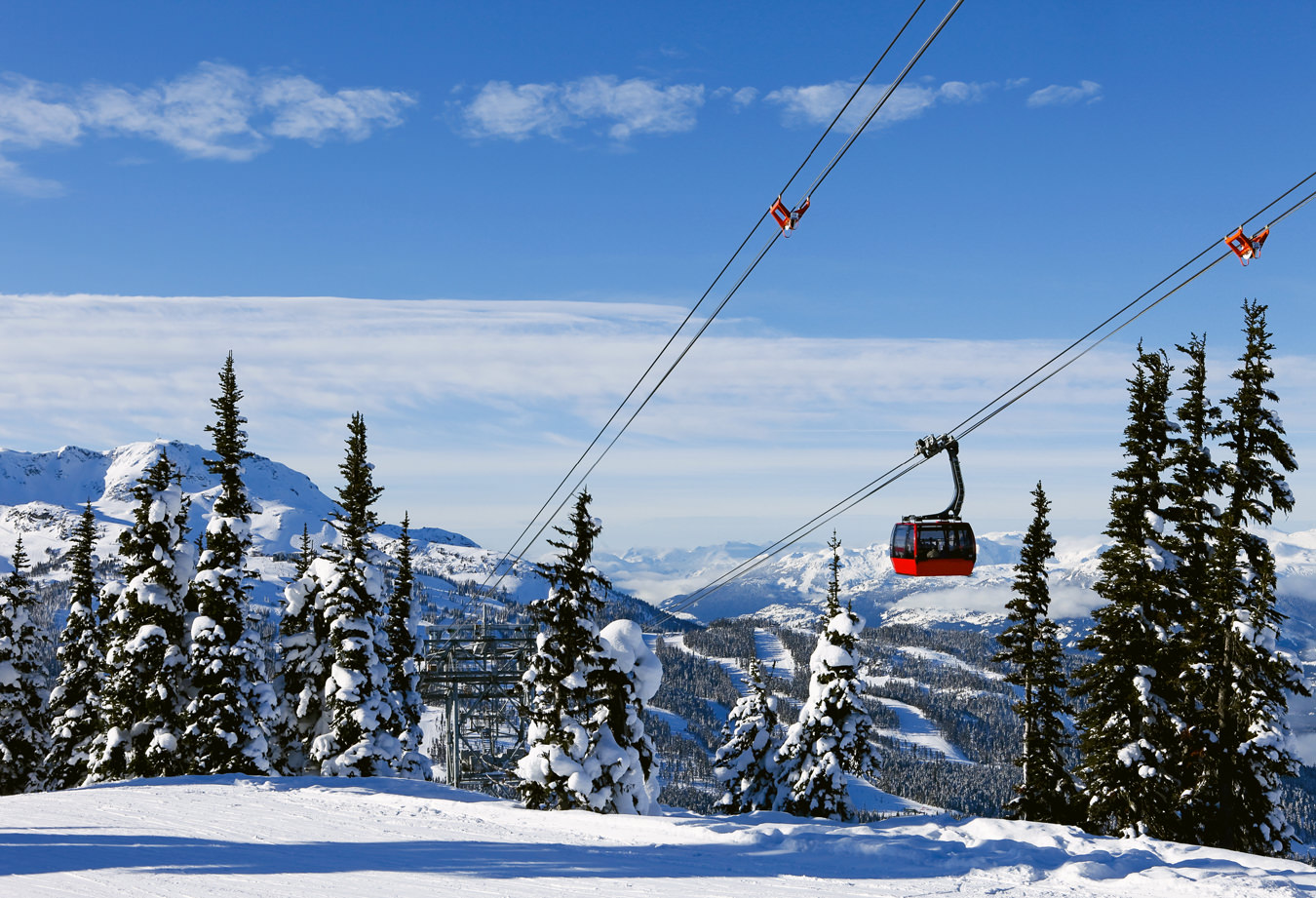 After a hiatus in Alberta from 1974 to '78, Smythe returned to B.C. to build and open competing Blackcomb. If Whistler was the elder statesman, Blackcomb was the young punk. Snowboarders were welcomed at Blackcomb, but banned at Whistler. Smythe draws a clear distinction between what he calls "the hardware" of the industry—the lifts, the buildings—and the "software", or the people side. "You have to bring the software: the right team, the right people in place, the right motivation. We were quite a bit smaller than Whistler; they had their customers, we were fostering ours."
Things weren't all rosy during the first few years of operation. The unlikely saviour of Blackcomb at the time was a T-bar Smythe acquired from his old resort of Fortress Mountain in Alberta, and under cover of darkness, moved it up onto what is now known as 7th Heaven, on the south side of the mountain. As Smythe points out, the T-bar served three purposes: it opened up a vast area of mostly alpine and glacier skiing; it increased the vertical drop to over 5,000 feet; and "It was in clear view of Whistler, enticing skiers from that mountain to come on over."
Smythe was the catalyst that brought Houssian and Intrawest into the mountain resort business. They met at a Young Presidents' dinner in January 1986, and by July Intrawest had bought a 50 per cent stake in Blackcomb. The company put capital into new lifts on Blackcomb, and the Benchlands real estate area began to be developed. Blackcomb's success resulted in competitive development on both mountains and the eventual amalgamation of Whistler and Blackcomb in 1997. The competition was over, and North America had a ski area beyond compare.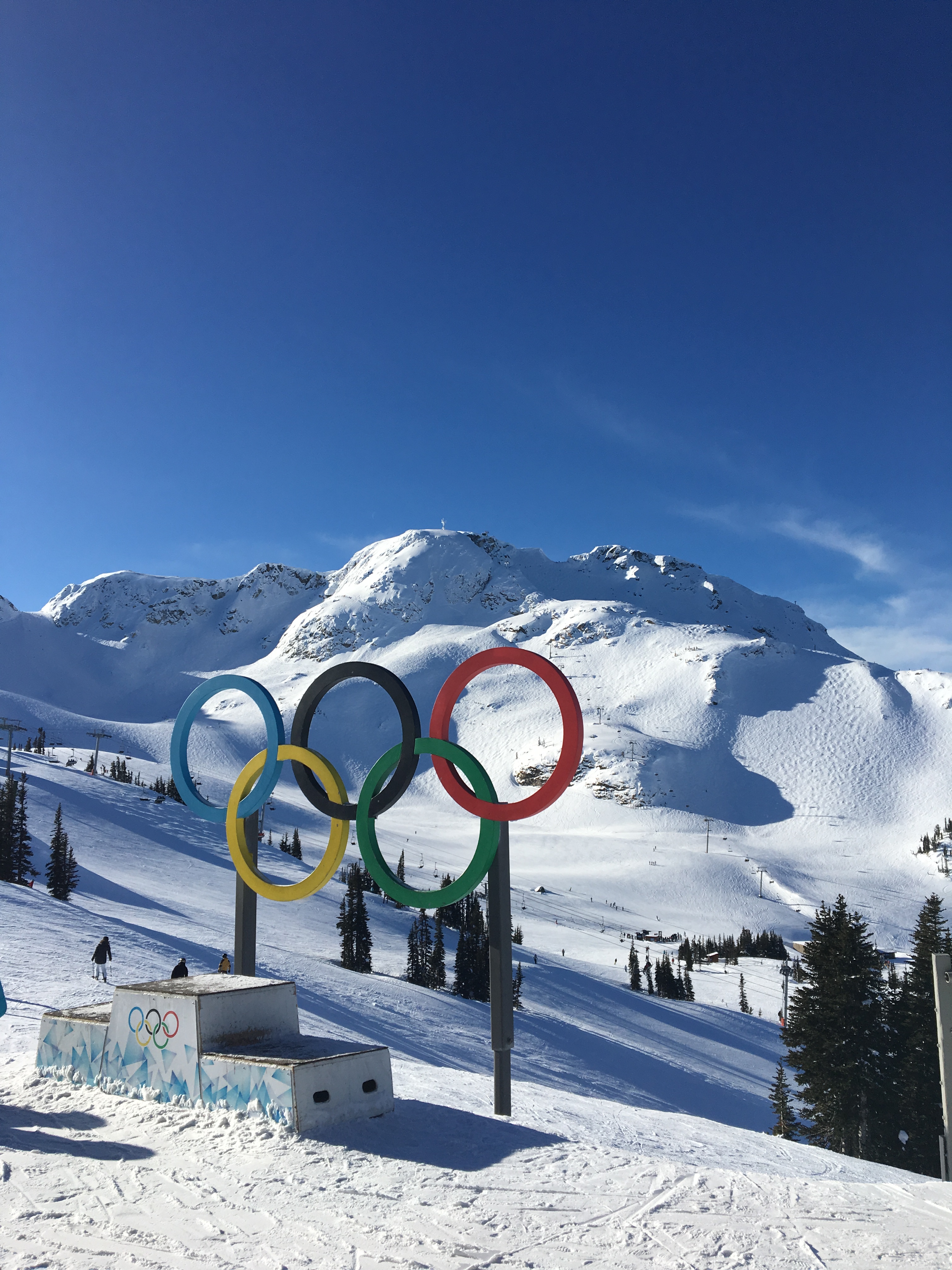 Probably nothing exemplifies Whistler Blackcomb's dedication to innovation more than the Peak 2 Peak Gondola. The awe-inspiring engineering feat bridging the gulf of the Fitzsimmons valley is the longest unsupported span in the world. Some thought Smythe was crazy when he unveiled the plans for it in 2005 with a price tag of $52-million. "It wasn't easy," he says. "There was a lot of opposition, and from inside our own company too." The 4.4-kilometre journey is the single best way to make the most of a day on Whistler Blackcomb. In just 11 minutes, you can move between mountains to chase the sun or seek new powder stashes.
To ski, flat out, from the top of one of the mountains to the village, with only the absolutely necessary 30-second stops to let your legs recover, will take an advanced skier 15 minutes on the wide-open groomed trails.
When the Winter Olympics came to Whistler in 2010, they shone a global spotlight on what those in ski circles have been savouring for decades: the epic terrain, death-defying drops, and stunning vistas that make the resort a world-class destination. Indeed, the 8,171 acres of Whistler Blackcomb are a snow lover's paradise, featuring breathtaking bowls, Olympic runs, and everything in-between, including more than 200 trails, three glaciers, 37 lifts, and 16 alpine bowls. There is a staggering amount of diversity of geography, from laid-back groomers ideal for cruising to bowls and steeps that give even the most hard-core skiers and snowboarders a run for their money. In terms of difficulty, the two mountains are pretty similar, though Blackcomb, which has a reputation for being a bit more hard charging, might be better suited to more advanced skiers, with a steeper fall line and less beginner terrain. Still, that shouldn't deter newbies, as there's plenty of green-to-blue terrain to keep you happy. A solid week of skiing will not see you complete all the runs. To ski, flat out, from the top of one of the mountains to the village, with only the absolutely necessary 30-second stops to let your legs recover, will take an advanced skier 15 minutes on the wide-open groomed trails. Take a detour through the trees, and it can stretch to 30 minutes.
Smythe retired in 2009. Skiing with him is a stop-and-go endeavour, as personnel feel compelled to greet the man whose foresight and ingenuity has made him one of the best mountain operators out there. As we unload from the 7th Heaven Express chairlift, Smythe points his pole to the right and says, "Come over here." There's a trail marker that reads Hugh's Heaven. "Normally, you'd be dead before they name a run after you," he says with a chuckle. "It was a nice surprise for my 60th birthday."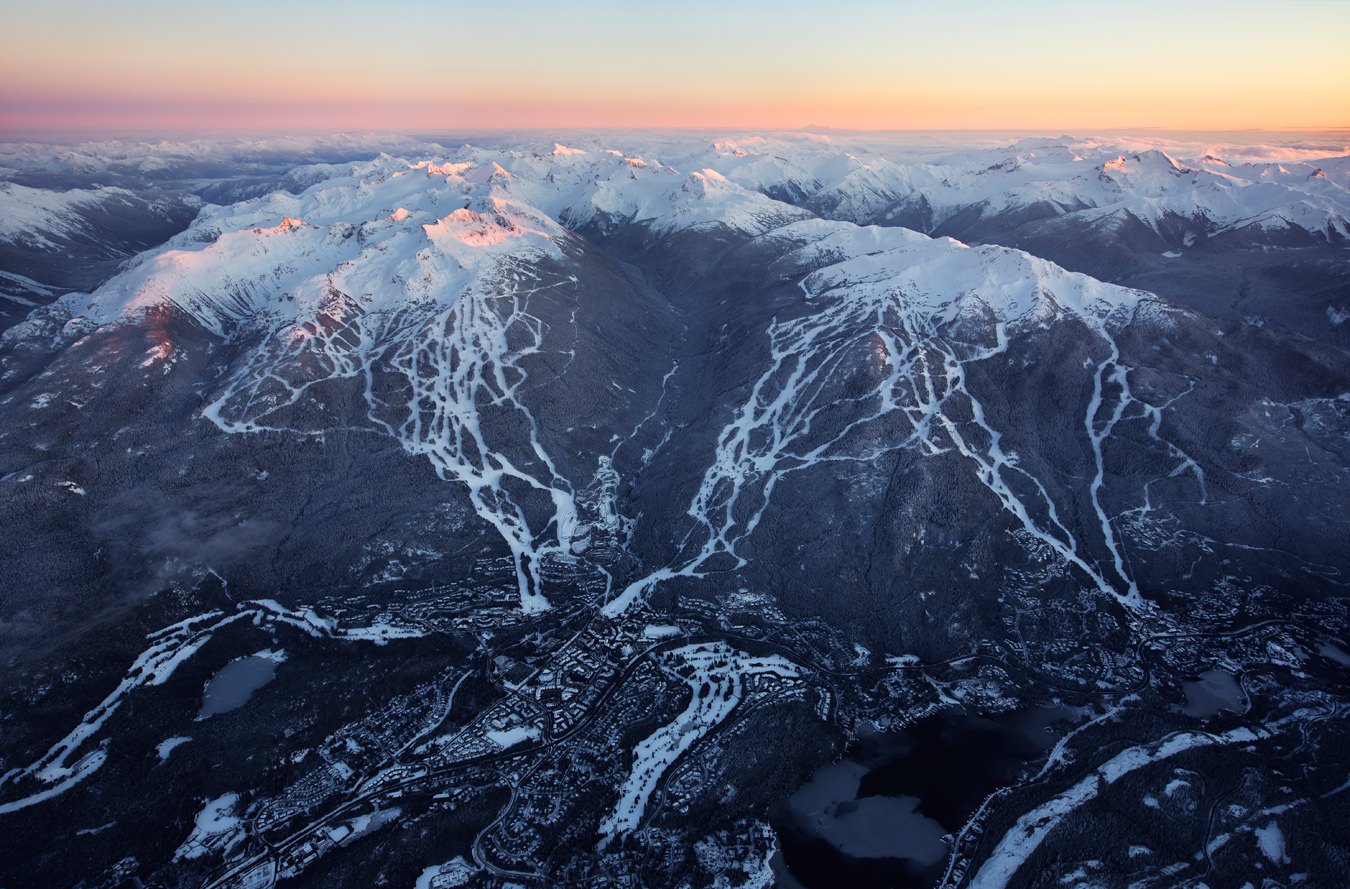 Whistler is facing the same ongoing scourge as ski areas worldwide: climate change. The 7,000-year-old Horstman Glacier is melting, and the pace has accelerated in the past 15 years. Smythe points out how the Horstman T-bar has been moved 60 metres from its previous location as a result of the receding glacier.
While Whistler Blackcomb is defined by snow and winter, that's only half of what makes it special. It's also long, warm summer days that start with ripping trails in the world's best mountain-biking park or a hike through pristine alpine peaks. "There's been ups and downs of the economy through all the years, but this is the busiest mountain resort community on a year-round basis," he says. "There's nobody else that comes close."
Earlier this year, it was announced that Colorado-based Vail Resorts had acquired Whistler Blackcomb for $1.4-billion. This is being touted as a friendly American takeover that will bolster the mountain resort's expansion plans. Time will tell what transformations take place at one of the most visited ski resorts in all of North America. As for the 69-year-old Smythe? "I have yet to finish playing in my sandbox."
Whistler Blackcomb, 4545 Blackcomb Way, Whistler, BC V0N 1B4, 604-967-8950.