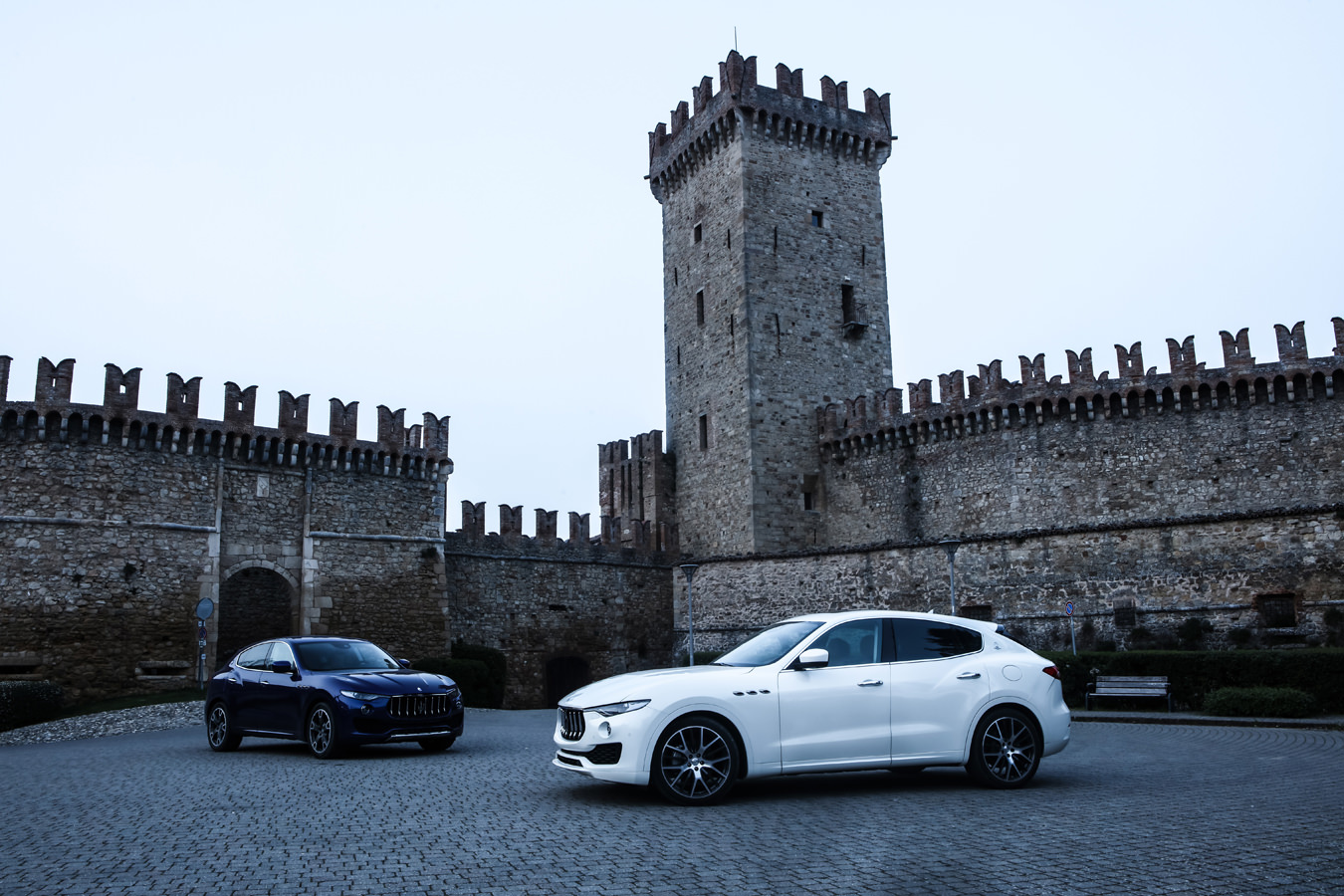 Will the world accept an SUV that's a Maserati?
The question would pose a much greater conundrum except that it has, of a fashion, already been in play for more than a decade. When Porsche's Cayenne hit the market in 2002, car enthusiasts were up in arms—it seemed nothing was sacred. Since then, a Cayenne has lapped the Nürburgring racetrack in under eight minutes and holdouts such as Jaguar and Bentley have thrown their hats into the SUV ring, which is now the largest luxury automotive segment in the world.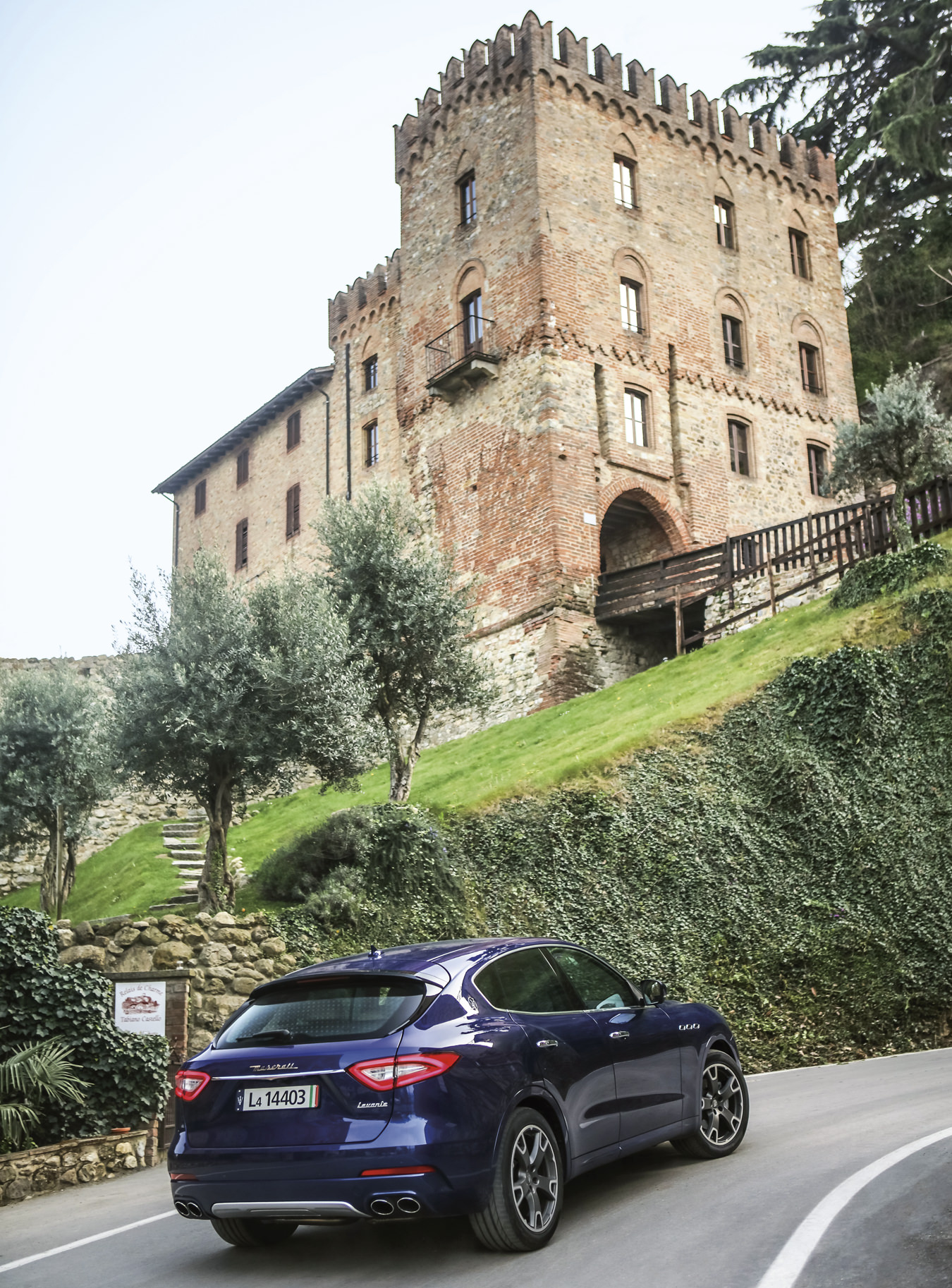 The fact that Maserati is entering this space launches a different discussion. Can Italy—where many of the world's fashion conventions are defined, not followed—tolerate one of the country's greatest automotive marques producing something so pedestrian, so utterly functional? The term "utility vehicle" alone feels painfully out of place among those at the forefront of style.
It was on the banks of Lago di Garda, with the Dolomites as a backdrop, that the new Maserati Levante met its ultimate test. With the city of Modena, one of Italy's automotive epicentres, less than two hours away, how the Levante fared under the scrutiny of the locals would act as a barometer for its upcoming reception around the world. They embraced it like the nonna they hadn't seen in years.
Elderly gentlemen nodded approvingly as the Levante passed by. Groups of schoolboys erupted into raucous cheers from the sidewalks. Every parking space the Levante graced became the site of an impromptu car show. Part of that excitement was no doubt fuelled simply by seeing Maserati release an entirely new model, and the resurgence the brand has been enjoying in recent years.
On the banks of Logo di Garda is where the Maserati Levante met its ultimate test. How would it fare under the scrutiny of the locals?
But discerning Italian eyes would never so easily accept a vehicle that was anything but a genuine fashion paragon, which is where the work of Maserati's Turin-based designers has paid off most (the Levante is produced there at the Mirafiori plant).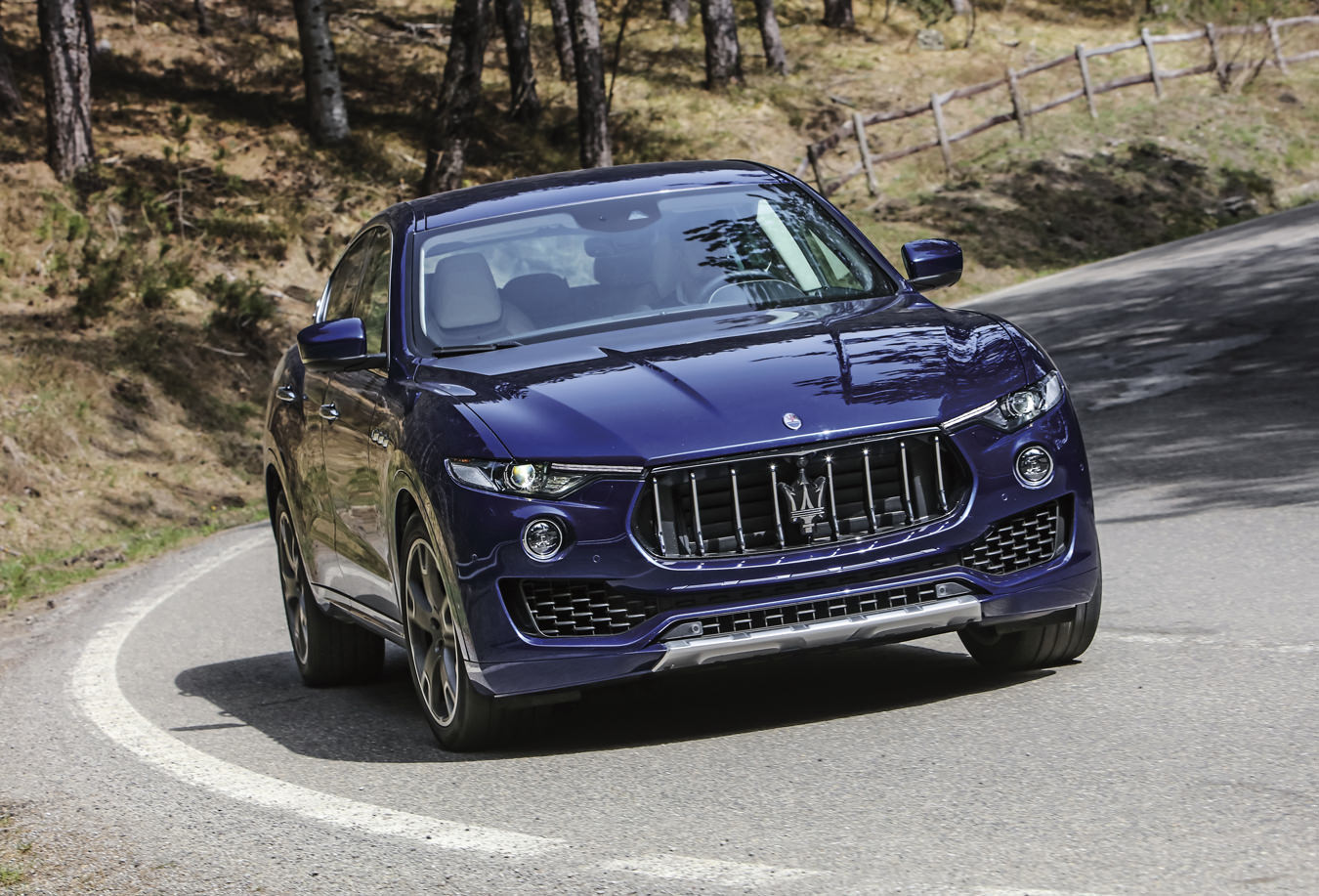 Their aim was to make the Levante as sleek and sedan-like in profile as possible while maintaining the roomy interior proportions that SUV owners desire. The stately grille houses Maserati's first-ever electric air shutter, and its headlights lead to an elongated hood and engine compartment. The coupe-shaped cabin curves up and over to join Maserati's signature rear pillar, emblazoned with the Saetta trident logo. The result is a streamlined body profile with a drag coefficient of 0.31, which means the Levante slips through the air better than anything else in its class.
In North America, that engine compartment exclusively houses Maserati's gasoline-powered 3.0-litre twin-turbo V6, co-developed with the Ferrari powertrain team in Maranello. A diesel version is available elsewhere, but most likely won't reach our shores.
The lower output version, in the base Levante (which starts at $88,900), is more oriented toward fuel efficiency and makes 345 horsepower while delivering 369 lb-ft of torque from a respectably low 1,750 rpm up to 5,000 rpm. The higher output iteration, fitted to the Levante S (priced from $98,600), produces 424 horsepower and in sport mode—one of four different modes, which include normal, I.C.E., and off-road—creates up to 428 lb-ft through the same range and up to 5,000 rpm.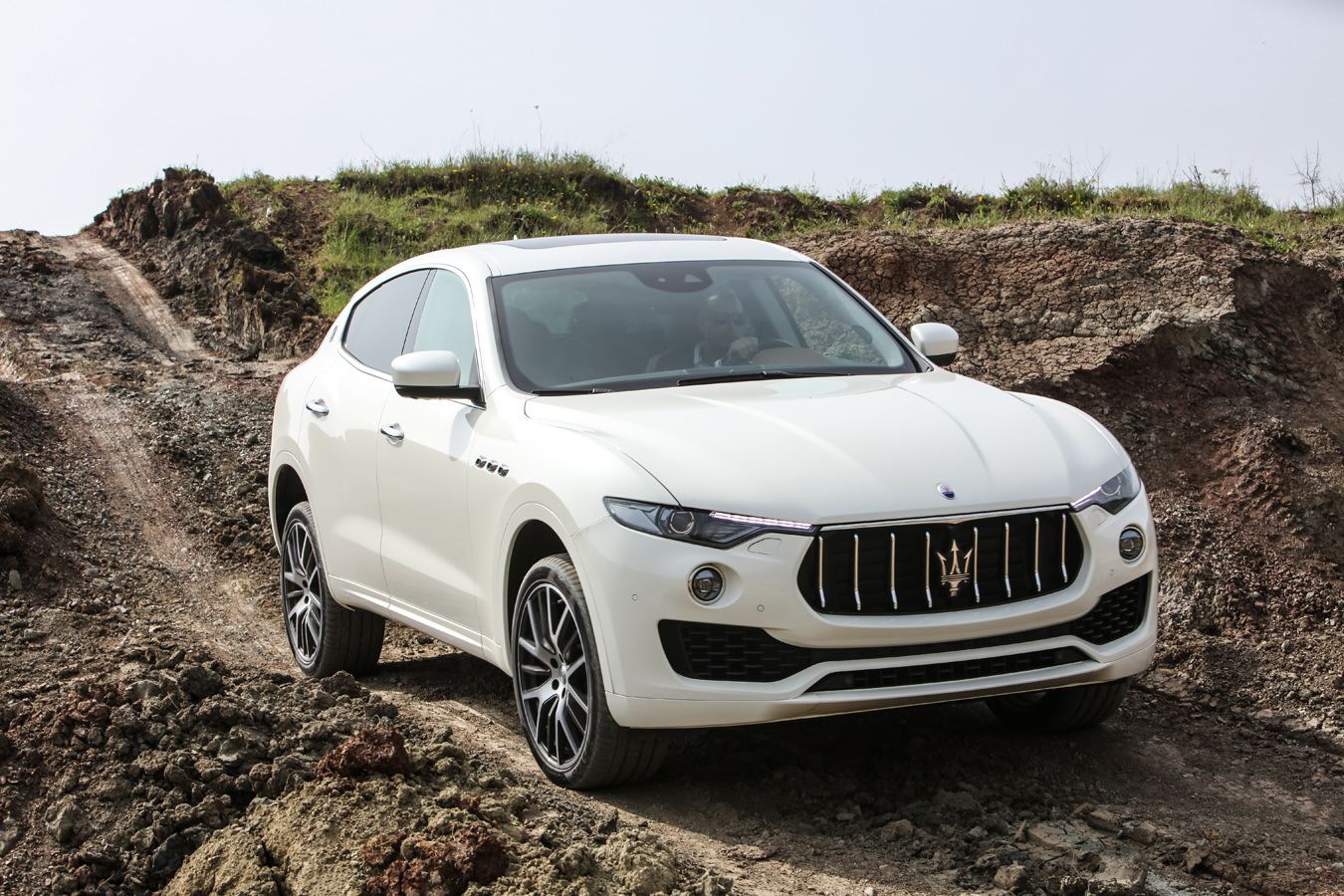 In that same sport mode (available on both engines) is where another key automotive styling aspect shines through whose importance cannot be understated—the sound. In normal driving mode, the engine is refined and serene, but sport mode opens a set of exhaust valves that let the Levante unleash an almighty roar from its twin double tailpipes that does justice to the many Maserati performance cars that have come before it.
The eight-speed ZF transmission aids in fuel efficiency while shifting seamlessly even under high demand, and the standard all-wheel drive makes the Levante as capable of adventure as discerning SUV buyers would expect.
On northern Italy's narrow, winding, and hilly roads, the Levante came across as strong, capable, and consistent.
The interior is rife with flowing tension lines that tie together every element of the space. The seats, upholstered with supple leather as standard and available with contrast stitching, can also be fitted with inserts made from a bespoke, highly durable chevron-woven fabric made of the finest silk, supplied to Maserati by another Italian style icon, Ermenegildo Zegna. (Another upgrade option is the Zegna Luxury Package, which combines premium leather with silk from the Ermenegildo Zegna wool mill in Trivero.)
Three state-of-the-art sound systems allow the owner to decide how deeply to appreciate art of the aural variety. The standard eight-speaker system can be upgraded to a 14-speaker, 900-watt Harman Kardon set-up or a 17-speaker, 1,280-watt Bowers & Wilkins surround sound system. The latter includes the Clari-Fi function, which removes distortion and corrects waveform loss in comp-ressed audio files to improve sound quality.
The panoramic sunroof gives the Levante a sun-kissed interior feel. Maserati's 8.4-inch touch screen infotainment system is based on the critically acclaimed Uconnect system, but has been upgraded to make it faster and more responsive, and the multitiered input control is intuitive and efficient. Apple's CarPlay and Siri personal assistant, as well as Android Auto, come standard.
However, the owners of high end SUVs have demands that Maserati has never before needed to satisfy, a challenge taken head-on with features such as optional luggage rails for the 550 litres of rear cargo space, a power liftgate available with a kick sensor to make it fully hands-free, roof and bicycle racks, hill descent control, and—for the first time in Maserati's history—an optional tow hitch the Levante can use to pull up to 2,700 kilograms.
On northern Italy's narrow, winding, and hilly roads, the Levante came across as strong, capable, and consistent. One minute its demeanour is composed and its interior near-silent; but when summoned, the Levante becomes loud, spirited, and a joy to unwind around corners, courtesy of its 50:50 weight distribution, lightweight build, low centre of gravity, and standard air suspension.
Though it would likely handle respectably were one to take it to the track, precious few Levantes will ever see such use. However, it does exactly what a performance-oriented SUV is meant to do—it makes mundane journeys significantly more pleasurable, which is all the vast majority of prospective buyers would ever ask of it.
Every parking space the Levante graced became the site of an impromptu car show.
The irony of all this is that the Levante is as desirable a luxury mid-sized SUV as can be found anywhere, which means that it should be near the top of the list for every Canadian shopping in what is here a very healthy segment. But it seems too large and impractical a vehicle to be of interest to very many Italians.
Nonetheless, the immense pride of ownership Italians feel for this beloved marque and its newest model is effusive. It shows in the support the Levante receives at every level of society, from garnering approving whispers of "Maserati" from street corners as it rolls past to providing inspiration for one of Italy's most revered practitioners of food artistry, Massimo Bottura.
Bottura is the three-Michelin-starred chef behind Modena's Osteria Francescana, which is currently rated number one on the World's 50 Best Restaurants list. And he's also a proud Maserati owner himself. On setting out in the Levante to tour the scenic roads of Lago di Garda's west coast, the interior carried a faint scent of citrus. Many luxury vehicles are perfumed these days, so it hardly warranted a second thought.
That evening, Bottura revealed that the scent is not actually part of the car at all—he designed it, and it ties into a dish he created. When placed at the table, Bottura's Levante looks like little more than an unadorned bowl of risotto. But it quickly reveals itself to be profoundly complex.
The rice is made with a broth of citrus and spice—La Limonaia del Castel, Italy's northernmost citrus house, is situated on Lago di Garda's northwestern shore in Limone sul Garda—and is prepared using a traditional work-intensive method to manually release the starch from the rice. For a final layer of dramatic intensity, Bottura's sous-chefs emerge from the kitchen to spritz the plate with the lemon-orange-bergamot scent that was present in the Maserati Levante earlier in the day. The result evoked parallels between the automobile and the dish it inspired, and contemplating them together brings forth a deeper understanding of both.Each Levante houses layers of complexity that reveal themselves over time. Each has an origin that is internationally acclaimed, yet each showcases a flair that is wholly and unmistakably Italian.