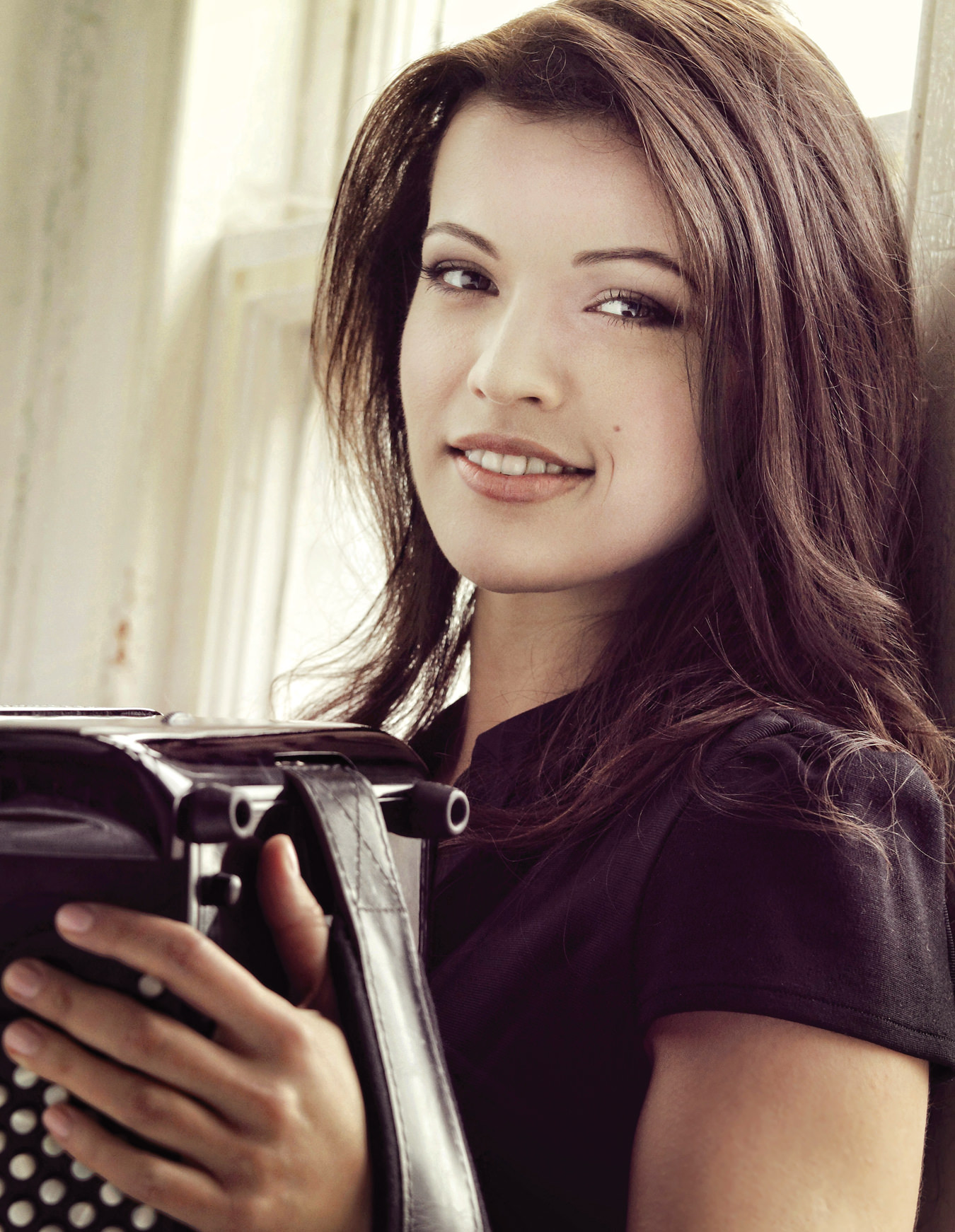 If anyone can make playing the accordion sound sexy, it's Ksenija Sidorova. Not 10 minutes into our conversation, we are already getting down and dirty about the primal pleasures of performing.
"When musicians come together on stage, having practised and performed together so much, they achieve a union. All your ideas come together as one," says the Latvian musician, smiling brightly. "You experience a kind of musical orgasm."
Sidorova delivers this somewhat intimate line as casually as she might say she prefers her coffee black. There is nothing coy or arch about the 28-year-old sitting across from me—she is simply passionate about her profession.
Born in Riga into a family with no strong musical leanings, Sidorova's fate was sealed at the age of six when her grandmother handed her an old accordion. By 12, she knew she was in this for life. "Once you taste the stage and the applause, and you feel the adrenaline, you want more," she explains. She made it harder for herself by choosing to become a classical virtuoso on an instrument synonymous with polkas and wedding marches. "I like folk, but classical is more refined," she says. "You can play one piece for a decade and never quite master it because you always have new ideas. I like that struggle."
Sidorova's fate was sealed at the age of six when her grandmother handed her an old accordion.
Sidorova displays her flexibility in terms of genre in her debut album, Carmen, from Deutsche Grammophon (with whom she signed an exclusive deal earlier this year). The album features a collection of songs from Bizet's beloved opera, using orchestral instruments in place of vocalists. Sidorova's accordion takes centre stage, demonstrating the range of the instrument's character, guided by Sidorova's skillful yet liberated playing. Though Sidorova's interpretations have received critical acclaim and her diary is now packed with performance bookings around the world, things were not always so rosy.
"When I was starting out, I heard 'no' a lot," she admits. The repertoire Sidorova has available to her has also been a challenge; with the limited amount of music written for classical accordion, she has scoured the canon for works where her instrument could be transcribed successfully into a part written for something else.
"I play Mozart, Rachmaninoff—the accordion [as we know it today] was not even invented when they composed. I enjoy performing transcriptions, but only if my instrument can bring something new to it. Take a concerto to be performed with an orchestra, for example. I would transcribe the piano part for the accordion and then I would say, 'What's the point?' You lose so much of the composer's idea, so many notes. There is an old Russian proverb," she adds, paraphrasing. " 'Measure seven times and then cut.' And that's what I do."
More exciting are the new works being written specifically for accordion, many with Sidorova as muse. "It's a huge pleasure to find yourself working with composers you never thought would agree to work on music for the accordion," she states. At the moment, she is collaborating on a video game score and preparing for the world premiere of a piece for accordion and string quartet written for her by Sergey Akhunov.
Despite her passion for classical music, Sidorova likes a good pop tune; she's played live with Sting and British boy band Blue. But surely none of that matters if you can't bring the magic on stage. "No audience will accept something unnatural. Once you are on stage, you truly share your more intimate moments with the audience."
_________
Never miss a story. Sign up for NUVO's weekly newsletter.