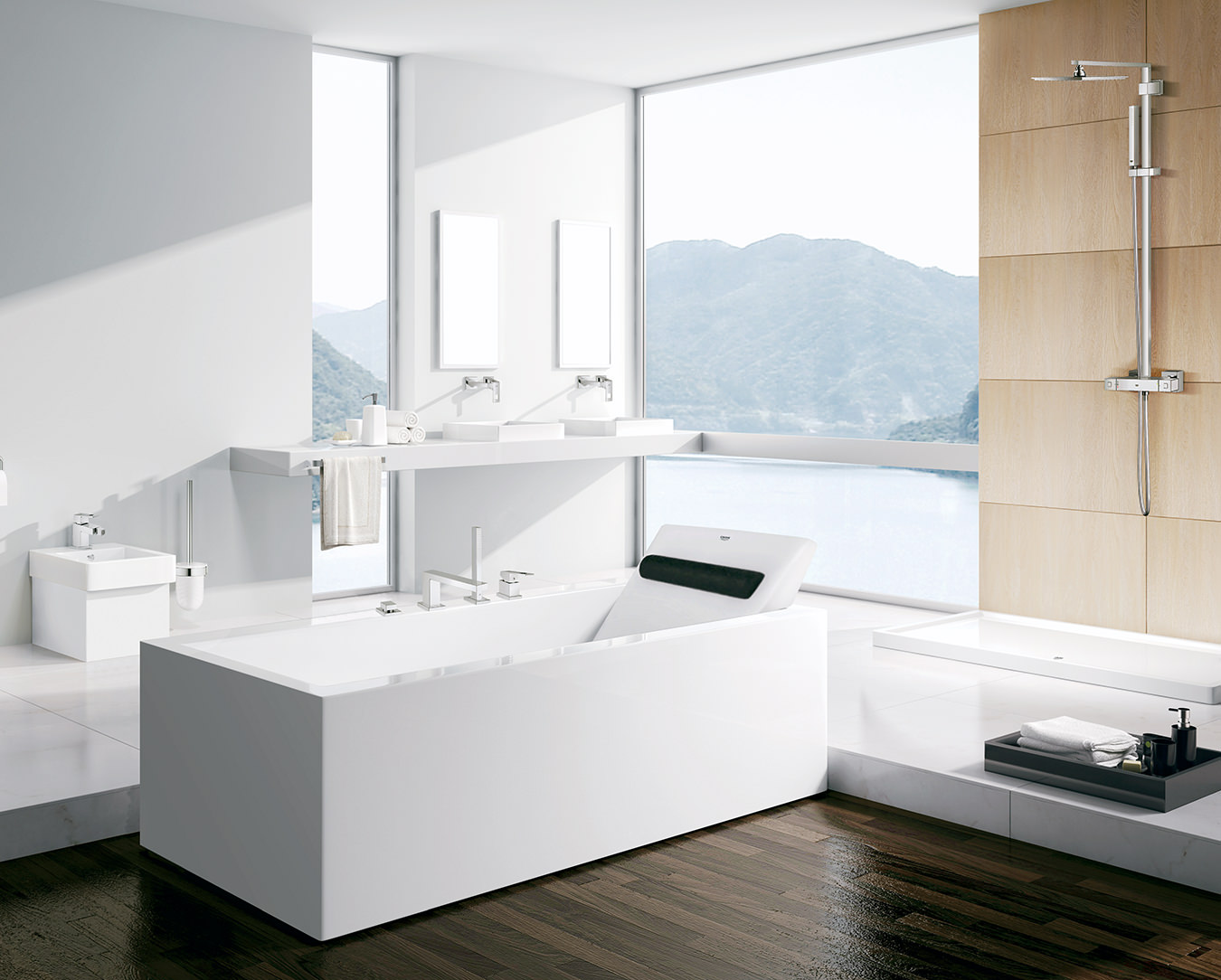 To most people a faucet is a faucet, a spigot whose sole function is to dispense hot and cold water for drinking and washing and that's pretty much it. But Paul Flowers, who is the global senior vice-president of design for Germany's Grohe—the world's leading supplier of sanitary fittings, which sells to more than 130 countries—waxes poetic about the utilitarian fixture the way some people do about important paintings.
In Flowers's estimation, the sweeping contours of Grohe's Parkfield kitchen faucet, for instance, "look like vases holding water." The levers, which whimsically flick upward, "were inspired by a blade of grass," he says. "When a piece of water [grows] under a blade of grass before it drops off, it creates this beautiful, natural form."
Last year, the London-born 42-year-old was at the Four Seasons Hotel in Toronto to deliver a keynote address called "The Importance of Design in the Revival of a Brand." The academic-sounding title seemed fitting as Flowers wanted to convey not so much a list of products to the coterie of designers in attendance as Grohe's holistic approach to design.
Casually sophisticated, Flowers has all of the outward trappings of a designer, down to the über-cool transparent belt he bought last year at the Salone Internazionale del Mobile furniture fair in Milan. "There was a really unexpected benefit to it," he says. "I travel so much and it's amazing that it's the first time I don't have to take my belt off going through airport security."
Flowers is particularly pleased by this last point. In many ways, it highlights his own multilayered approach to design—how good design is dynamic, fulfilling functional, aesthetic, and practical roles: the belt holds up his pants, looks good, and solves a problem.
"Design isn't just superficial," notes Flowers, who sees himself as a storyteller as much as a designer. "If you have a product that looks great, but the quality is bad or it uses too much of a resource, it's not great design. At Grohe"—in his English accent, "Grohe" comes out like a sigh of relief, as grow-ah!—"we're trying to create relevant technology. How will this product last in three to five years?"
In the evolving digitized design world, where everything from smartphones to stoves undergo frenetic modification, it's a good question. "We're starting to look at more intelligent products," he says. "Digital products with which you can pause water—to shampoo your hair—or press play, and the water comes out."
One of Grohe's most interesting innovations, launched in 2012, is the F-digital Deluxe, a high-tech creation that turns showering into a seductive spa experience, complete with lighting, sound, and steam. Need to relax at the end of a day? Turn the F-digital down to dreamy blue. The shower system is currently available in Europe and will be launching in North America next year. Then there is Grohe's Sena, a sleek, cylindrical wall-mounted shower wand for the minimalist at heart, which is the firm's simplest design.
In the kitchen, practical meets pretty in Grohe's Minta Touch, a sculptural touch-sensor faucet that allows those with raw-chicken-soiled hands to turn off the spout with a tap of the forearm. The design just earned Grohe's fifth "best of the best" Red Dot award. (Red Dot has also doled design awards to bigwigs such as Mercedes-Benz and Apple.)
Before joining Grohe in 2005, Flowers learned his craft at Northumbria University in Newcastle (the same school that Apple designer Jonathan Ive attended). From there, Flowers worked at small yet prestigious London design firms to some of the largest—and most lauded—in the world, including IBM, Electrolux, and Philips.
Despite his senior role at Grohe, Flowers is still very much a hands-on industrial designer. "I sketch every day—I sketch on the plane, in my [hotel] room. I was sketching five minutes ago."
When asked what product most inspires him, Flowers gives the distinction to a hard-working kitchen faucet: "Blue is personally my single most important product that I'm really passionate about." The faucets (Blue Pure and Blue Chilled & Sparkling) thumb a nose at the plastic water bottle industry by offering pure, chilled, and refreshing carbonated water that comes straight out of the kitchen tap. "We created this as a viable alternative to bottled water, which comes from places like Fiji, where they don't even have enough clean water for their indigenous people," says Flowers.
The environment, in fact, figures into many of his designs. Grohe's EcoJoy initiative sees all products equipped with technologies to reduce water consumption by up to 50 per cent. The thermostats in the showers are so hyperprecise that they reach the desired water temperature within a fraction of a second and maintain it for the duration of the shower. But this doesn't mean you'll be suffering through meagre drops of water. The bathing experience remains luxurious—crucial to a brand whose German tagline, Pure Freude an Wasser, translates to "pure joy of water."
"Water resonates emotionally with people," says Flowers. "Gone are the days where the bathroom was just a rational place for cleaning and grooming." A poetic premise, indeed.