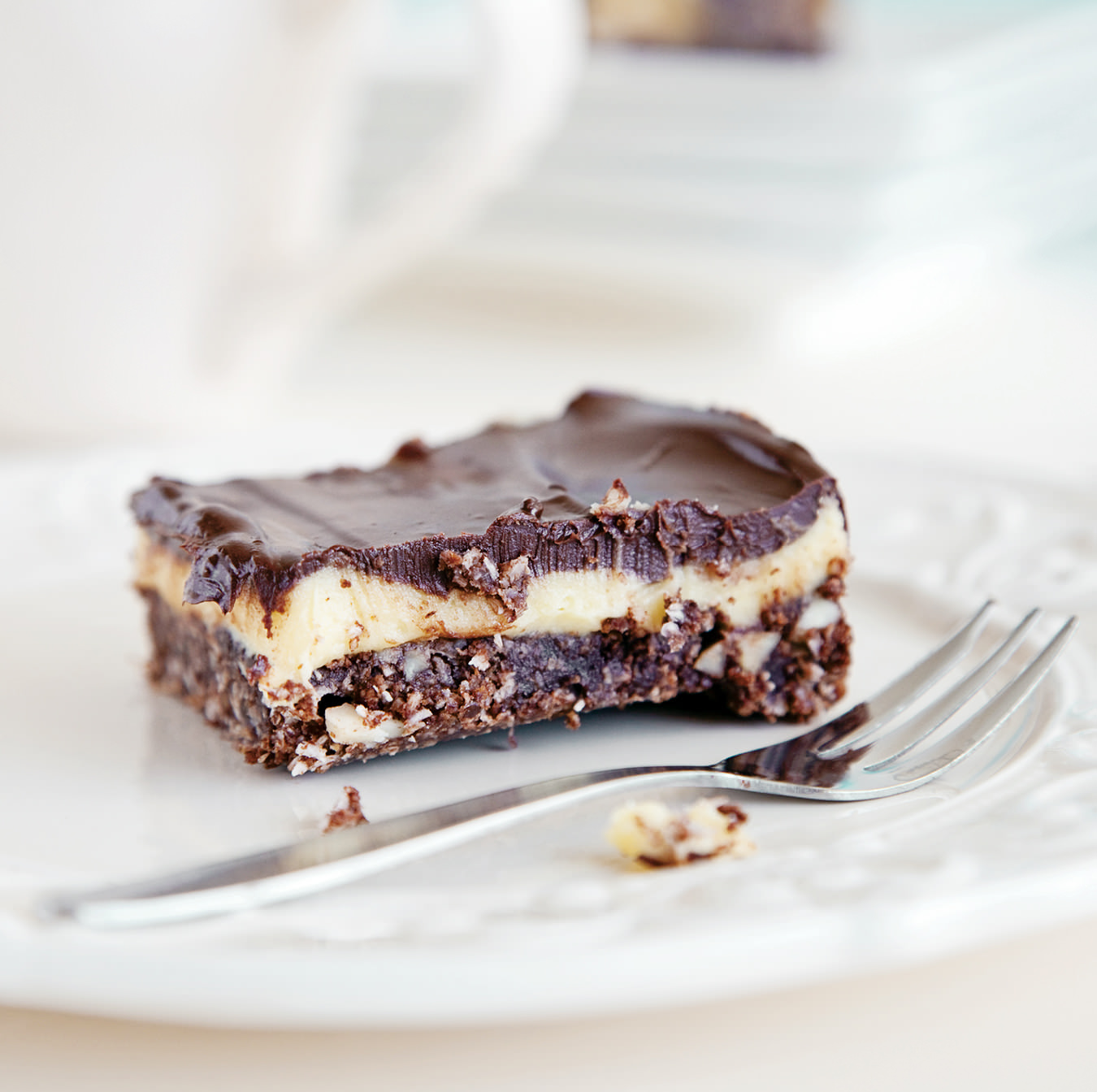 "Good things come in threes" goes the old adage. So what do you get when you add a crunchy, chewy base to an unctuous middle and top it all off with a crisp chocolate coating? Do the math and you find a Nanaimo bar in your hand.
The city of Nanaimo, a terminus for the ferries that ply the Strait of Georgia, is located on the east coast of Vancouver Island. It was once famed for coal and timber, but these days it's more renowned for its pubs and bathtub race and for being the birthplace of Diana Krall. None of this, however, has much to do with its chief claim to fame. If Yorkshire equals pudding (okay, and maybe dales and Brontë sisters), say "Nanaimo" to most people and chances are high that they'll respond with "bar". And we're not talking about the kind where you sink a pint of locally brewed Longwood Dunkelweizen.
An unholy trinity of chewy base, gooey centre, and chocolate that cracks pleasurably as you bite into it, the Nanaimo bar is a satanic alliance of coconut, crumbled cookies, nuts, butter, chocolate, and sugar, and a British touch with the addition of Bird's Custard powder (which, at one point in Canada, included the recipe on its tin).
Delving too deeply into the history of the Nanaimo bar is a tad unwise because it's stiff with contention. Some people say New York had it first (so how come it's not called a New York bar?). Others maintain that the bar has been around since the 1930s under other noms de sucre. Evidence exists that the first Nanaimo bar recipe appeared in print in the 1950s, long after, legend says, it had won first prize in a baking competition.
History moves to firmer ground when Vancouver caterer, chef, and Lazy Gourmet cookbook writer Susan Mendelson is credited with raising the bar to cult status and expanding its potential to include mocha and other versions. Mint flavouring created a fresh variant. Other riffs on the original led to blondies topped with white chocolate.
This off-the-scale pleasure for sweet lovers is frighteningly easy to make—frightening because, in the classic version, there's no baking involved, and once your square pan of sin has had a chance to chill, it's ready to eat. The typical baking tin is 20 centimetres square, but calorie count depends on the depth of the contents. Reckon that one bar, five centimetres square, has somewhere around 300 calories. But who can restrict themselves to eating just one? Even worse, in order to serve perfectly symmetrical bars it's tempting to "neaten the edges" when you square off the corners, eating the trimmings as you go.
Over the past 60 years, the fame of the insanely rich, dark little square has spread as swiftly as a room temperature bar does in warm fingers. While easterners might argue the merits of the raisin-laden butter tart, for most of the nation, the über-Canadian dessert soon became, and remains, the Nanaimo bar. This sweet treat has leapt not only the country but also the oceans on either side; these days, it shows up in Europe, Asia, and anywhere else Canadian expats crave a taste of home.
Nanaimo, quite rightly, has recognized the opportunity for showcasing its best-known edible delight. Back at the motherlode, the city's tourism people have assembled a Nanaimo Bar Trail that is just plain wicked. Along the 25 sugary stops on this self-guided tour, you can indulge in a Nanaimo bar pedicure, pick up a bar of soap or a recipe tea towel or postcard, and dip your spoon into a mousse or your nose into a martini or milkshake, all evocative of you-know-what. Nanaimo bar cupcakes, coffee, and ice cream sandwiches are more potential fuel along the way. You can sample lime, raspberry, and espresso versions, and ones with cranberries from Yellow Point Cranberries farm, just 15 minutes south. There are peanut butter, chili pepper, and Baileys variants, too.
Playing around with the basic concept is nothing new. In the late eighties at the Raintree, Vancouver's very first regional restaurant, Becky Dawson (now the owner-chef of the Leftbank bistro on Bowen Island) came up with the Nanaimo Bar Rediscovery. "The base was the same," she says, "but we changed the centre to crème pâtissière and put chocolate ganache on top. It was a softer rendition that called for a spoon and fork."
The Nanaimo bar's tripartite construction of solid foundation, soft and yielding centre, and chocolate topping cries out for reinvention. Curiously, few creative minds have replaced sugar with salt in the treat—unlike, say, macarons. But one person who has is Bill Jones of Magnetic North Cuisine, located in the Cowichan Valley (and arguably within the catchment area of the bar's birthplace). "We have made a savoury version of the Nanaimo bar, sort of," says Jones. "For a duck tasting menu, we made a savoury lemon-custard bar with a rosemary crust and crispy duck confit topping. We made the custard with duck egg." He adds, somewhat unnecessarily, "It was delicious."
Photo ©Simone Van Den Berg/Dreamstime.com.