Behind the Scenes With John Varvatos
John Varvatos may be designing for a different kind of man. But that doesn't leave him on the outskirts of fashion. It places him at the helm. It is difficult to find a parallel within the fashion community he is such an integral part of. John Varvatos has been making fashion history with his own line since the turn of the millennium, but he was much more than an unknown in the office of a design house before then. This man is the Cameron Crowe of fashion.
Sitting with him in a boardroom some 20 storeys up from the street: he sips iced tea with lemon, relaxed, unassuming, and yet you are very aware that you are sitting next to a star. First there is music. "Music has always been a driving passion of mine," Michigan-born Varvatos says. "I remember as a kid in the sixth grade lying in bed listening to the radio and being so excited by these artists. Music is a part of who we are as a company." He cites Led Zeppelin and The Who as inspirations. He debuted his John Varvatos Star USA collection for Fall/Winter 2006 to round out his collection of ready-to-wear with a roundup of true American pieces of denim and knitwear. Marching to the beat of their own drum and finding relevance in the past, both Crowe and Varvatos have found a niche in their respective communities, to be a creative force without a mould, while appealing to pretty much everyone.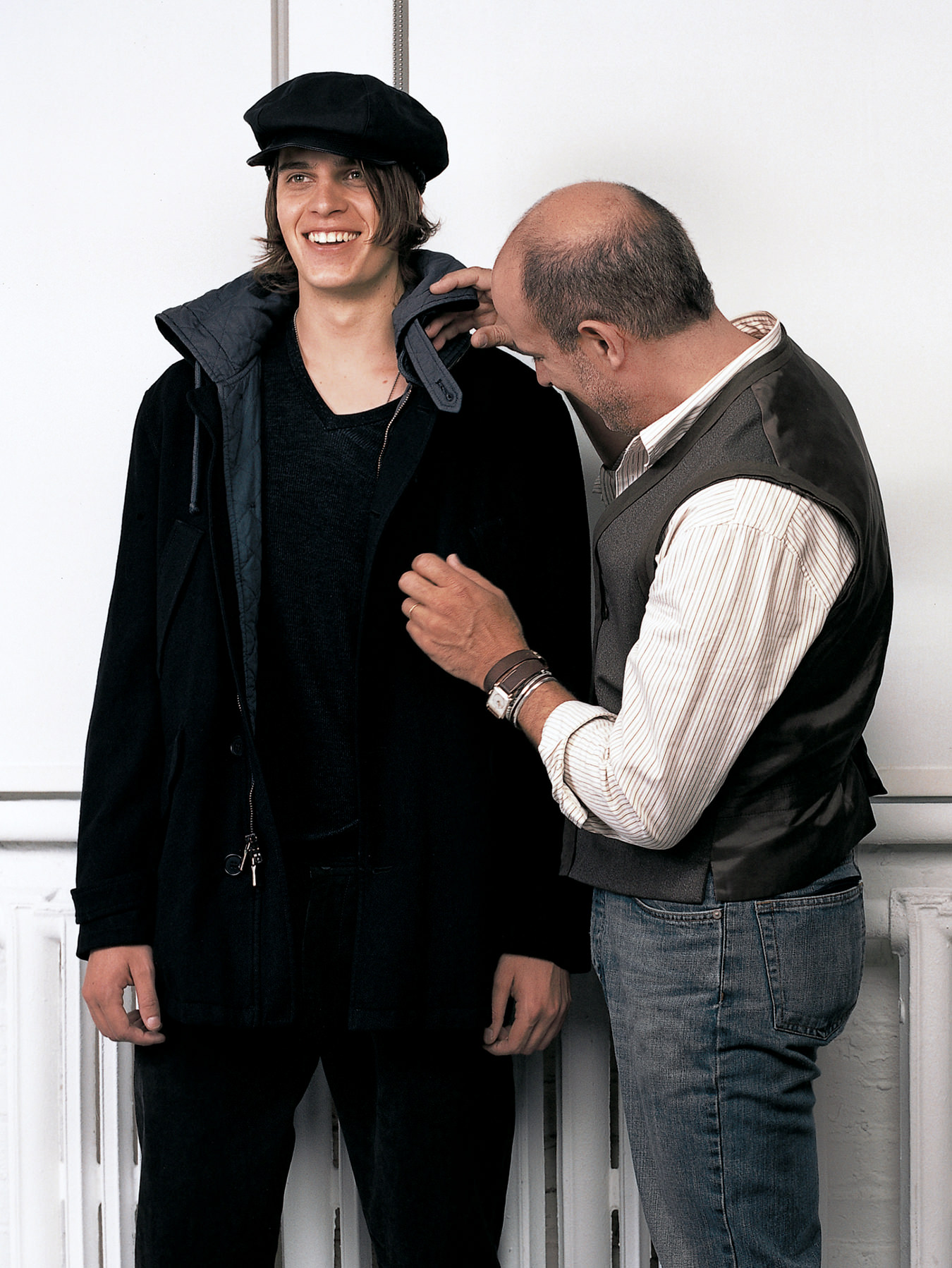 Varvatos has revolutionized menswear and brought together a brand that all women want their husbands or partners to subscribe to. There is a relaxed sophistication in John Varvatos, with a thrill for vintage inspiration, that can be followed right back into his past as a designer for two other very American design houses. Varvatos joined Polo Ralph Lauren in 1983, designing for the menswear division. In 1990, he was recruited into Calvin Klein, where he was head of menswear and responsible for launching the men's collection and the famous ck collection. After five years with Calvin, he returned to Ralph as vice president in charge of menswear for all brands. During his second time round with Ralph Lauren, he created and launched the Polo Jeans Company. He has always been a pioneer, in a sense, for menswear.
He always had his own way about him. "At Ralph I didn't dress like everyone else in the office. They were all head-to-toe Ralph, living in the Ralph world. I wasn't in that world," Varvatos reflects. "But I think that's what Ralph was drawn to about me. He liked that I was doing my own thing. At the time we started, in 1999, it was all about Prada and Helmut Lang. The top brands were all sterilized, all black." Varvatos saw an opportunity to do something different. "I remember seeing people on the street and being so uninspired by what was out there. Two days later I was on the phone and starting the company," he says, and pauses with a hint of rebellion in his eyes. "We didn't have any black in our first collection. We wanted to make a real statement."
There is a relaxed sophistication in John Varvatos, with a thrill for vintage inspiration.
He launched his first Fall/Winter collection in 2000; the men in black took notice, and so did the entire fashion community. June 2000 marked his first award as lead of his own line when he took home the Perry Ellis Award for New Menswear Designer from the Council for Fashion Designers in America awards. The next year the CFDA decided that the momentum of this innovative and revolutionary label hadn't slowed even an inch, and awarded Varvatos Menswear Designer of the Year. This was the first time in history that a menswear designer had won two years in a row. It is no secret that John Varvatos has something special. But with menswear coming out of the mould and becoming more interesting and experimental, the sensibility that Varvatos created is chasing him up the ladder and is getting closer every year. "The bar has definitely been raised," Varvatos says, but with no apparent anxiety about that fact. "There are more young people with new ideas. That is the stimulus for us to push the bar every time." It seems to be working. Varvatos won another award for Menswear Designer of the Year from the CFDA in 2005.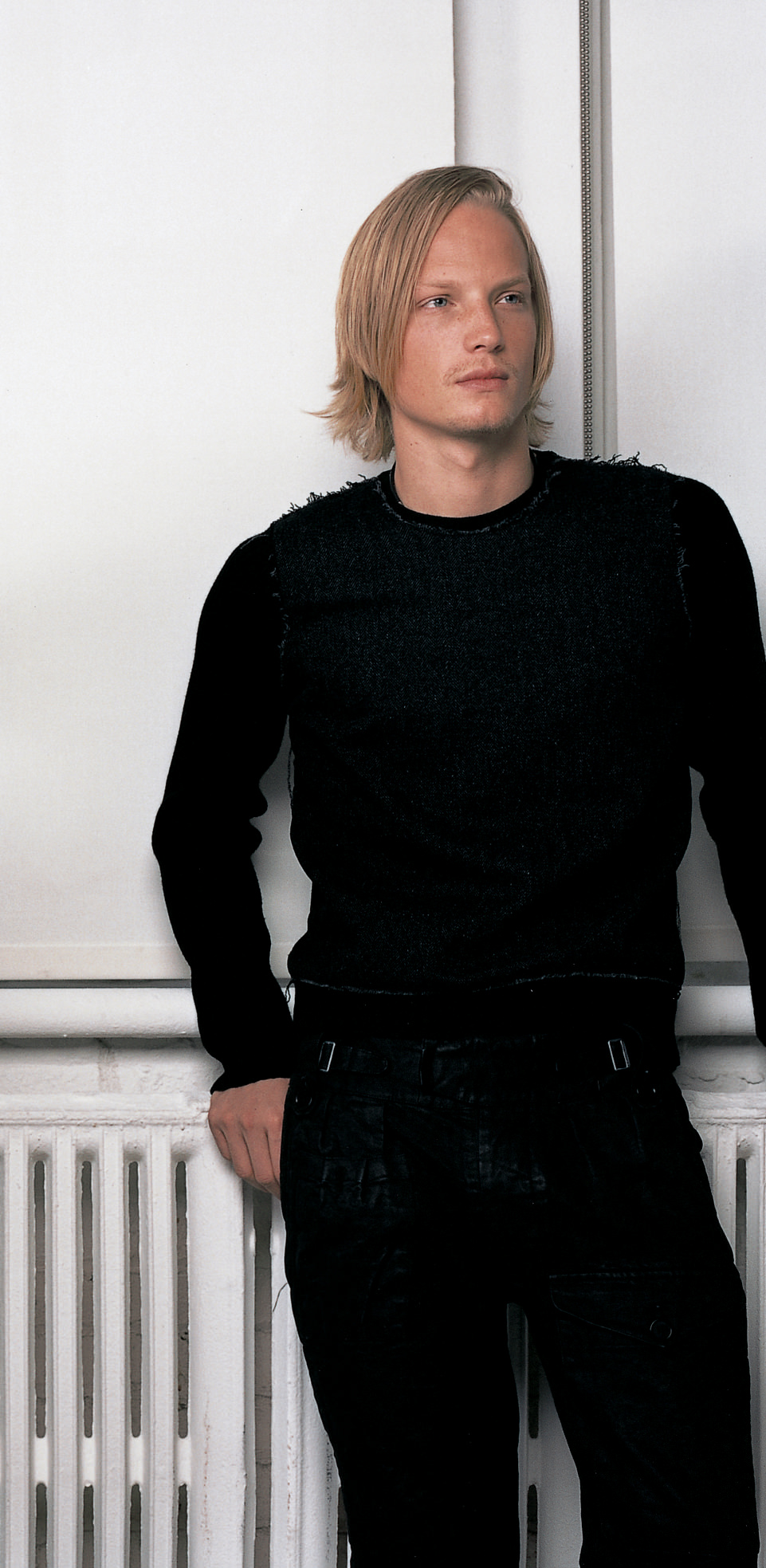 For Fall/Winter 2006, pushing those limits and being innovative, yet still respecting the Old World vintage sense of style, is somehow up yet another notch. It has been a season of new proportions and perhaps the greatest change fashion has seen in years, and Varvatos has stepped up to the plate with panache. "Fall is really my season," he says. "I think this is a really great collection. I really love what my first collection was at the very beginning. But I think this season is my favourite collection. We are going back to our roots a little bit. It's kind of Eastern European and 40s military but not in an obvious way. We had to edit it down a bit. The silhouettes have changed the most this season. The jackets are shorter and sleeker, the pants are slimmer. We do details: in the jackets we have cotton muslin linings. It's an Old World kind of feel but we really wanted it to be modern." Going back to the roots of the company this year is in a sense bringing the collection back to John Varvatos himself. The collection began as "my own personality", Varvatos explains. "What I wore and what I still wear. It hasn't changed all that much." The one thing that has changed is that there are more and more men out there dressing like him. When a designer begins their own line, it is unavoidably going to be an extension of themselves. Their name is on the label, their motivation and ideas are going into the clothes, the products themselves.
We're in New York City in a studio on the west side of Chelsea for a photo shoot with some of the models from his runways and some of the clothes from his collection. John Varvatos is in his environment. Styling each piece of clothing just so, to complete the entire look, the way these clothes are to be worn. And when it is his turn in front of the camera, his own styling sensibility is apparent. "I wear one collar in, and one out," he explains when one of his team members asks if the collar poking out of his vest needs any adjustments. He is to the point and completely sure of all the details. The tuck of a pant into a boot, the tie of a scarf. This collection is the epitome of Varvatos style and he knows exactly where everything should be. "It was never something I set out to do in the beginning," he responds when quizzed on the idea of "his" brand. "But I think it is synonymous with creating a lifestyle." And every member of the John Varvatos company is involved in keeping that alive. "We make sure that it feels like New York in a San Francisco store. We take a step back and remember the brand positioning. The success of any business is that the people are passionate about what they are doing. People feel it is more than just a job. It's important for an image to embrace the culture, to be absorbed in it, to be passionate about it." Any sense of ego, which could be mistaken in his self-assured, laid-back confidence, is wiped clean the moment he begins to speak about his team. "I fight to keep the company team-oriented. We're on three floors and everyone is involved," Varvatos explains with a sense of pride. "We're crazy about each other. I have a remarkable team." Finding such a small-town kind of approach in a company that is making millions worldwide as a lifestyle brand is rare. The more a company grows, the less a grassroots organization is feasible. The bigger the company, the larger the expanse of a team. "It's definitely something I think about," Varvatos admits. But there needs to be a sense of team to every aspect of the company, every store. "I fight to keep it that way."
"The collection began as "my own personality", Varvatos explains.
As John Varvatos grows as a lifestyle brand, its details are explored the same way as creating the shape of a jacket and deciding which lining to use. The details are what matter to this company. John Varvatos has taken a clothing line for men and turned it into a lifestyle. Companies have been taking note of a recent, growing phenomenon in which consumers are interested in creating an entire lifestyle identity when choosing products. John Varvatos was the first fashion designer brand to do that. In 2004 he partnered with Zirh International, a subsidiary of Shiseido Int. Corp., for a self-titled fragrance. Then in 2005 he launched SKIN, an ultra-high-end skin care line of 12 products for men. Then there is the footwear, of course, and the new line of eyewear that launched this fall. "The eyewear is completing a lifestyle," Varvatos explains. "But we're not doing candles just to do candles. The lifestyle isn't frivolous." It is the details of each aspect of the brand that keep it in the John Varvatos identity. "There's a difference between okay or great; it has to be amazing," he affirms.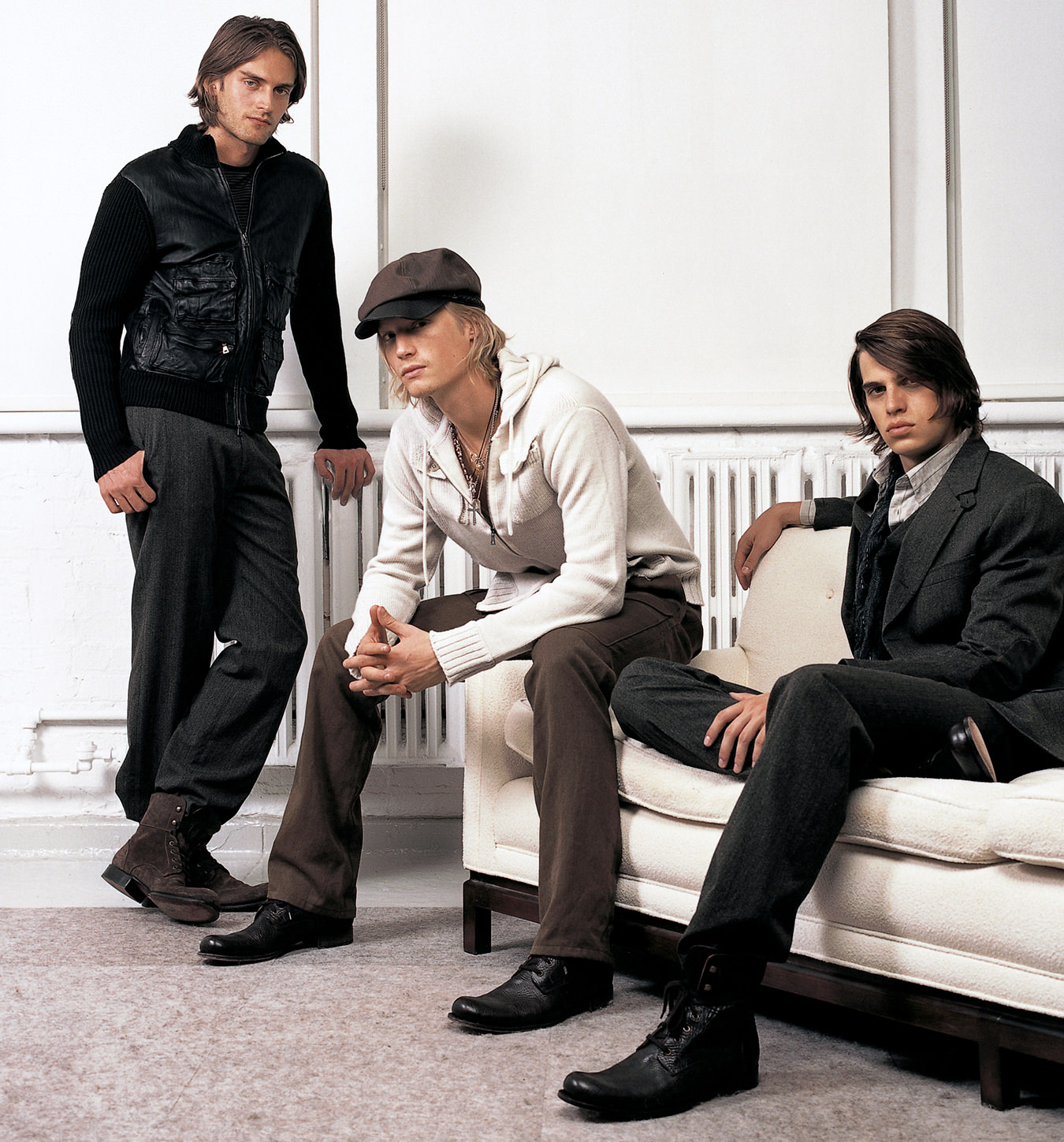 Another extension of this success is a recent joint venture with Converse. It is the first time Converse has aligned itself like this with a designer. In 2001, Converse by John Varvatos launched the first Limited Edition Chuck Taylor All Stars and Jack Purcell Trainers. This fall marked the launch of the men's and women's clothing line, the first time Converse has ever done a ready-to-wear collection. Iggy Pop stars in the John Varvatos advertisements. It is just another extension of a brand greatly inspired by music. The company took part in VH1: Save the Music to aid in funding for school music programs. Aerosmith's Joe Perry wore custom-made John Varvatos clothing for the band's 2005-06 "Rockin' the Joint" tour. If there was ever a way to up your cool factor, dressing a rock legend might be a thought.
Sustainability of a brand takes a strong notion of identity and a constant source of inspiration to modernize every time. "I have a muse in my head that I go to at the start of every season," Varvatos explains. "It is a guy most likely in the creative world, he's an actor or he's in music or an artist. And we think of what he's doing, what he's wearing. But it can come from anywhere. That's what I love about New York because you can see the stuffy uptown bankers and then you have the hipsters downtown and some tourists. Or in a movie or an old album cover." For Spring 2007, which was shown long ago, in June, during the Milan men's shows, Varvatos is continuing the excitement the brand is feeling. "For Spring 2007, it was this vintage garment in one of our buying warehouses in London. It was in the way it was repaired and made, how the pockets of the jacket were repaired." The inspiration continues.
"We have a wall of future thoughts, a wall of inspiration I guess, where we put up maybe a full garment or a scrap of fabric or a colour and we think maybe next time or next year," Varvatos says, his striking blue eyes dancing off to perhaps another source of inspiration. Always working, always thinking, always finding the light of life in every movement, and translating that into fabric that drapes a man's body with the ease of a well-worn pair of jeans. John Varvatos, with the ever-present dusting of stubble that exemplifies his calm and cool persona, has taken menswear back into a source of cool, and up to another level. Almost famous? Try almost legendary. Oh to be a fly on that inspiration board.
Fashion Editor: Elisa Kosonen. Groomng: Heart. Models: Rick and Matthew for Click Models, Damian for VNY Model Management. Shot on location at Joseph La Piana Studio in NYC (josephpiana.com).