Cool singing surfer dude.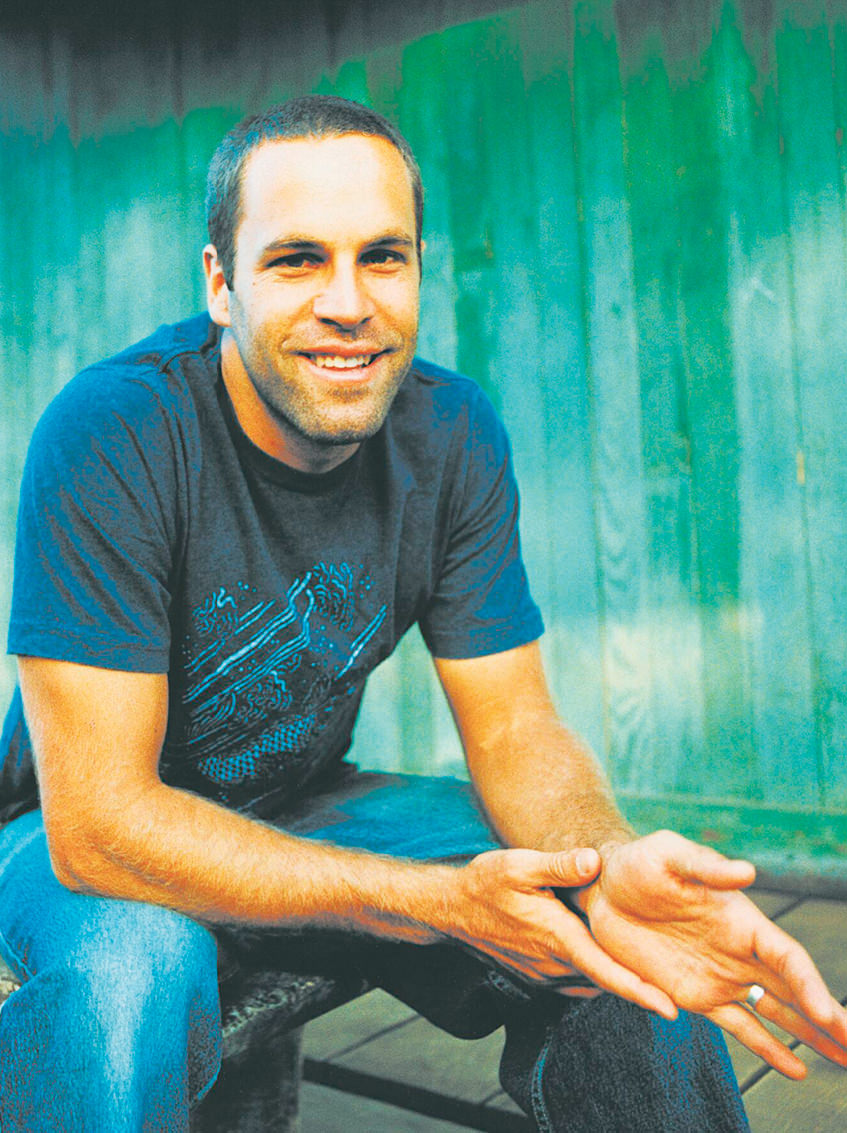 For something that started out as a way to entertain friends at a backyard bonfire, playing acoustical versions of songs from influential punk band Minor Threat, Jack Johnson has already carved his own mark on our generation. Not only as a filmmaker, directing and co-directing such films as "Thicker than Water" and "September Sessions"; a surfer, he was the youngest rider ever to be invited to compete in the prestigious Hawaii Pipeline Masters at the age of 17; and musically, by forming his own independent record label alongside the success of his own albums. "I never thought people beyond a few friends would be listening to the songs," Johnson admits on a recent tour stop in British Columbia, and yet today, well over three million albums have been sold.
Johnson has now taken his punk ideology to the next step. Following in the footsteps of artists such as Willie Nelson and Neil Young, Johnson's current North American tour is focused on environmental concerns, not in raising awareness as much as leading by example.
"I didn't start out with the ambition to be a popular singer." Johnson confesses, "That would be a pretty random thing." It's by no luck, though, that he has emerged as an artist to be reckoned with. With the assistance of his management, which includes his wife, Kim, Johnson has endeavoured on the largest headlining tour of his career with the focus of the tour to become certified climate neutral. (A portion from each ticket sold will go toward purchasing wind credits, in order to offset the CO2 emissions produced by the concertgoers' travel to the show.)
His tour also paves the way for other road savvy bands, proving that it is possible and affordable to run an eco-friendly tour. All of the trucks and buses that transport the tour are being run on bio-diesel fuel; the tour catering crew buys organic food and whenever possible, purchases produce grown locally, recycles all food and beverage containers, and donates any leftover food to local shelters. That's just naming a few of his forward thinking initiatives.
It's believable that Johnson's intentions were not to become a household name, though, the process seems likely, in large part due to his dedication to family, friendships and his sincere concern for the environment. In this way, he appeals to an audience that is looking for something more everlasting. He is speaking to an audience that identifies with the themes in his songwriting, and how the albums as a whole make them feel.
Johnson conjures up the pace for something simpler, encourages his listener to adapt a similar mood. And that proves to be Johnson's strength as a songwriter.
With today's societies plagued by conflict and natural disasters, it seems that in order to sing or create art that is critical of one's country or government doesn't appear as effective or even as appropriate as it did in the 60s or 70s. It is arguable that what you don't say can be more effective than what you do say. Ours is a generation that has been overwhelmed by information. In a time when we've seen multi-media telecasts for public charity and anti-war gatherings that seem to leave insufficient impact on the masses, it's only fitting that artists are choosing inventive means to get their message across.
It is with action, not words that moves the people and this is where Johnson's relationship with his music and his audience is so successful.
Sonically, Johnson's albums are not drastic departures from each other. There seems to be a cohesiveness that lends a continuous harmony. The task of reinventing yourself from album to album doesn't exactly appeal to Johnson, though he admits "You have to be careful, because if you think you've really figured it all out, you run the risk of caricaturising yourself. For a second record, I did maybe over-think at first. But then I read about Kurt Vonnegut, who has one specific person in mind when he writes. His sister, I think. For me, that helped me focus a bit, and write the songs the way I did at first, for a few friends hanging out on the porch."
And from the front porch, he speaks a language we can all understand.
Photo courtesy of Universal Music Canada.