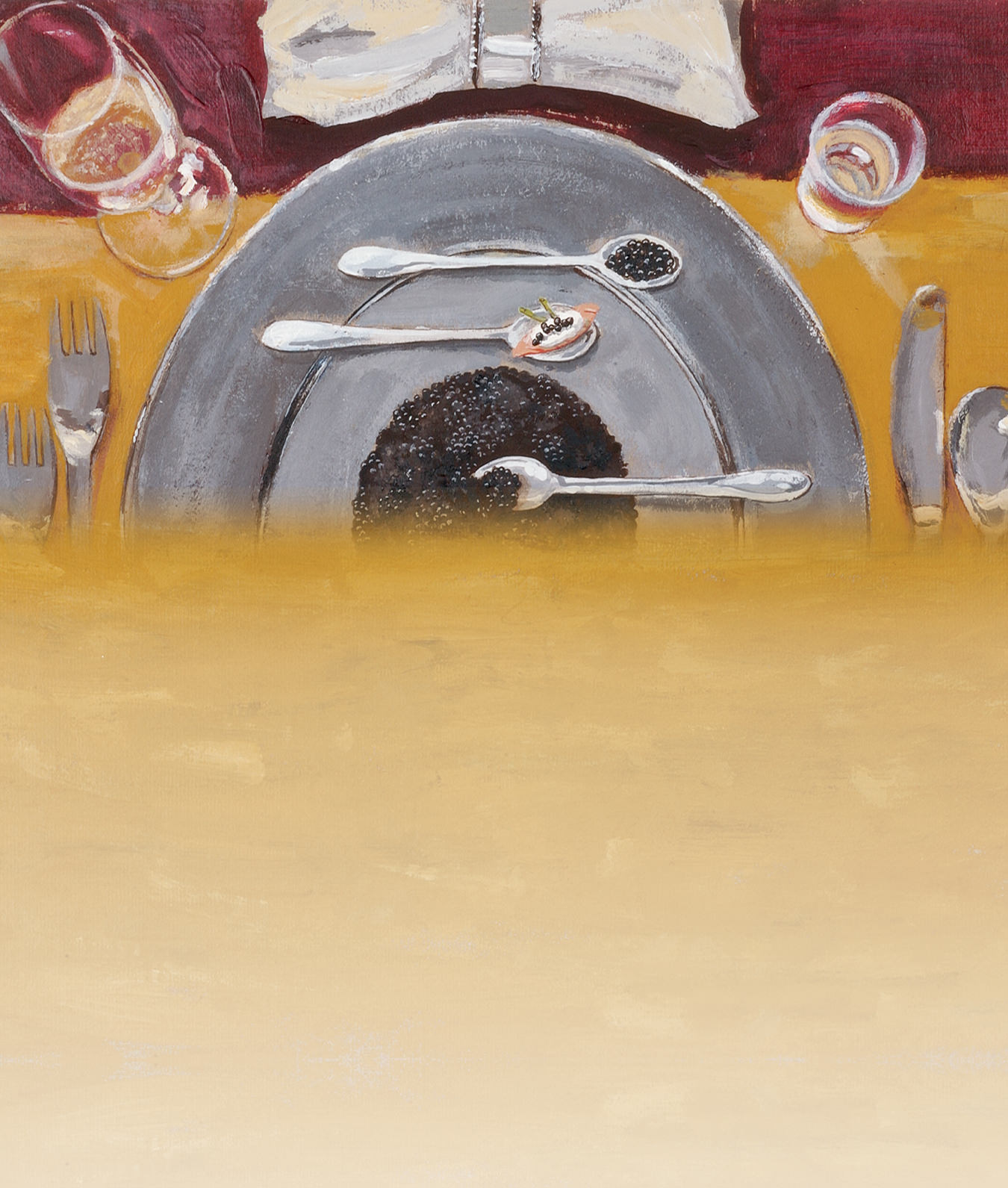 Armen Petrossian sits in his large office, in a modest building in the 17th, in Paris, where his father and his uncle first brought to the Western world a special product called caviar. He is an expansive man, passionate about the sturgeon eggs he harvests in the Caspian Sea, brings to Paris and cures, in a meticulous, scrupulously controlled manner that involves a whole lot of tasting. He oversees this part of the empire, while his wife, Cecile, looks after the Michelin-starred restaurant Petrossian in the 6th, where the precious black eggs can be had in a variety of ways, with a variety of libations, but where also the smoked salmon, patés, foie gras, truffles, fresh breads and other items are sensational as well.
Good thing, because Armen is concerned that the age of caviar, a little under a century old, is nearing its end. Petrossian has long supported endangered species initiatives in the Caspian region, but the task is daunting. The giant fish that provide the delicate eggs have been afflicted, partly with over-harvesting, though that has been rectified. The greater danger is polluted waters, and there may not be sufficient answers in sufficient time to save the Caspian sturgeon. The firm still personally chooses, on site, the freshest and highest quality caviar available, from its long association with Russian fisheries, and Armen says "There is always hope, of course".
Dimitri Bourrigaut is General Manager of the company's boutique adjacent to the Petrossian restaurant in New York City. He explains, as does Cecile, that the future is not strictly in caviar, but in a wide range of extremely high quality goods, all the way from the tiny spoon of caviar to gold-laced chocolates. "Especially the breads and pastries. We have the finest croissant in New York here." He pores over his Sevruga, "My favourite, actually. I prefer it to Beluga, though that makes me an exception." Caviar came to Paris with a wave of Russian aristocracy in the 1920s, and it was only a matter of time before New York and the New World caught on. Many restauranteurs now import their own caviar, and depending on the mega-wattage, may apply their own name to it. So the demand is not dissipating.
There are also new sources of delicacies, such as the French Baerii caviar, sourced from Siberian sturgeon, actually farm-raised. And Transmontanus caviar, from coastal California and the Pacific Northwest. Still, the world largely covets, and is willing to pay in the hundreds of dollars per ounce, for the royal trio: Beluga, Ossetra and Sevruga caviar. Each is unique, easily distinguished from the next by appearance, mouth feel, and of course taste. Armen is effusive about the quality control; "only have the freshest, the best, because even then it is a difficult process, to cure them just so. It makes all the difference in the world. And every shipment we take from Russia is different from all the rest." He looks over at a picture of his father and his uncle. "They did it a certain way, then. I do it the same way now. It's funny, but it used to be peasant food when they were growing up."
Cecile Petrossian is brisk in serving the varieties, noting the complexities, how long each sample has been cured, why vodka and Champagne are ideal accompaniments, how caviar elevates everything from a crème fraîche atop a tea-smoked salmon fillet, to simple scrambled eggs. In each case, the flavour is intense, nearly a metaphor of freshness and salinity, the tiny eggs gently bursting to release a complex array of flavours. She insists on multiple samples of smoked salmon as well, so that a little tasting becomes a feast. Then out into the rainy Paris night, searching in vain for a cab, the wet walk welcome.