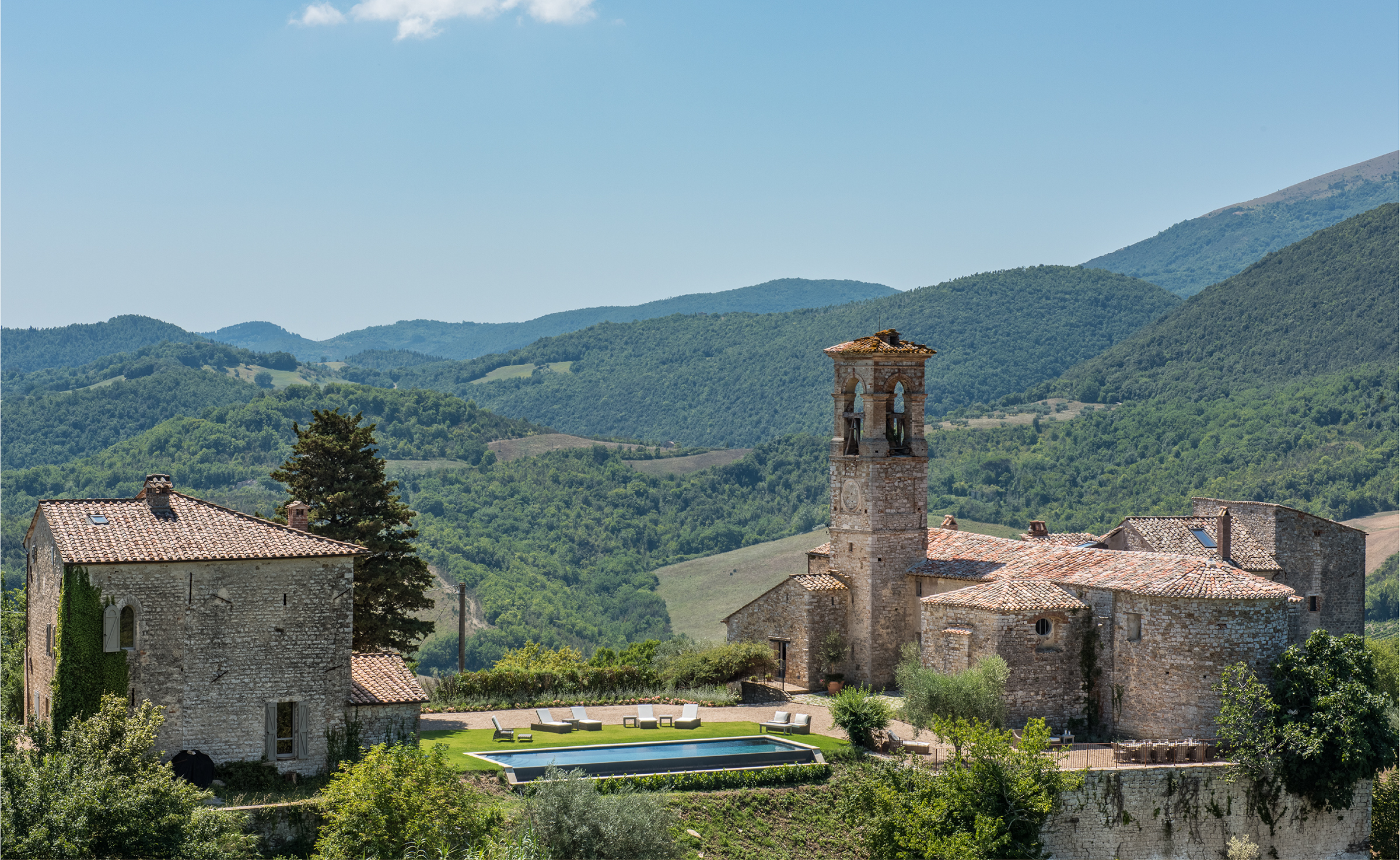 The Rustic Beauty of Umbria's Tenuta di Murlo
All that is glorious in the green heart of Italy.
For those who are serious about getting away from it all, Tenuta di Murlo offers immersion in the unspoiled landscape of Umbria. Protected by Tuscany, Le Marche, and Lazio, Umbria is the only Italian region with neither a coast nor a border with another country. Known as the green heart of Italy, it's a secluded gem and the place Tenuta di Murlo calls home.
Tenuta di Murlo's rolling green hills contain thousands of acres of olive groves, valleys, and woodland. Alessio and Carlotta Carabba Tettamanti have spent nearly 20 years converting parts of the estate, which has been in Alessio's family for centuries. The 80 buildings, from farmhouses to a frescoed church, were previously used by agricultural workers, who abandoned them and moved to urban hubs following the Second World War. Historically, agricultural land in Italy was organized on la mezzadria, an agrarian contract between landowner and farmer. The landowner provided lodging for the farmers and their families in exchange for working the land and tending to the animals. This sharecropping agreement meant that half the vegetables, wheat, olive oil, wine, milk, and cheese—all that was produced—went to the landowner and the rest to the tenant. The system collapsed in the 1960s when Italy became more industrialized.
Carlotta is originally from Bologna, while Alessio, a lawyer, from Rome. When the two were courting, Tenuta di Murlo was their weekend meeting place, about a two-hour drive south from Bologna and north from Rome. "Once we got married and had children, we spent all our free time at Murlo," says Carlotta, now the mother of five. One thing led to the next, and the pair found themselves restoring the most magnificent farmsteads Tenuta di Murlo had to offer. San Savino, formerly a 14th-century church with stone walls, was the first, now with four bedrooms, a living room, a full kitchen, a pool surrounded by gardens, and stunning vistas. "In the beginning, we were a two-person act," she says. "Alessio was cutting the grass and handling the yard work. I was doing the cleaning, the shopping, dealing with the inquiries."
As interest and bookings became constant, so did their vision of what Tenuta di Murlo could become. They have restored roughly one farmstead per year: 10 villas and a handful of rooms (to accommodate that B&B segment) are available for rent throughout the year for up to 20 people. Alessio is the architect and Carlotta the interior designer, although neither has formal training in architecture or design. Carlotta studied economics at the University of Bologna, however, as an only child she travelled extensively with her parents. "They brought me to all the most beautiful hotels in the world," she says. "My mother worked for Sotheby's and was passionate about antiques." She remembers staying at Raffles Singapore: "Era impressionante [it was impressive]—the sheer size. When you get used to seeing the beautiful, you recognize it, and after some time, you too can propose it."
Such is the case with Tenuta di Murlo, an Umbrian chic aesthetic combining rustic traditions with contemporary touches. Materiality takes centre stage, with original stone, wooden beams, reclaimed terra cotta floors, marble, and glass elements. Beneath vaulted ceilings, furnishings are by both local and international designers. "A beautiful bed furnishes any room," Carlotta notes, and in keeping with this philosophy, king-sized beds have impressive headboards and bountiful bedding. Each villa has its own character, but there is no gilt or silver filigree. This is elegance in simplicity. Villa Torre, with a roof terrace, was rebuilt on the ruins of a medieval defence tower. Villa Penna, the most modern, has an infinity pool. Castiglione Ugolino is an ancient castle with an adjoining church perched high on a hill with its original 11th-century bell tower looming against the blue Umbrian skies and watercolour sunsets. Villa Molinella feels more like a cottage, set deep in woodland, with expansive views traded for your own river, private sauna, wooden hot tub, and secret indoor pool.
Being sequestered in this verdant landscape means the villas are accessible by car along a twisting, rocky, rural road. "A Murlo safari," is how Carlotta puts it, inhabited by fawns, pheasants, wild boars, porcupines, foxes, and a variety of birds. You can be as private or social as you choose at Tenuta di Murlo. You can cook your own feast (there is a morning delivery service of fresh produce, eggs, and daily baked bread), request a private chef, or head to the estate's restaurant, Il Caldaro, to dine on typical Umbrian dishes with the locals.
At Tenuta di Murlo, oversleep and underplan is the order of each day. For those seeking entertainment, the estate's grounds offer truffle hunting and fishing, olive harvesting, wine tastings, cooking classes, trekking, and biking. Farther afield, the staff can organize horseback riding, tennis, fly-fishing, or golf five minutes away at the Antognolla golf course. Nearby, guests can visit Perugia, the region's capital; Assisi, the 12th-century birthplace of St. Francis; or the Gothic town of Gubbio.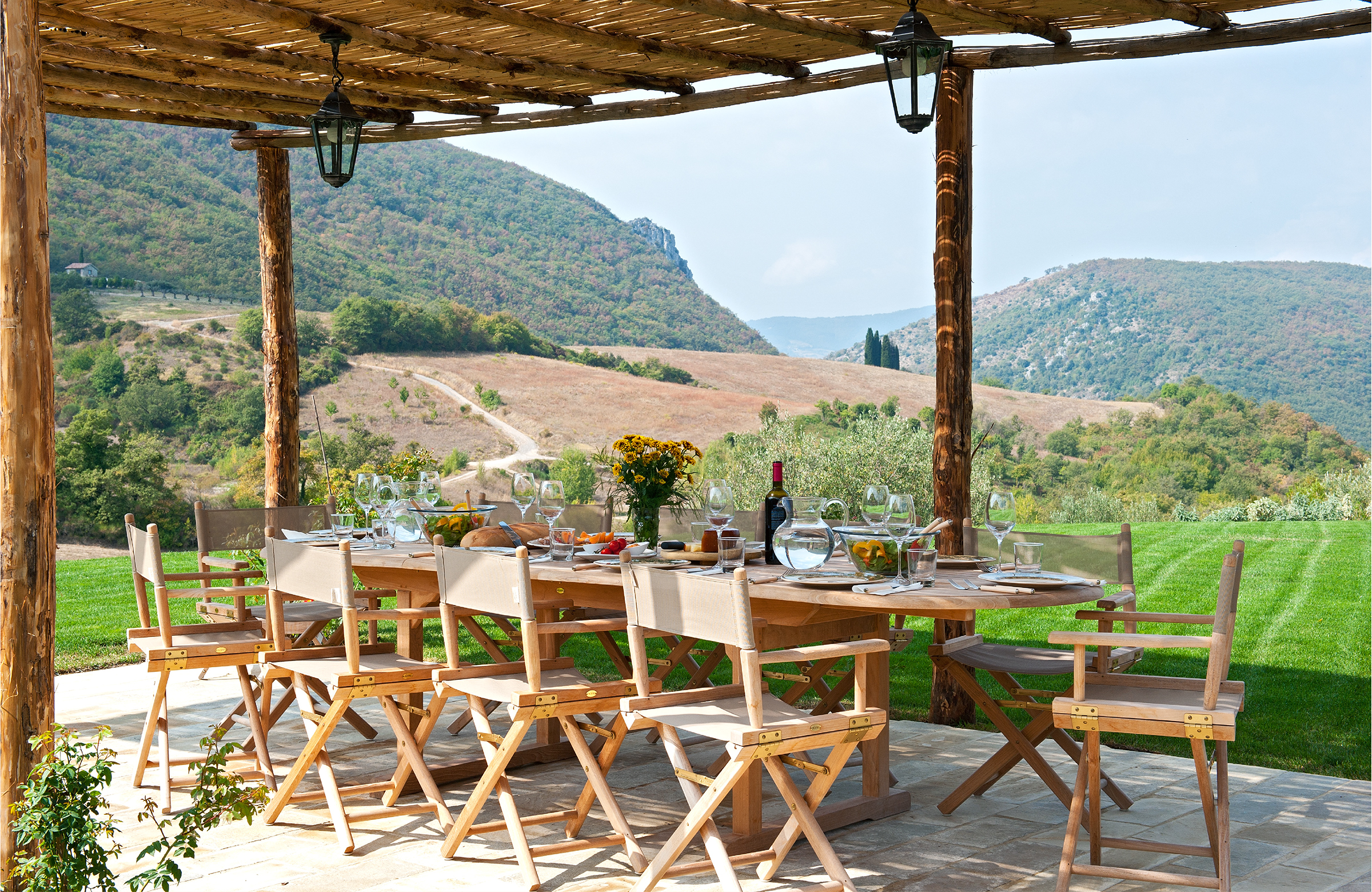 Carefully tended by Tenuta di Murlo's attentive team of groundspeople, cleaners, catering staff, concierges, and drivers, the estate has become a thriving collection of holiday villas that feel like an extension of Carlotta and Alessio's family home. Visiting Tenuta di Murlo is like "you are coming to my house," Carlotta says. A place to enjoy the simple pleasures of a region whose beauty has yet to be fully discovered.
Images courtesy of Tenuta di Murlo.