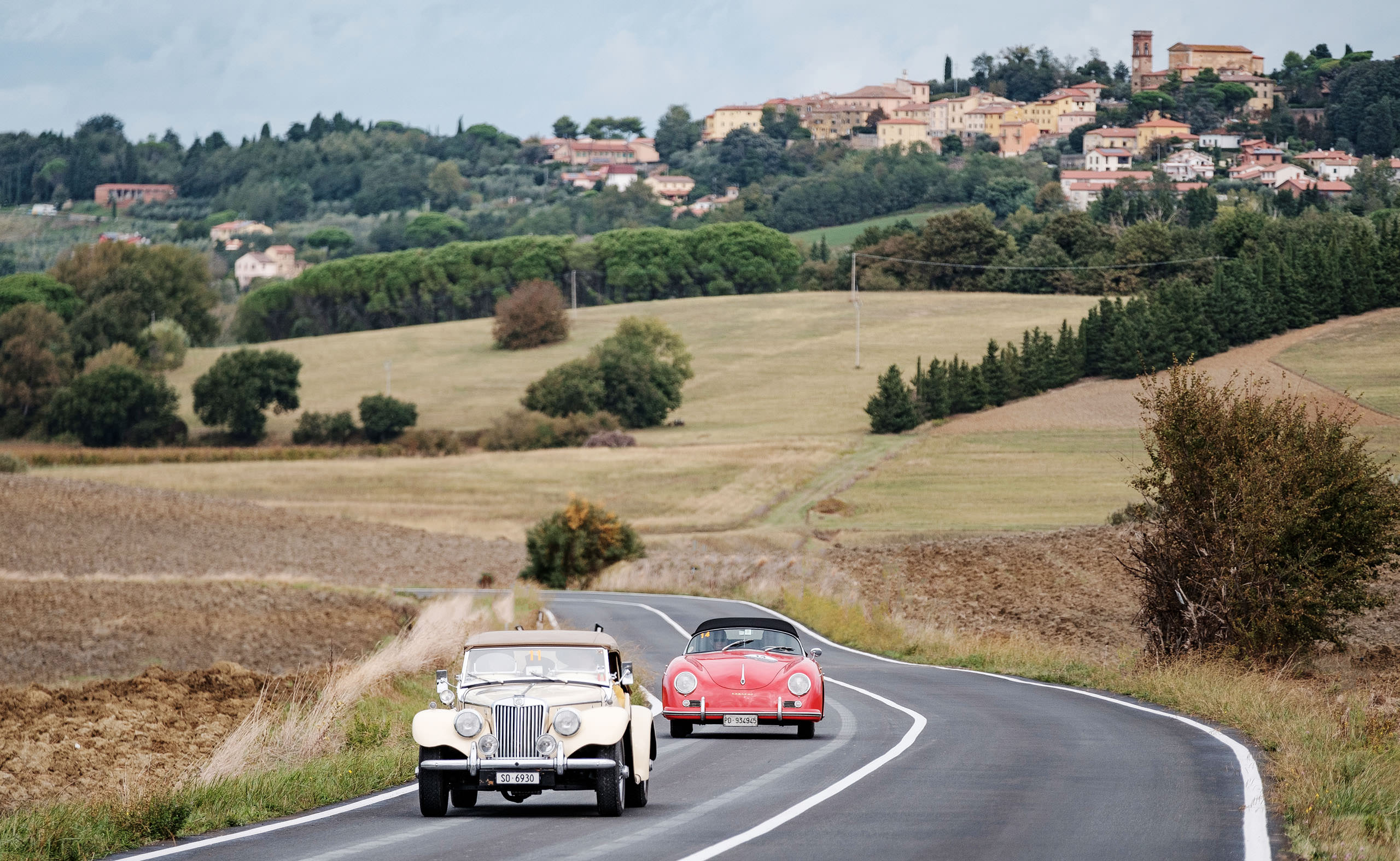 Road Adventures With Canossa Events
For those who share a passion for collector cars whether classic or modern.
Cobblestone streets are as synonymous with Italy as gelato and aperitivo. The centuries-old, well-worn cobbles jostle under the pressure of car tires. Beyond the historic walled cities is the autostrada connecting the major municipalities with regular turnoffs for those seeking picturesque routes, the type of open roads that wind away in the rear-view mirror like a twisting ribbon. Italy's cartographic boot has long been a canvas for road-tripping when the drive itself is the focus of the adventure.
Whether driving through the beauty that is Tuscany, the winding roads of Emilia-Romagna, the rocky peninsulas of Liguria, or the mountain passes of the Dolomites—the roads of Italy are as varied as the country's dialects. For those who share a passion for cars, Canossa Events organizes driving adventures including intimate touring, classic car rallies, and heart-pounding wheel-to-wheel racing on circuits. As Luigi Orlandini, founder of Canossa Events, has spun as company motto, "There is no road to happiness. Happiness is the road."
Orlandini was born in the Motor Valley, a trio of towns—Bologna, Modena, and Maranello—in Emilia-Romagna, birthplace of some of the world's most revered sports cars. It's a mecca for car enthusiasts, and one could say that Orlandini's passion for cars is in his blood. The first car Orlandini purchased was an Alfa Romeo Giulietta Spider, and he has been collecting ever since. "I only have Italian cars," the enthusiast says with equal measures of authority and bravado, his collection including half a dozen Ferraris, two Alfa Romeos, and several Fiats.
Canossa Events was born in 2011, after Orlandini sold his logistics company to a British group and was unemployed. A serial participant in rallies with his classic cars, Orlandini turned a hobby into a business. For a long time, "the only well-known international classic car rally was the Mille Miglia, and so I thought why not take classic cars and make an international rally in our region?" Canossa, a town in Emilia-Romagna, named after Matilde de Canossa, a warrior-queen who ruled a large swath of Italy (now the regions of Emilia-Romagna, Tuscany, and Lombardy) during the Middle Ages, was the name chosen for Orlandini's newly formed company and inaugural rally, Terre di Canossa. "I called fellow rally drivers from Germany, Switzerland, France, the U.K., and we put together 50 cars," Orlandini recounts of that first effort.
The following year, more cars took part in Terre di Canossa, and Orlandini invited the former director of Ferrari. Today, Terre di Canossa is a rally for 100 classic cars, dating from the years 1919 through 1976. The rally takes place over several days in various villages in northern Italy before ending at the sea. And while the days are for driving, the nights are for food prepared by chefs from Michelin-starred restaurants, fine wine, and overnight stays at luxury hotels.
That fateful call to Ferrari planted the seed for collaborative efforts, and the Prancing Horse car manufacturer is now a supplier for driving experiences offered by Canossa. Orlandini has since acquired Modena Cento Ore, a timed and regularity road rally; launched Stella Alpina, driving the Alpine passes of the Dolomites; opened a subsidiary in Dubai; and set up another global hub in Greenwich, Connecticut, in 2019, debuting a North America Touring Series with road trips in New England and California's Central Coast. Last year, despite the pandemic, Canossa acquired Cavallino, the U.S.-based concours event and media company known for its Palm Beach Cavallino Classic. "At some point, this pandemic will end and we will be in a better position to restart as fast as possible," Orlandini says.
Over the years, Canossa Events has forged its way as the preeminent luxury automotive touring provider, staging over 50 tailored events each year. And while every excursion is unique in its own way, the chance for Orlandini to organize a rally for the 50th anniversary of the Ferrari 250 GTO was a career highlight: "My God, I still can't believe it happened." A group of 20 GTO owners (the likes of Nick Mason and Rob Walton) gathered in Florence and "I was living in a dream for a week," Orlandini says of the drive around Tuscany.
This past summer, as COVID cases in Italy waned yet international borders remained closed, Orlandini and his team shifted their efforts to the Italian market, introducing Canossa Grand Tours, weekend driving experiences behind the wheel of a Fiat 595 Abarth Cabriolet: a fleet of 10 cars, specially designed by Lapo Elkann's Garage Italia for Canossa. At a time when pivoting in business has meant survival for many, the introduction of this Abarth touring has attracted a younger audience and interestingly, not one a collector. "The oldest couple was 40," Orlandini says, with the bulk of drivers in their mid-20s. "There are many people that like the driving experience but are not collectors of classic cars or sports cars. To drive a classic car for a week, you must have some kind of passion. The modern car has an advantage—it is reliable." The success of the 595 Abarth driving series will see it continue and undoubtedly be attractive for the North American audience. There is hardly a more fitting way to explore provincial Italy than in a Fiat Cinquecento even in a modern interpretation; the diminutive cars are as important to Italy's automotive history as the Mini in Britain and the VW Beetle in Germany.
The pandemic will hopefully soon be behind us; it's time to get out and drive.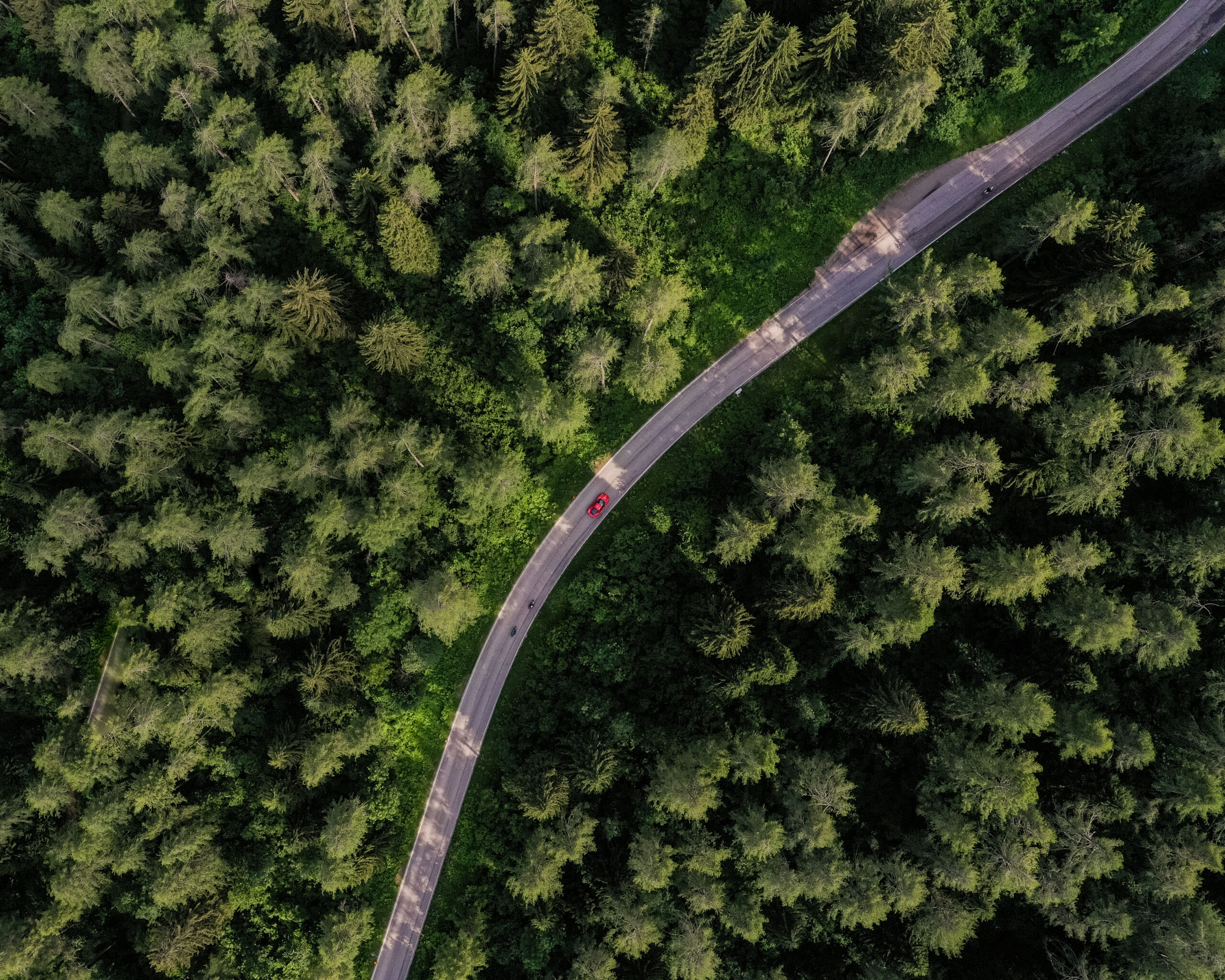 Photos provided by Canossa Events.