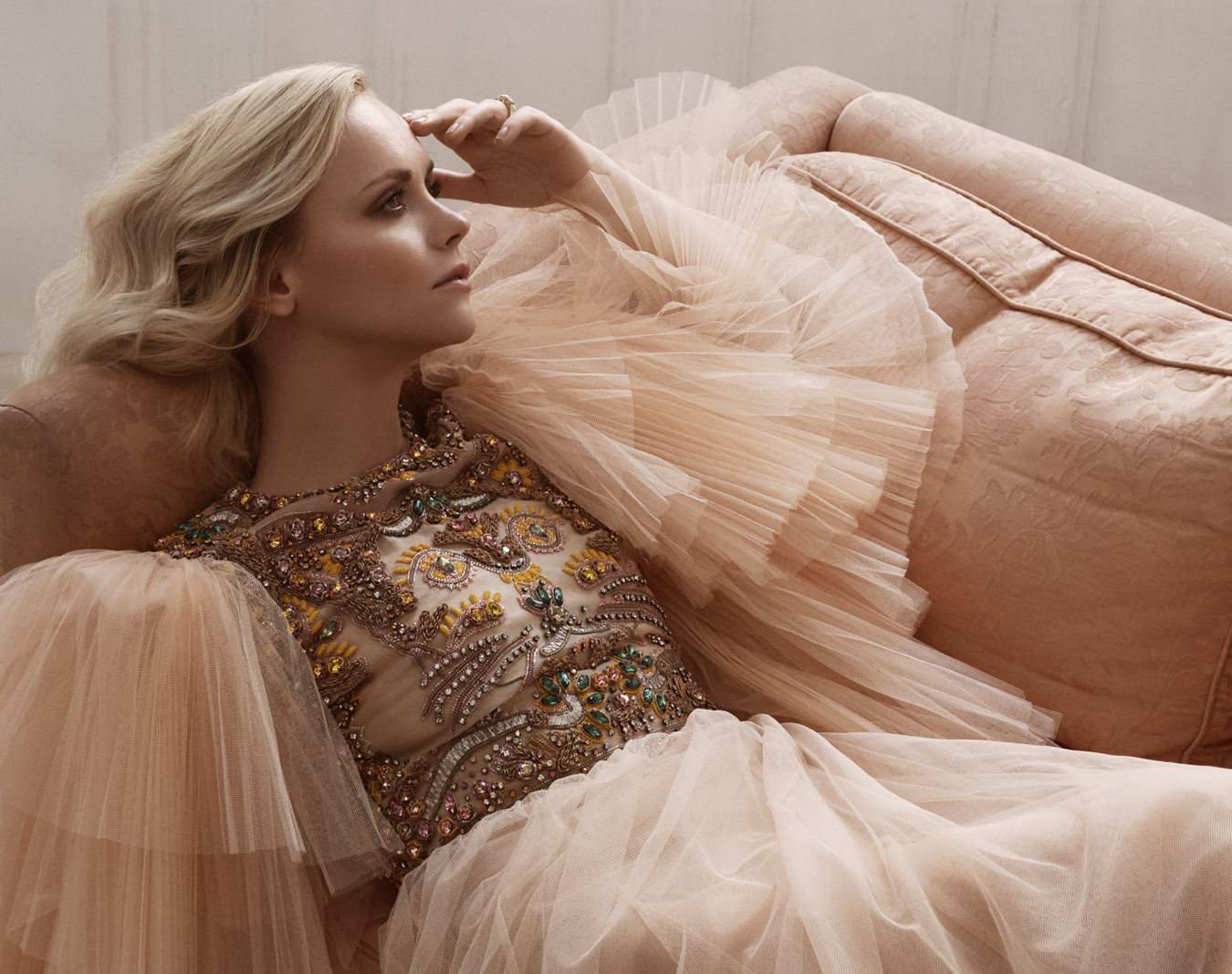 Egg, a restaurant in Williamsburg, is widely considered to serve the best breakfast in New York City. Fluffy are the biscuits and fresh are the eggs. The coffee is French press, the gravy sausage studded, and the grits hot. Like everywhere in Brooklyn the servers have tattoos, but unlike everywhere in Brooklyn they smile. The titular eggs come from a farm located just across the Hudson River and arrive as a tender omelette, sunny-side up, over easy, any way you like them. But Christina Ricci, the 37-year-old actor and star of Amazon's new series Z: The Beginning of Everything, isn't having breakfast.
It's not that she's not a fan of the place. Back when Ricci was filming the short-lived, well-regarded television series Pan Am, she lived around the corner with the Australian actor Margot Robbie. (The two met while filming the series.) Her friend would rise early to wait in line with the other parishioners for the benediction of brunch at Egg. But Ricci wouldn't arrive until just before the table was ready.
Today, an unseasonably warm spring morning, Ricci asks for only two things: a glass of Diet Coke and an iced coffee with skim milk on the side. They only have whole. She sighs. In an hour, she has to pick up her two-and-a-half-year-old son, Freddie.
Ricci is both the lead and the executive producer of Amazon's Zelda Fitzgerald biographical series Z: The Beginning of Everything, her first foray into the new model of binge-friendly programs. Now, a few months after the first 10 episodes of the first season were released, she's experiencing an unpredictable whirlwind of press. Quite honestly, it's been difficult for Ricci. "I'm just bumbling through it," she says. "I don't know what to expect one day to the next." Whereas press campaigns for the many movies and TV shows she's starred in unrolled with a predictable cadence of release-junket-repeat, Ricci says the episode dump experience has thrown her for a loop. "I'm a control freak, so it's hard to adjust," she admits. "I used to hate going to the airport because I couldn't imagine exactly what was going to happen."
Ricci's order arrives, two almost identical tall glasses of brown liquid on ice. But she's a connoisseur and pours milk into her iced coffee without hesitation. "I'm a Diet Coke addict," she explains. "I can spot it from a mile away." She takes a long sip from the glass with the bubbles and lets out a happy sigh. "I feel better already." In this and nearly every other regard, Ricci resembles a normal Brooklyn mother. The dyed-blonde hair pulled back into a functional pony. The tweed jacket over a navy-striped top. She may have had a yoga mat with her, or I might have imagined that. That she has been in the spotlight since she was nine years old, when she co-starred with a trio of heavyweights—Bob Hoskins, Winona Ryder, and Cher—in Mermaids, or that since the first Addams Family film came out in 1991 she's been synonymous with gothic tween Wednesday Addams, seems strangely irrelevant.
The Santa Monica–born Ricci grew up in Montauk, Long Island, moved to New Jersey at the age of six, and then settled in New York to attend high school. Like anyone who's lived in this frantic city for a long time, Ricci plays Brooklyn's favourite parlour game: "Do you remember when that place was a coke bar?"
"See that bar over there?" she begins, pointing to the Levee, now a whisky bar. "It used to be a place called Kokie's. I used to buy cocaine from a guy in the back. We would pay a cab to bring us over the bridge from Manhattan, then wait while we went in. It was just terrifying."
Kokie's closed in 2001, from the slow asphyxiation of gentrification. During the time Ricci is most likely referencing, the late nineties, she was in her art-house sexy indie phase. This well-publicized and carefully polarizing era served as a hard break between her childhood stardom and her current adult oeuvre. It consisted of roles like Dede, a 16-year-old temptress, in The Opposite of Sex; Edward Furlong's girlfriend in John Waters's Pecker; a kidnapped tap dancer in Vincent Gallo's Buffalo '66; and "Teenage Hooker" in I Woke Up Early the Day I Died. Wednesday Addams was dead and gone.
In the late nineties, Ricci was in her art-house sexy indie phase. This well-publicized and carefully polarizing era served as a hard break between her childhood stardom and her current adult oeuvre.
For the last decade, Christina Ricci has quietly been doing the best work of her career. Those famously large eyes, so round they look decoupaged from a Margaret Keane painting, once communicated childhood innocence, then insouciant teenage lust, and now, as a master of her craft, they flash with the full palette of emotions. Ricci, who has previously lamented that at 5-foot-1 she's too short to be a leading lady, is a towering presence on screen, both silver and small. Her character arc as a delicate paramedic on Grey's Anatomy, for which she received an Emmy nomination, was the single best part of that show. As Selby Wall in Monster, Ricci surely would have been awarded an Oscar had Charlize Theron not also delivered the performance of her career. (Theron called Ricci the "unsung hero of [the] film" in her acceptance speech.) Then there was Pan Am, in which Ricci played an idealistic stewardess and her acting was the highlight. And now in Z, she carries nearly every scene of the five hours of television.
After nearly seven decades of F. Scott Fitzgerald worship, we're finally in a Zelda moment. No fewer than three novels have come out recently about the woman, plus biographies that include Nancy Milford's masterful 1970 revisionist trailblazer, Zelda, and Sally Cline's somewhat more fawning 2003 update, Zelda Fitzgerald: Her Voice in Paradise. The Amazon series is based on Z: A Novel of Zelda Fitzgerald, a 2013 book by Therese Anne Fowler, and there are two more biopics in the works. (The Beautiful and the Damned will star Scarlett Johansson; Zelda will star Jennifer Lawrence.) That she is portrayed by actors of such different demeanours surely proves the woman's archetypal appeal.
The Zelda that emerges in the best of these reanimations is a terrifically complicated, not entirely sympathetic, ambitious, vulnerable, cutting, clever, and compromised human being. She struggled with alcohol, like her husband; jealousy, like her husband; and fame, like her husband. But unlike her husband, Zelda has not been the subject of undergraduate veneration. She never had a Great Gatsby or Tender Is the Night to redeem her. (Her only novel, Save Me the Waltz, was spotty.) She did not enjoy the friendship and love of Hemingway, Scott's one-time BFF, who blamed her for his decline and who, according to Ricci, is responsible for her lingering maligning. "It's frightening to me when you see somebody who is so easily dismissed and so completely conquered by one person," she says. "And we all know what a piece of sh…," Ricci stops herself. "Well, we all know who Hemingway is."
Zelda is, in that sense, a modern heroine, not airbrushed, idealized or simplified. Finally, we are in an era of difficult women. We are in the era of Zelda and so we are also in the era of Christina Ricci. "I'm a little prickly, I would say," Ricci says. "A pain in the ass, you could also say." According to Ricci, this prickliness, which I did not perceive, has to do with her unwillingness to compromise on things she believes in, with her discomfort in easy generalizations and her disinterest in being liked.
Take, for example, Z: The Beginning of Everything. Though her performance has been praised, the series has come in for some pretty harsh criticism. F. Scott Fitzgerald, with his Jazz Age pretentions and OTT style, has been revered by pastel-sweatered young men for generations. But in the show, Scott (played by actor David Hoflin) is anything but heroic. His facile charm and anodyne good looks are acidified by venality and vanity. In contrast to the white-washing of his life in the past, the series doesn't shy away from depicting his mistreatment of Zelda, from whose diary he lifted excerpts for his novels and from whose life he snatched dramatic elements. And between the lines of the censure the series has received, Ricci says she can sense personal injury. "You could tell in some of the critics that we had hurt their hero," she says. "For me, that's interesting because I've never, ever seen people as one-sided. Even as a child, there was nobody I thought was perfect. I never had idols."
Zelda is, in that sense, a modern heroine, not airbrushed, idealized or simplified. Finally, we are in an era of difficult women. We are in the era of Zelda and so we are also in the era of Christina Ricci.
Nevertheless, Ricci is exquisitely sensitive to claims of unfairness levelled by either side. "It makes me very uncomfortable to think that we weren't fair. Fairness was the impetus for the entire project," she says, draining the last of the Diet Coke. "I don't want this to be part of the tarring-and-feathering of white males." Then, venturing into even choppier waters, she says, "One reason women are a little further back than we should be is because we spend too much time villainizing men and too little examining how women ourselves perpetuate misogyny."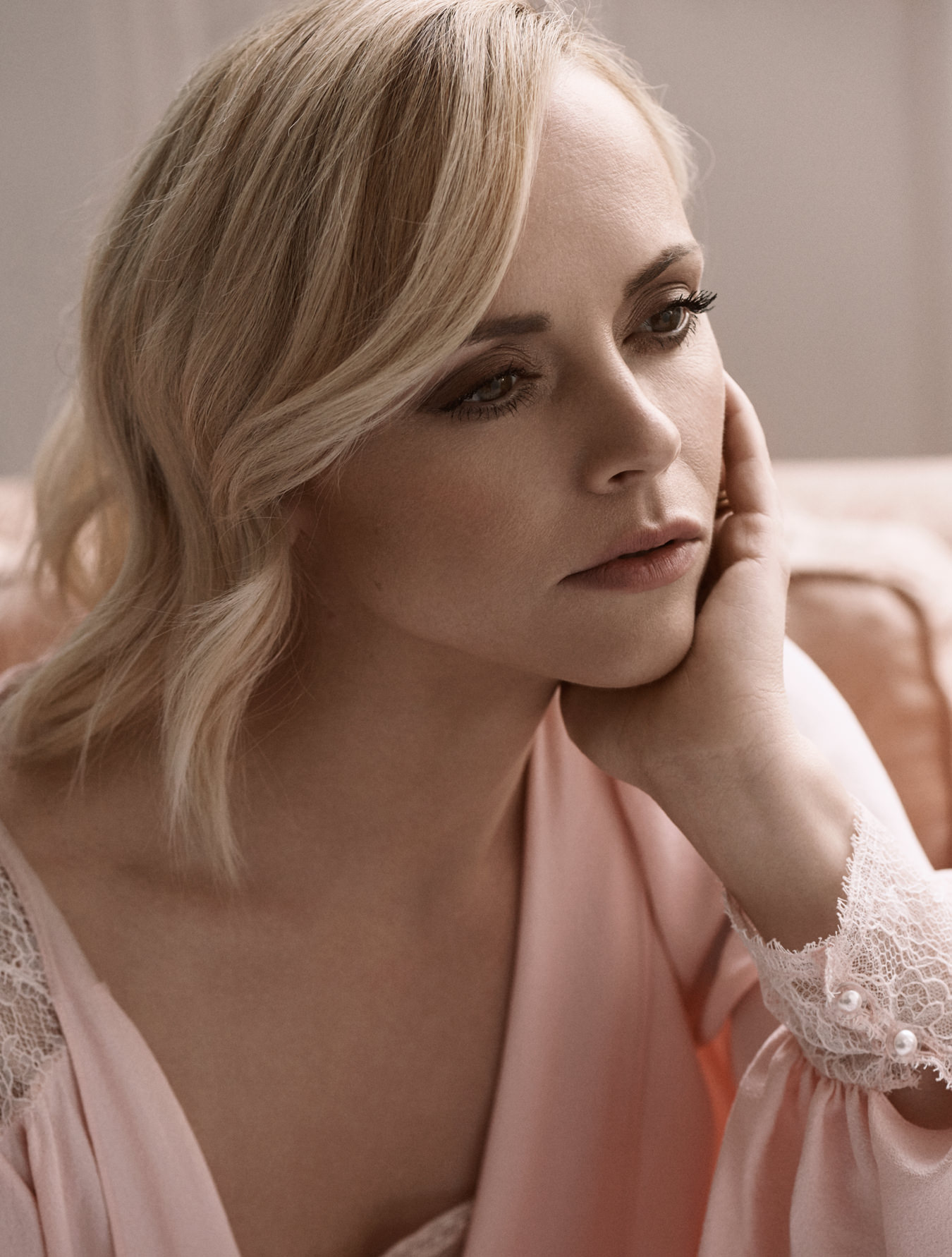 This is not a popular argument to make at the moment. For one, there is the contemporary argument of historical redress. By this logic, if one errs on the side of painting Scott with too critical a brush, it is only a corrective action against the years in which he could do no wrong. But that isn't an argument Ricci is buying. "I never want the show to be confused with all the things that are going on right now, that are villainizing white men. You know," she says, "when I read George Orwell's 1984, I had a different take on it than anyone else I knew. I read it and I thought, 'Fascism can happen on both sides of the argument.' " She admits that this unwillingness to generalize for expedience's sake has not endeared her to others. "It's a very cold place to be," she admits. "I don't think that that many people enjoy that sort of analytical analysis. It makes people very uncomfortable."
As she waits to commence filming the second season of Z: The Beginning of Everything later this year, Ricci is navigating the world as a working mother and spending time with her husband, James Heerdegen (whom she met on the set of Pan Am) and who, she says, is equally independently minded. "We're joined in our unjoining," she jokes. "We're the team of anti." For three decades, Ricci has not compromised, not drunk the Kool-Aid, and not concerned herself with popularity contests. "All I want is to be able to go to sleep at night and know that I feel okay with the things I've said and done that day." So, no, Christina Ricci will not eat breakfast. She doesn't want grits or granola. She doesn't want eggs, sunny-side up or over easy or, really, any way you like them.
Hair: Marc Mena for Exclusive Artists using Schwarzkopf OSiS+.
Makeup: Linda Hay for the Wall Group using Chanel.
Nails: Isadora Rios for Exclusive Artists using Chanel Le Vernis nail enamel.
_________
Never miss a story. Sign up for NUVO's weekly newsletter.