A new vista at each turn.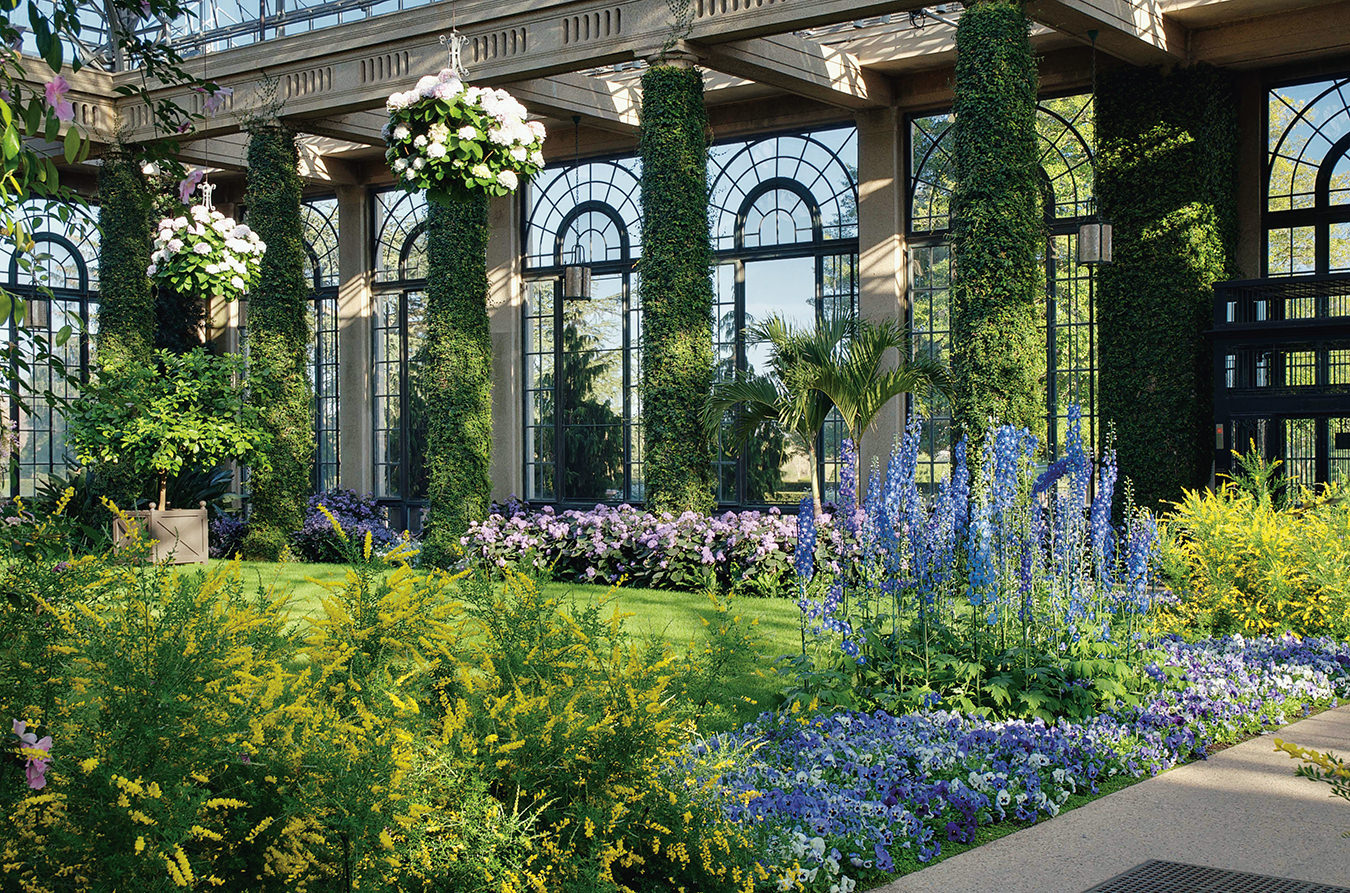 Longwood Gardens, 58 kilometres southwest of Philadelphia, is one of the most spectacular public gardens in North America. Its roots date back to 1798 when Samuel and Joshua Peirce began collecting and planting trees on their property, eventually creating an impressive arboretum that became known as Peirce's Park. But by 1906, the park's historic trees were destined for the lumber mill. To save the trees, industrialist Pierre S. du Pont purchased the property. What began as an environmental rescue by this American entrepreneur is now a magnificent showplace.
The impeccably kept grounds are a year-round delight and encompass more than 1,000 acres of gardens, woodlands, meadows, and fountains, as well as an indoor heated conservatory. There are many water features (Longwood has more fountains than any other garden in the United States), with more than 100 types of tropical and hardy water lilies in addition to lotus and other aquatic plants. The arresting scent of the Rose Garden, irresistible for romantics, comes from its linear beds filled with exquisite blooms symmetrically planted in the formal style typical of the 1930s.
During the height of summer, the Flower Garden Walk attracts attention by flaunting a riot of colourful annuals spilling into the paths. Cool forest trails offer visitors a respite when a little quiet reflection is in order.
Of special interest is the Conservatory. Built in 1919, it is especially enchanting during the Orchid Extravaganza (held annually from January through March) when it is transformed into a lush oasis to highlight these divas of the plant world. Orchids flow from pedestals, hang from ceilings, and drape over walls, and you don't have to be an orchid aficionado to be smitten.
Du Pont adored fountains, and they feature prominently at Longwood. Unique among them is a water cascade that doubles as the stage curtain in the Open Air Theatre. Another is the Italian Water Garden, featuring a staircase with 600 jets of water that spray out in synchronized patterns. Thanks to the popularity of these features, du Pont commissioned the Main Fountain Garden where audiences are treated to spectacular shows in which 37,854 litres of water are recirculated through 380 fountain heads, scuppers, and spouts.
Just as gardens are not static, neither is Longwood. Art and culture now play a starring role in its programming with musical and theatrical performances filling the calendar year-round. Even innovative modern art installations have been showcased in the garden. The 2012 installation by Bruce Munro, a British artist and light designer, delighted after-dark visitors with thousands of twinkling lights masquerading as illuminated blooms in the moonlight.
For 2013, Longwood has adopted a Beyond the Garden theme which allows visitors to see behind the scenes at gardeners' workspaces and glimpse their methods of exhibit creation, all the while gaining a greater understanding of the intricacies that go into creating Longwood's magical displays year after year. There is something for everyone—even those with brown thumbs.
Photo by Longwood Gardens/L. Albee.
May 31, 2013
Updated: Jun 18, 2015