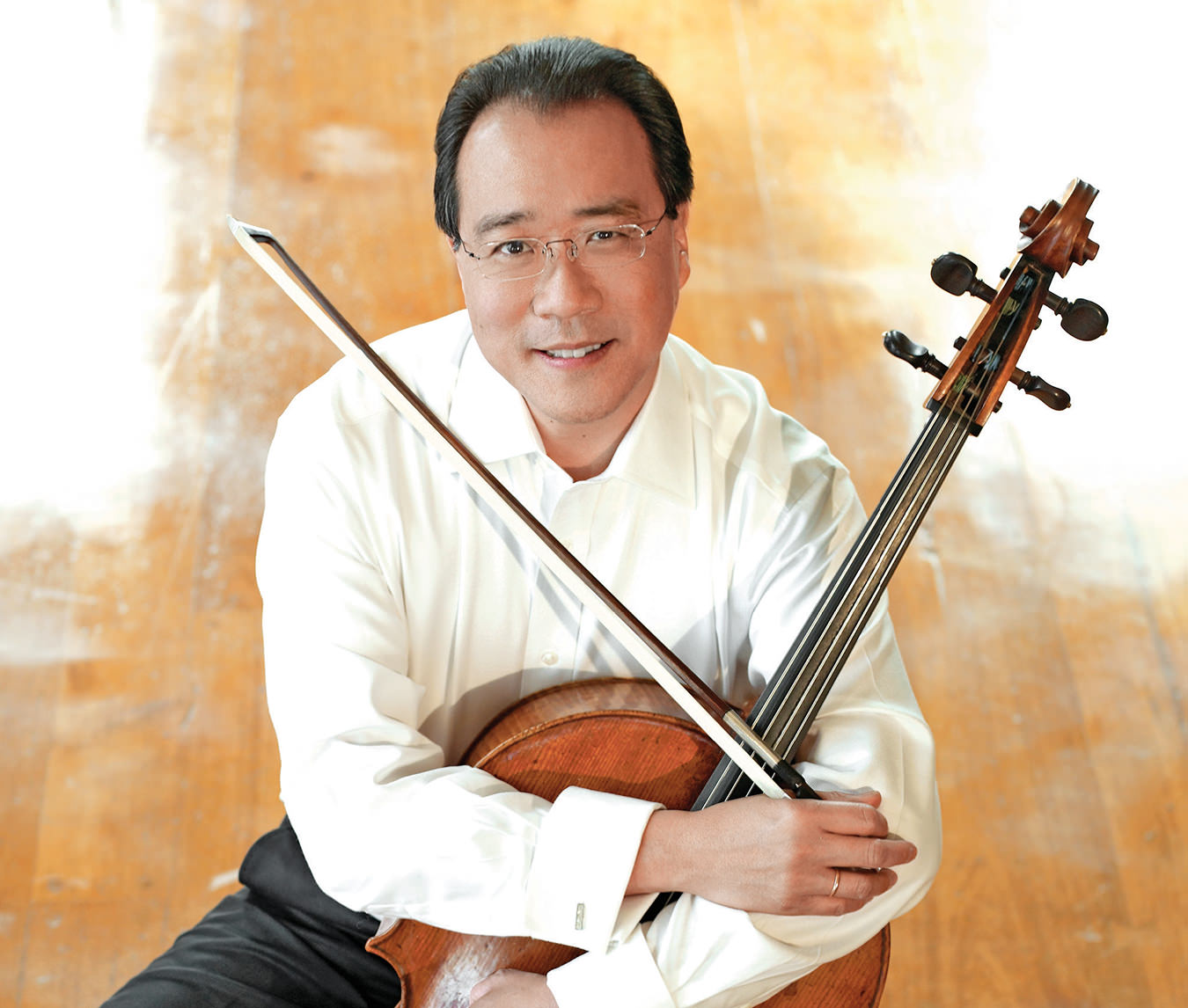 Even for a classical musician as adventurous as Yo-Yo Ma, his latest project might have you scratching your head: The Goat Rodeo Sessions. Huh? Ma laughs in sheer delight when asked about it. "We call ourselves 'the goats,' " he says, referring to the other players on this record: bassist Edgar Meyer, mandolinist Chris Thile, and fiddler Stuart Duncan. According to urbandictionary.com, a goat rodeo is "about the most polite term used by aviation people (and others in higher risk situations) to describe a scenario that requires about 100 things to go right at once if you intend to walk away from it." The title emerged late in the process of recording, reflecting the challenges of scheduling these four busy players and of finding their way in inventing a new kind of music, all of it written by Meyer, Thile, and Duncan.
"The first thing we say about this music," says Ma with pride, "is that it's genre-proof," which explains why he and his friends went searching for a non-musical term to describe it. "It's an invention, a combination of a number of things: bluegrass, Celtic, classical, and contemporary. Think of listening to this music like you were tasting a new dish. 'Hmm… is that pine nuts I taste? Maybe some panko bread crumbs?' With The Goat Rodeo Sessions, we were creating a new dish."
Ma says this project "was a pure joy-fest. All the fundamentals were here, what I call the preconditions of creativity. The chemistry among us was just so good." He describes the pleasure of recording the music in James Taylor's barn-turned-recording-studio in the Berkshires, where the four sat in a circle, "all committed to a process of becoming. You're building trust in a fabulous way through actually having lots of fun and also supporting each other. To me, that's the goat rodeo."
But Goat Rodeo is just one of a blizzard of Ma's creative adventures. He still plays the cello repertoire with symphony orchestras all over the world, and chamber music with his friends. He is constantly commissioning new works for the cello, many of them arising out of his other creations, like the Silk Road Project, a not-for-profit arts and educational organization. As we talk, Ma is in Chicago as the ongoing creative consultant for the Chicago Symphony Orchestra, which includes his particular passion for its Citizen Musician program. Its values define success as spiritual rather than materialistic, and encourage musicians to look to something bigger than themselves; Ma has become deeply involved in the Chicago community, taking music into prisons, into public schools, using music to bridge gulfs between people and "inspire a sense of common humanity."
When Ma comes to Toronto for a residency (May 30 and 31) with the Toronto Symphony Orchestra (TSO) in its 90th-anniversary year, he will bring more than his cello. Yes, at his two public concerts he will play Elgar's Cello Concerto, which is the concerto with which he made his debut in Toronto in 1979. But he will also play a new concerto—Night Music: Voice in the Leaves, a Canadian premiere—that he commissioned from his Silk Road friend, the Uzbek composer Dmitri Yanov-Yanovsky. In the meantime, Ma has been working with the TSO's principal bass, Jeffrey Beecher, and a group of 50 junior high students from an inner-city Toronto school. The project's purpose is to develop the young peoples' responses to music, and to give them courage to follow their own creative voices. The students will have had two Skype sessions with Ma by the time he comes to Toronto, and the whole project will have its grand finale at a private event held at Harbourfront Centre's Toronto Music Garden.
When asked about his definition of the good life, Ma replies quickly and emphatically, "Equilibrium. You know what they say about the parent being as happy as the least-happy child? In my mid- to late 50s, I'm a part of the sandwich generation. There are older people who need taking care of. Then there is the younger generation, one intensely curious about their world view. All of the parts of my life must be kept in balance. At the core of it: family and friends. Everything else radiates from that."